专辑英文名: Scattering Poems
专辑中文名: 散落诗篇
音乐风格: 爵士
资源格式: FLAC
发行时间: 2003年02月10日
简介:


专辑介绍:

  出生于1968年的德国,身兼钢琴家、作曲家、爵士歌手的 Julia Hülsmann,十分聪颖且才华横溢,生机盎然的诗词意境编曲,巧妙灵活地做出非常动人地旋律和迷人的澄澈琴音音色。1995年,Julia Hülsmann找来了同乡的德国年轻贝斯手 Marc Muellbauer及鼓手 Heinrich K?bberling 一同合作,创造出 夏日之末﹝End Of A Summer﹞如此活泼且极度诱人的美妙旋律,为传统的爵士三重奏添入新血以及赋予崭新的面貌。Julia Hülsmann身为极优异的抒情派女钢琴家,温暖窝心的琴音线条呈现了女人的细腻之心,清脆利落的音色彷佛仙女般的纯净圣洁。

Julia Hülsmann Trio with Rebekka Bakken -《Scattering Poems》(散落诗篇)

  Rebekka Bakken,挪威著名的歌手/词曲作者,在纽约和 Hülsmann 见面共同创作了这张精彩的专辑,Rebekka Bakken独特的风格,深受Joni Mitchell和Sidsel Endresen的影响明晰可见,她感觉的深度以及舞台的表达,已经明确的表明已经跻身于当代一流的爵士歌手行列。这张专辑秉承了Rebekka Bakken一贯的作风,音乐的旋律和人声美感的重视基于对作品的创作性和内涵的深刻性的重视有关,Rebekka Bakken嗓音无疑是优美的。Rebekka Bakken较为丰富的人生曆练和成熟的世界观,为她的音乐创作提供了充盈的素材,我们可以从这张新作中发现,她的歌曲中带有明显的生活、心灵的成长使她的音乐具备了一定的深度和广度。

  专辑英文名: Scattering Poems
  专辑中文名: 散落诗篇
  歌手: Julia Hülsmann Trio with Rebekka Bakken
  音乐风格: 爵士
  资源格式: FLAC
  发行时间: 2003年
  地区: 德国
  语言: 英语

出品厂牌:ACT Music + Vision
  唱片编号:ACT 9405-2
  音乐风格:Jazz, Vocal
  专辑时长:53:14 min
  推荐指数:★★★★★

Original Release Date: 27 Jan 2003
Label: ACT Music
Copyright: 2003 ACT Music + Vision
Total Length: 53:09
Genres: Jazz
ASIN: B002RYCOYC

Line Up:
Julia Hülsmann - piano
Rebekka Bakken – vocals
Marc Muellbauer - bass
Heinrich Köbberling - drums
Rainer Winch - drums


引用
Recorded by Jürgen Heckel at Studio P2, Berlin in February 2001 and May 2002
Mastered by Adrian von Ripka, 24-bit mastering, Bauer Studios, Ludwigsburg
Produced by Julia Hülsmann and Jürgen Heckel
Julia Hülsmann Trio With Rebekka Bakken - Scattering Poems (2003)
Julia Hülsmann is a most remarkable pianist on the contemporary German jazz scene. She has absorbed the tradition and now plays with the building blocks of the music. "She doesn't just haphazardly throw styles together, like so many players her age. Instead, she remains respectful of the foundation - the melody", wrote DIE WELT, one of Germany's most influential newspapers.
With unerring taste, the pianist combines the most diverse influences: the impressionism of a Ravel, pop music from Sting, the jazz piano tradition from Monk to Hancock and beyond.
Born in Bonn in 1968, Hüsmann studied at the Berlin College of the Arts under such masters as Walter Norris, Aki Takase, and David Friedman, and in New York with Maria Schneider, Richie Beirach, Gil Goldstein, and Jane Ira Bloom. She was a member of Germany's renowned National Youth Jazz Orchestra under the direction of Peter Herbolzheimer, and made a name for herself as keyboard player in diverse big bands, fusion formations, and pop groups. Her trio, which she formed in 1997, is considered by jazz enthusiasts to be one of the most subtle and distinctive bands in the German capital. For "Scattering Poems" Julia was able to acquire the talents of bassist Marc Muellbauer along with drummer Heinrich Köbberling.
Hülsmann met Rebekka Bakken three years ago in New York. She was so impressed by the singer/songwriter's abilities that she immediately decided to write music for her. Bakken, who was born in 1970 in Oslo Norway, sees herself essentially as a story-teller, as mouthpiece for the text's message. Her career started in the Norwegian R&B-funk- rock scene. At 25 she moved to New York, where she loaned her voice to a variety of pop bands. In 1998 she began her fruitful collaboration with guitarist Wolfgang Muthspiel. With her unique style, in which the influences of Joni Mitchell and Sidsel Endresen are discernable, her depth of feeling, and her stage presence, Bakken has assured herself a place in the front row of great contemporary jazz vocalists.
"Scattering Poems" exquisitely combines the talents of these two exceptional artists. They have chosen poems from E.E. Cummings as the basis for the texts. Hülsmann found that Cummings' poetic pictorial world and his rhythmic feeling for language was already music. Thus, it was no problem to transform these poems into notes.
The ten pieces came just as easily; except for the two pieces from Sting and Randy Newman, all are originals composed by the Berlin pianist. Here you have pop with meaning, sympathetic interpretations of the lyrics, and a fantastic intuitive understanding between voice, piano, bass, and drums.
"Scattering Poems" is jazz from today based on the works of a great poet from the past. The future, however - without a doubt it belongs to Hülsmann and Bakken.
Recorded February 2001 and May 2002 at Studio P2, Berlin/Germany
Personnel:
Rebekka Bakken (vocals)
Julia Hülsmann (piano)
Heinrich Köbberling (drums)
Marc Muellbauer (bass)
Rainer Winch (drums)
release date February 10, 2003
duration 52:12
genre Jazz
Genre:Jazz
Style:Contemporary Jazz
Year:2003
Amazon.de
Jazz settings of great poets are always a risk. For it is not always possible, the musical bridge between text and sound. Among the most recent exceptions include the Thärichen Tentett from Berlin, which with his album Lady Moon goes almost to the bottom of late romantic poems of Lord Byron and Thomas Hardy. Also comes from Berlin Julia Hülsmann. Like her fellow Nicolai Thärichen it is also a pianist, her experience ranges from National Jazz Orchestra on pop bands up to his own trio, which she founded in 1997. And also Hülsmann combines experimentation with technical skills, the canons of the jazz tradition they can not be intimidated.
Scattering Poems , her first album on ACT, now gathered poems of the American avant-garde Edward Estlin Cummings, a master of lyric and orthographic experiment. It is not least his linguistic rhythm, which transferred the trio in an exciting ductus. And Rebekka Bakken, the internationally acclaimed Norwegian singer, the merit too, to interpret congenially with her ​​enormous vocal range, the idiosyncratic lyrics. Not only is the song "Tic Toc" is onomatopoeia and rhythm, there is movement everywhere. The words go further in music, the music gives the lyrics a new, wonderfully subtle Drive: From such dynamic EE Cummings could only dream of. Bakken highly sensitive vocals are outstanding, and together with the Julia Hülsmann Trio, he leads the listener into the rare realm where jazz and poetry are the same for the best. - Roman Rhode
Most Helpful Customer Reviews
28 of 28 people found the following review helpful
5.0 out of 5 stars More than the CD of the Day 25 February 2003
Of H.R. from G.
Format: Audio CD | Amazon Verified Purchase
When the CD was introduced at HR2 as CD of the day, I was instantly taken and ordered it as soon as possible.
After listening to the entire CD was and I am absolutely thrilled!
Julia Hülsmann plays just fantastic with a wonderful sense of a beautiful tone and harmony.
The arrangements are thoroughly modern, very decided and sophisticated. Occasionally you also engages in the electronic keys, they even my aversion to electronic instruments overcomes - here the sounds fit into the overall picture, and I still have the feeling to hear "handmade" music.
Particular praise must also their rhythm section apply, all the pieces of the arrangements makes the point more clearly, and contributes to the music than just groove. Here, for example, plays once a drummer who also understands and supports the melody.
And then there's the singing of an exceptional singer. Rebekka Bakken can sing beautifully, but it sounds like not at all sweet or shallow, like so many of the currently popular female jazz singers. Her voice is very versatile, and thus contributes to the fact that the whole album consistently maintains its tension.
Overall one of the best jazz CDs I've bought in the last months. I hope for more in the same occupation.
Comment |
Was this review helpful to you?
Yes
No
10 of 10 people found the following review helpful
5.0 out of 5 stars Still good
... 13 February 2003
By A Customer
Format: Audio CD
I'm normally not a fan at all of settings of poetry, therefore, after due'm Vorschusslorbeeren, wherever you look. In this respect, the meeting of this album was a bit irritating also here on Amazon if you do not like such a pretentious, it is easily scared. Wrongly! Because this work is a complete success. One does not have the impression that is recited here, WHILE a combo in the background struggling, a kind of musical program for the book fair delivers. No, it is a very nice well-rehearsed work with successful, lyrical, flowing compositions. In addition to two foreign compositions ("Same Girl" by Randy Newman and "A Thousand Years" by Sting), who stand not particularly like me personally, especially the ballad "Love is more thicker than forget". The often praised "Tic Toc" on the other hand drops something, it's most likely in the direction afraid of me, which is probably primarily a proof, however, that the tastes may be different known. Much stronger than the assumed affinity to their label mates Sidsel Endresen / Bugge Wesseltoft, the temporary situation but sound a little getting used to, but then also have very strong moments, I always feel once again ... Joni Mitchell remembers, even if Rebekka Bakken far sounds so mannered.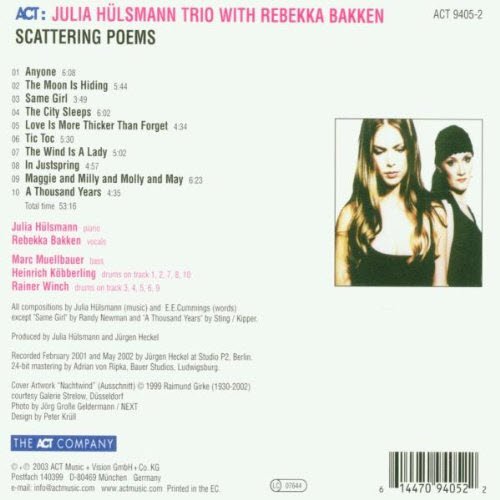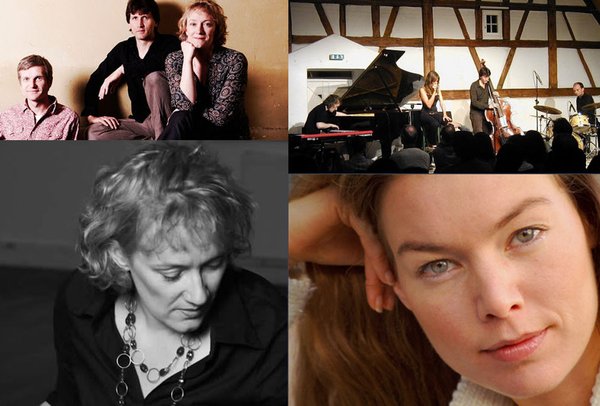 专辑曲目:
01. Anyone - 06:08 (Hülsmann, Julia / Cummings, Elijah) 6:08
02. The Moon Is Hiding - 05:44 (Hülsmann, Julia / Cummings, Elijah) 5:44
03. Same Girl - 03:17 (Newman, Randy) 3:17
04. The City Sleeps - 06:02 (Hülsmann, Julia / Cummings, Elijah) 6:02
05. Love Is More Thicker Than Forget - 04:34 (Hülsmann, Julia / Cummings, Elijah) 4:34
06. Tic Toc - 05:30 (Hülsmann, Julia / Cummings, Elijah) 5:30
07. The Wind Is A Lady - 05:02 (Hülsmann, Julia / Cummings, Elijah) 5:02
08. In Justspring - 04:57 (Hülsmann, Julia / Cummings, Elijah) 4:57
09. Maggie and Milly and Molly and May - 06:23 (Hülsmann, Julia / Cummings, Elijah) 6:23
10. A Thousand Years - 04:35 (Sumner, G. M.) 4:35
这里是其它用户补充的资源(我也要补充):
暂无补充资源