专辑英文名: Vivaldi Late Volin Concertos
专辑中文名: 韦瓦第 / 六首晚期小提琴协奏曲
古典类型: 协奏曲
版本: [SACD-r]
发行时间: 2002年
简介: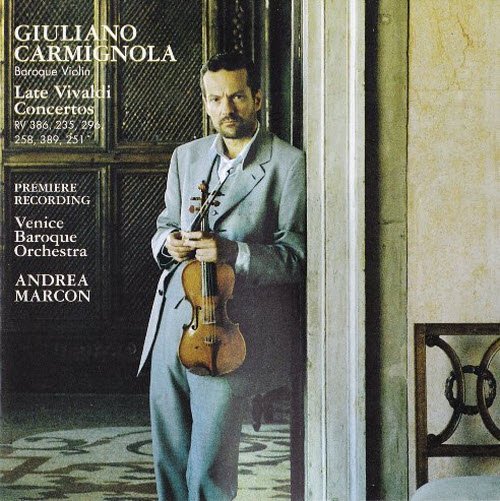 专辑介绍:

韦瓦第 / 六首晚期小提琴协奏曲
VIVALDI: LATE VIOLIN CONCERTOS
2001年10月03日
産品编号: SK89362
  除了小提琴协奏曲《四季》外,你知道韦瓦第还有什么作品吗?

  韦瓦第(1678-1741)人称红髮教父,是义大利巴洛克时期最多产的作曲家之一,和巴赫一样,韦瓦第常为了配合教会的需要而谱写新曲,例如他多达四百多首的协奏曲,便是为当时一个教会女青年乐团而写,其中便包括闻名世界的小提琴协奏曲《四季》。虽然韦瓦第还留下了四十部左右的歌剧作品以及其他眾多作品,不过他的协奏曲具有绝对的重要性,不仅深深影响后来海顿和莫札特的写作风格,与他同时代的巴赫更因热爱韦瓦第的协奏曲,而将其中十数闕改编为大键琴演奏版本,可见韦瓦第协奏曲的魅力。

  本片并非「又一张四季」,而是韦瓦第极少被演奏的六闕晚期小提琴协奏曲精品,这些近年才被发掘出版的无标题作品,被音乐学者认为曲曲皆有凌驾《四季》之势,不仅曲式严谨端正,韦瓦第个性化的旋律线更是引人入胜。这六闕小提琴协奏曲皆为世界首度录音,由当今巴洛克时期小提琴巨匠卡密诺拉(Giuliano Carmignola)担纲演出,卡密诺拉被美国唱片指南(American Record Guide)称「对韦瓦第音乐的了解,远胜於之前所有的小提琴演奏家」,而担任协奏大任的则是当今威尼斯唯一一个以演奏早期音乐闻名的「威尼斯巴洛克管絃乐团」,这张专辑不仅是韦瓦第这六部作品的首度录音,相信往后也很难被超越。



商品条码 : 5099708936228
商品编号 : SK89362
演奏者 : 卡密诺拉 Giuliano Carmignola - 查看所有专辑
指挥家 :
乐团 :
作曲家 :
专辑名称 : 韦瓦第:六首晚期小提琴协奏曲
Vivaldi Late Volin Concertos
音乐类型 : 古典音乐 [CD ]
发行公司/日期 : SONY MUSIC 

Giuliana Carmignola - Vivaldi: late Violin Ctos - premiere


Carmignola and Marcon claim "première recording" status for these six concertos, and there's not a dull one among them. Benjamin Folkman's booklet notes do not justify why these are "late" concertos. At any rate, dating Vivaldi's works often is very difficult. At best, I'd agree that they are stylistically consistent with works known to be written in the latter years of Vivaldi's career. (The "RV" numbers are for cataloguing, and tell us little about chronology; a low RV number may belong to an early work as well as to a late one.)

The first concerto presented here, RV 386, will remind many listeners of "Winter" from The Four Seasons – the soloist certainly presents a stormy aspect here, but one that is touched, at the same time, with a little malicious glee. All of the minor-key concertos are full of drama, however, and the musicians relish their opportunities to send little shivers of delight down listeners' spines. Another delight is the appearance of the archlute, the theorbo, and the Baroque guitar, particularly in the slow movements, where their mellow plucking ticks off the gentle seconds. It's enough to make one heave a sigh of relief after a busy or stressful day at work.

The ensemble is delightfully throaty on this CD. Marcon emphasizes the bass voices: the cellos rumble along like fullbacks at a college football game, and the harpsichord's lower register is attacked with something akin to violence. There's a lot of feline pouncing on cadences here. If it were more exaggerated, I'd suggest that Marcon was imitating Harnoncourt, but I think he's just very excited by the music, and can't resist conveying that excitement to the listener. Carmignola, a pupil of Milstein and Szeryng, among others, is perfectly partnered by Marcon. The violinist's attacks are strong, and while he plays beautifully, this is hyper-masculine musicianship. Marcon and Carmignola have teamed up for other Sony Classical releases, including two other Vivaldi discs (one that includes The Four Seasons), and Bach's Sonatas for Violin and Harpsichord. All are outstanding, and the present CD is cut from the same cloth. Sony is extremely fortunate to have signed Carmignola and Marcon to the label. I hope they make dozens of recordings for Sony.

The recording was made in Manzano (Undine), Italy, and makes use of 24-bit and DSD technology. The sound is outstanding – conveying detail, space, and weight.

Highly recommended.

abel:Sony
Catalogue No:SK87733
Discs:1
Release date:22nd Nov 2002
Barcode:5099708773328
Medium:CD


引用
Vivaldi - Late Concertos for Violin: RV 386, 235, 296, 258, 389, 251 (Giuliano Carmignola, Andrea Marcon) [2002]
Catalog Number: SK 87733 | 1cd, 368.94 MB

It is important to note that these concertos were composed by Vivaldi (1678-1741) late in his career. Do not try to associate any type of chronology to the RV numbering of Vivaldi's works, as this numbering represents a simple cataloguing. You might be wondering, what makes a "late" Vivaldi concerto different from any other Vivaldi concerto. Well, the later concertos strike me as bolder and less formulaic, and are filled with rhythmic and harmonic surprises not found in the earlier concertos. For instance, the solo part is more than just busy sixteenth note writing (of course there is some of that, though), but rather it is a combination of arching lyrical lines and virtuosic passages of invigorating, swift figurations, with plenty of accents and the occasional double stop to add flavor. The unusual harmonic progressions present in these concertos are also rather striking. Some of these harmonic intricacies are subtle (Track 13), while others boldly proclaim themselves (ex: Track 1). Additionally, the "late" Vivaldi concertos appear to be longer than his published concertos (the ones with the opus numbers). Surprisingly, a couple of the movements exceed five minutes.


Album Features
UPC: 696998936225
Artist: Andrea Marcon
Format: CD
Release Year: 2001
Record Label: Sony Classical
Genre: Classical, Concerto, Sinfonia

Details
Playing Time: 74 min.
Contributing Artists: Andrea Marcon
Distributor: Naxos (Distributor)

*Artist: CARMIGNOLA,GIULIANA *Genre: Classical Music *Release Date: 7-AUG-2001.

Format: CD
Condition: NEW More Info
Label: COLUMBIA RECORDS/SONY 2110898
Released: 8/7/2001
Genre: Classical Music
Quantity: 3 in stock
Seller Ref: 696998936225

There's no greater feeling than getting the perfect item with the most features at the lowest price. When you purchase this VIVALDI:LATE VIOLIN CTOS.-PREMIERE BY CARMIGNOLA,GIULIANA (CD), you can be confident that you've found the best deal available online. This item is currently available for the everyday price of $13.40, a discount of 5% off the list price. If you would like to track the status of your order, you may do so on our Order Status page using our ZIP code and order reference number. UnbeatableSale.com uses Secure Socket Layer (SSL) technology to encrypt all of your personal information before it travels over the Internet, so your payment information is always 100% protected.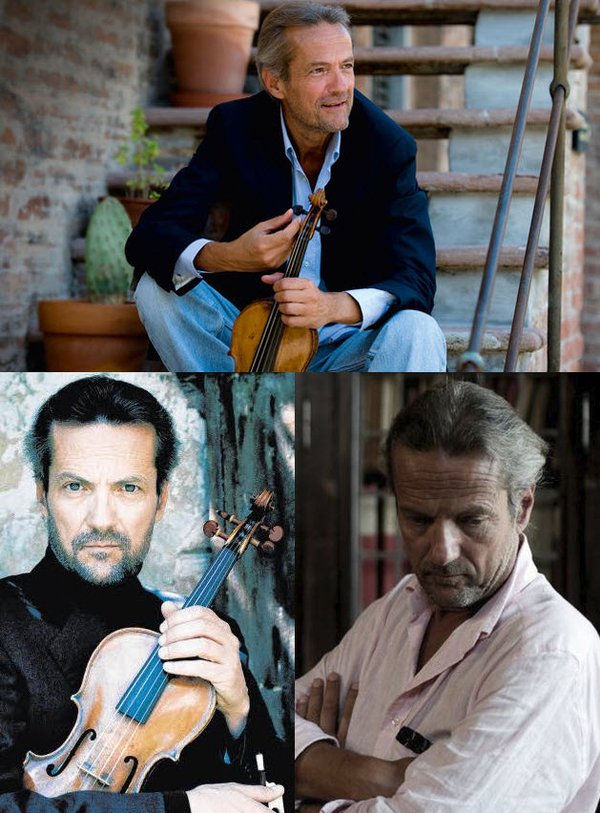 专辑曲目:
Concerto in B Minor for Violin, RV 386
01. I. Allegro ma poco
02. II. Larghetto
03. III. Allegro
Concerto in D Minor for Violin, RV 235
04. I. Allegro non molto
05. II. Adagio
06. III. Allegro
Concerto in F Major for Violin, RV 296
07. I. Allegro ma poco
08. II. Largo
09. III. Allegro
Concerto in E-Flat Major for Violin, RV 258
10. I. Largo – Andante molto
11. II. Largo
12. III. Allegro
Concerto in B Minor for Violin, RV 389
13. I. Allegro poco
14. II. Largo
15. III. Allegro
Concerto in E-Flat Major for Violin, RV 251
16. I. Allegro ma poco
17. II. Largo
18. III. Allegro
这里是其它用户补充的资源(我也要补充):
暂无补充资源