专辑英文名: Precipice - Modern Marimba
专辑中文名: 当代马林巴琴作品辑
版本: [SACD-r]
发行时间: 2006年08月22日
简介: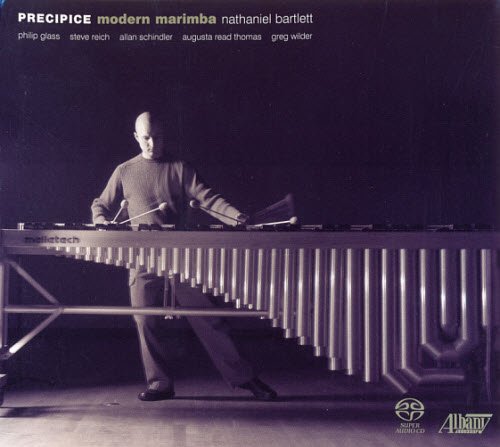 专辑说明:

  纳森奈尔‧巴雷特精心策划的这张马林巴琴作品辑,是以整体音乐设计为考量,专辑中的曲子彼此相关,并以开场、间奏与终曲巧妙安排,其间穿插两首作品而成。专辑从菲利普‧葛拉斯原为独奏钢琴而写的「开场Opening」开始,接著是艾伦‧辛德勒高度发挥马林巴琴技巧与微妙表情的「断崖」,以及葛瑞格‧怀尔德模倣钢琴、木管等各类乐器的「间奏」。到了瑞德‧汤玛斯的「侧影」,更将四位近代作曲家武满辙、史特拉汶斯基、布列兹与巴尔托克,和四位在爵士乐坛举足轻重的钢琴家比尔‧艾文斯、塞隆尼斯‧孟克、奥斯卡‧彼得森以及亚特‧泰顿的音乐相互融合,真是前所未见!本辑最后以简约音乐大师史帝夫‧莱希的「佛蒙特对位」一曲作结尾,与同为简约主义大师的菲利普‧葛拉斯前后相辉映。本辑透明清晰的马林巴琴与变化多端的电脑乐音,爱乐者可以在优异的录音中享受一场最具现代感的打击乐盛宴。(Albany)

曲目
1. 菲利普‧葛拉斯Philip Glass:开场Opening
2. 艾伦‧辛德勒Allan Schindler:断崖Precipice,为马林巴琴与电脑音乐
3. 葛瑞格‧怀尔德Greg Wilder:间奏Interlude,为马林巴琴与电脑音乐
4-7. 瑞德‧汤玛斯Augusta Read Thomas:侧影Silhouettes
 4. 如武满辙与比尔‧艾文斯的交错Like Toru Takemitsu crossed with Bill Evans
 5. 如史特拉汶斯基与塞隆尼斯‧孟克的交错Like Igor Stravinsky crossed with Thelonious Monk
 6. 如布列兹与奥斯卡‧彼得森的交错Like Pierre Boulez cross with Oscar Peterson
 7. 如巴尔托克与亚特‧泰顿的交错Like Bela Bartok cross with Art Tatum
8. 史帝夫‧莱希Steve Reich:佛蒙特对位Vermont Counterpoint

马林巴琴:纳森奈尔‧巴雷特Nathaniel Barlett
录音:2005年



纳森奈尔‧巴雷特 / 当代马林巴琴作品辑SACD Nathaniel Barlett / Precipice: Modern Marimba (SACD)

唱片公司:Albany
音乐类型:古典音乐
唱片编号:TROY 855
发行日期:2008年04月11日
高价版 / SACD / 1 片装

商品条码 : 0034061085522
商品编号 : TROY855
演奏者 : 纳森奈尔巴雷特 Nathaniel Bartlett - 查看所有专辑
指挥家 :
乐团 :
作曲家 :
专辑名称 : 当代马林巴琴作品辑
Modern Marimba
音乐类型 : 古典音乐 [SACD 独奏曲]
发行公司/日期 : 双木林 
制作公司 : Albany
内含片数 : 1

recipice: Modern Marimba
Nathaniel Bartlett
Classical
Super Audio Hybrid CD
EAN: 0034061085522
Released: 08/22/2006
Tracks: 8
Label: Albany Music Distribution
Distributor: Albany Music Distribution

Release Date 2006
Duration 51:24
Genre Classical

Performer: Nathaniel Bartlett
Composer: Philip Glass, Allan Schindler, Greg Wilder, Augusta Read Thomas, Steve Reich
Audio CD (August 22, 2006)
Number of Discs: 1
Format: Hybrid SACD - DSD
Label: Albany Records
ASIN: B000GW8RJI


Review by Stephen Eddins

The orchestral marimba is one of the most expressive instruments in the percussion battery, and enterprising performers such as Nathaniel Bartlett have the goal of expanding its repertoire by commissioning new pieces and arrangements of works originally written for other instruments. Bartlett has a special interest in creating multidimensional sound environments using computers and other electronics, and two of these pieces commissioned by Bartlett employ electronics. In purely musical terms, both Allan Schindler's Precipice and Greg Wilder's Interlude are attractive additions to the repertoire of music for marimba and electronics. Schindler's work in particular creates a vivid and mysterious soundscape that seamlessly integrates the acoustic and electronic worlds.

The performance of Philip Glass' Opening, originally written for piano, is a pure pleasure. Bartlett's attention to Glass' nuanced dynamics and his subtle use of rubato make the piece shimmer, and the less percussive attack on the marimba suits this piece even better than the piano. Steve Reich's Vermont Counterpoint was originally scored for amplified flute, doubling piccolo and alto flute, and tape. In this arrangement by Bartlett, the character of the work is inevitably altered by lowering the stratospheric range of the original to accommodate the marimba. The timbral variety of the high, middle, and low registers of the marimba, however, corresponds to the qualities of the piccolo, flute, and alto flute, and in Bartlett's precise performance, each contrapuntal line emerges with clarity and retains its identity and integrity. The result is earthier, woodier, but no less kinetic and satisfying than the original. The sound quality on this SACD is superb and approximates the experience of hearing the works with the spatial separation critical to Bartlett's live performances.


引用
"Precipice" Modern Marimba – Nathaniel Bartlett – Works of GLASS, REICH, ALLAN SCHINDLER, AUGUSTA READ THOMAS, GREG WILDER – Albany

The works for marimba and computer-generated sounds require hi-res surround reproduction for best effect
Harmonia mundi - Tokyo Quartet

Pererecki Banner 1 - Naxos
Published on October 4, 2006

"Precipice" Modern Marimba – Nathaniel Bartlett – Works of GLASS, REICH, ALLAN SCHINDLER, AUGUSTA READ THOMAS, GREG WILDER – Albany
"Precipice" Modern Marimba – Nathaniel Bartlett – Works of GLASS, REICH, ALLAN SCHINDLER, AUGUSTA READ THOMAS, GREG WILDER – Albany Multichannel SACD TROY855, 51:28 ****:
Obviously this is not the sort of standard repertory which has been the mainstay of most SACD releases. But the fact that more new concert music is coming out on SACD shows that the format is continuing to grow (with over 4000 releases so far), if not exactly thriving. Much contemporary music depends on unusual and often subtle timbre exploration, and precise reproduction is vital to appreciation of the often complex rhythmic designs in the music. Marimbaist Nathaniel Bartlett integrates computers and electronics into his live performances to create hi-def, multidimensional sound environments. Sounds like a perfect candidate for 5.0 surround SACD, right?

Bartlett wanted to assemble a well-balanced album with the intention of the listener listening to it from start to finish, so that its artistic impact would be greater than just the sum of the works in it. He begins with a short Philip Glass piano piece performed unaltered on the marimba. The sharp percussive transients of the marimba played with harder sticks reverberates delightfully in the space of the concert hall, and the multichannel approach preserves them well. This is the sort of material which is much more effective if you have similar speakers all around.

The next two works both match the modern five-octave marimba with prerecorded computer-generated surround sounds. This approach in live concerts gives the audience something to look at other than loudspeakers, but even on recordings it is clear which sounds are usually coming from the live solo instrument and which from the hard drives or discs. On Schindler's Precipice Bartlett used Ambisonic techniques to create a sophisticated virtual environment in five channels derived primarily from sounds of his marimba. Wilder's Interlude was designed as just that, to appear prior to the final two selections on the disc. The computer-manipulated sounds here came from acoustic instruments such as piano and woodwinds, and the overall feeling is more lyrical than the surround works.

Silhouettes, by Thomas, is transcribed from two guitar works of the composer. The title refers to the influences of a famous classical composer and a famous jazz artist which are combined in each of the very short works. Just reading the four titles would make most listeners anxious to hear what the aural results of these musical cocktails would taste like: Like Takemitsu crossed with Bill Evans; Like Stravinsky crossed with Thelonious Monk; Like Boulez crossed with Oscar Peterson; Like Bartok crossed with Art Tatum!

The closing Steve Reich work is just in time for the composer's 70th birthday celebrations all over the world. Originally written for a flute ensemble, it has been performed on other instruments as well. Bartlett not only plays each of the parts himself on the marimba, but gives each track its own special position in the hi-res surround field, going 360 degrees around the listener. It reminded me of the Real Surround SACDs from the German Tacet label – especially the recent one which places different voices of the piano in Pictures at an Exhibition all around you. (You might want to recheck levels on all your speakers with a good multichannel test disc such as Telarc's or Chesky's and a Shack level meter, before you play this marimba concert.)

– John Sunier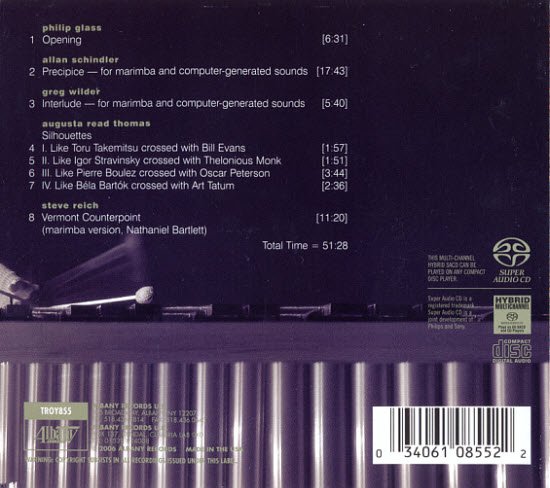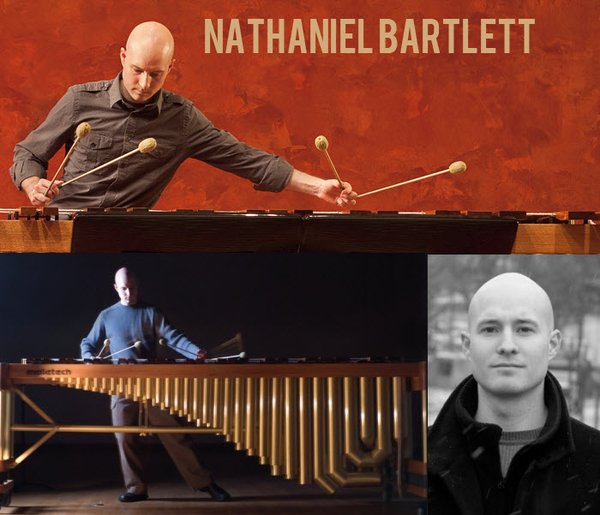 专辑曲目:
1. Opening 6:31
2. Precipice 17:43
3. Interlude 5:40
4. Silhouettes: Like Toru Takemitsu crossed with Bill Evans 1:57
5. Silhouettes: Like Igor Stravinsky crossed with Thelonious Monk 1:52
6. Silhouettes: Like Pierre Boulez crossed with Oscar Peterson 3:43
7. Silhouettes: Like Béla Bartok crossed with Art Tatum 2:36
8. Vermont Counterpoint 11:22
这里是其它用户补充的资源(我也要补充):
暂无补充资源