Howard Shelley -《卡尔克布雷纳 - 浪漫的钢琴协奏曲,第56集》(Kalkbrenner - The Hyperion Romantic Piano Concerto series Vol. 56)[FLAC]

专辑英文名: Kalkbrenner - The Hyperion Romantic Piano Concerto series Vol. 56
专辑中文名: 卡尔克布雷纳 - 浪漫的钢琴协奏曲,第56集
古典类型: 全集作品
资源格式: FLAC
发行时间: 2012年03月13日
简介: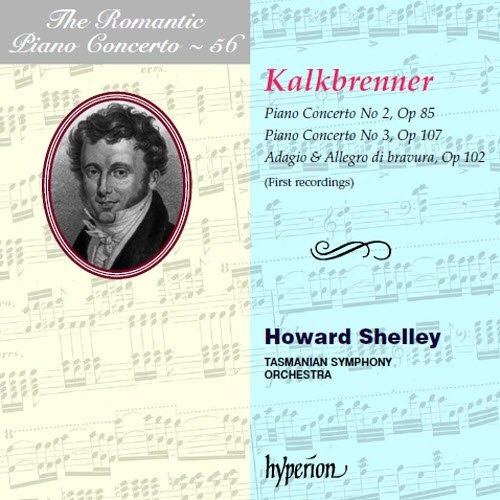 专辑介绍:

浪漫的钢琴协奏曲,第56集 - Kalkbrenner : Piano Concertos(Howard Shelley)

卡尔克布雷纳:第二、三号钢琴协奏曲、慢板与朝气蓬勃的快板 The Romantic Piano Concerto 56 - Kalkbrenner 2 & 3

卡尔克布雷纳曾以神童之姿进入巴黎音乐院,其后在维也纳更与当红的作曲家胡麦尔成为好友。虽然在世时名声响亮,目前作品已经不常上演,诸多参考书上对他的评价其实并不友善,又不得不承认他当时在乐坛上缔造的傲人成就。也因为他是当时欧陆首屈一指的钢琴家,同行间总拿他喜欢自我吹捧一事当饭后茶娱消遣,萧邦初抵巴黎时亦曾前往造访,卡尔克布雷纳对他说只要跟随自己三年保证成为一代宗师,或许萧邦当面聊过后也察觉苗头不对。这位年轻波兰作曲家最后婉拒此一提议,话虽如此,萧邦仍然写了第一号钢琴协奏曲献给他聊表心意。类似的趣闻軼事不只这件,但我们从「浪漫钢琴协奏曲」系列中学到的一件事,就是史书评价与音乐成就毕竟是两件事情。这回第56集总算将卡尔克布雷纳剩下的协奏曲录音补完,演出阵容与前作相同,由霍华.薛利同时弹奏钢琴与指挥塔斯马尼亚交响乐团。卡尔克布雷纳常以壮阔大器的管弦手法开场,但是当钢琴加入乐曲后,任谁都会明白何以当时他能以钢琴家和作曲家身份叱吒一时,薛利的演出兼具优雅的琴艺和细腻的詮释,更是凸显作曲家的纵横才情。

COMPOSER: Frederic Kalkbrenner
TITLE: The Romantic Piano Concerto volume 56
TRACKS: Piano Concerto No 2 in E minor opus 85. Piano Concerto No 3 in A minor opus 107. Adagio ed Allegro di bravura opus 102.
ORCHESTRA: Tasmanian Symphony Orchestra
CONDUCTOR: Howard Shelley
ARTISTS: Howard Shelley


Artists: Howard Shelley (piano).
Composers: Friedrich Kalkbrenner.
Conductors: Howard Shelley.
Orchestras: Tasmanian Symphony Orchestra.
Tracks: FRIEDRICH KALKBRENNER (1785-1849)
Piano Concerto No. 2 in E minor, Op. 85
Piano Concerto No. 3 in A minor, Op. 107
Adagio ed Allegro di bravura, Op. 102
Medium: CD
No. of Discs: 1
SKU #: 15841
Label: Hyperion
Catalog #: CDA67843

Orchestra: Tasmanian Symphony Orchestra
Conductor: Howard Shelley
Composer: Friedrich Kalkbrenner
Audio CD (March 13, 2012)
Number of Discs: 1
Format: Import
Label: Hyperion
ASIN: B006RN4PTG

If the name Friedrich Kalkbrenner is familiar at all, it's probably for his famous suggestion that Chopin would benefit from three years of study with him (a bold offer the Pole wisely turned down). But, as Hyperion's ever-expanding Romantic Piano Concerto series has repeatedly shown, received historical opinion and musical quality don't always go hand in hand. With Volume 56 we reach the second and final instalment of Kalkbrenner's concertos, dazzlingly played by Howard Shelley, directing the Tasmanian Symphony Orchestra from the keyboard. For all that Kalkbrenner wasn't afraid to write big, bold orchestral introductions, it's when the pianist makes his entry that you realize what a jawdropping player he must have been, with writing of such glittering, glistening panache that it must have had those polite salon ladies reaching for their smelling salts.


引用
Inspiring Kalkbrenner
By Luke Agati on July 18, 2012
Format: Audio CD Verified Purchase
Kalkbrenner is one of those musical figures who not only endured a highly successful career on the European concert platform, but is another of those countless casualties of time. Despite having possessed an over-inflated ego, he won much acclaim in his day as a touring pianist who gave what the early nineteenth-century public wanted: a spectacular show incorporating commanding performances with brilliant virtuoso technique. As a performer he was `distinguished by his brilliancy' and `perfect command over the technical peculiarities of the pianoforte'. He was one of Europe's `shining stars' and while in London was foremost virtuoso of his time. His four concertos and concerted pieces for piano and orchestra written for his own performances not only show, in this latest recording, his profound knowledge for virtuoso keyboard writing, but above all were meant to capture the immediate attention of his admirers and wealthy patrons.

Having said all this, this recent Hyperion release of volume 56 of Romantic Piano Concertos featuring Kalkbrenner's Piano Concertos No. 2 & 3 (Opp.85 & 107 respectively) is a splendid addition to the series. In this recording, Howard Shelley again shows that he is a master of interpretation of early romantic piano music. He brings the composer's very soul back to life and perfectly recreates what audiences had heard when Kalkbrenner was at the keyboard. Here Shelley plays some of the most difficult passages written for piano, yet makes is sound so simple. `Shifting harmonies', beautiful melodies, `vacillating scansion', `leggiero ocatves' and `rapid passages of thirds' among many other idiosyncrasies of Kalkbrenner writing, are purely breathtaking. As for the Tasmanian Symphony Orchestra, they ought to be hailed as one of the most inspiring ensembles of first-rate musicians to come from Australia. Well done to all!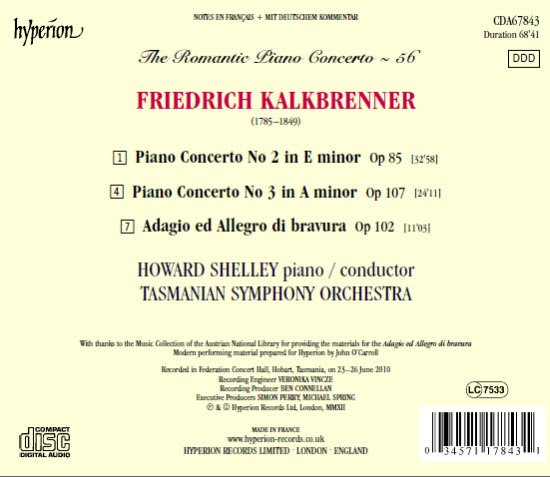 专辑曲目:
Piano Concerto No 2 in E minor Op 85 [32'58]
1. Allegro maestoso [13'55]
2. La tranquillité: Adagio non troppo [7'00]
3. Rondo: Allegretto grazioso [12'03]

Piano Concerto No 3 in A minor Op 107 [24'11]
4. Allegro moderato [14'28]
5. Introduzione del Rondo: Maestoso sostenuto [2'26]
6. Rondo: Allegro vivace [7'17]
7. Adagio ed Allegro di bravura Op 102 [11'03]
这里是其它用户补充的资源(我也要补充):
暂无补充资源