原声大碟 -《魔法黑森林》(Into the Woods)Original Motion Picture Soundtrack [Deluxe Edition][MP3]

专辑中文名: 魔法黑森林
专辑英文名: Into the Woods
资源格式: MP3
版本: Original Motion Picture Soundtrack [Deluxe Edition]
发行时间: 2014年12月15日
简介: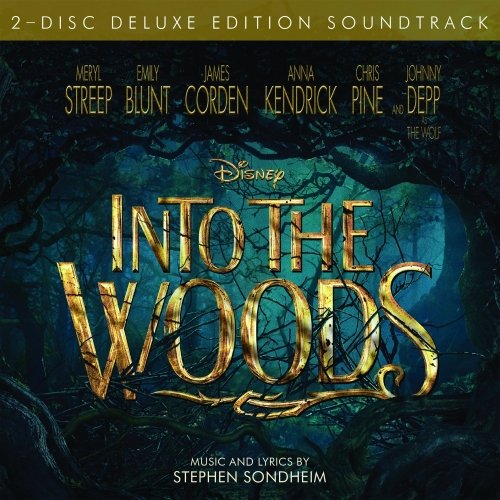 压缩比率:320kbps

专辑介绍:

《芝加哥》导演罗伯·马歇尔(Rob Marshall)将为迪士尼公司改编百老汇音乐剧《拜访森林》(Into the Woods)。音乐剧作者詹姆斯·拉潘(James Lapine)和斯蒂芬·桑德海姆(Stephen Sondheim)也将参与改编。

斯蒂芬·桑德海姆是"概念音乐剧"的开山鼻祖,代表作有《理发师陶德》,堪称音乐剧界的"瓦格纳"。《拜访森林》是他的一部音乐剧,首演于1987年,第二年托尼奖上打败《剧院魅影》,获得最佳编剧、最佳词曲两项音乐剧最为核心的奖项。剧中汇集了格林童话中"杰克与豆茎"(Jack and the Beanstalk)、"灰姑娘"(Cinderella)、"小红帽"(Little Red Riding Hood)、"长发姑娘"(Rapunzel)四个脍炙人口的故事与角色,并套上讽刺剧的面纱而组成一个"成人童话故事"。

2012年10月罗伯·马歇尔导演了一场剧本朗读会,其中Nina Arianda饰演面包师妻子,Victoria Clark饰演灰姑娘的母亲/巨人等, James Corden饰演面包师, Donna Murphy饰演女巫,Christine Baranski饰演灰姑娘继母,Tammy Blanchard饰演 Florinda, Ivan Hernandez饰演狼, Megan Hilty饰演Lucinda, Cheyenne Jackson饰演拯救长发公主的王子, Allison Janney饰演杰克的母亲, Anna Kendrick 饰演灰姑娘, Michael McGrath宫廷仆人和神秘人,Laura Osnes 饰演长发公主, Taylor Trensch饰演杰克, Casey Whyland饰演小红帽,Patrick Wilson饰演灰姑娘的王子. 2013年1月有报道说梅丽尔·斯特里普已签约扮演女巫一角。之后有报道称Janney确认参与此片,据称影片将于2013年10月开拍。

INTO THE WOODS DELUXE EDITION features 20 songs from the film and the score, which includes songs from the original stage musical, 'Finale/Children Will Listen,' 'Giants in the Sky,' 'On the Steps of the Palace,' 'No One Is Alone' and 'Agony,' among others.

Starring Meryl Streep, Emily Blunt, James Corden, Anna Kendrick, Chris Pine and Johnny Depp, INTO THE WOODS is a modern twist on several beloved fairy tales, intertwining the plots of a few choice stories and exploring the consequences of the characters' wishes and quests. This humorous and heartfelt musical follows the classic tales of Cinderella (Anna Kendrick), Little Red Riding Hood (Lilla Crawford), Jack and the Beanstalk (Daniel Huttlestone), and Rapunzel (MacKenzie Mauzy), all tied together by an original story involving a Baker and his Wife (James Corden and Emily Blunt), their wish to begin a family and their interaction with the Witch (Meryl Streep), who has put a curse on them. Rob Marshall, the acclaimed filmmaker behind the Academy Award-winning musical CHICAGO and Disney's PIRATES OF THE CARIBBEAN: ON STRANGER TIDES, directs the film, which is based on the musical stage production by legendary eight-time Tony, Grammy and Oscar-winning composer and lyricist Stephen Sondheim and Tony winner James Lapine, who also wrote the screenplay. The film was produced by John DeLuca, Marshall, WICKED producer Marc Platt and Callum McDougall.
专辑曲目:
Disc 1
01. Various Artists – Prologue: Into the Woods
02. Joanna Riding – Cinderella at the Grave
03. Johnny Depp & Lilla Crawford – Hello, Little Girl
04. MacKenzie Mauzy – Rapunzel's Song
05. Stephen Sondheim – The Cape as Red as Blood
06. Emily Blunt & James Corden – The Cow as White as Milk
07. Stephen Sondheim – Magic Beans
08. Stephen Sondheim – Rapunzel's Hair
09. Stephen Sondheim – Granny's Cottage
10. Lilla Crawford – I Know Things Now
11. Stephen Sondheim – The Beanstalk Grows
12. Stephen Sondheim – Cinderella Runs
13. Anna Kendrick & Emily Blunt – A Very Nice Prince
14. Daniel Huttlestone – Giants in the Sky
15. Stephen Sondheim – "Who Cares!"
16. Stephen Sondheim – Baker and Wife Part
17. Stephen Sondheim – Princes' Fanfare
18. Chris Pine & Billy Magnussen – Agony
19. Stephen Sondheim – The Forbidden Tower
20. Stephen Sondheim – "May I Compare This Ear of Corn?"
21. Emily Blunt & James Corden – It Takes Two
22. Stephen Sondheim – Two Midnights Gone
23. Stephen Sondheim – One Day Left
24. Meryl Streep – Stay With Me
25. Stephen Sondheim – Jack Chops Down the Beanstalk
26. Anna Kendrick – On the Steps of the Palace
27. Stephen Sondheim – "She Won't Get Far With One Shoe"
28. Stephen Sondheim – Searching for Cinderella
29. Christine Baranski & Tammy Blanchard & Lucy Punch – Careful My Toe
30. Stephen Sondheim – The Slipper Fits
31. Stephen Sondheim – Rapunzel's Tear
32. Stephen Sondheim – "This Cow Is Covered With Flour"
33. Stephen Sondheim – Almost Midnight
34. Stephen Sondheim – The Witch's Transformation

Disc 2
01. Stephen Sondheim – Ever After
02. Stephen Sondheim – Back Into the Woods
03. Stephen Sondheim – Find the Boy
04. Meryl Streep – Witch's Lament
05. Chris Pine & Emily Blunt – Any Moment
06. Emily Blunt – Moments in the Woods
07. Daniel Huttlestone & James Corden & Lilla Crawford & Meryl Streep & Anna Kendrick – Your Fault
08. Meryl Streep – Last Midnight
09. Stephen Sondheim – No More
10. Stephen Sondheim – The Far Away Prince
11. Anna Kendrick & James Corden & Lilla Crawford & Daniel Huttlestone – No One Is Alone
12. Stephen Sondheim – The Giant Attack
13. Various Artists – Finale/Children Will Listen (Pt. 1)
14. Various Artists – Finale/Children Will Listen (Pt. 2)
15. Stephen Sondheim – Stay With Me
16. Stephen Sondheim – Last Midnight
这里是其它用户补充的资源(我也要补充):
暂无补充资源