Cedric Tiberghien -《杜布瓦 - 浪漫的钢琴协奏曲,第60集》(Theodore Dubois - The Romantic Piano Concertos Vol 60)[FLAC]
专辑英文名: Theodore Dubois - The Romantic Piano Concertos Vol 60
专辑中文名: 杜布瓦 - 浪漫的钢琴协奏曲,第60集
古典类型: 全集作品
资源格式: FLAC
发行时间: 2013年07月09日
简介: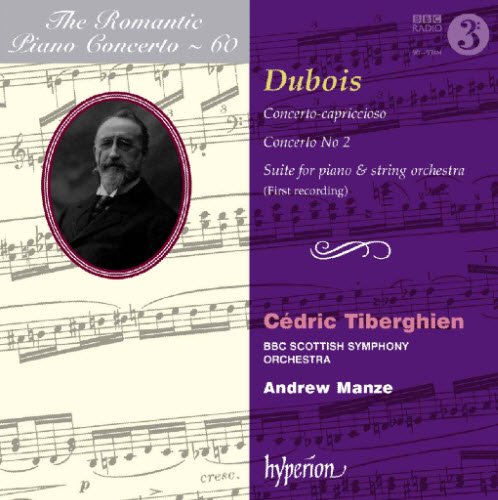 专辑介绍:

【hyperion】浪漫的钢琴协奏曲,第60集 - Dubois : Piano

Concerto No.2/Concerto capriccioso(Tiberghien提贝冈)

本辑的主角是法国作曲家杜布瓦,资质聪颖的他就读巴黎音乐院时便是眾人焦点,之后拿下罗马大奖回国后受母校聘任为和声学教授,此后一路往上最后成为该校院长。他丰富的创作不拘一格的灵感,充分涉猎各种音乐类型,同时自承风格受惠於法朗克、舒曼、布拉姆斯与圣桑等人。

浪漫钢琴协奏曲系列发行至今已经60集,历来有多位国际级钢琴家投入此一浩大录音工程,法国钢琴家提贝冈在本系列现身倒是第一回,这位毕业自巴黎音乐院的高材生1992年拿下一等奖时才年仅17岁,之后经过诸多国际大赛的洗礼,1998年拿下巴黎著名的隆-提博大赛冠军,此后音乐事业一飞冲天。除了在Hyperion与小提琴家伊布拉吉莫娃合作过三张室内乐专辑,在法国厂牌Harmonia Mundi更有不少重点录音,是相当值得期待的新一代钢琴家。

本辑的主角是法国作曲家杜布瓦,资质聪颖的他就读巴黎音乐院时便是眾人焦点,之后拿下罗马大奖回国后受母校聘任为和声学教授,此后一路往上最后成为该校院长。他丰富的创作不拘一格的灵感,充分涉猎各种音乐类型,同时自承风格受惠於法朗克、舒曼、布拉姆斯与圣桑等人。专辑内三首作品让我们体会到他四十年作曲风格蜕变的曼妙之处。随想协奏曲(1876)听来颇有韦伯与孟德尔颂等前人的风格,F小调浪漫协奏曲(1897)更是直接让人联想到圣桑。给钢琴与弦乐的组曲(1917)是杜布瓦80岁的作品,他一度无法决定要用何种名称,最后才决定採用组曲为名。此外从他的日记当中也可看出他本人对此作颇具信心。乐曲内某些和声色彩和弱起拍节奏所展现的个性隐约透露出新古典主义的到来。

COMPOSER: Theodore Dubois
TITLE: The Romantic Piano Concerto volume 60
TRACKS: Concerto capriccioso in C minor. Concerto for Piano and Orchestra Number 2 in F minor. Suite for piano and string orchestra in F minor.
ORCHESTRA: BBC Scottish Symphony Orchestra
CONDUCTOR: Andrew Manze
ARTISTS: Cedric Tiberghien

CDA67931



Release Date July 9, 2013
Duration 01:05:19
Genre Classical
Styles Concerto
Recording Date June 13, 2012 - June 14, 2012


Review by James Manheim [-]

This release is the 60th in an ongoing series, with no end in sight, devoted to the Romantic piano concerto. Hyperion has uncovered lots of music that can shake up the repertory of the same dozen concertos that get played and recorded repeatedly, and this outing contains music that's at least diverting and often more. Théodore Dubois was an established composer of his time, and thus was discarded when modernist orthodoxy required narratives of progress. But he was far from merely academic. The three works here span 40 years, and each treats inherited forms with an attractive freedom. The opening Concerto capriccioso in C minor of 1876 is the most conservative of the group, but its wandering slow introduction is languidly pleasant. The Piano Concerto No. 2 in F minor, from 1897, is in the Saint-Saëns orbit, but its four-movement form, with a fantasia rather than a triumphal flourish for its finale, is novel. Still more interesting is the Suite for piano and string orchestra, written in 1917 when Dubois was 80. It is quite a modern work, not harmonically but formally, breaking up the opposition between piano and orchestra in a series of small lyrical moments that bring to mind Milhaud or Poulenc. Would that every composer were so open to new influences at that age! French pianist Cédric Tiberghien gets the virtuosity level right (high, but never showy), and conductor Andrew Manze, stepping out of his Baroque field of specialty, gets properly clean, restrained results from the BBC Scottish Symphony Orchestra. A fine offbeat find for lovers of French music, although except in the final work Dubois is more Germanic than French.



The wonderful French pianist Cédric Tiberghien has made several admired recital and chamber recordings. Now he joins the impressive roster of pianists who have contributed to Hyperion's Romantic Piano Concerto series with Volume 60: Théodore Dubois. Three works by this French composer are included here, and they present a captivating panorama of the evolution of Dubois' style over some forty years: the Concerto-capriccioso of 1876 seems like a preliminary study in the style of such composers as Weber and Mendelssohn, whereas the highly Romantic Concerto in F minor (1897) is reminiscent of Saint-Saëns. The completely unknown Suite for piano and strings (1917), for its part, resembles a neoclassical pastiche.

Orchestra: BBC Scottish Symphony Orchestra
Conductor: Andrew Manze
Composer: Theodore Dubois
Audio CD (July 9, 2013)
Number of Discs: 1
Format: Import
Label: Hyperion
ASIN: B00CFHTRQ4

4 of 4 people found the following review helpful
4.0 out of 5 stars Enjoyable compilation of Theodore Dubois' concertante works for piano and orchestra, September 22, 2013
By
G.C. (St. Louis, MO, USA) - See all my reviews
This review is from: The Romantic Piano Concerto Vol.60 - Works of Dubois (Audio CD)
The Hyperion series "The Romantic Piano Concerto" reaches Volume 60 with this compilation of the 3 works for piano and orchestra by the French composer Theodore Dubois (1837-1924). Interestingly, in the liner notes, Alexandre Dratwicki (c/o translator Charles Johnston) says at once that "Theodore Dubois is an unloved figure" and is "often scorned as the author of a forbidding treatise on harmony". Given that this series ostensibly wants to revive and rehabilitate the reputations of neglected composers, this doesn't seem like the best way to start to make a case for Dubois. Yet later in the same introductory paragraph, Dratwicki also says that Dubois, "while remaining faithful to his ideals of clarity and respect for tradition, was receptive to the advanced ideas of his time". I suppose the lesson here is to continue to read the liner notes in spite of openings that act to diminish listener expectations.

While Dratwicki doesn't say this in so many words, this album does appear to collect all the official Dubois works for piano and orchestra. The first, the "Concerto-capriccioso", from 1876, would thus appear to be Dubois' de facto "Piano Concerto No. 1", without having that number formally attached to it. Dratwicki again sets the listener up for lowered expectations in his liner notes, calling it "modest" and "devoid of any great compositional pretensions". This concerto is in a single continuous movement, though falling into 3 overall sections. The very opening is a long solo for the piano, and thus is reminiscent, to this writer at least, of the opening of Saint-Saens' Piano Concerto No. 2, though not imitative in any way, to be fair to Dubois. Overall, Dratwicki's assessment seems a fair one, after listening to the work, although he does also close by saying that it "is an attractive bravura piece, which may still be listened to with curiosity and pleasure." The work is an enjoyable enough diversion, if not with any big tunes that stay in the memory.

The Piano Concerto No. 2, the only numbered concerto here, is a more ambitious work in 4 movements, lasting not quite 12 minutes longer than the earlier work. The first movement is by far the longest, and sets up the generally good-natured ethos of the work, if in a slightly sprawling manner. To this listener, the scherzo perhaps comes off best, with a decent dollop of quicksilver in its spirit. This concerto definitely aims higher than its predecessor, but I'm not sure if it achieves its goals better than the earlier and ostensibly less "pretentious" work. This remains a pleasant work to hear, nonetheless.

The final concertante work, the Suite for piano and strings, is perhaps the most overtly charming and light-spirited of the works on this album. Yet somehow to me at least, the charm seems a bit self-conscious and deliberate, if that makes sense, particularly at the start. Granted, Dubois wrote this work at age 80, and knew himself well enough to deliberate on the proper title for this work, where apparently he commented in his diary about just what exactly to call the work, and eventually settled on "Suite" over more 'solemn' designations such as "Concerto" or even "Suite concertante". This is the only work on this album that claims to be a first recording.

Cedric Tiberghien has recorded a number of albums for Hyperion as a chamber musician, specifically in duo with violinist Alina Ibragimova. But he makes his concerto debut for Hyperion with this album, and thus also his debut in this series "The Romantic Piano Concerto". He does a very fine job indeed, with only one passage in the Piano Concerto No. 2 that threatens to sound like pounding the piano. As usual in this series, the BBC Scottish Symphony Orchestra, who seem to have become the "house band" for this series, do a terrific job as accompanists, with Andrew Manze providing a sure hand on the podium.

Overall, then, another good addition to this series, perhaps not revealing any profound hidden masterpieces, IMHO, but diverting and enjoyable, and worth a listen for those following this series, and anyone wanting to explore the hidden by-ways of neglected piano concerti.


引用
I don't know if I'm wrong, but I feel quite sure that if later on, after I'm gone, [my works] come to the attention of unprejudiced musicians and critics, there will be a backlash in my favour! I won't be there to enjoy it, but that doesn't matter, it's a nice thought! … People are bound to find enough good things among all I leave behind me to do me some degree of justice! (Théodore Dubois, personal diary, 18 December 1922)

Théodore Dubois is an unloved figure. Often scorned as the author of a forbidding treatise on harmony, he has come to symbolize the official artistic circles of a fin de siècle France overcast by the worrying shadow of a fiercely decried 'academicism'. Born in 1837, he began his career as an outstandingly gifted student at the Paris Conservatoire, where he won multiple prizes, notably for the piano and for composition, including a Premier Grand Prix de Rome (1861). On his return to France from his residence at the Villa Medici, he immediately embarked on the natural course of a regular and patient professional ascent. Appointed professor of harmony at the Conservatoire in 1871, he became professor of composition there ten years later, then its director from 1896 until his retirement in 1905. Alongside these activities, he held a variety of posts in the field of church music, notably as organist of the Madeleine (1877–96). Honoured by the official milieux, elected a member of the Institut de France in 1894, Dubois enjoyed a privileged position for which his reputation was to suffer after his death. Yet, while remaining faithful to his ideals of clarity and respect for tradition, he was receptive to the advanced ideas of his time, as is demonstrated by his membership of the Société Nationale de Musique. His vast and varied output, eclectic in its inspiration, touches on every genre, and proclaims its indebtedness to Franck and Schumann as much as Brahms and Saint-Saëns.

In an extremely varied catalogue of works, Dubois showed no special enthusiasm for the concerto, probably because he was not himself a virtuoso of the front rank (although he was a genuinely talented organist). Naturally enough, when he did set out to write concertante music, it was to the three 'reigning' instruments of the Romantic era that he turned: the piano on three occasions (Concerto-capriccioso, Concerto No 2 in F minor, Suite for piano and strings), the violin (a concerto), and the cello (Andante cantabile, Fantaisie-stück). He coupled cello and piano in a masterly work (the Suite concertante, with orchestra) that deserves to be considered as one of his finest achievements. The three works recorded here present a captivating panorama of the evolution of Dubois's style over some forty years: the Concerto-capriccioso of 1876 seems like a preliminary study in the Romantic style of such composers as Weber and Mendelssohn, whereas the Concerto in F minor (1897) aspires to the monumentality of the first years of post-Romanticism. The Suite for piano and strings (1917), for its part, resembles a neoclassical pastiche, some passages of which appear almost to foreshadow Poulenc.

The modest Concerto-capriccioso, premiered in April 1876 by Jeanne Duvinage, the composer's wife, functions on a unitary principle frequent since the vogue of the Germanic Konzertstück, of which Weber and Schumann left fine examples: a single movement structured as three fairly short linked sections. But where certain compositions of this type opt for an 'open' plan, in which each of the three sections introduces new material (possibly with a reprise), the Concerto-capriccioso falls back on an ABA' form which presupposes a recurrence of the first themes after the brief slow episode. This less elaborate structure is explained by the fact that this piece was written some twenty years before the F minor Concerto and forty years before the Suite. It must be acknowledged that the inspiration of certain orchestral tuttis is not yet on the level of the later works, but that is no reason to deny oneself the pleasure of appreciating the luxuriant virtuosity deployed in the piano part. A long introductory cadenza at once places the entire work under the authority of an omnipresent soloist. The orchestra's discursive role is fairly limited, but the brevity of the piece offsets the absence of genuine symphonic development. The opening Allegro presents two contrasting themes, the first nobly restless, the second eminently 'Romantic' with agitated triplets in the left hand. The brief slow movement seems more of a free fantasia than a full-blown musical structure, and probably owes its delightful harmonic excursions to Dubois's improvisatory talents on the organ. After this, violins and cellos in octaves once more take up the initial theme of the first movement (subtly transformed for the occasion) while in the final section the soloist displays increased virtuosity, culminating in a spectacular coda. Though devoid of any great compositional pretensions, the Concerto-capriccioso is an attractive bravura piece, which may still be listened to with curiosity and pleasure.

Published by Heugel—a firm that remained faithful to Dubois throughout his career—the Piano Concerto No 2 in F minor was premiered at the Paris Opéra on 30 January 1898 by the pianist Clotilde Kleeberg (1866–1909), who had also given the first performance of Dubois's set of solo piano pieces Poèmes sylvestres. The orchestra was conducted by Paul Taffanel. Le Ménestrel reviewed the event on 6 February in terms highly laudatory for both performer and work:

Mlle Clotilde Kleeberg then played the Second Piano Concerto in F minor of M. Théodore Dubois, which was receiving its first hearing. The work is interesting, very modern in style and happily proportioned; the solo instrument does not misuse its predominance and often assumes a concertante role, taking its place in the symphonic movement. Unfortunately, the auditorium of the Opéra is so resistant to music that the piano could barely be heard in the course of the first movement. The Adagio that follows is attractive in colour, and its conclusion, con sordini, produces a felicitous effect; Mademoiselle Kleeberg played it very nicely, as she did the Allegro scherzando, which is nimble, lively, and elegant in rhythm. Its only fault—a rare one—is that it is too brief. The obligatory cadenza, instead of coming at the end of a movement as is usual, here appears at the start of the finale, Allegro con fuoco, a fast and cheerful piece with an attractive fugal passage, which ends the work on a warm note that invites applause. It certainly received that on this occasion, as did its excellent interpreter, who, with her stylishness, her virtuosity, her grace, succeeded in bringing out all its qualities of charm and colour.

The first movement of the concerto is by far the most extended, notably because it is founded on a multitude of themes and motifs which ensure variety. The initial tutti, a worthy heir to the thunderous openings of the Grieg and Schumann concertos, is assigned to the orchestra. It is answered by a second theme in Franckist harmonies. A false entry from the piano, with a simple but effective octave scale, leads to a reprise of the tutti. The soloist then presents a new theme of his own—one of Dubois's finest melodic inspirations in this concerto—which is at once taken up and varied. The second theme displays a similar caressing lyricism, recalling Chopin in its elegant decorations and its delicately swaying accompaniment. A refined development with skilful harmonic progressions reintroduces the initial themes and motifs in extremely rich orchestral textures. Virtuosity does not seem to be the principal preoccupation of the composer, who has clearly taken into account the modern phenomenon of the symphonic concerto, in which the discursive role of the orchestra is preponderant. The passagework that punctuated the Concerto-capriccioso is much rarer here and is almost always superimposed on elaborate thematic working.

The second movement—a traditional but concise ternary form—is again based on a theme of great sensuality, although Dubois asks for it to be played 'with gravity'. A presentation of this theme in bare octaves on the piano recalls the austere recitatives of Liszt or Chopin, but here its purpose is to prepare the climax of this Adagio: a reprise on full strings of the principal theme, on which the soloist superimposes a demanding motif of swirling runs. Without overusing this formula, Dubois concludes the movement in an atmosphere of tranquillity with witty harmonic twists characteristic of his style, which is never as smoothly conventional as one imagines.

The brief scherzo, typically French, manages in its own way to combine the elegance of a motif that Saint-Saëns and Pierné would not have disowned with monumental tuttis enlivened by agitated solo passagework. Rarely enough for its period, this movement might almost be thought too short, for the enjoyment it gives is still far from palling when it comes to an end. The soloist launches the finale with a written-out cadenza that recapitulates all the themes heard earlier. After this, the last movement is free to deploy its shimmering virtuosity in the manner of Saint-Saëns, with a few skilful contrapuntal passages thrown in.

Dubois wrote in his diary on the date of 24 August 1917: 'Today is the eightieth anniversary of my birth! Thank God, I am still in pretty good health and fit enough. My grand-daughter greeted me this morning with these words: "Grandpa, there are plenty of eighty-year-olds who are in worse shape than you!" A sweet tribute of childish innocence! I can still work without fatigue, and indeed today I have just finished writing a Suite for piano and strings. It seems not too bad to me, but I may be deceiving myself, alas! I shall leave it be for a while; that is a good way to assess it more accurately a little later. I have often felt the benefit of proceeding thus.'

The Suite comprises four contrasting movements in a manner reminiscent of that of the Suite concertante for cello, piano and orchestra, written in 1912. Already, at that time, Dubois had wondered which form to adopt: 'I'm starting on a work for piano, cello and orchestra … What should I call it? "Concerto", "Symphonie concertante", or "Suite concertante"? "Concerto" is rather hackneyed; "Symphony" much too solemn; "Suite" seems to me more appropriate to the nature of the ideas I want to use and the development I want to give them. So it will be, I think, a suite, and in four sections.'

The Suite of 1917 begins with a Moderato of a certain gravity in which the strings are treated in a genuinely symphonic style. A tight-knit melodic dialogue gives way to a more virtuosic outpouring from the piano at the end of the movement. The scherzo prolongs the alternating discourse of the first movement, notably in its sinuous secondary theme. This very brief movement ends with a touch of humour. The splendid slow movement does not deny itself the pleasure of an ardent, tender post-Romanticism. The cellos and a solo violin display the full potential of an orchestra of divided strings, with the keyboard slipping willingly into the role of accompanist. The finale, more classical in cut with its unison scales and its almost Mozartian runs, is initially founded on brief motifs rather than a true theme. But soon a lyrical section recalls Dubois's usual language. It is here that certain harmonic colorations and offbeat rhythmic accents seem to herald the future wave of neoclassicism (even though the composer was contemptuous of this in its more modern manifestations). The formidable energy of this finale at no point allows one to guess the venerable age of its composer.

Alexandre Dratwicki © 2013
English: Charles Johnston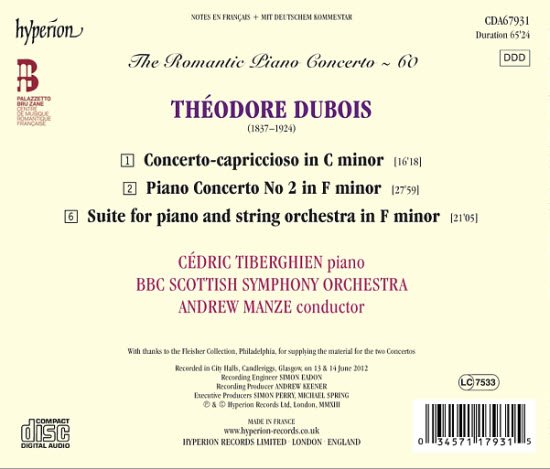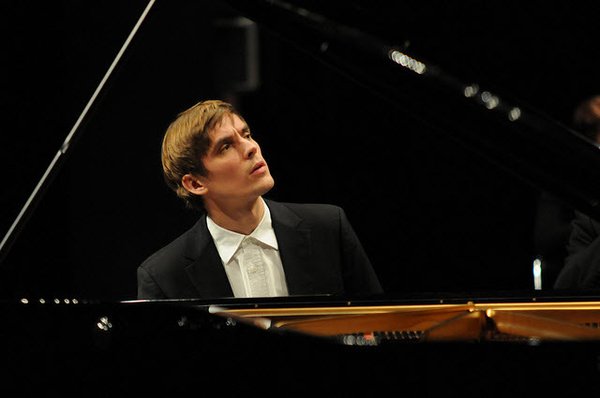 专辑曲目:
The Romantic Piano Concerto
Théodore Dubois (1837-1924)

1. Concerto-capriccioso in C minor
2. Allegro (Piano Concerto No 2 in F minor)
3. Adagio con sentimento profondissimo
4. Allegro vivo, scherzando
5. Con molta fantasia: Allegro con fuoco
6. Moderato (Suite for piano and string orchestra in F minor)
7. Allegretto
8. Andante
9. Allegro vivo
这里是其它用户补充的资源(我也要补充):
whch525 2014/12/05 15:02:22 补充
(...)
该内容尚未提供权利证明,无法提供下载。