专辑英文名: Pure... Rock 'n' Roll
专辑中文名: 纯摇滚名曲
音乐风格: 摇滚
资源格式: FLAC
版本: [4 CD]
发行时间: 2013年08月05日
简介: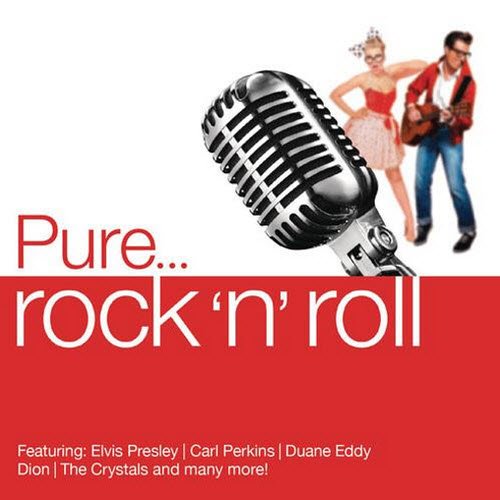 专辑简介:

★史上最强摇滚名曲横空出世终於登场!

★开天闢地摇滚诞生名作4碟打尽

★从50年代至70年代经典艺人全员到齐

★Oldies and Goodies必收曲目: 猫王Jailhouse Rock、Carl Perkins - Blue Suede Shoes、Neil Sedaka - Oh! Carol、Johnny Cash - I Walk The Line、Tony Orlando - Bless You、The Isley Brothers –Shou Bobby Vinton - Blue Velvet t...

★行家秘藏摇滚单曲: Don Gibson - Sea Of Heartbreak、Dion - This Little Girl Of Mine、John D. Loudermilk - Language Of Love、The Silhouettes - Get A Job、The Tokens - The Lion Sleeps Tonight (Wimoweh)

合辑/V.A. [所有作品]
产品条码: 0888837506120
产品编号: 88883750612
发行公司: SONY MUSIC [发行商品]
发行日期: 2013年08月13日
产品制造地: 欧美 .
发行类型: 流行 . CD . 英文 .
内装片数: 4片


Release Date August 5, 2013
Duration 02:40:03
Genre Pop/Rock
Styles AM Pop Early Pop/Rock Rock & Roll

Review by Steve Leggett

Although it might be pretty difficult to define exactly what "pure" rock & roll is, this four-disc set collects classic early tracks of the genre, whether they're "pure" or not, including, among many others, Elvis Presley's "Jailhouse Rock," Paul Anka's "Diana," the Isley Brothers' "Shout," and the Crystals' "He's a Rebel."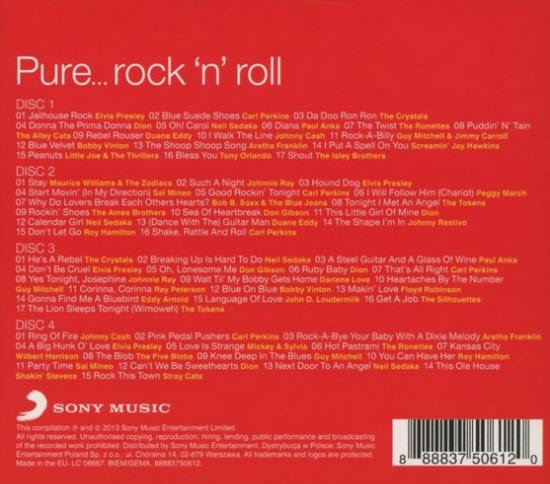 专辑曲目:
Disc 1

01. Elvis Presley - Jailhouse Rock [02:37]
02. Carl Perkins - Blue Suede Shoes [02:20]
03. Crystals - Da Doo Ron Ron [02:20]
04. Dion - Donna The Prima Donna [02:53]
05. Neil Sedaka - Oh Carol [02:18]
06. Paul Anka - Diana [02:18]
07. Ronettes - The Twist [02:08]
08. Alley Cats - Puddin n' Tain [02:48]
09. Duane Eddy & His Twangy Guitar - Rebel-Rouser [02:32]
10. Johnny Cash - I Walk The Line [02:43]
11. Guy Mitchell - Rock-A-Billy [02:14]
12. Bobby Vinton - Blue Velvet [02:48]
13. Aretha Franklin - The Shoop Shoop Song (It's In His Kiss) [02:23]
14. Screamin' Jay Hawkins - I Put A Spell On You [02:27]
15. Little Joe & The Thrillers - Peanuts [02:25]
16. Tony Orlando - Bless You [02:08]
17. Isley Brothers - Shout [04:32]

Playing Time......: 44:02

Disc 2

01. Maurice Williams & The Zodiacs - Stay [01:40]
02. Johnnie Ray - Such A Night [02:14]
03. Elvis Presley - Hound Dog [02:16]
04. Sal Mineo - Start Movin' (In My Direction) [02:32]
05. Carl Perkins - Good Rockin' Tonight [02:21]
06. Peggy March - I Will Follow Him [02:28]
07. Bob B Soxx & The Blue Jeans - Why Do Lovers Break Each Other's Hearts [02:51]
08. Tokens - Tonight I Met An Angel [01:57]
09. Ames Brothers - Rockin' Shoes [01:55]
10. Don Gibson - Sea Of Heartbreak [02:33]
11. Dion - This Little Girl [02:48]
12. Neil Sedaka - Calendar Girl [02:38]
13. Duane Eddy - (Dance With The) Guitar Man [02:41]
14. Johnny Restivo - The Shape I'm In [02:06]
15. Roy Hamilton - Don't Let Go [02:30]
16. Carl Perkins - Shake Rattle And Roll [03:29]

Playing Time......: 39:06

Disc 3

01. Crystals - He's A Rebel [02:33]
02. Neil Sedaka - Breaking Up Is Hard To Do [02:17]
03. Paul Anka - A Steel Guitar And A Glass Of Wine [02:12]
04. Elvis Presley - Don't Be Cruel [02:04]
05. Don Gibson - Oh Lonesome Me [02:30]
06. Dion - Ruby Baby [02:37]
07. Carl Perkins - That's All Right [03:35]
08. Johnnie Ray - Yes Tonight Josephine [02:32]
09. Darlene Love - Wait Till My Bobby Gets Home [02:25]
10. Guy Mitchell - Heartaches By The Number [02:39]
11. Ray Peterson - Corrine Corrina [02:41]
12. Bobby Vinton - Blue On Blue [02:30]
13. Floyd Robinson - Makin' Love [01:53]
14. Eddy Arnold - Gonna Find Me A Bluebird [02:11]
15. John D Loudermilk - Language Of Love [01:46]
16. Silhouettes - Get A Job [02:46]
17. Tokens - The Lion Sleeps Tonight [02:42]

Playing Time......: 42:00

Disc 4

1. Johnny Cash - Ring Of Fire [02:37]
2. Carl Perkins - Pink Pedal Pushers [02:36]
3. Aretha Franklin - Rock-A-Bye Your Baby With A Dixie Melody [02:23]
4. Elvis Presley - A Big Hunk O' Love [02:14]
5. Mickey & Sylvia - Love Is Strange [02:54]
6. Ronettes - Hot Pastrami [01:32]
7. Wilbert Harrison - Kansas City [02:24]
8. Five Blobs - The Blob [02:40]
9. Guy Mitchell - Knee Deep In The Blues [02:12]
10. Roy Hamilton - You Can Have Her (I Don't Want Her) [02:40]
11. Sal Mineo - Party Time [02:15]
12. Dion - Can't We Be Sweethearts [02:24]
13. Neil Sedaka - Next Door To An Angel [02:26]
14. Shakin' Stevens - This Ole House [03:06]
15. Stray Cats - Rock This Town [02:40]

Playing Time......: 37:12
这里是其它用户补充的资源(我也要补充):
暂无补充资源