专辑英文名: The Romantic Piano Concerto 64 - Oswald & Napoleão
专辑中文名: 浪漫钢琴协奏曲第64集 - 奥斯华、拿破崙
古典类型: 全集作品
资源格式: FLAC
发行时间: 2014年10月14日
简介: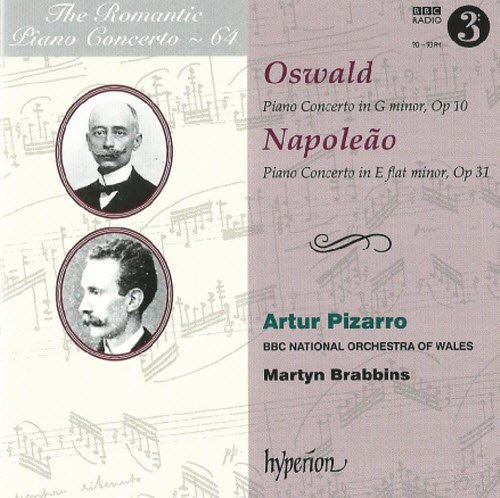 专辑介绍 :

葡萄牙钢琴名家阿图.皮札洛上一张参与「浪漫钢琴协奏曲系列」的录音已经是2000年的事情,经过14个年头后再度回归,演出巴西作曲家恩里克.奥斯华和葡萄牙作曲家阿弗列多.拿破崙(这当然不是那个叱吒风云的拿破崙)作品。对现今的听眾而言,这两人的名字应该都是相当陌生(话说回来,这个系列除了几位重量级作曲家之外,大部分对我们来说都是陌生的啊)。

两人同时是作曲家也是钢琴家,出生年份也是同一年,前后仅相差不到三个月。当时舒曼、布拉姆斯和李斯特都还在世,萧邦则是刚过世不久。两人的家庭背景相仿,父母都来自欧洲不同国家:奥斯华的父亲是瑞士裔德籍、母亲是义大利人;拿破崙的父亲是义大利人、母亲是葡萄牙人。两人都是以神童的姿态进入音乐圈,并在日后成为巡迴音乐家、学者以及作曲家。1868年对两位年方16岁的青年来说是人生的重要转捩点,奥斯华举办「告别音乐会」后离开里约热内卢前往欧洲留学;拿破崙则是相反,前往巴西寻找出路。

奥斯华的G小调钢琴协奏曲大约是1886年完成,是年他结识了李斯特。虽然第二主题不难看出有佛瑞的影响,但是第一乐章整体性格依旧不脱晚期浪漫德国风格。管弦乐团的配器虽然饱满丰富,但是类似柴可夫斯基的律动感配上钢琴的绚烂技法加持,独奏家很轻易就会变成全场焦点。

拿破崙的降E小调第二号钢琴协奏曲并未标示日期,推测应该与奥斯华的钢琴协奏曲同时期,献给葡萄牙国王路易斯一世。儘管拿破崙曾演出这首协奏曲的钢琴独奏版,与管弦乐团的首演却是迟至1941年2月12日才发表。
首演的钢琴家Evaristo de Campos Coelho (1903–1988),正好就是本辑演奏家皮札洛小时候的老师。他多次演奏推广此曲。之后他的另一位学生Dinorah Leitão则是继续老师的志业,第三位让此曲大放异彩的就是皮札洛。

浪漫钢琴协奏曲 64: 奥斯华、拿破崙
Romantic Piano Concerto Vol.64

作者 / 马汀.布拉宾斯/ 威尔斯BBC交响乐团/ 阿图.皮札洛 Martyn Brabbins/ BBC National Orchestra of Wales/ Artur Pizarro
出版社 / HYPERION RECORDS
出版日期 / 2014/10/17
商品语言 / 无

专辑编号: CDA67984
专辑类型: 单CD
发行年份: 2014
国际条码: 0034571179841
音乐厂牌: Hyperion
库存状态: 有库存

OSWALD, HENRIQUE Piano Concerto ALFREDO NAPOLEAO Piano Concerto No. 2. Artur Pizarro, BBC National Orchestra of Wales / Martyn Brabbins. Hyperion Romantic Piano Concerto Vol. 64



Release Date October 14, 2014
Duration 01:07:06
Genre Classical
Styles Concerto
Recording Date October 21, 2013 - October 23, 2013


Review by James Manheim [-]

More than five dozen strong and counting, Hyperion's series devoted to the Romantic piano concerto continues to recover absolutely unknown music. Here are a pair of pianist-composers, both successful performers in their own time; Henrique Oswald was born in Brazil, while Alfredo Napoleão was a Portuguese who spent considerable time there, and they would likely have known each other's music. At least outside of Brazil, the country's concert music of the late 19th century is represented mostly by Ernesto Nazareth, whose dance pieces occupied a position in musical life somewhat similar to that of Scott Joplin in the U.S. Most concert music at the time would have followed European models, with no national Brazilian influence. So it is here: much of Oswald's music apparently follows French influences, but the ambitious opening movement of the Piano Concerto in G minor, Op. 10, is in the Tchaikovsky mold, with sweeping melodies that seem to burst the bounds of the piano-orchestra interaction. The highlight of the whole album is that concerto's slow movement, which uses the piano in a unique way to chromatically embroider a big, sentimental melody. The tarantella finale is not on the same level. Napoleão's concerto is even more grandiose, with a nearly 20-minute opening slow movement that holds up structurally, and a fast scherzo and finale. Either one of these pieces could be added to a symphonic piano concerto program with profitable results, and Portuguese American pianist Artur Pizarro brings the desired virtuoso flair, with the BBC National Orchestra of Wales under Martyn Brabbins staying out of his way as needed. Recommended for anyone interested in Brazilian music.


引用
The Romantic Piano Concerto 64 - Oswald & Napoleão dos Santos

Oswald, H:


Piano Concerto in G minor, Op. 10

Santos, A:


Piano Concerto No. 2 in E flat minor, Op. 31

Artur Pizarro (piano)

BBC National Orchestra of Wales, Martyn Brabbins

Portuguese virtuoso Artur Pizarro makes a welcome return to the Romantic Piano Concerto series with the outpourings of two brilliant pianist-composers. Their names may not be familiar to listeners today. The Brazilian Henrique Oswald and the Portuguese Alfredo Napoleão were born in the same year, less than three months apart, when Schumann, Brahms and Liszt were alive and Chopin recently deceased. Both were of mixed European heritage: Oswald with a Swiss-German father and Italian mother, Napoleão with an Italian father and Portuguese mother. Both were child prodigies who became widely travelled concert pianists, pedagogues and composers. In 1868 Oswald gave his 'farewell recital' and left Rio de Janeiro to study in Europe; Napoleão went to Brazil.

Oswald's Piano Concerto in G minor, Op 10, dates from about 1886, the year he met Liszt. Although influences of Fauré can be detected in the second theme, the overall character of the first movement owes more to the late Romantic German style. The orchestration is rich and full, but the Tchaikovskian athleticism and virtuosity of the piano-writing keep the soloist to the fore.

Napoleão's Piano Concerto No 2 in E flat minor, Op 31, is undated but was probably composed around the same time as Oswald's Piano Concerto. Although Napoleão performed the concerto in a solo piano version, the first performance with orchestra had to wait until 12 February 1941. This was given by Evaristo de Campos Coelho (1903–1988)—with whom Artur Pizarro, the pianist on the present recording, studied as a young child. He played the work numerous times, and performed it for Portuguese radio. Dinorah Leitão (who was Ivo Cruz's daughter in law, and also a student of Campos Coelho) then played it, and Artur Pizarro is only the third pianist to champion this work.

"Napoleão's concerto No 2 in E flat minor grips with a first movement worthy of Chopin, and delights with a sparkling central scherzo but the wandering, occasionally twee third movement is disappointing, despite the dedicated playing of Artur Pizarro." The Observer, 26th October 2014 ***

"One cannot imagine them more convincingly executed. What verve and flair [Pizarro] brings to the stamina-sapping solos, and with what graceful lyricism he invests the cantabile writing. He is only the third pianist to champion the Napoleão concerto." Gramophone Magazine, November 2014
Released or re-released in last 6 months

Hyperion - The Romantic Piano Concerto - CDA67984

(CD)

Normally: S$20.50

Special: S$18.50

Portuguese virtuoso Artur Pizarro makes a welcome return to the Romantic Piano Concerto series with the outpourings of two brilliant pianist-composers. Their names may not be familiar to listeners today. The Brazilian Henrique Oswald and the Portuguese Alfredo Napoleão were born in the same year, less than three months apart, when Schumann, Brahms and Liszt were alive and Chopin recently deceased. Both were of mixed European heritage: Oswald with a Swiss-German father and Italian mother, Napoleão with an Italian father and Portuguese mother. Both were child
prodigies who became widely travelled concert pianists, pedagogues and composers. In 1868 Oswald gave his 'farewell recital' and left Rio de Janeiro to study in Europe; Napoleão went to Brazil.

Oswald's Piano Concerto in G minor, Op 10, dates from about 1886, the year he met Liszt. Although influences of Fauré can be detected in the second theme, the overall character of the first movement owes more to the late Romantic German style. The orchestration is rich and full, but the Tchaikovskian athleticism and virtuosity of the piano-writing keep the soloist to the fore.
Napoleão's Piano Concerto No 2 in E flat minor, Op 31, is undated but was probably composed around the same time as Oswald's Piano Concerto. Although Napoleão performed the concerto in a solo piano version, the first performance with orchestra had to wait until 12 February 1941. This was given by Evaristo de Campos Coelho (1903–1988)—with whom Artur Pizarro, the pianist on the present recording, studied as a young child. He played the work numerous times, and performed it for Portuguese radio. Dinorah Leitão (who was Ivo Cruz's daughter in law, and also a student of Campos Coelho) then played it, and Artur Pizarro is only the third pianist to champion this work.

Hyperion Records CDA67984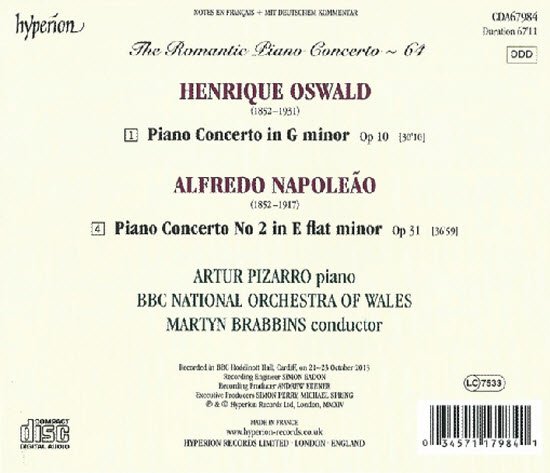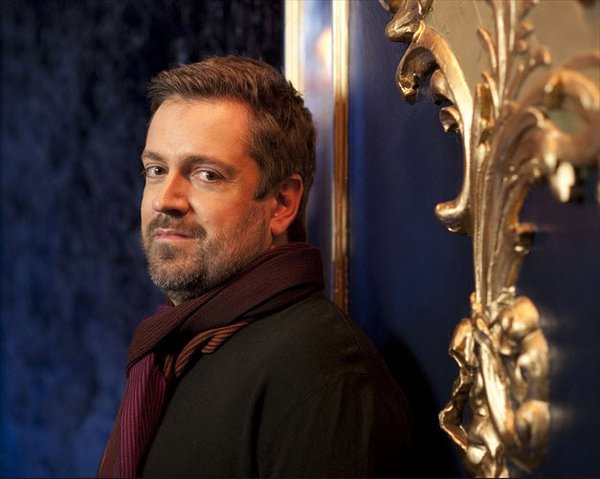 专辑曲目:
Henrique Oswald (1852–1931)
Alfredo Napoleão (1852–1917)

The Romantic Piano Concerto - Volume 64

Henrique Oswald
Piano Concerto in G minor Op 10 [30'10]
1 Allegro (un poco agitato) [14'21]
2 Adagio [9'22]
3 Allegro [6'27]

Alfredo Napoleão
Piano Concerto No 2 in E flat minor Op 31 [36'59]
4 Andantino maestoso [19'53]
5 Scherzo: Allegro vivace – Più lento – Tempo I [4'11]
6 Allegro – Più vivo [12'55]

Artur Pizarro - piano
BBC National Orchestra of Wales / Martyn Brabbins
这里是其它用户补充的资源(我也要补充):
暂无补充资源