专辑英文名: Chopin Liszt Ravel
专辑中文名: 葛罗斯文诺 演奏 萧邦,李斯特,拉威尔钢琴作品
古典类型: 全集作品
资源格式: FLAC
版本: [24bits 96KHz]
发行时间: 2011年07月19日
简介: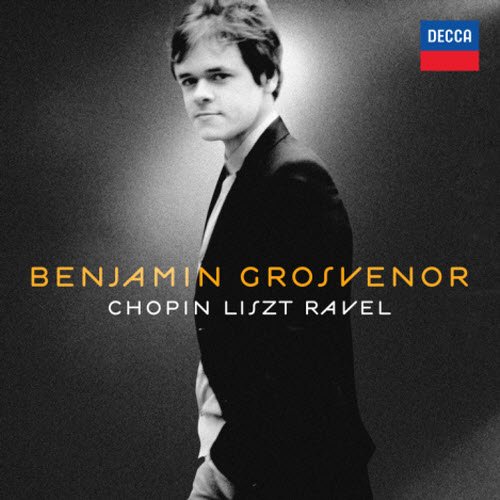 专辑介绍:

Decca 葛罗斯文诺(Benjamin Grosvenor)/葛罗斯文诺演奏萧邦、李斯特、拉威尔钢琴作品[Benjamin Grosvenor - Chopin · Liszt · Ravel]

【DECCA】Benjamin Grosvenor plays Chopin, Liszt, Ravel 葛罗斯文诺 演奏 萧邦,李斯特,拉威尔钢琴作品(留声机唱片大奖)

Decca 4783206(1CD)028947832065
葛罗斯文诺演奏萧邦、李斯特、拉威尔钢琴作品【1CD】
Benjamin Grosvenor - Chopin · Liszt · Ravel
葛罗斯文诺, 钢琴
Benjamin Grosvenor, Piano

2012年留声机杂誌年度最佳器乐演奏和年度新人, BBC音乐杂誌五颗星, 国际唱片录音卓越评价

萧邦:詼谐曲全集、第二号夜曲、
拉威尔:加斯巴之夜

葛罗斯文诺

简介:

这几年乐坛有几位特别惊人的神童,一再於网路上和乐坛间被传诵和讨论,其中最引起广泛讨论、也最惊人的就是台湾裔的数学-音乐双料神童周善祥(Kit Armstrong),他既作曲又在十七岁拿下法国居里大学纯数学硕士,还是布兰德尔退休后最骄傲的学生,称他是「要让我们瞭解天才脑中如何运算」的范例。另一位则是香港后裔余峻承(Marc Yu),出生於1999年。

另一位同样一再被媒体广泛报导、并引起专家研究神童现象的,就是英国的葛罗斯文诺,他和周善祥一样,都是1992年出生,且早在十岁出头,就已经公开演奏,并且引起广泛讨论。葛罗斯文诺在BBC电视的「想像成为职业钢琴家」节目中,纪录了他从小到大的各种演出和谈话,更被视为当代惊人现象,而一转眼,这两位小神童都已经来到二十岁,挥别神童的光环,要迎接世人以职业演奏家审视他们的眼光,原本,已经同意要和EMI签约的葛罗斯文诺,临时在去年四月,决定要和笛卡签约,成为笛卡半世纪来第一位签下的英国籍钢琴家。

被称讚是属於音乐性创造天才,而非技巧性天才的葛罗斯文诺,他的弹奏最特别的地方不在惊人的技巧(儘管他的技巧也很惊人),而是在乐曲经过他的吸收、消化后,会变得像是经过最具想像力和审美观的头脑处理过的音乐一样,呈现出与眾不同却又份外优美的作品。这份录音中,不愧身为神童钢琴家的名声,葛罗斯文诺选了一套技巧和音乐性上都要求最完熟和老练钢琴家的曲目:萧邦「詼谐曲」和拉威尔「加斯巴之夜」,非常坦率地接受各界最严格的检视。

Release Date July 19, 2011
Duration 01:15:21
Genre Classical Pop/Rock
Styles Keyboard
Recording Date April 23, 2011 - April 26, 2011

Review by Blair Sanderson [-]

For his debut recording on Decca, pianist Benjamin Grosvenor performed music of Frédéric Chopin, Franz Liszt, and Maurice Ravel, demonstrating both a keen awareness of his prodigious abilities and a knack for creating a balanced and interesting program. Chopin's four dynamic Scherzos are interspersed with three Nocturnes (chosen to correspond to the Scherzo's keys), while the remainder of the program is devoted to Liszt's transcriptions of two of Chopin's songs and the nocturne, En rêve, along with Ravel's notoriously difficult Gaspard de la nuit. The Chopin Scherzos are distinctively played with incisive attacks, commanding expression, and bravura speed, which, when taken altogether, make the gentle Nocturnes necessary interludes to leaven the Scherzos' volatile moods. The Liszt portion of the program is even lighter, with a nice mix of lyricism and colorful virtuosic turns, and the sweetness of the music balances the rather unsentimental Chopin interpretations. Less soothing is the dark and haunted music of Ravel's Gaspard de la nuit, which provides Grosvenor his finest moments. If any piece demonstrates this pianist's technical skills and expressive depth, then this tryptich succeeds, for it showcases his talent for weaving fantastic expressions and virtuosic playing into a magical, disturbing, and chilling experience. Even at the beginning of his career, Grosvenor shows maturity and insight, and he offers an admirable album that displays not only what he has achieved thus far, but promises great things ahead. This rising star bears watching and this CD demands repeated listening.


引用
Chopin Liszt Ravel is the debut album from the incredible Benjamin Grosvenor. Decca Classics' new signing made his name as an 11 year old prodigy when he performed at the BBC Young Musician Final, (narrowly missing out to winner, violinist Nicola Benedetti). Still only aged 18, Benjamin has burst onto the performance scene. His debut album, Chopin Liszt, Ravel is out this July.

Benjamin is due to receive nationwide media attention when he performs at the First Night of the Proms, which will be followed by a BBC Breakfast News appearance. He will also tour this season with the National Youth Orchestra (and play at their BBC Prom) showing his relevance and support to young classical musicians today.

Conductor: n/a
Composer: Franz Liszt, Frédéric François Chopin, Joseph-Maurice Ravel
Audio CD (February 28, 2012)
SPARS Code: DDD
Number of Discs: 1
Label: Decca Records
ASIN: B0054O8PYA


Product Description
Decca Classics is proud to present the Decca debut of 19 year old British pianist Benjamin Grosvenor, who has been described as one in a million several million (The Independent) and a keyboard visionary who knows no bounds (Süddeutsche Zeitung). Signing an exclusive contract, Benjamin became the first British pianist to sign to Decca in nearly 60 years, since Clifford Curzon and Moura Lympany first graced the label in the 1940s and 50s

The new album was released in the UK to rapturous reviews, coinciding with Benjamin Grosvenor s performance of the Liszt Piano Concerto No.2 at the First Night of the BBC Proms, where he thrilled the audience in the hall, on radio and BBCTV and again broke a record, becoming the youngest First Night soloist the Proms has ever seen. He returned later in this season s Proms to perform Britten s Piano Concerto

The album is a personal and carefully-programmed choice of virtuoso solo piano music, built around Chopin s Four Scherzi and Ravel s Gaspard de la Nuit, and including Chopin Nocturnes and shorter pieces by Liszt sequenced to trace the development of pianistic virtuosity through these three great masters

Benjamin Grosvenor first rose to prominence when he won the piano section of the BBC Young Musician of the Year 2004 at the age of just 11 the youngest ever finalist in the competition. Shortly afterwards he made his debuts at the Royal Albert Hall and Carnegie Hall, New York and has continued to develop an international presence in Europe, Asia and the USA, working with some of the world s finest orchestras and conductors including Vladimir Jurowski and Decca artist Vladimir Ashkenazy

Benjamin is currently concluding his studies at the Royal Academy of Music in London and is a BBC Radio 3 'New Generation' Artist
Review
'That boy seems to have a sonic variety of liquid gold in his fingers. He's a natural romantic, sensing exactly how to shape an ecstatic arc and pace a rubato.' --The Independent, 2011

The first thing you notice is the limpid surface of Grosvenor s playing, the warm tonal gleam that he conjures up from the keys. It is a beautiful sound, and beneath it there are seams of passion, discretion and emotional affinity with the music... there is little to quibble with in this recital, which shows intelligence coupled with a command of keyboard colour and musical characterisation that are remarkable. --The Telegraph, 2011






23 of 25 people found the following review helpful
Remarkable achievement
By Rugby on July 27, 2011
Format: Audio CD
I enthusiastically second all the prior 3 reviews here, as well as Mark Ainley's blog review. The Decca cd evidences the maturity,individual sound, and original conception one associates with a great artist. All the playing is exemplary, the Chopin 3rd Scherzo and "Maiden's Wish" nigh definitive, "Gaspard" stunning. Whatever other recordings of these works you have, you will gain new insights from Grosvenor . His is a career to follow, not better place to start than this Decca cd :

Mark Ainley: The PIano Files - 'A Bold Debut Disc' 10 July 2011
[...]

" Benjamin Grosvenor's highly anticipated first CD on Decca is issued in the UK on Monday July 11. The young pianist, who turned 19 a few days before the release, continues to play with the brilliant technical facility and musical maturity that captured attention when he won the Piano section of the BBC Young Musician Award at age 11 in 2004.

With only one previous CD, `This and That' - a compilation that was not widely distributed (it was released on the B&W Online Music Club before being reissued on Grosvenor's own label Galton Productions) - Grosvenor now has the potential to reach the kind of audience that this level of artistry warrants thanks to his exclusive contract with Decca. If this current disc is anything to go by, there will be some great performances coming our way. Decca's promo video for the album, with some interesting statements from the pianist and clips of his playing (it is a bit unfortunate that they show the end of Scarbo as opposed to another section), shows the label's great interest in promoting the first British pianist to sign to the label since Moura Lympany and Clifford Curzon.

The current program bridges Chopin and Ravel via Liszt - brilliant programming, as Liszt was a true link between the other two composers of groundbreaking piano music. Grosvenor delivers Chopin's Four Scherzi in non-sequential order and interspersed with Nocturnes (the kind of programming Lipatti would do). Two Chopin songs arranged by Liszt lead into a seldom-played Liszt work, En Reve, before Ravel's legendary oeuvre Gaspard de la Nuit closes the program.

Grosvenor is a pianist who grasps the full spectrum of Romantic sensibilities: the music from this era is not all moonlit dreams and fields of flowers, and as some recordings by some of the legendary pianists of the 19th century demonstrate, there are darker undertones in the music of Chopin and Liszt. Grosvenor does not shy away from nor inappropriately highlight any of these qualities. Melodic lines are clearly shaped, harmonic shifts are attended to with care, tonal quality is never ignored: he can play a grand fortissimo without breaking the tone, and clearly articulate a pianissimo where his hands barely seem to touch the keys yet his tone is still full. He will occasionally play with less pedal than is the norm, which is not only entirely appropriate but also in keeping with recorded evidence of the golden age pianists. Conventional listeners may be too dazzled by his virtuosity to notice such nuances, while others may be startled by his boldness, but this is of little importance: Grosvenor's style is thoroughly musical and grounded in authentic Romantic tradition.

In the First of the Scherzi, he beautifully balances lyrical passages with a wilder approach to the runs that is nevertheless never less than sensitive, whereas one of the highlights of the Second is his voice-leading in the middle section, quite different from the norm, with rhythmic figurations complementing rather than being part of the primary melodic line. The glittering cascades in the Third are as dazzling as could be expected, with a warm glow and surrounding melodic subjects perfectly poised, and the runs in the Fourth are stunningly nuanced with marvelous pedal control, while the middle section features some masterful highlighting of inner voices.

In the three Nocturnes he presents, Grosvenor avoids lapsing into the sentimentality that is part of the artistic downfall of so many artists his age. The 95-year-old Hungarian pianist Livia Rev recently stated that so many young musicians try to communicate emotions that they haven't felt yet and we can sense it right away. This is not the case here, and it is not just the technical side of Grosvenor's performances that is arresting but its mature emotional content: there is an emotional breadth that can be breathtaking. His timing is impeccable, his phrasing architecturally balanced, his dynamic range bolder than the average seasoned pianist.

The three offerings by Liszt - arrangements of two Chopin songs and his own En Reve - give Grosvenor more opportunities to demonstrate how virtuosity and musicality need not be antithetical to one another. The Maiden's Wish is particularly captivating, with extra runs that are fully in keeping with the Romantic tradition of pianism of which Grosvenor seems to be a proponent.

Gaspard is not only a supremely challenging work for the hands, but conceptually it is frequently misunderstood. While many conservatory students older than Grosvenor will choose the work as a showpiece, he enters deeply into the essence of the work and delivers magnificently. Ondine shimmers seductively and Le Gibet is eerily frightening with its sinisterly voiced chords, but Scarbo is where Grosvenor's individuality shines through most. I must confess that my first impression was less than enthusiastic - I was startled by the breakneck speed and seemingly inconsistent phrasing - but as I listened again, I sensed that the pianist was tuning more into the chaotic, wild nature of the creature depicted in the poem that inspired the work than using the work as an opportunity to show off his technical prowess. The sudden surges and shifts are more frightening than in any version I've heard, and yet there is beauty and attention in the tone, phrasing, and nuances that are evidence that Grosvenor's conception is hardly as haphazard as the quixotic music and random outbursts might lead one to conclude. This, said one pianist for whom I played the recording, is a reading that is individual without being self-absorbed or going against the composer's intentions.

The playing on this disc is some of the best you will hear of these works and bears repeated listening - indeed, it demands it. It is the kind of playing that makes it difficult to multi-task, so magnetic is its pull. If Grosvenor continues to produce CDs of this calibre, he will not only be expressing his uniquely formed talents, he will be doing a great service to the art of music and the memory of the composers who sought to communicate their message."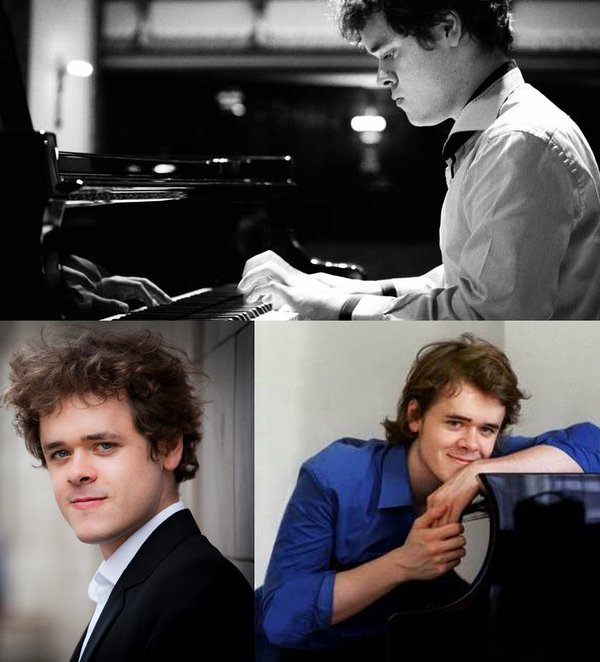 专辑曲目:
Frédéric Chopin (1810 - 1849)

[1] Scherzo No.1 In B Minor Opus 20 [8:18]
[2] Nocturne No.5 in F sharp, Op.15 No.2 [3:11]
[3] Scherzo No.4 In E Opus 54 [9:59]
[4] Nocturne No.19 in E minor, Op.72 No.1 [4:02]
[5] Scherzo No.3 in C sharp minor, Op.39 [6:41]
[6] Nocturne In C Sharp minor, Op. Posth. [3:46]
[7] Scherzo No.2 In B flat minor Op. 31 [9:12]
[8] My Joys, Op.74 No.12 (arranged as No.5 of "Six Chants Polonais" S.480) [3:22]
[9] The Maiden's Wish, Op.74, No.1 (arranged as No.1 of "Six Chants Polonais" S.480) [3:39]

Franz Liszt (1811 - 1886)

[10] En reve, nocturne, S.207 [2:19]

Maurice Ravel (1875 - 1937)

Gaspard de la nuit
[11] Ondine [6:35]
[12] Le gibet [5:30]
[13] Scarbo [8:41]

Total Playing Time [1:15:15]
这里是其它用户补充的资源(我也要补充):
暂无补充资源