专辑英文名: Silfra
专辑中文名: 史费拉
古典类型: 全集作品
资源格式: FLAC
发行时间: 2012年05月22日
简介: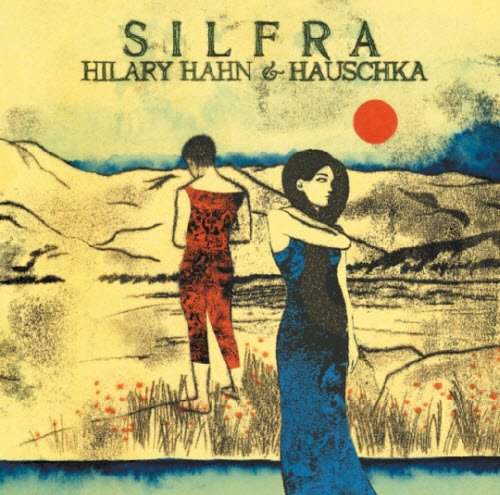 专辑说明:

★最美的音乐从即兴灵感诞生 ☆小提琴与置钢琴的感性互动

美国著名古典小提琴家希拉蕊.韩,加上德国前卫作曲家与钢琴家赫胥卡,将会是什么样的音乐?史费拉(Silfra)的诞生可以追溯到2008年。

透过美国民歌手汤姆.布罗索(Tom Brosseau)的介绍,希拉蕊.韩与赫胥卡有了第一次接触。几个星期后,赫胥卡与汤姆.布罗索在旧金山演出,希拉蕊.韩在压轴曲目上台与赫胥卡、汤姆.布罗索即兴演奏,产生了合作的念头。

希拉蕊.韩与赫胥卡的合作概念是:在相互尊重的前提下,两名保留自己个性的艺术家,一起探索未知的领域与新的共同语言。对於以探索预置钢琴闻名的赫胥卡来说,「即兴」是关键;而对於希拉蕊.韩来说,「即兴」是赋予作品全新詮释的重要途径。

当希拉蕊.韩与赫胥卡踏入位在冰岛雷克雅维克的录音室时,除了〈克拉科夫〉这首创作,两人手上都没有乐谱。而〈克拉科夫〉,赫胥卡事先寄给希拉蕊.韩的也只是充做即兴灵感来源的单纯钢琴旋律。而这也是整张专辑里,唯一使用预置钢琴的作品。

专辑名称「史费拉」(Silfra)是位在雷克雅维克附近,北美与欧亚板块交匯地(冰岛语Silfra意即银色的湖),譬喻著希拉蕊.韩与赫胥卡这两名来自不同领域,不同地域艺术家的合作成果。这张专辑不只代表希拉蕊.韩与赫胥卡的把两人的音乐经验交融於一体,更代表全新声音的诞生。


史费拉 / 希拉蕊.韩与赫胥卡 Silfra / Hilary Hahn & Hauschka

唱片公司:Deutsche Grammophon
音乐类型:古典音乐
唱片编号:4790303
发行日期:2012年05月18日
进口专辑 / CD / 1 片装

Composer: Hilary Hahn, Hauschka
Audio CD (May 22, 2012)
SPARS Code: DDD
Number of Discs: 1
Label: Deutsche Grammophon
ASIN: B007FOV0UI

29 of 32 people found the following review helpful
Hilary Hahn and Hauschka at the Icelandic Improv
By T. Fisher TOP 500 REVIEWERVINE VOICE on May 22, 2012
Format: Audio CD
First of all, anyone expecting this to resemble any of violin virtuosa Hilary Hahn's previous work will be severely disappointed. However, this album does fit in very well with certain contemporary music, including a lot of other great music coming out of Iceland. Judged against this background, Hahn and Volker Bertelmann, a master of prepared piano who performs under the name Hauschka, have come up with an exciting set of recordings that pack an artistic and emotional punch.

The album was recorded at the studio of Icelandic producer Valgeir Sigurðsson, who founded the Bedroom Community record label and has frequently worked with Björk. The recording sessions for Silfra lasted ten days, and Hahn and Hauschka brought practically no material with them to the studio. They set out to create new music, and the recording process appears to have mainly been based on basic tracks recorded in joint improvisation which were then filled out with successive layers of overdubs to fill out the sound and add new dimensions.

Broadly speaking, I found two main types of music on this album: rhythmically driven tracks and slower, atmospheric pieces. Where rhythms are strong, they are often downright exuberant. Many tracks -- particularly Bounce Bounce, Adash, Draw a Map, and Sink -- are just a lot of fun. Others, such as Stillness, Ashes, and Rift, are more subdued, wistful and/or contemplative.

The centerpiece of the album, the 12-minute opus Godot, varies between searing atmospherics and edgy, often jackhammer-like percussive sounds from the prepared piano.

The most traditionally structured track is Krakow, which was the only piece of music that did not wholly originate from the Iceland sessions as Hauschka recorded the basic piano track at his home. This is a beautifully melancholy meditation on the grand but also sad Polish city of Krakow.

What does it sound like? Good question that isn't easy to answer. I'd call it post-modern and post-minimalist. I heard definite hints of minimalism, with rhythmic and melodic lines sometimes being repeated, altered and transformed along the way in a manner that could probably be traced back in spirit to Terry Riley's "In C". Adash is a great example of this type of work.

However, this is only one aspect of the album as a whole. In structure, feel and atmosphere, it has a lot of similarities with the music of producer Sigurðsson, who also plays prepared piano on some of his own solo music. Also, the use of simple, beautiful and repitive themes also suggested to me a shared sensibility with one of my favorite contemporary composer-performers, Iceland's Johann Johannsson (with whom Hauschka is actually touring in Europe this summer).

At first I thought that on most pieces the prepared piano -- a normal piano modified by objects placed on or around the strings, hammers and dampers -- was creating a rhythmic and harmonic space within which Hahn could maneuver her violin. But after listening a few more times, I realized the picture is actually much more nuanced. The division of labor between melody, harmony and rhythm is much more evenly divided between the two artists than I had realized at first.

Hahn and Hauschka have a YouTube channel, a Facebook page and a website -- so there is a lot of information and multimedia available out there to explore if you'd like to do that before making a decision. For example, there is a short documentary with interviews and in-studio footage of Hahn and Hauschka. Another is a live-animated video for "Bounce Bounce" -- the first "single" from the album. This video is an amazing artistic achievement in itself, by Brooklyn-based animator Hayley Morris. I thought I saw a few visual references to "The Nutcracker" sequence of Disney's original Fantasia.

Highly recommended, although I imagine there are people to whom this album may not appeal.


引用
SILFRA (by Hilary Hahn & Hauschka)

本身我也颇欣赏Hilary Hahn的小提琴演奏,平时听的都是古典曲目,我不知为何她会如此大胆推出一张这般前卫(对我来说)的音乐碟,筹备了两年,但全碟却以即兴方式演奏,只是与Hauschka定好概念,身处录音室即兴演奏,一支小提琴、一个prepared piano(prepared piano是甚么?简单讲,演奏者先放置不同的物件在钢琴的琴弦上,按下琴键时不单有龬琴的声音,还有琴弦震动不同物件的声音,用甚么物件全由演奏者事先估计及安排,可能因为这样所以叫prepared吧?),一take过录到甚么就是甚么,喜欢与否真的要看看听者能否有共呜,给我的感觉是非常的艺术家行径。外国可能几多这种表演的方式,很有表演艺术的感觉,不过在华人的社会似乎不太受欢迎,或者Hilary Hahn能突破这文化,带动我们喜欢这种艺术吧?

更多这碟的创作及相关资料:http://hahnandhauschka.com/

Hauschka / Hilary Hahn - Silfra
Universal / Deutsche Grammophon; 2012
By Jayson Greene
; May 23, 2012

The 32-year-old violinist Hilary Hahn has been at the lonely pinnacle of the classical A-list since she was all of 16 years old. It's not exactly a sphere that rewards, or even encourages, curiosity: The language used to assess soloists in Hahn's rarefied air comes disturbingly close the the kind used to appraise prize ponies, and the city-to-city nature of the violin-concerto circuit can make for a life that is almost as cloistered and repetitive. But Hahn has resisted stagnation, recording with alt-country singer/songwriter Josh Ritter, the folk singer Tom Brosseau, and even ...And You Will Know Us by the Trail of Dead (that's her on Worlds Apart's "To Russia My Homeland"). She never seems to be insisting on a strident break from the world of orchestral tours, commissions, and Tchaikovsky concertos with any of these new projects -- just looking for something fresh and interesting to do. It has made her career one of the most refreshingly graceful ones in classical music. No project she has undertaken has felt forced, and that includes her decision to hole up in Iceland for two months to make a record with Hauschka.

Hauschka (real name: Volker Bertelmann) is a German pianist and indie classical composer who plays his piano "prepared," i.e., with small things placed on the piano's strings to produce new tones, à la John Cage. Over a series of albums filled with wistful miniature sketches, he's built a weird little sound world where the grotesque walks arm-in-arm with the twee. His pieces evoke a world of broken, rickety instruments, populated entirely by small, limping things. They can be nerve-rendingly cute and cloying, but at their best, they evoke the peculiar sadness you might feel when looking at, say, a toy-strewn suburban lawn.

Silfra is the result of Hahn and Hauschka's disappearing into an Iceland studio, feeling their way around each other, and recording an album based on their resulting improvisations. This sounds like a recipe for an undercooked mess, but Silfra succeeds where Hauschka's solo records haven't always, in part because his world sounds fuller and more inviting with collaborators in it. Silfra feels and sounds like two serious-minded musicians growing increasingly comfortable with each other, allowing themselves to be playful and silly. Together, they have managed to build a livelier, more bustling version of Hauschka's winsome snowglobe universe.

Hahn, for her part, does something that could be considered shocking for violinists in her circle: she willfully drains her million-dollar tone of most of its prettiness. Her playing on Silfra is often sickly, wheezing or shrill, in keeping with the slightly damaged sound of Hauschka's piano. On "North Atlantic", she plays a mournful melody with a breathy, anemic tone, while Hauschka's piano produces a dry "skree" sound that pokes the eardrum like a needle. She begins "Draw a Map" with a forceful gypsy dance that starts hobbling shortly after it gets started: The two of them doodle all over the melody's pristine surface with pockmarks and scribbles. If there's a dance being done here, it's on at least one bad leg.

In the album's liner notes, Hauschka and Hahn lay out specific stories and characters for each track, and a lot of them, it turns out, involved human meddling with existing structures: "Adash", for instance, is "the name of a boy who loves music and scratches lines into his CDs to create unpredictable catches, so that he can hear a section over and over again before it skips ahead to the next part." "Clock Winder" notes: "Some mechanisms still need human interaction to function." This gleeful tinkerer's spirit is what animates Silfra. It is music about fiddling around happily with music's guts, and it's most absorbing when heard through a fat pair of high-quality headphones, where you can register every scrape, plunk, creak, and twang.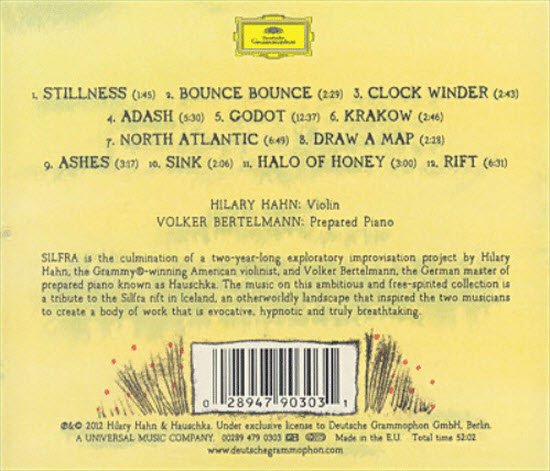 专辑曲目:
01. Stillness
02. Bounce Bounce
03. Clock Winder (Before Stroll)
04. Adash (Before Clock Winder)
05. Godot
06. Krakow
07. North Atlantic
08. Draw A Map
09. Ashes
10. Sink
11. Halo Of Honey
12. Rift
这里是其它用户补充的资源(我也要补充):
暂无补充资源