专辑英文名: The Peasant Girl
专辑中文名: 乡下女
古典类型: 全集作品
资源格式: FLAC
版本: [2 CD]
发行时间: 2011年08月09日
简介:


专辑说明:

本辑的发行说是令人意外,又似乎理所当然。离开主流大厂后,穆洛娃依著自己的喜好决定演奏曲目,她在ONYX完成之前从未录过音的巴哈无伴奏、贝多芬「克罗采」奏鸣曲等作品,仍是主流,而且大受好评。当大眾以为这就是她选择的方向了,最新发行的录音竟然走向吉普赛风,并大玩跨界。意外吗?宏观二十世纪古典和爵士乐,吉普赛音乐的影响都不容小覷,像是本辑中匈牙利两位大师巴尔托克和高大宜,他们对民间音乐的深入研究与採集,创作出许多吉普赛风格的民族风作品。爵士乐受到吉普赛音乐的影响,本辑则向乐迷介绍Weather Report和John Lewis等。此外,本辑的概念也和穆洛娃的家世背景有关。穆洛娃生於莫斯科附近的Zhukovsky,但不过两代前,还是乌克兰一个小村庄的朴实人家,过著简单的乡下生活--冷静,诚实、简单,十分接近穆洛娃舞台下的另一面。因此即使已经征服西方花花世界,穆洛娃仍选择一些能表达她那一面的音乐。其实,音乐就是音乐--只有音乐能摆脱其被误导的框架与分类,令人充满喜悦--这,就是本辑的宗旨。整体而言,这是一张有点前卫的融合专辑,而穆洛娃以她手中的古典小提琴统整一切。文末一提,本辑中改编者兼大提琴家马修‧巴利(Matthew Barley)是穆洛娃现任丈夫,而CD-1中第一轨的娜迪亚,便是他们的女儿。(Onyx/Lins)


乡下女孩穆洛娃:巴尔托克、高大宜与跨界 / 穆洛娃、马修‧巴利合奏团 (2CD) Viktoria Mullova: The Peasant Girl / Viktoria Mullova & Matthew Barley Ensemble (2CD)

唱片公司:Onyx Classics
音乐类型:古典音乐
唱片编号:ONYX4070
发行日期:2011年11月10日
进口专辑 / CD / 2 片装


曲目
CD-1
1. DuOud - 马修‧巴利改编:给娜迪亚For Nedim (For Nadia)
2. John Lewis/Bratsch - 马修‧巴利改编:Django(向大师django致敬之作)
3. Florian Hermann - 马修‧巴利改编:Dark Eyes
4. Bratsch - 马修‧巴利改编:Er Nemo Klantz并嵌入两首巴尔托克二重奏 (No.7 & No.11)
5. Weather Report (Joe Zawinul) - 马修‧巴利改编:The Peasant
6. 巴尔托克Bartok:六首附即兴的二重奏,选自四十四首双小提琴二重奏
7. 马修‧巴利:Yura

CD-2
1. Bratsch - 马修‧巴利改编:Bi Lovengo
2. Weather Report (Joe Zawinul) - 马修‧巴利改编:The Pursuit of the Woman with the Feathered Hat
3. Youssou N'Dour:Life
4-6. 高大宜Kodaly:小提琴与大提琴二重奏Op.7

小提琴:穆洛娃Viktoria Mullova
马修‧巴利合奏团Matthew Barley Ensemble
包括大提琴、钢琴、鼓、打击乐器、马林巴琴、颤音琴等乐器
录音:2010、2011年





Release Date August 9, 2011
Duration 01:30:25
Genre Classical Jazz
Styles Classical Crossover Chamber Music Crossover Jazz



All the music in this eclectic programme reflects the phenomenal influence of gypsy music on both classical and jazz music in the 20th century – even when wearing smart 'classical' clothes, the music of the gypsies cannot disguise its honesty, directness and the heart beating inside the clothes.

So here we have Bartók and Kodály, the two great Hungarian composers who made comprehensive studies of folk music, alongside the world of jazz, represented by John Lewis's Django, and the Weather Report tracks.

The music also has strong connections with Viktoria Mullova's background. Viktoria Mullova hails from the Ukraine, where only two generations ago, her family lived simple lives, living off the land in a small village. The simple peasant qualities – calmness, honesty and simplicity – are very much part of her. Although she has conquered the most sophisticated works of Western classical music, the music on these CDs shares something of her other side.


引用
Viktoria Mullova: from Russia in a blond wig
Viktoria Mullova fled the USSR because she hated it. The violinist tells Erica Jeal what finally returning to her homeland has meant for her music

Share 0
inShare0
Email

Erica Jeal
Erica Jeal
The Guardian, Tuesday 16 August 2011 22.30 BST

Viktoria Mullova, violinist
'My grandmother couldn't read' … Viktoria Mullova. Photograph: J Henry Fair

Before you even look at the repertoire on Viktoria Mullova's latest recording, the title brings you up short. The Peasant Girl? Referring to one of the world's most refined and glamorous classical musicians?

BBC Proms
Royal Albert Hall,
London

Until 10 September
Proms website

As Mullova tells it, however, it's a perfect fit. "My husband and a friend were joking with me one day, and they said, 'You think you can play Beethoven and Bach, but you're a peasant!' My family came from a village in Ukraine, and my grandmother didn't know how to read." While bantering, the three were listening to a jazz-rock track by Weather Report, which Mullova's husband, cellist Matthew Barley, was thinking of arranging for an album. "We knew it only by its track number. Suddenly we saw the CD – and what was it called? The Peasant!"

The Peasant Girl, which forms the basis of the programme of Mullova's late-night Prom on Thursday, draws from wide-ranging spheres – violin-cello duos by Bartók and Kodály rub shoulders with Barley's arrangements of Youssou N'Dour and French Gypsy-music band Bratsch. There is also an original composition by Barley himself – Yura, named after Mullova's father. It's this haunting piece that emerges as the heart of the album, and talking to Mullova it becomes clear why.

She has been based for the last two decades in London, where she, Barley and her three children live in a house in Holland Park, built to their own design. From Ukraine to that house is quite a leap in only two generations, as Mullova acknowledges. "But one good thing about the Soviet Union was that people from the villages were given the opportunity to go to university. My mother and father both did, and were given good jobs. They wanted their children to be educated." She was started on the violin aged four, practising every day with her father, an aeroplane engineer. "It was so hard to play," she remembers. "And I didn't like carrying it around – people would see that I was different. At the same time, I knew that I was good at it. I became as ambitious as my parents were. But practising was not a good thing." When did that change? "It's still that way!" She rubs her shoulder. "Physically, it's hard work. It's good when it goes well – but that's rare."

Yet practising got her into the Moscow Conservatoire, where foreign students started to pique an interest in new musical worlds. When she won the Sibelius competition in Helsinki, she gave some of her prize money to students at the academy there to buy her some LPs. "They gave me the Bee Gees, Barbra Streisand, Pink Floyd, Herbie Hancock, Santana. We couldn't buy those in Russia, and all the names were new to me. I mean, it was 1980 and I hadn't even heard of the Beatles."

In 1982 she defected to the US, driving across the border from Finland to Sweden while on tour with her then boyfriend. They arrived in Stockholm, disguised in blond wigs, only to find the US embassy closed for the weekend of 4 July, and had to hide out in a hotel for two days, not leaving their room even to get food.

"I was determined to leave Russia," says Mullova. "I hated it so much that for many years I denied everything Russian. Later on I started to miss my parents – but then Perestroika started. I first went back in 1991." Did they understand why she left? "Of course. But my parents had huge problems [from the authorities] at their work. And both my sisters left Russia too."

Mullova's father died last summer, the day after the piece Barley had written was first performed. "He had cancer, and in the last few years we had become so close. I went to Russia every month to see him, and we spoke every day on Skype."

Then, last summer, she went to meet his relatives in Irkutsk. "It's very far away, near Mongolia. Suddenly I was full of Russia! We went to Lake Baikal for eight days, collecting mushrooms, fishing, singing songs by the fire. My children came too, and Matthew – that's where Yura was composed. My father couldn't come because he already couldn't walk, and two months later he died. It was the most extraordinary time – sad but, at the same time, so much happiness. It was a rediscovery of myself."

Had Mullova remained within the rigid Soviet system, it's unlikely her career would have branched out as it has. In recent years she has become known as much for her Bach and Vivaldi as for her Sibelius. "I'm lucky that I found my way to the baroque world. Then my classical stuff started to change too – I started to play Beethoven and Brahms concertos on gut strings ."

Then there's the music that she and Barley make together. In 2000 they recorded Through the Looking Glass, a reimagining of music by artists including Miles Davis, the Bee Gees and, again, Weather Report, and Mullova has other non-classical schemes brewing.

But she is far from neglecting the classical repertoire; last week she was at the Salzburg festival playing Beethoven sonatas. And then there's the new Violin and Cello Concerto by Thomas Larcher, which she and Barley will be premiering with the BBC Scottish Symphony Orchestra in Thursday's early-evening Prom. When we speak, she has yet to hear it with the orchestra. But, she says, it has "beautiful, tender" melodies. As it turns out, Larcher developed one of those from a tune he heard played by Gypsy buskers on the Berlin underground. For Mullova, it's another connection with the Gypsy world. But then she was probably always more of a Gypsy than a peasant – and now she has found a home.

• Viktoria Mullova and Matthew Barley perform in the late-night Prom 46 on 18 August; Mullova performs Brahms's Violin Concerto with the Philharmonia Orchestra at the Royal Festival Hall on 25 September.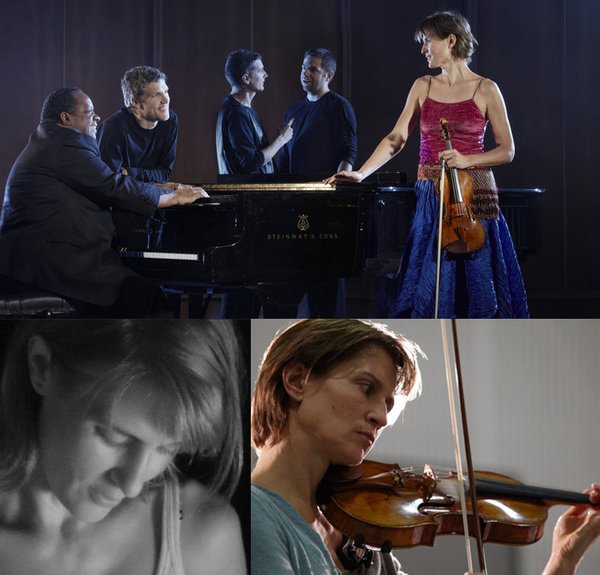 专辑曲目:
CD1

1. The Matthew Barley Ensemble - For Nedim (For Nadia) 5:36
2. The Matthew Barley Ensemble - Django 6:44
3. The Matthew Barley Ensemble - Dark Eyes 6:53
4. The Matthew Barley Ensemble, Bartók Duos - Er Nemo Klantz 8:20
5. The Matthew Barley Ensemble - The Peasant 9:35
6. The Matthew Barley Ensemble - 7 Duos with Improvisations 10:51
7. The Matthew Barley Ensemble - Yura 4:44

CD2

1. The Matthew Barley Ensemble - Bi Lovengo 3:06
2. The Matthew Barley Ensemble - The Pursuit of the Woman with the Feathered Hat 5:58
3. The Matthew Barley Ensemble - Life 4:42
4. The Matthew Barley Ensemble - Duo for Violin and Cello, Op. 7: I. Allegro serioso 7:39
5. The Matthew Barley Ensemble - Duo for Violin and Cello, Op. 7: II. Adagio 8:11
6. The Matthew Barley Ensemble - Duo for Violin and Cello, Op. 7: III. Maestoso e largamente, ma non troppo 8:07

Viktoria Mullova (violin), Matthew Barley (cello), Julian Joseph (piano), Paul Clarvis (drums/percussion) & Sam Walton (percussion)
这里是其它用户补充的资源(我也要补充):
暂无补充资源