William Bennett -《斯卡拉蒂,亚历山德罗: 6交响曲协奏曲/长笛协奏曲编号1 - 3》(Scarlatti, Alessandro: 6 Sinfonie di Concerto Grosso/Flute Concertos Nos.1 - 3)[FLAC]

专辑英文名: Scarlatti, Alessandro: 6 Sinfonie di Concerto Grosso/Flute Concertos Nos.1 - 3
专辑中文名: 斯卡拉蒂,亚历山德罗: 6交响曲协奏曲/长笛协奏曲编号1 - 3
别名: I Musici
古典类型: 全集作品
资源格式: FLAC
发行时间: 1992年04月14日
简介:


专辑介绍:

英国长笛家威廉班乃特(William Bennett,1937-)虽然曾经拜师於法系郎帕尔门下,不过丰厚饱满的音色与明确的点舌技巧,以及丰富的英国乐团资历,使得我认为班乃特是位不折不扣的英国长笛大师代表.

班乃特的音色如何? 应该也不用我多说,担任六零年代伦敦交响乐团(LSO)里的长笛首席,所以那些大Decca LSO的录音都可以听到他富穿透性又高雅的音色. 除了在Decca,班乃特与 I Musici 及葛罗米欧三重奏(如本片)在Philips也留下一些录音.

另外,班乃特在英国厂牌ASV也有不少唱片;日本Camerata也有一些,其中最特别的一张,就是班氏自己改编与独奏的"贝多芬长笛协奏曲op.61",也就是贝小协的长笛改编版. (这张唱片有机会再介绍)

总之,班乃特的唱片非常多,我觉得听他的唱片是非常好的乐曲入门教材,一方面班乃特的演出忠於原谱(好像待乐团的都这样),一方面他的音色稳定性很高.

虽然不使用黄金长笛,不过班乃特的笛音在LP上却是非常悦耳,洗练与耐听的. 这几天有空总算开了音响,还惊觉Philips的室内乐LP真是忠实与好听呢! 葛罗米欧三重奏的音质细腻高贵富有松香擦弦味,并未喧宾夺主,很适切的担任起陪衬的角色.

Scarlatti, Alessandro
A. Scarlatti - 6 Sinfonie Di Concerto Grosso, 3 Concerti - William Bennett, I Musici (1991)

Release date: 1991
Quality: FLAC
Tracks: 9
Duration: 01:10:33
Genre: Сoncerto, Classical
Performers: William Bennett
I. Musici


Performer: Alessandro Scarlatti, I Musici, William Bennett
Audio CD (April 14, 1992)
Number of Discs: 1
Label: Polygram Records
ASIN: B00000414J
Average Customer Review: 4.8 out of 5 stars

5 of 5 people found the following review helpful
An Excellent Performance
By Octavius on October 20, 2005
Format: Audio CD
I Musici here performs the concerti grossi of Alessandro Scarlatti and his flute concerti. Scarlatti tended to be rather conservative in his compositions by adhering strictly to Corelli's concerto grosso model. He is not Vivaldi, Locatelli, or Torelli, but his pieces have somewhat of a pastoral warmth to them. The flutes perform very well here and I Musici's performances usually go without saying. With almost 50 years under their belt and widespread acclaim from prominent figures such as Toscanini, buying most of their albums is usually a safe bet. This one is a great buy from a lesser known (but not obscure) composer of the High Baroque era.
Comment Was this review helpful to you? Yes No
1 of 1 people found the following review helpful
I Musici for your soul
By capezio on January 7, 2011
Format: Audio CD
This Scarlatti Sinfonie & Concerti sampled on this CD are a pleasure to listen to. The 03 Concerti (only for strings) are part of a six released on the Vinil era that I preserve one sample at home. Running out of print (CD) you have a chance to be delighted by part of them that drives you far away in a deep melodic and harmonic line. Recomended.


引用
Alessandro Scarlatti. Алессандро Скарлатти, Отец

One of the foremost musical artists performing today, William Bennett has raised the profile of the flute to that of an instrument capable of a wide range of tonal colours, dynamics, and expression, giving it the depth, dignity, and grandeur of the voice or a string instrument.

He studied in London with Geoffrey Gilbert, and in France with Jean-Pierre Rampal and Marcel Moyse.

The Master classes of Marcel Moyse in Switzerland in the late 70's provided extra stimulus and inspiration so that William Bennett's burgeoning career developed as an International soloist and recording artist.

He has enjoyed long lasting musical partnerships with harpsicordist George Malcolm and pianist Clifford Benson, with whom he has extensively recorded, and his solo recordings with Yehudi Menuhin, the Grumiaux Trio, I Musici, the Academy of St. Martin in the Fields, and the English Chamber Orchestra have received international acclaim and enthusiastic reviews in record and CD journals.

Early in his career he made the first English recording of the complete Handel Flute Sonatas, and of contemporary works including the Sonatine of Boulez, Berio's Sequenza, Messaien's Merle Noir, and Richard Rodney Bennett's "Winter Music" specially written for him.

In addition to recording the standard flute repertoire of Bach, Handel, Vivaldi, Mozart, etc., he has made pioneer recordings of many neglected 19th century works, such as music by Ries, Romberg, and Taffanel. He has recorded with artists such as Jimi Hendrix and Wynton Marsalis. He has made over 100 CD's as a soloist. He premiered the Concerto by William Mathias, the Concerto by Diana Burrell and the Concerto for Flute and Orchestra by Venezuelan composer Raymund Pineda. All of these were specially written for him.

He has been principal flute in many orchestras including the London Symphony, the Academy of St Martin in the Fields, and the English Chamber Orchestra.

He has been Professor of Flute in the Freiburg Hochschule of Music in Germany, and he teaches at the Royal Academy of Music in London. He teaches Masterclasses all over the world.

In addition to making a Balalaika and a Guitar whilst at school, he has made and improved Flutes from an early age and has done a lot of work on improving and refining the tuning of the flute, and several makers in the world now make flute on the "William Bennett Scale".wibb70

This year his Concert and Mastercdlass engagements take him to Holland, U.S.A Singapore, Canada, Lithuania, Belgium, Japan, China/Taiwan etc. and he is going to record several contemporary Flute pieces.

In 2002 he was awarded the National Flute Association's "Lifetime Achievement Award" and in 2003 he was appointed the British Flute Society's "Flautist Laureate". In 2004 he was awarded the title of " Flute of Gold" from the Italian "Falaut" Flute society. In 2009 he was awarded the "Lifetime Achievement Award" by the Chicago Flute Club.

In January 1995 H.M. The Queen presented William Bennett with the Most Excellent Order of the British Empire (O.B.E) for his distinguished Services to Music.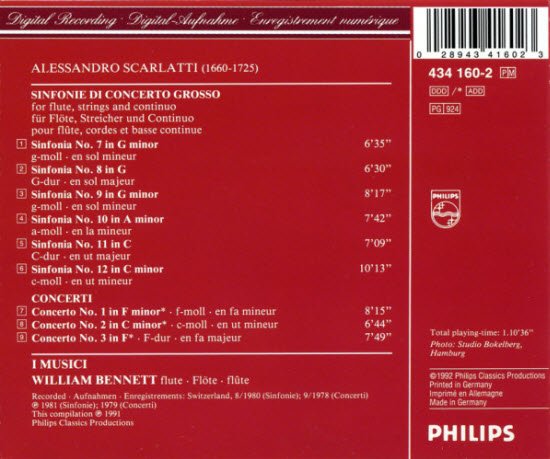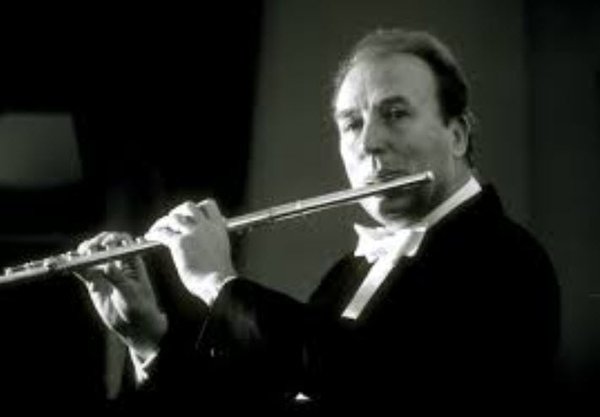 William Bennett, OBE, Hon RAM, professor, is a British flute player (born on 7 February 1936 in London to parents who were both architects).
专辑曲目:
Alessandro Scarlatti (1660-1725) - 6 Sinfonie di Concerto Grosso; 3 Concerti, 1991
William Bennett - flute, I Musici.

Sinfonia No.7 g-moll
1. Moderato – Moderato (Allegro) – Grave – Allegro 6:35

Sinfonia No.8 G-Dur
2. Allegretto – Adagio – Allegro – Adagio – Vivace 6:30

Sinfonia No.9 g-moll
3. Vivace – Adagio – Moderato – Adagio – Allegretto – Menuet 8:17

Sinfonia No.10 a-moll
4. Vivace – Adagio – Allegro – Adagio – Allegretto 7:42

Sinfonia No.11 C-Dur
5. Spirituoso – Lento – Allegro – Adagio – Allegro 7:09

Sinfonia No.12 c-moll
6. Adagio – Andante giusto – Adagio – Andante moderato 10:13

Concerto grosso No.1 f-moll
7. Grave – Allegro – Largo – Allemanda (Allegro) 8:15

Concerto grosso No.2 c-moll
8. Allegro – Grave – Minuetto 6:44

Concerto grosso No.3 F-Dur
9. Allegro – Largo – Allegro – Largo – Allegro 7:49
这里是其它用户补充的资源(我也要补充):
暂无补充资源