专辑英文名: Barber & Meyer Violin Concertos
专辑中文名: 巴伯、迈耶小提琴协奏曲
古典类型: 协奏曲
资源格式: FLAC
发行时间: 2000年03月14日
简介: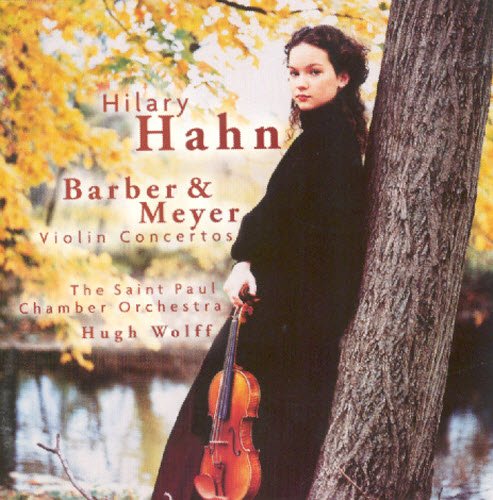 专辑介绍:

希拉蕊韩 (小提琴) Hilary Hahn

希拉蕊‧韩是新世代最有能力成为大师的巨星,1979年出生於美国,十一岁首次与巴尔的摩交响乐团合作公开登台,开始受到国际乐坛的瞩目。儘管从小就大放异彩,十五岁拿下象徵美国音乐界最高荣誉的艾文费雪奖,然而在频繁的演出之餘她仍不断精进琴艺,直到二十岁於寇第斯音乐学院毕业为止。1996年Sony Classical与十六岁的希拉蕊‧韩签下独家唱片合约,成为有史以来最年轻的古典艺人。

跨入二十一世纪,希拉蕊‧韩的第三张专辑演奏了美国作曲家巴伯的小提琴协奏曲,还有现代作曲家麦尔(Edgar Meyer)为二十二岁的她所写的小提琴协奏曲,展现希拉蕊‧韩对於现代美国音乐的精準掌握。从这专辑中,可以清楚领略希拉蕊‧韩为什么会被时代杂誌推崇为「美国最杰出的新生代演奏家」,并同时见识二十四岁以前的希拉蕊‧韩是何等的光芒万丈!

Composer: Samuel Barber, Edgar Meyer
Audio CD (March 14, 2000)
Number of Discs: 1
Label: Sony
ASIN: B00004RBXW

Release Date March 14, 2000
Duration 49:41
Genre Classical
Styles Concerto

Review by Blair Sanderson [-]

Samuel Barber's Violin Concerto is well-suited to Hilary Hahn's expressive range and technical proficiency. Perhaps it is also an ideal vehicle for her impressive musicality, which always overrides virtuosic flashiness. Hahn's seriousness is matched by the work's earnest style, and her intellectual grasp of the music is as strong as her emotional commitment to it. Hahn opens the neo-Romantic Allegro with a full sound, complemented by the artful writing for winds. Barber's orchestration is transparent, leaving room for the solo violin to be distinctly heard at all times. The writing in the violin's low register lets Hahn display her richest tone, though her higher passages are also beautifully colored. The Andante begins with a long oboe solo -- a clear nod to the Brahms Violin Concerto -- its plaintive tone setting the second movement's darker mood. Hahn's solo grows out of this opening material and arches above the brooding harmonies, almost rising to an elegiac level. The devilishly difficult Presto in moto is a perfect foil to the melancholy atmosphere of the previous two movements, and Hahn shows genuine skill in her crisp articulation of this scurrying finale. Hugh Wolff and the Saint Paul Chamber Orchestra provide a lush background, enhancing Hahn's resonant performance. Through no failing of her own, Hahn's premiere recording of Edgar Meyer's Violin Concerto is less than satisfying because her performance is stronger than the piece itself, which is at times banal and insufficiently developed to exploit the form's dramatic potential. The simple melody of the introduction leads to, and ultimately frames, the faster material that follows. Hahn's high, ringing arabesques and tricky runs, played against the shifting compound meters, are the most attractive features of the movement. Although the accompaniment is rhythmically active, and occasionally interesting, the orchestra never breaks out of its restricted background role. The second movement's main theme evolves from a trite double-turn, which is passed around the orchestra several times before the soloist's entrance. Hahn controls her double-voiced passages, carefully maintaining both lines without noticeably breaking. When the music picks up in pace and complexity, the change is welcome. Hahn, held back for too long, finally breaks loose with some colorful playing. The return to the opening material sets up a cadenza, more of a reverie than an overt display of technique. In this performance, Wolff and the orchestra give understated support, perhaps all that can be drawn from Meyer's score.


引用
Wonderful
By John S. Abma on April 11, 2000
Format: Audio CD
The Barber/Meyer CD is just wonderful. The Barber benefits from familiarity, and Hilary's performance is great. The final "unplayable" last movement is both playable and musical. The Meyer is mysterious, with chorale-like passages. In movement two, the double-stops and polyphony are difficult and done to perfection.
I get the impression that Hilary Hahn is taking us all on a musical exploration. Her home page has journals or "postcards" from her world-wide tours. These, with her CD's are fresh adventures both for her and us.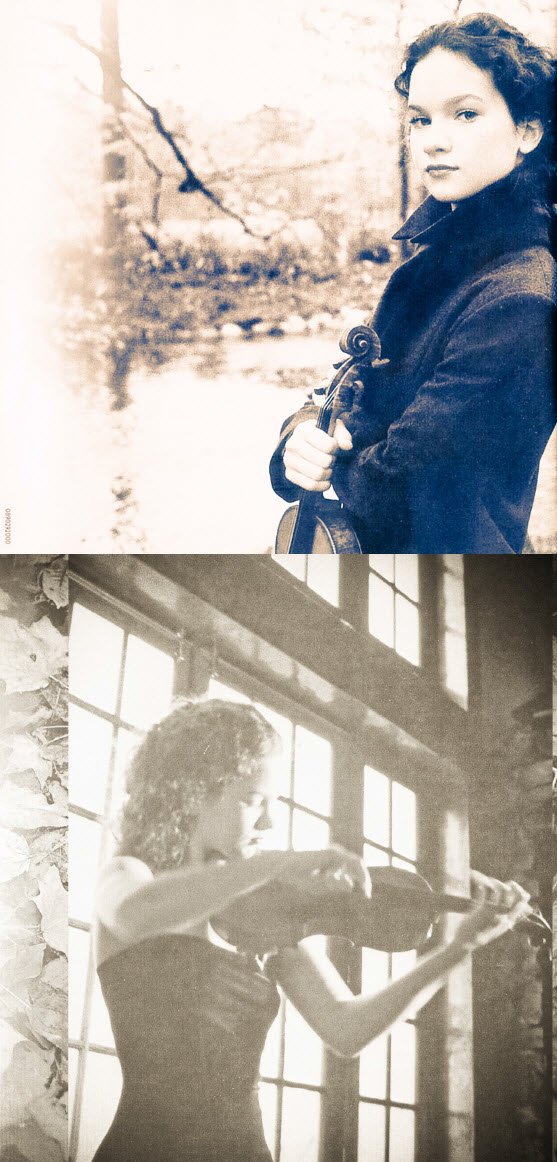 专辑曲目:
01. Barber - Concerto for violin and orchestra, op.14 (1939); 1. Allegro 10:33
02. Barber - Concerto for violin and orchestra, op.14; 2. Andante 09:07
03. Barber - Concerto for violin and orchestra, op.14; 3. Presto in moto 03:33
04. Meyer, Edgar - Violin Concerto (1999); Movement I 10:24
05. Meyer, Edgar - Violin Concerto (1999); Movement II 16:04
这里是其它用户补充的资源(我也要补充):
暂无补充资源