专辑英文名: Pure... Acoustic
专辑中文名: 纯原音金曲精选
音乐风格: 流行
资源格式: FLAC
版本: [4 CD]
发行时间: 2014年05月02日
简介: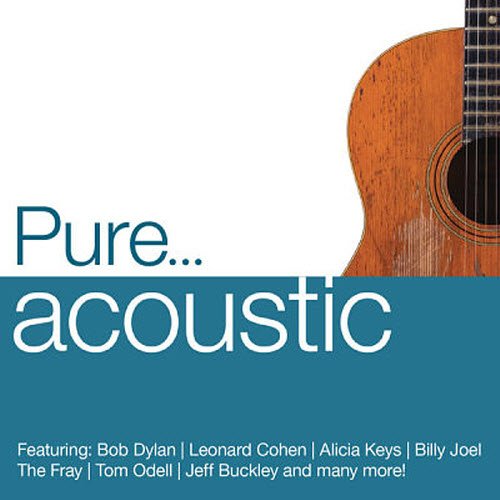 专辑介绍:

★Acoustic的纯净、清新、隽永全部都在这套纯原音金曲精选!
★严选流行巨星纯原音动听单曲,收录罕见绝版单曲以及现场特别版本
★耐听小品: Long Way Down - Tom Odell、Somebody That I Used to Know - Walk Off The Earth、Simple Song - The Shins
★经典金曲: Here Comes the Sun - Nina Simone、Find My Love - Fairground Attraction、We Just Got Here - Carly Simon、Hallelujah - Jeff Buckley;
★绝版精品: Blue River - Eric Andersen、Love Song - Lesley Duncan、New Paint - White Cloud, Loudon Wainwright III一共67海量曲目

CD编号 : 88843039792
艺人/团体 : 选辑 V.A. - 查看所有专辑
专辑名称 : 纯原音金曲精选 (进口4CD)
Pure... Acoustic(4CD)
音乐类型 : 西洋 [CD 专辑]
发行公司/日期 : SONY MUSIC 2014/5/2
制作公司 :
内含片数 : 4

VA - Pure Acoustic (4CD Box Set)(2014)
4 CD | Release: 2014
Genre: Pop

Country-manufacturer disk: EU
Genre: Acoustic, Pop, Rock, Folk
Year of publication: 2014
Publisher (label): Sony Music
Catalog number: 88843039792

Bitrate audio: lossless
Source (Relizer): Material Prepared our Teammate club
Duration: 04:15:10


Everyone loves to hear their favourite artists and songs in a more intimate way, and with Pure... Acoustic you can do just that! This collection feature stripped sessions and unmissable live tracks from a host of amazing performers. Features Bob Dylan, John Legend, Leonard Cohen, Jeff Buckley and many more..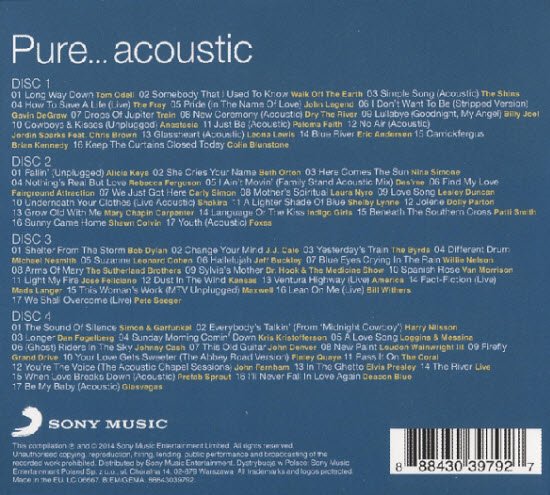 专辑曲目:
CD1:

01. Tom Odell - Long Way Down (2:31)
02. Walk Of The Earth - Somebody That I Used To Know (4:10)
03. The Shins - Simple Song (Acoustic) (4:00)
04. The Fray - How To Save A Life (Live) (4:31)
05. John Legend - Pride (In The Name Of Love) (4:08)
06. Gavin Degraw - I Don't Want To Be (Stripped Version) (4:04)
07. Train - Drops Of Jupiter (4:21)
08. Dry The River - New Ceremony (Acoustic) (4:19)
09. Billy Joel - Lullabye (Goodnight, My Angel) (3:34)
10. Anastacia - Cowboys & Kisses (Unplugged) (3:58)
11. Paloma Faith - Just Be (Acoustic) (4:52)
12. Jordin Sparks Feat.Chris Brown - No Air (Acoustic) (4:14)
13. Leona Lewis - Glassheart (Acoustic) (3:47)
14. Eric Andersen - Blue River (4:45)
15. Brian Kennedy - Carrickfergus (5:01)
16. Colin Blunstone - Keep The Curtains Closed Today (2:51)

CD2

01. Alicia Keys - Fallin' (Unplugged) (4:56)
02. Beth Orton - She Cries Your Name (4:47)
03. Nina Simone - Here Comes The Sun (3:47)
04. Rebecca Ferguson - Nothing's Real But Love (2:52)
05. Des'ree - I Ain't Movin' (Family Stand Acoustic Mix) (4:08)
06. Fairground Attraction - Find My Love (3:44)
07. Carly Simon - We Just Got Here (4:21)
08. Laura Nyro - Mother's Spiritual (3:17)
09. Lesley Duncan - Love Song (3:39)
10. Shakira - Underneath Your Clothes (Live Acoustic) (3:55)
11. Shelby Lynne - A Lighter Shade Of Blue (3:48)
12. Dolly Parton - Jolene (2:41)
13. Mary Chapin Carpenter - Grow Old With Me (3:22)
14. Indigo Girls - Language Or The Kiss (5:34)
15. Patti Smith - Beneath The Southern Cross (4:36)
16. Shawn Colvin - Sunny Came Home (4:25)
17. Foxes - Youth (Acoustic) (2:55)

CD3

01. Bob Dylan - Shelter From The Storm (5:02)
02. J.J. Cale - Change Your Mind (2:25)
03. The Byrds - Yesterday's Train (4:12)
04. Michael Nesmith - Different Drum (3:02)
05. Leonard Cohen - Suzanne (3:50)
06. Jeff Buckley - Hallelujah (4:16)
07. Willie Nelson - Blue Eyes Crying In The Rain (2:19)
08. Sutherland Brothers - Arms Of Mary (2:37)
09. Dr. Hook & The Medicine Show - Sylvia's Mother (3:51)
10. Van Morrison - Spanish Rose (3:08)
11. Jose Feliciano - Light My Fire (3:35)
12. Kansas - Dust In The Wind (3:25)
13. America - Ventura Highway (Live) (3:44)
14. Mads Langer - Fact-Fiction (Live) (6:09)
15. Maxwell - This Woman's Work (Mtv Unplugged) (4:25)
16. Bill Withers - Lean On Me (Live) (5:51)
17. Pete Seeger - We Shall Overcome (Live) (4:42)

CD4

01. Simon & Garfunkel - The Sound Of Silence (3:06)
02. Harry Nilsson - Everybody's Talkin' (From "midnight Cowboy") (2:42)
03. Dan Fogelberg - Longer (3:16)
04. Kris Kristofferson - Sunday Morning Comin' Down (4:31)
05. Kenny Loggins & Jim Messina - A Love Song (3:12)
06. Johnny Cash - (Ghost) Riders In The Sky (3:45)
07. John Denver - This Old Guitar (2:48)
08. Loudon Wainwright Iii - New Paint (3:01)
09. Grand Drive - Firefly (4:04)
10. Finley Quaye - Your Love Gets Sweeter (The Abbey Road Version) (2:53)
11. The Coral - Pass It On (2:21)
12. John Farnham - You're The Voice (The Acoustic Chapel Sessions) (3:58)
13. Elvis Presley - In The Ghetto (2:55)
14. Live - The River (2:56)
15. Prefab Sprout - When Love Breaks Down (Acoustic) (4:22)
16. Deacon Blue - I'll Never Fall In Love Again (2:46)
17. Glasvegas - Be My Baby (Acoustic) (4:08)
这里是其它用户补充的资源(我也要补充):
暂无补充资源