专辑英文名: Viva
专辑中文名: 万岁
音乐风格: 流行
资源格式: FLAC
发行时间: 2008年06月01日
简介: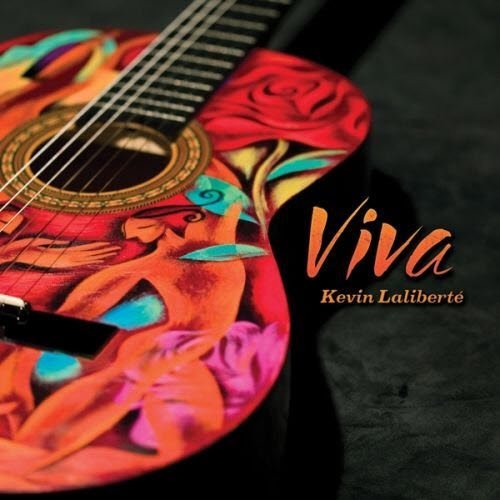 专辑介绍:

凯文·拉利伯特; 加拿大的吉他手和作曲家, 他的风格融合了弗拉门戈吉他的声音与爵士乐即兴的方式和流行旋律的感性。作为一个年轻的孩子,他开始演奏,进而探索出了一些不同的声音和风格。对弗拉门戈音乐日益增长的兴趣促使他在1995年购买了他的第一弗拉门戈吉他,也开始一段恋情而继续蓬勃发展。

1999年,由Virgin唱片的歌手杰西·库克德的邀请加入他的巡演乐队。与杰西的旅游让凯文能到世界许多地方参予演出如艺人Chieftains(在日本和加拿大),Charlotte Church(电视专题片拍摄於威尔士,外观上的今夜秀)和中国唱片歌手朱哲琴。

Kevin Laliberte is a Canadian guitarist and composer with a knack for blending the sounds of the flamenco guitar with a jazz improvisational approach and a pop melodic sensibility. He began playing as a young child, and explored a number of different sounds and styles over the years. A growing interest in flamenco drove him to purchase his first flamenco guitar in 1995, beginning a love affair that continues to flourish. In 1999, he was asked by Virgin recording artist Jesse Cook to join his touring band. Touring with Jesse has taken Kevin to many parts of the world, performing with the likes of the Chieftains (in Japan and Canada), Charlotte Church (TV special filmed in Wales, appearance on The Tonight Show) and Chinese recording artist Dadawa.


Audio CD (July 1, 2008)
Original Release Date: 2008
Number of Discs: 1
Label: Allegro
ASIN: B002G90LN4

Release Date 2008
Duration 51:11
Genre Pop/Rock

Artist: Kevin Laliberte
Title Of Album: Viva
Release Date: 2008
Location: USA
Label: Avalon (40978)
Genre: Acoustic Guitar
Length: 00:51:14 min


引用
Kevin grew up in an environment filled with music. Many family members played an instrument or two, and family gatherings often included some kind of impromptu jam session. His mother played accordion and taught at the Ontario Conservatory.

Kevin's music training began at the age of 8, when he took lessons on the banjo-ukulele with local music teacher, Ruth McCallum, who fostered his love of music at an early age by stressing fun and expression, rather than technique and memorization.

A year later, he began playing the tenor banjo when his grandfather Denis Laliberté, a self-taught musician who appeared on radio broadcasts in the Windsor, Ontario area in the 1930's and 1940's, gave him his vintage S.S. Stewart Wondertone tenor banjo. The banjo eventually led him to the guitar, and soon his grandmother Idella Andrews bought him his first electric guitar.

Like many Canadian teenagers in the 1980's, Kevin played guitar in various high school rock bands, and continued his musical studies, now with Stratford guitarist and teacher Earl Filsinger. A chance purchase of a Pat Metheny record opened his ears to the sound of jazz, and set a new direction for Kevin's musical pursuits.

In 1985, while studying towards a degree in electrical engineering, he began jazz harmony and composition study with Toronto guitarist James Pett. Inspired, he was soon attending jazz workshops led by legendary bebop pianist Barry Harris, leading to an appearance in an instructional video of Harris' unique approach to jazz harmony.

Throughout the 1990's Kevin performed with various jazz musicians both in Vancouver and Toronto, and played in numerous clubs, often as part of a guitar/saxophone duo with saxophonist Peter Smith, and also backing up a variety of jazz vocalists and singer-songwriters, such as Jackie Johnson, Marion Law, and Pam Reynolds.

In 1995, searching for a new sound, Kevin picked up his first nylon-string guitar. This would become a momentous turning point in his musical life. He was inspired by the beauty and challenge of the instrument. Kevin discovered a passion for the music of Spain, and explored ways of integrating this music into his own developing sound.

In 1997 he met Canadian flamenco guitarist Roger Scannura, and began a two-year collaboration with him and his dance company, Ritmo Flamenco. Together, they recorded two CDs of original music - "Saracen" and "Medina" - and toured throughout Ontario, playing festivals and concerts.

In 1999, Kevin was invited by EMI recording artist/guitarist Jesse Cook to join his band. Touring internationally with Jesse has afforded Kevin the opportunity to tour twice with Irish superstars the Chieftains, perform in concert and on the Tonight Show with Charlotte Church, and perform in Beijing with Chinese recording artist Dadawa.

During this period of his career, Kevin also began a concentrated exploration of his own musical voice, turning his attention to composition. The result is the album "Elation", an independently produced compact disc which represents a meeting of many aspects of Kevin's experience as a guitarist. "Elation" melds flamenco rhythms, a jazz improvisational approach, and a pop melodic sensibility.

In 2005, Kevin's CD "Elation" was licensed by Somerset Entertainment, and packaged as part of a 2-disc set called "Spanish Café". Sales in Canada surpassed 10,000 units in just 4 months.

In October of 2005, Kevin completed a recording of original guitar music for Somerset Entertainment, entitled "Siesta". This album is currently distributed internationally on the Avalon label.

Kevin performs regularly in the Toronto area, both as a solo act, and supporting numerous artists including Chris McKhool (with whom he founded the gypsy-jazz-flamenco fusion band Sultans of String), Amanda Martinez, Julie Michels, Melissa Boyce, Peter Smith, Katie Griffin, and many others.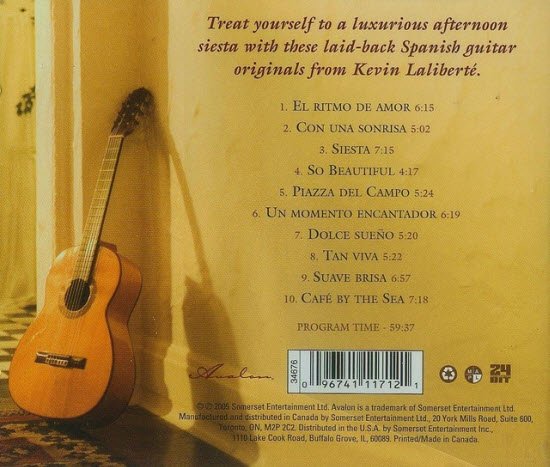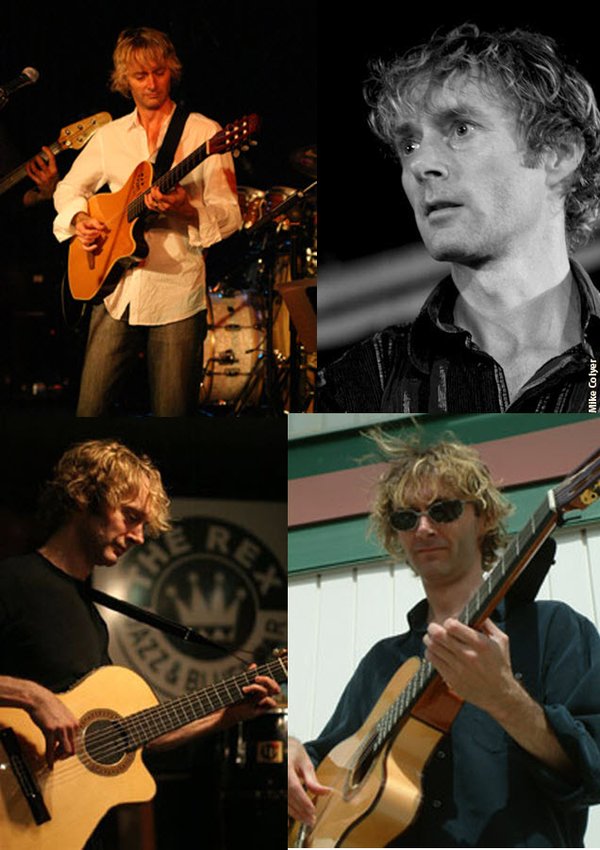 专辑曲目:
01. Andalus (04:13)
02. Beneath the Cypress (03:06)
03. Sands of Almeria (04:55)
04. Cafe Cortado (03:58)
05. Elation (04:19)
06. Moroccan Dream (05:06)
07. Emiko (05:05)
08. Sundance (04:40)
09. Lisboa (03:51)
10. Into the Night (05:24)
11. Cafe Rumba (03:46)
12. Lyric (02:46)
这里是其它用户补充的资源(我也要补充):
暂无补充资源