专辑英文名: Pure... Blues
专辑中文名: 纯蓝调 - 大师经典精选
音乐风格: 蓝调
资源格式: FLAC
版本: [4 CD]
发行时间: 2013年
简介: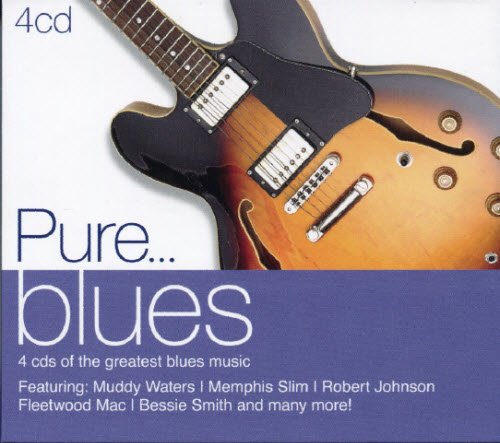 专辑简介:

★蓝调入门的最佳合辑,收录早期乡村蓝调到70年代电声蓝调,及当代蓝调最新蓝调热门歌曲
★4CD 68首纯正蓝调经典让您一窥蓝调的精彩迷人之处!
★收录Robert Johnson - Cross Road Blues、Muddy Waters - The Blues Had A Baby And They Named It Rock And Rol、Willie Dixon - I'm Your Hoochie Coochie Man、ohnny Winter - Johnny B. Goode、Blind Willie McTell - Southern Can Is Mine等传世名曲
★加收罕见蓝调传奇歌手Otis Spann - Got My Mojo Workin'、Chicken Shack - I'd Rather Go Blind Big Bill Broonzy - Friendless Blues、Furry Lewis - Kassie Jones, Part 1等超纯蓝调曲目

CD编号 : 88697776272
艺人/团体 : 合辑 V.A.
专辑名称 : 纯蓝调-大师经典精选(4CD)
Pure... Blues
音乐类型 : 西洋 [CD 合辑]
发行公司/日期 : SONY MUSIC 2011/10/4
制作公司 :
内含片数 : 4


产品条码: 0886977762727
产品编号: 88697776272
发行公司: SONY MUSIC [发行商品]
发行日期: 2011年10月04日
发行类型: 英文 . CD . 流行 .
内装片数: 4片

Release Date 1995
Duration 01:13:01
Genre Pop/Rock Blues
Styles Blues-Rock British Blues Regional Blues

Review by Stephen Thomas Erlewine [-]

The "pure" in the Pure series initially suggested the unadulterated, soothing dulcet tones of new age in the Pure Moods discs, but as the series took off, Universal Music realized they had a real marketable brand name here, so they decided to use it for different genres. The one thing that all the collections shared was that they were exceptional collections that summarized the genre remarkably well. Pure Blues, one of the latter-day installments, is actually one of the very best of the series, and it's one of the best general blues overviews available, especially for the rock fan that wants to dabble in the genre. This is because Universal's catalog runs deep and contains not just the Chess label, but also such labels as Duke, Peacock, Cadet, and ABC, plus they have the licensing muscle to pull in key tracks from other majors. That means Howlin' Wolf, Muddy Waters, Freddy King, Jimmy Reed, John Lee Hooker, Albert King, Koko Taylor, Etta James, Bobby Blue Bland, B.B. King, Luther Allison, Buddy Guy, and Robert Cray are all here, all represented by some of their finest songs. If there is any problem here, it's when the record tilts toward modern blues-rock, but while Jonny Lang, Kenny Wayne Shepherd, and Susan Tedeschi don't quite fit alongside these blues titans, the selections from the Allman Brothers, Stevie Ray Vaughan (a relatively rare live version of "Flood Down in Texas [Aka Texas Flood]" from an Atlantic album, Blues Explosion, from 1986), and a duet by Eric Clapton and Duane Allman on "Mean Old World" fit right in with the rest of the record. There's really nothing unexpected here, and if you have a large blues collection, there's not much reason to pick this up, but as a sampler, this is first-rate.


引用
Artist: VA
Album: Pure... Blues (4CD)
Year: 2013
Label: Sony Music
Genre: Blues

Review by Steve Leggett

This four-disc, 68-track collection paints a broad definition of the blues, with cuts ranging from vintage country blues (Robert Johnson's "Cross Road Blues," Son House's "Death Letter Blues") to uptown jazz blues (Nina Simone's "Blues for My Mama," Billie Holiday's "Billie's Blues"), Chicago blues (a live version of "Howling Wolf" by Muddy Waters), British blues (Jeff Beck's "JB's Blues"), and contemporary acoustic blues ("Am I Wrong" by Keb' Mo'), with plenty of stops in between, making for a random but varied playlist that circles the different approaches and musical definitions of the genre.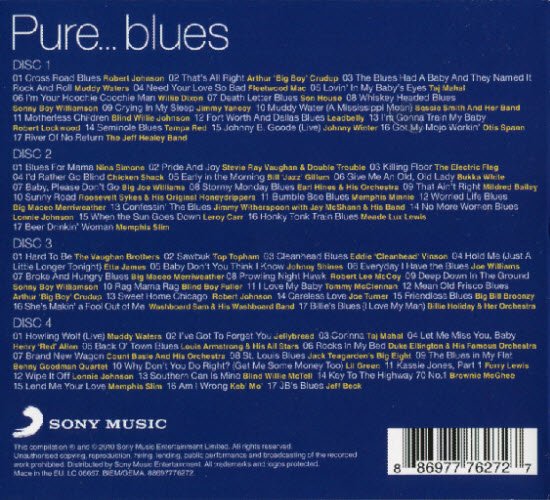 专辑曲目:
CD 1 - 00:56:18

01. Robert Johnson - Cross Road Blues (2:40)
02. Arthur Big Boy Crudup - That's All Right (2:54)
03. Muddy Waters - The Blues Had A Baby And They Named It Rock And Roll (3:35)
04. Fleetwood Mac - Need Your Love So Bad (3:50)
05. Taj Mahal - Lovin' In My Baby's Eyes (2:39)
06. Willie Dixon - I'm Your Hoochie Coochie Man (4:49)
07. Son House - Death Letter Blues (4:21)
08. Sonny Boy Williamson - Whiskey Headed Blues (2:56)
09. Jimmy Yancey - Crying In My Sleep (2:57)
10. Bessie Smith And Her Band - Muddy Water (A Mississippi Moan) (3:09)
11. Blind Willie Johnson - Motherless Children (3:23)
12. Leadbelly - Fort Worth And Dallas Blues (3:01)
13. Robert Lockwood - I'm Gonna Train My Baby (2:57)
14. Tampa Red - Seminole Blues (3:04)
15. Johnny Winter - Johnny B. Goode (Live) (3:25)
16. Otis Spann - Got My Mojo Working (3:03)
17. The Jeff Healey Band - River Of No Return (3:33)

CD 2 - 00:54:59

01. Nina Simone - Blues For Mama (4:00)
02. Stevie Ray Vaughan & Double Trouble - Pride And Joy (3:42)
03. The Electric Flag - Killing Floor (4:13)
04. Chicken Shack - I'd Rather Go Blind (3:16)
05. Bill Jazz Gillum - Early In The Morning (2:54)
06. Bukka White - Give Me An Old, Old Lady (2:33)
07. Big Joe Williams - Baby, Please Don't Go (2:48)
08. Earl Hines & His Orchestra - Stormy Monday Blues (3:10)
09. Mildred Bailey - That Ain't Right (3:05)
10. Roosevelt Sykes & His Original Honeydrippers - Sunny Road (3:06)
11. Memphis Minnie - Bumble Bee Blues (2:56)
12. Big Maceo Merriweather - Worried Life Blues (2:56)
13. Jimmy Witherspoon with Jay McShann & His Band - Confessin' The Blues (4:18)
14. Lonnie Johnson - No More Women Blues (3:03)
15. Leroy Carr - When The Sun Goes Down (2:59)
16. Meade Lux Lewis - Honky Tonk Train Blues (3:01)
17. Memphis Slim - Beer Drinkin' Woman (2:58)

CD 3 - 00:52:38

01. Vaughan Brothers - Hard To Be (4:45)
02. Top Topham - Sawbuk (2:17)
03. Eddie 'Cleanhead' Vinson - Cleanhead Blues (2:34)
04. Etta James - Hold Me (Just A Little Longer Tonight) (3:42)
05. Johnny Shines - Babt Don't You Thibk I Know (2:54)
06. Joe Williams - Everyday I Have The Blues (3:40)
07. Big Maceo Merriweather - Broke And Hungry Blues (2:42)
08. Robert Lee McCoy - Prowling Night Hawk (3:04)
09. Sonny Boy Williamson - Deep Down In The Ground (3:14)
10. Blind Boy Fuller - Rag Mama Rag (3:05)
11. Tommy McClennan - Love My Baby (3:07)
12. Arthur 'Big Boy' Crudup - Mean Old Frisco Blues (2:37)
13. Robert Johnson - Sweet Home Chicago (2:59)
14. Joe Turner - Careless Love (2:52)
15. Big Bill Broonzy - Friendless Blues (3:21)
16. Washboard Sam And Her Washboard Band - She's Makin' A Fool Out Of Me (3:04)
17. Billie Holiday And Her Orchestra - Billie's Blues (I Love My Man) (2:41)

CD 4 - 00:59:22

01. Muddy Waters - Howling Wolf [live] (6:06)
02. Jellybread - I've Got To Forget You (2:52)
03. Taj Mahal - Corinna (3:02)
04. Henry 'Red' Allen - Let Me Miss You, Baby (5:32)
05. Louis Armstrong & His All Stars - Back O' Town Blues (4:16)
06. Duke Ellington & His Famous Orchestra - Rocks In My Bed (3:07)
07. Count Basie And His Orchestra - Brand New Wagon (2:54)
08. Jack Teagarden's Big Eight - St. Louis Blues (3:05)
09. Benny Goodman Quartet - The Blues In My Flat (3:25)
10. Lil Green - Why Don't You Do Right? (Get Me Some Money Too) (2:59)
11. Furry Lewis - Kassie Jones, Part I (3:07)
12. Lonnie Johnson - Wipe It Off (3:18)
13. Blind Willie McTell - Southern Can Is Mine (3:13)
14. Brownie McGhee - Key To The Highway 70 No. 1 (2:41)
15. Memphis Slim - Lend Me Your Love (3:07)
16. Keb' Mo' - Am I Wrong (2:19)
17. Jeff Beck - JB's Blues (4:21)
这里是其它用户补充的资源(我也要补充):
暂无补充资源