专辑英文名: So In Love
专辑中文名: 因为爱
音乐风格: 爵士
资源格式: FLAC
发行时间: 2009年06月02日
简介: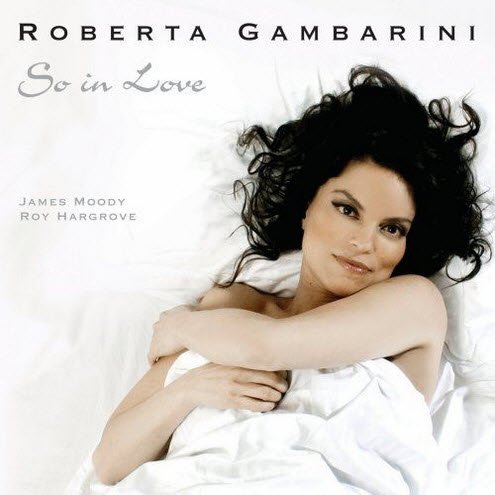 专辑介绍:

  懒散与舒缓的声线勾勒出夏日夜晚的缠绵,湖边的情侣一一流连,还有似有似无的爱恋何时才能走到一起。

  爱,为什麽呢?有原因吗?有理由吗?因此我们 So in Love !

  更多音乐欢迎访问 歌声裏的青春岁月

Roberta Gambarini Roberta Gambarini 出生於义大利 Turin , 曾就读柏克莱音乐学院 , 在纽约崭露出耀眼 的音乐天份 , 是近年来最受瞩目的爵士女伶之一。Roberta Gambarini於2004年开始与 Dizzy Gillespie All Star Big Band巡迴演出 , 并与多位大师合作过 , 包括James Moody , Frank Wess , Jimmy Heath , Paquito de Rivera , Roy Hargrove等 。 在2006年发行个人首张爵士专辑《EASY TO LOVE》即受到许多乐评家及音乐家的好评与关注 , 并获得葛莱美奖入围的肯定。2008年 , Roberta Gambarini与传奇钢琴演奏家Hank Jones合作发行了《YOU ARE THERE》专辑 , 受到Hank Jones这位曾经跟无数爵士天王天后 合作过的钢琴名师大力讚赏。

2009年 , Roberta Gambarini发行的第三张专辑《SO IN LOVE》 , 再度获得葛莱美奖入围的殊荣 , 实为爵士音乐界令人惊艳的好声音!

Release Date June 2, 2009
Duration 01:08:40
Genre Jazz


Audio CD (August 25, 2009)
Original Release Date: August 25, 2009
Number of Discs: 1
Label: Emarcy / Pgd
ASIN: B002EE57QM

Review by Ken Dryden [-]

It seems incredible that Roberta Gambarini didn't win the Thelonious Monk Jazz Vocal Competition but she was new to the U.S., having just arrived from her native Italy. But with each new release, she has demonstrated that she is easily the most accomplished vocalist of the competitors for the prize, while pianist Hank Jones, who knows a thing or two about great singers, refers to her as the "greatest vocalist to come along in the past 60 years." With a rhythm section rotating between three talented up-and-coming pianists Tamir Hendeman, Eric Gunnison, or Gerald Clayton) plus veteran bassists George Mraz, Neil Swainson, or Chuck Berghofer and seasoned drummers Jake Hanna, Al Foster, Jeff Hamilton, or Montez Coleman, Gambarini works her magic with familiar standards and a few unexpected choices. She has a love of Cole Porter's songs, opening with a touching, richly textured "So in Love," a virtual rhapsody in a duet with piano. She restores the oft-omitted verse to "Get Out of Town" then delivers a driving rendition that shows off her gift for interpreting a song that has likely been recorded by all vocal jazz greats who have preceded her, proving she belongs in their company; she is joined by the soft tenor sax of James Moody. Her rapid-fire scatting is a highlight of her brisk treatment of "From This Moment On." Gambarini is also very comfortable looking outside of jazz for material, adapting Willie Nelson's "Crazy" with a master's touch, with subtle trumpet added by Roy Hargrove, while she has equal success with a medley of Beatles songs, including a moving "Golden Slumbers" that segues into a breezy "Here, There and Everywhere." But Gambarini's hilarious lyrics for Johnny Griffin's blues "The JAMFs Are Coming" (retitled "You Ain't Nothin' But a J.A.M.F.") prove to be the big surprise, showing off her incredible scatting range and sense of humor, though like a true lady, she never specifies what Griffin meant by a JAMF (hint: an acronym starting with "Jive Ass"). Roberta Gambarini continues to shine brightly as one of top jazz vocalists of her generation with this outstanding release.


引用
Roberta Gambarini: So In Love (2009)
By
C. MICHAEL BAILEY,
Published: August 28, 2009 | 8,646 views
Roberta Gambarini: So In Love In his book The Jazz Singers: The Ultimate Guide, music writer Scott Yanow presents a list of the 30 most important jazz singers. One name most likely to join that group, Yanow believes, is that of Roberta Gambarini. Very quickly, this talented Italian singer has established herself as an artist to be considered seriously in the same manner that Anthony Benedetto, better known as Tony Bennett, is considered.

Born in Torino, Italy, Gambarini came to the United States in 1998 and that same year competed with Jane Monheit
and Tierney Sutton for that year's Thelonious Monk Institute of Jazz Vocal prize. Gambarini is no stranger to recording, having digitally waxed previously well received You Are There and Easy to Love. In these recordings, Gambarini concentrates on standards. It's a dicey proposition considering how the jazz vocal market is clotted with such recordings, many of them good but not exceptional. So what makes Gambarini different? Gambarini's gift is the most illusive: a perfect, or at the very least, a near-perfect vocal instrument that currently has no peer.

So In Love continues Gambarini's survey of the standards with a couple of near surprises. Gambarini's influences are so legion, perhaps the better way to consider her singing is what elements from past singers she chooses to color her performances. "Day In Day Out" recalls Frank Sinatra
and Ella Fitzgerald. "Crazy" suggests Patsy Cline, with a glass of wine, possibly a vintage Sangiovese (joined by Roy Hargrove on flugelhorn). "Estate" finds Gambarini firmly in her element, displaying her perfect instrument from the low to the high ends.

The The Beatles
' "Golden Slumbers/Here, There and Everywhere" defines Gambarini as a vocalist who's no longer simply influenced but a future influence on others. She further establishes her considerable jazz identity with a sense of humor on Johnny Griffin's "You Ain't Nothing But a JAMF" to which she penned clever lyrics and provided the most wicked scat singing since Louis Armstrong goofed on "Heebie Jeebies" during the "Jazz Age" 1920s. Her instrumentation is the simple piano trio, better to display her considerable talent and ability. "Over the Rainbow" ends this fine recital on a golden note.

Joined by the likes of Hargrove, James Moody
, George Mraz, Al Foster and Jeff Hamilton, Gambarini lives up to her Scott Yanow billing as the next important jazz singer. Gambarini emerges as one recalls what well-conceived and well-executed jazz singing can be.


Track Listing: So In Love; Day In, Day Out; Get Out Of Town; Crazy; That Old Black Magic; Estate; Beatles Medley: Golden Slumbers / Here, There And Everywhere; I See Your Face Before Me; From This Moment On; You Must Believe In Spring; This Is Always; You Ain't Nothing But A J.A.M.F.; Medley From "Cinema Paradiso": Main Theme / Song For Elena; Over The Rainbow.

Personnel: James Moody: tenor sax; Roy Hargrove: trumpet & flugelhorn; Tamir Hendelman: piano; Eric Gunnison: piano; Gerald Clayton: piano; Chuck Berghofer: bass; Neil Swainson: bass; George Mraz: bass; Jake Hanna: drums; Al Foster: drums; Montez Coleman: drums; Jeff Hamilton: drums.

Record Label: Decca Music Group

Style: Vocal



October 2009
Roberta Gambarini
So In Love
EmArcy

By Christopher Loudon

If there's any lingering doubt that Roberta Gambarini has, with remarkable alacrity, joined the upper echelon of jazz singers, So in Love should erase it. Gambarini opens with the Cole Porter title track, allowing it to unfold in slow reveal, achieving a sublime effect that suggests twinkling stars appearing one by one against a jet-black sky. But it is on another Porter gem that Gambarini best illustrates her visceral brilliance at interpreting lyrics. Many a great singer has missed the subtle humor that underscores the paean to barely controlled lust that is Porter's "Get Out of Town." Gambarini gets it, and (with some equally magical assistance from special guest James Moody on tenor sax) uses it to effectively restrained advantage. More overtly funny is "You Ain't Nothin' But a JAMF," with Gambarini shimmying into a loose-limbed, Annie Ross groove as she winds her delicious kiss-off of a lyric around Johnny Griffin's "The Jamfs Are Coming."

In addition to Moody and fellow guest Roy Hargrove, Gambarini has, on a dozen of the 14 tracks, surrounded herself with a cunning blend of seasoned pros and younger guns, including bassists Chuck Berghofer and Neil Swainson, drummers Jake Hanna and Jeff Hamilton and, a perennial favorite with top-flight singers, pianist Tamir Hendelman. The two remaining tracks, "You Must Believe in Spring" and a medley from the Italian screen classic Cinema Paradiso, were recorded seven years earlier, in the aftermath of 9/11, with Eric Gunnison, George Mraz and Al Foster, and speak with incomparable eloquence to the need for renewed hope.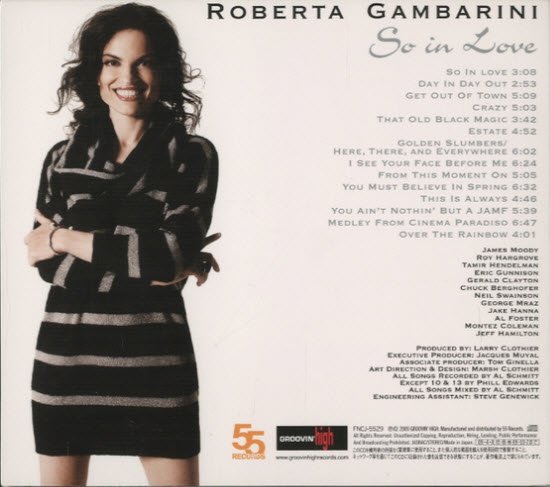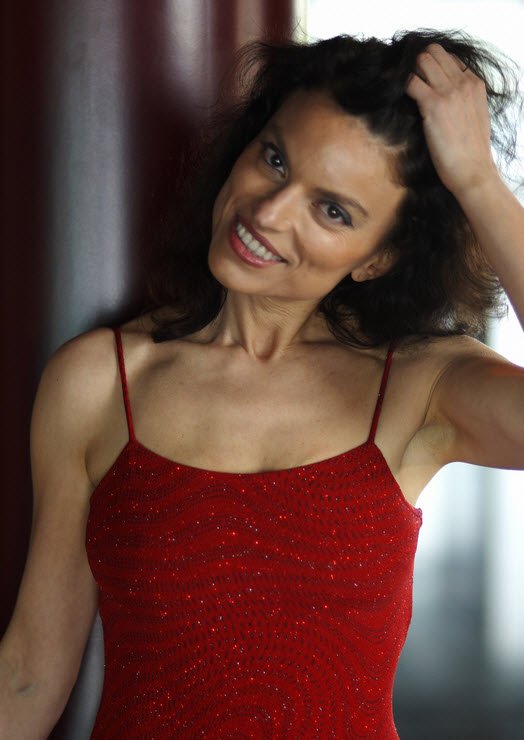 专辑曲目:
01. So In Love (3:06)
02. Day In Day Out (2:50)
03. Get Out Of Town (5:07)
04. Crazy (5:02)
05. That Old Black Magic (3:30)
06. Estate (4:51)
07. Golden Slumbers-Here,There, And Everywhere (5:58)
08. I See Your Face Before Me (6:15)
09. From This Moment On (4:54)
10. You Must Believe In Spring (6:25)
11. This Is Always (4:42)
12. You Ain't Nothin' But A JAMF (5:34)
13. Medley From Cinema Paradiso (6:39)
14. Over The Rainbow (3:56)
这里是其它用户补充的资源(我也要补充):
暂无补充资源