专辑英文名: Pure... Guitar Heroes
专辑中文名: 纯摇滚 吉他英雄榜
音乐风格: 摇滚
资源格式: FLAC
版本: [4 CD]
发行时间: 2010年12月06日
简介: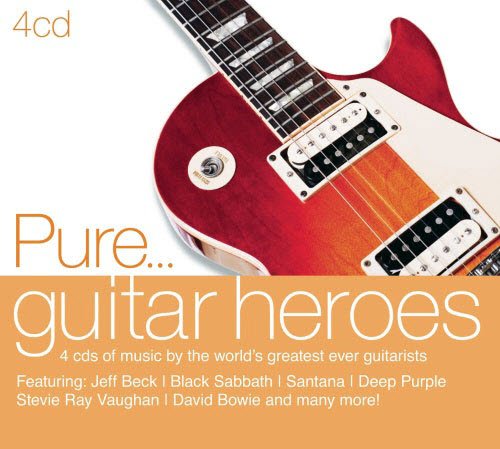 专辑介绍:

Pure... Guitar Heroes (4CD)

★史上最强吉他英雄全面集结,摇滚名曲吉他独奏一次听个够!!
★4CD 68首纯摇滚吉他名曲、滚石杂誌百大排行吉他手毕生代表作全面出辑!!
★史帝夫范、杰夫贝克、史提夫雷梵、山塔那、佛利伍麦克合唱团、天蝎合唱团、黑色安息日、深紫色合唱团


Pure系列这次蒐罗Sony Music旗下唱片公司,包括Columia、Epic、RCA、Artista、Budda Records、Blue Horizon等片库,将摇滚乐最精华的单曲集结成4CD的超级选辑。

定义摇滚乐最重要元素,吉他手扣人心弦的独奏,【纯摇滚- 吉他英雄榜】收录史帝夫范、杰夫贝克、史提夫雷梵、山塔那、佛利伍麦克合唱团、天蝎合唱团、黑色安息日、深紫色合唱团等数十个摇滚殿堂级艺人乐团的经典歌曲,保证让所有摇滚迷大呼过癮的终极之选。


Audio CD (6 Dec 2010)
Number of Discs: 4
Format: Box set
Label: Sony Music CMG
ASIN: B003YI3D68

Review by Gregory Heaney

Featuring iconic songs from some of the meanest axemen to ever strap on a guitar, Pure... Guitar Heroes takes listeners on a journey through some of classic rock's greatest guitar moments. With four discs of rock & roll gold, the collection features some of the most recognizable riffs ever fired out of an amp, featuring songs like Johnny Winter's "Rock & Roll, Hoochie Koo," Heart's "Barracuda," Mountain's "Mississippi Queen," and Judas Priest's "Breaking the Law." With heavy-hitters like that, as well as so many more, Pure... Guitar Heroes makes for a pretty serious listen that's sure to satisfy the guitar lover in everyone.


代码
Release Date December 6, 2010
Duration 04:44:18
Genre Pop/Rock
Styles Album Rock Arena Rock

A very varied collection
By Mr. Aa James on 30 July 2013
Format: Audio CD Verified Purchase
This is a good set to have for the car as it offers a wide range of artists spread out over 4 cds
ranging from santana, moterhead Al stewart Elo and many others why its called guitar heroes
when some ttracks are not really guitar orientated is a bit of a puzzle but even so this is an enjoyable
compilation of diverse music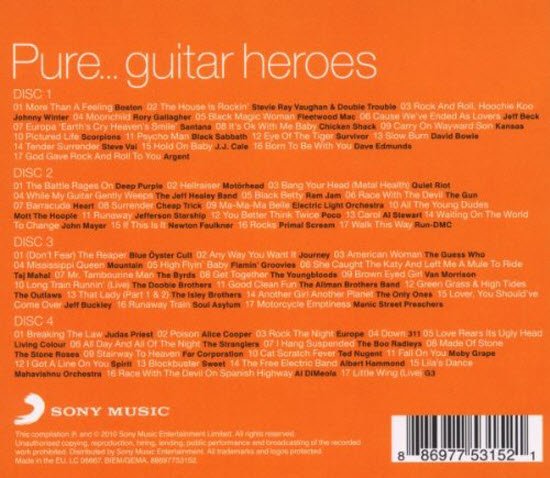 专辑曲目:
CD 1

01. More Than A Feeling - Boston
02. The Houose Is Rockin' - Stevie Ray Vaughan & Double Trouble
03. Rock And Roll, Hoochie Koo - Johnny Winter
04. Moonchild - Rory Gallagher
05. Black Magic Woman - Fleetwood Mac
06. Cause We've Ended As Lovers - Jeff Beck
07. Europa 'Earth's Cry Heaven's Smile' - Santana
08. It's Ok With Me Baby - Chicken Shack
09. Carry On Wayward Son - Kansas
10. Pictured Life - Scorpions
11. Psycho Man - Black Sabbath
12. Eye Of The Tiger - Survivor
13. Slow Burn - David Bowie
14. Tender Surrender - Steve Vai
15. Hold On Baby - J.J. Cale
16. Born To Be With You - Dave Edmunds
17. God Gave Rock And Roll To You - Argent

CD 2

01. The Battle Rages On - Deep Purple
02. Hellraiser - Motohead
03. Bang You Head (Metal Health) - Quiet Riot
04. While My Guitar Gently Weeps - The Jeff Healey Band
05. Black Betty - Ram Jam Band
06. Race With The Devil - The Gun
07. Barracuda - Heart
08. Surrender - Cheap Trick
09. Ma-Ma-Ma Belle - Electric Light Orchestra
10. All The Young Dudes - Mott The Hoople
11. Runaway - Jefferson Starship
12. You Better Think Twice - Poco
13. Carol - Al Stewart
14. Waiting On The World To Change - John Mayer
15. If This Is It - Newton Faulkner
16. Rocks - Primal Scream
17. Walk This Way - Run-DMC

CD 3

01. (Don't Fear) The Reaper - Blue Oyster Cult
02. Any Way You Want It - Journey
03. American Woman - The Guess Who
04. Mississippi Queen - Mountain
05. High Flyin' Baby - Flamin' Groovies
06. She Caught The Katy And Left Me A Mule To Ride - Taj Mahal
07. Mr. Tambourine Man - The Byrds
08. Get Together - The Youngbloods
09. Brown Eyed Girl - Van Morrison
10. Long Train Runnin' (Live) - The Doobie Brothers
11. Good Clean Fun - The Allman Brothers Band
12. Green Grass and High Tides - The Outlaws
13. That Lady (Part 1 & 2) - The Isley Brothers
14. Another Girl Another Planet - The Only Ones
15. Lover, You Should've Come Over - Jeff Buckley
16. Runaway Train - Soul Asylum
17. Motorcycle Emptiness - Manic Street Preachers

CD 4

01. Break The Law - Judas Priest
02. Poison - Alice Cooper
03. Rock The Night - Europe
04. Down - 311
05. Love Rears Its Ugly Head - Living Colour
06. All Day And All Of The Night - The Stranglers
07. I Hang Suspended - The Boo Radleys
08. Made Of Stone - The Stone Roses
09. Stairway To Heave - Fars Corporation
10. Cat Scratch Fever - Ted Nugent
11. Fall On You - Moby Grape
12. I Got A Line On You - Spirit
13. Blockbuster - Sweet
14. The Free Electric Band - Albert Hammond
15. Lila's Dance - Mahavishnu Orchestra
16. Race With The Devil On Spanish Highway - Al DiMeola
17. Little Wing (Live) - G3
这里是其它用户补充的资源(我也要补充):
暂无补充资源