专辑英文名: The Ragpicker's Dream
专辑中文名: 穷人的梦想
别名: 拾荒者之梦
音乐风格: 摇滚
资源格式: FLAC
版本: [2 CD]
发行时间: 2002年09月30日
简介: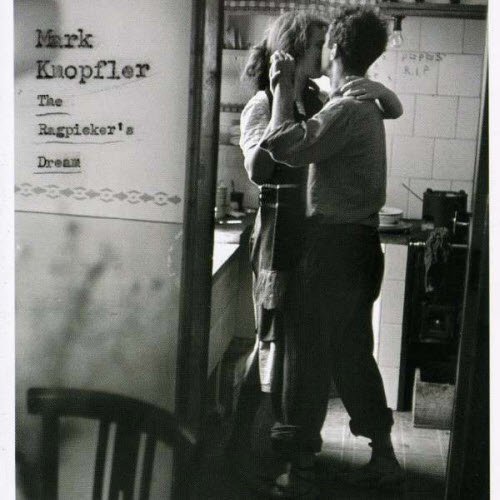 专辑介绍:

  能淘到这张限量唱片完全是巧合。
  除了这幅温暖的封面的召唤别无他由。
  尽管知道其是恐怖海峡Dire Straits的主唱。
  温暖而又甯静。
  一如这张唱片的名字:
  穷人的梦想


拾荒著之梦 ( 2CD限量版 )/THE RAGPICKER'S DREAM

★顶著全球逾一亿二千万张专辑销售的英国超级摇滚乐团Dire Straits光环之全才型音乐大师★

  专辑中文名: The Ragpicker's Dream
  歌手: Mark Knopfler
  发行时间: 2002年
  地区: 英国
  语言: 英语


马克诺弗勒 / 拾荒者之梦(2CD限量版) Mark Knopfler / The Ragpicker's Dream

《险峻海峡合唱团之马克诺弗勒》拾荒者之梦 【美国版】Mark Knopfler / The Ragpicker's Dream / Dire Straits全新美版

唱片公司:Universal
演出者:马克诺弗勒 
音乐类型:西洋音乐
唱片编号:0632932
发行日期:2002年10月01日
高价版 / CD / 2 片装


马克诺弗勒/MARK KNOPFLER [所有作品]
产品条码: 0044006329321
产品编号: 0632932
发行公司: UNI [发行商品]
发行日期: 2002年10月05日
发行类型: 西洋CD . 英文 . CD . ROCK 摇滚 . 流行 .
内装片数: 1片

Musical Album by Mark Knopfler

The Ragpicker's Dream is the third solo album by British singer-songwriter and guitarist Mark Knopfler, released on 30 September 2002 by Mercury Records internationally, and by Warner Bros. Records in the United States.

Release date: September 30, 2002
Artist: Mark Knopfler
Labels: Mercury Records, Warner Bros. Records




Subtle, Sophisticated Masterpiece from the Sultan October 2, 2002
By o dubhthaigh VINE VOICE
Format:Audio CD
Finally! A rock star who understands his strengths and knows how to use them to optimal effect! This is a brilliant, exquisite display of song craft, subtle and sophisticated guitar playing, sublimely wrought melodies and arrangements that will stand as a hallmark of one of the truly great writers to have emerged at the end of the seventies. 25 years on and Mark Knopfler is more in command of his considerable powers than ever before. Perhaps through his soundtracks, stint with the Notting Hill Billies, his "Sailing to Philadelphia" Mark has shed his money for nothing vapour lock and emerged, or better reemerged as the eminent storyteller who so finally crafted epics like "Telegraph Road" and "Brothers in Arms" and of course "Sultans."
The genuine article, as one might say, he is Geordie through and through, and his borderlands colours wave bravely over this album of finely written stories. From the opening "Way Aye Man", all full of Tyneside atmosphere and courage to the closing "Old Pigweed" the narrators are real people with very effecting tales to tell. Knopfler and James McMurtry share that unique ability to gain the insight of people who live close to their circumstances, like most of us do, and dissect the issues that are the crest jewel of the decisions we make in life.
The band on this disc is just incredible. Chad Cromwell's drumming is the absolutely perfect foil for Knopfler's guitar lines, and fellow Notting Hillman, Guy Fletcher is on board to keep things organically true to the bone. The bass lines are as dynamic as the guitar runs and when you listen to "Coyote", complete with horns, it strikes you how well intelligence can swing. In some phrases, Knopfler brings to mind fellow Geordie Martin Stephenson, and perhaps it's in the Newcastle blood, the ability to swing. Certainly the pipe tunes from the tradition there roll with a sea spray you don't hear in other traditions, so it must carry over to more contemporary writers as well.
The waltz, "Ragpicker's Dream" is achingly beautiful, full of all the sentinmentality and bittersweetness of the waltzes he wrote for "Local Hero". Each and every song on this collection is a gem. As my headline states, this is a subtle, sophisticated masterpiece: it swings, it waltzes, it rocks and it stands on its own merits as a statement from a consummate musiciian and insightful writer of the daily vicissitudes of life that propel us as we embrace our past, present and future. Well done, Knop. Best of the Year!


引用
Audio CD (October 1, 2002)
Number of Discs: 1
Label: WEA/Reprise
ASIN: B00006J3T4

Even at the peak of Dire Straits' fame, Mark Knopfler's music often seemed informed by a restless worldview as abstruse as his guitar playing was fluid and expressive. This follow-up to his impressive 2000 collection, Sailing to Philadelphia, finds Knopfler chasing a similar musical and lyrical muse, with results that are even more surprising and loose-limbed. "Why Aye Man," the bracing opening chantey that sets much of the album's tone, draws parallels between Geordie pub-speak and Native American chants whilst lamenting economic refugees of Thatcherism forced to ply their blue-collar trades--and keep their Brit pub culture alive--deep in the Fatherland. From there, Knopfler takes us by "A Place Where We Used to Live" for a lounge-y, Jobim-inflected reminder that one can never really go home, drops in on "Quality Shoe" for a tribute to Roger Miller, and gives us a typically dry, so-deadpan-it's-funny rundown of his Circus Sideshow pals on "Devil Baby." "Marbletown," a graveyard folk-blues, showcases the musician at home on solo acoustic guitar, while the loping, laconic "Coyote" draws its good-natured inspiration from a beast named Wile E. But it's the way that Knopfler connects disparate cultures and histories with subliminal, deceptively effortless grace on "Fare Thee Well Northumberland," "You Don't Know You're Born" (both of which feature Knopfler's signature languorous, blues-inflected soloing), the folksy "Hill Farmer's Blues," and the country-fried "Daddy's Gone to Knoxville" that make the album a triumph of understatement. --Jerry McCulley
代码
When jack frost came for christmas
With a brass monkey date
The rail-king and the scarecrow
Hopped a florlda freight
And they blew on their paper cups
And stared through the steam
Then they drank half a bottle
Of ragpicker's dream where

The whiskey keeps following
Cold pitchers of beer
Me and my associate
Like the clientele here get
The onions and the 'taters
Rib-eyes on the grill
Toothpicks and luckies
And a coffee refill as

The rail-king lay rocking
He was leaving the ground
Then he was flying like santa claus
Over the town where
He came to the window
Of a house by a stream
It was a family christmas
In the ragpicker's dream there

Were kids at the table
All aglow in the light
Music in the wintertime
Sure carries at night there
Was turkey and gravy
Pie and ice-cream
And gifts for each and everyone
In the ragpicker's dream where

The red-eye keeps tumbling
In our glasses of beer
Me and my associate
Like the service in here there's
A ten for your trouble
You have beautiful hair
Make the last one two doubles
It's a cold one out there where

The scarecrow and the rail-king
Have started to dance
But a nightstick and a billyclub
Won't give peace a chance here
I think they went thataways
Your song and dance team
Heading home for the holidays
With the ragpicker's dream on

His knees like a fighter
The rail-riding king
Like a sack of potatoes
Like a bull in the ring where
The scarecrow falls over
With a tear in the seam
Home for the rover
In the ragpicker's dream where

The red-eye keeps tumbling
Like tears in our beer
Me and my associate
Like the ambience here where
They cornered two castaways
In a white flashlight beam
Merry christmas and happy days
In the ragpicker's dream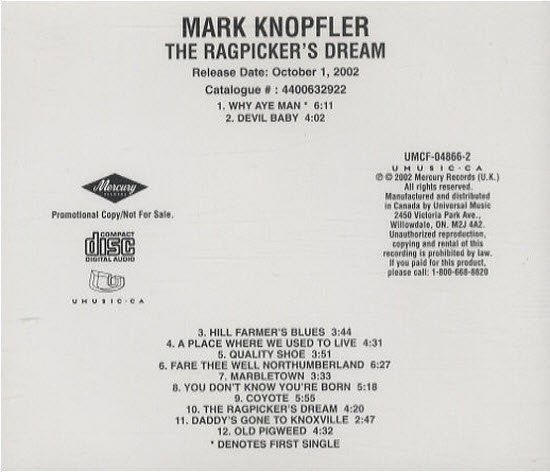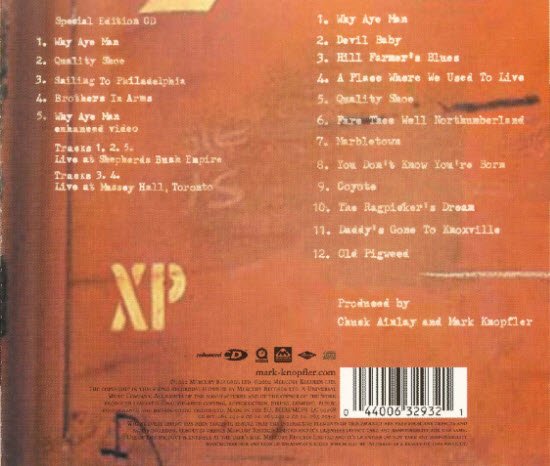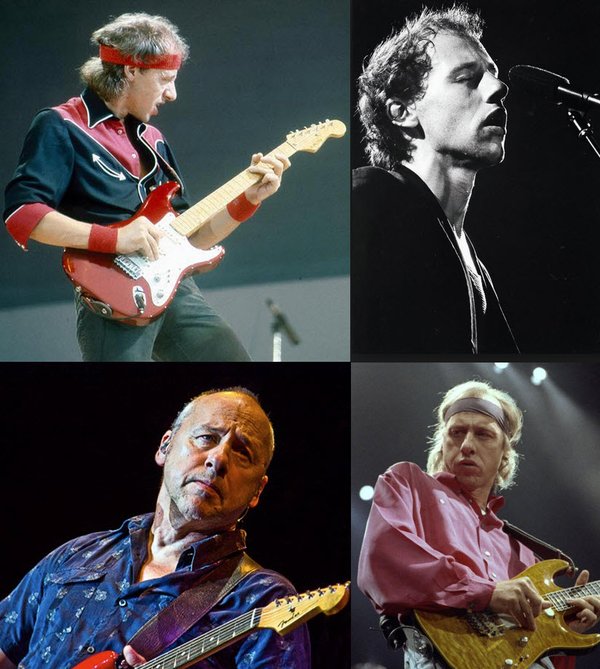 专辑曲目:
CD 1

01. Why Aye Man 06:15
02. Devil Baby 05:07
03. Hill Farmer's Blues lyrics 05:11
04. A Place Where We Used To Live 04:35
05. Quality Shoe lyrics 03:57
06. Fare Thee Well Northumberland 06:30
07. Marbletown 03:24
08. You Don't Know You're Born 05:22
09. Coyote 05:57
10. The Ragpicker's Dream 04:21
11. Daddy's Gone To Knoxville 02:49
12. Old Pigweed 04:36

CD 2

01. Why Aye Man
02. Quality Shoe
03. Sailing To Philadelphia
04. Brothers In Arms
这里是其它用户补充的资源(我也要补充):
暂无补充资源