专辑英文名: Gentle Ballads II
专辑中文名: 销魂情歌 II
音乐风格: 爵士
资源格式: FLAC
发行时间: 2008年01月13日
简介:


专辑介绍:

艾瑞克亚历山大四重奏:销魂情歌 Eric Alexander Quartet: Gentle Ballads II (CD) 【Venus】

听令人销魂蚀骨的萨克斯风、如何刻画出一场场动人的爱情场景!!


已经是公认的萨克斯风抒情天王艾瑞克亚历山大(Eric Alexander),年轻一辈的萨克斯风手能像他一样吹奏出这么浓郁音调的乐手,大概是不存在了。而这样浓烈的声响更是表现情歌的最佳方式,使得艾瑞克成为詮释爵士情歌的第一人。在上一张专辑「轻柔情歌」(Gentle Ballads)中的选曲著重在风格的多变与趣味性上,而这一张专辑的风格则统一与沈稳了许多,唯一没有改变的就是艾瑞克销魂蚀骨、让人融化的萨克斯风。

不论是Duke Ellington的《I Got It Bad》或是最后的一首《Time After Time》,都可以听出他演奏萨克斯风的独特音色,马上就会抓住您的耳朵,让您不忍关掉音乐。「销魂情歌」之中,所选的曲子都是一般爵士乐迷耳熟能详的爵士标準曲,也正是因为这些曲子通俗、简单,更能展现艾瑞克的创意与深厚的演奏实力。若是以绘画来说,一幅素描与一幅工笔精鍊的油画可能都能让您感动与心领神会,但是艾瑞克的音乐无疑的是比较像工笔精鍊的油画,其精雕细琢的程度不输给任何一位爵士乐史上的大师。专注在每一个音符的美化,搭配流畅的伴奏,刻画出一场场动人的爱情场景,这就是艾瑞克亚历山大四重奏的「销魂情歌」。

Eric Alexander - tenor sax
Mike LeDonne - piano
John Webber - bass
Joe Farnswortht - drums

【曲目】
01. Mona Lisa 蒙娜莉莎
02. I Got It Bad ( And That Ain't Good ) 做得不够好
03. Funny 有趣的
04. I'm A Fool To Want You 爱你成痴
05. Li'l Darlin' 亲爱的
06. LooK Of Love 爱情的样子
07. My Ship 我的船
08. Who Can I Turn To 我能向谁说
09. Time After Time 时光飞逝

Release Date January 13, 2008
Duration 57:30
Genre Jazz
Styles Straight-Ahead Jazz
Recording Date March 22, 2006


引用
Review by Ken Dryden

Like its predecessor, Gentle Ballads, Gentle Ballads, Vol. 2 is another fairly low-key session led by Eric Alexander. Not only is the personnel identical (pianist Mike LeDonne, bassist John Webber, and drummer Joe Farnsworth), but the cover art once again features a nude photo by the late Jeanloup Sieff, quite possibly the same model from the same photo shoot. The tenor saxophonist mixes things up a bit more during this 2006 session, playing ballads that were hits for popular singers ("Mona Lisa" and "I'm a Fool to Want You"), 1960s Broadway ("Who Can I Turn To"), and 1960s pop ("The Look of Love"), in addition to the expected standards. Best are the deliberate take of Duke Ellington's timeless melancholy ballad "I Got It Bad (And That Ain't Good)" and a bluesy, loping treatment of Neal Hefti's "Li'l Darlin'," which became a signature piece for Count Basie. The John Coltrane influence is again apparent, though Alexander isn't a mere clone, even if this enjoyable date falls short of being groundbreaking.



Eric Alexander Quartet - Gentle Ballads (2004) & Gentle Ballads II (2006)
Time: 01:10:56-01:04:48
Jazz, Instrumental, Tenor Saxophone | Venus Record, 2004-2006

Ballads from modern tenor giant Eric Alexander


A long-overdue session of ballads from modern tenor giant Eric Alexander a player we've always loved for his soaring, leaping lines on soul jazz sets but who also has just the right tone to carry off an album of mellow tunes and ballads! Alexander's tone reminds us a lot of the Sonny Rollins sound of the mid 60s that perfect, yet never too-polished style that Sonny was using when re-interpreting standards in a masterful demonstration of space and economy. The tracks on this set are a well-chosen lot and include 2 classic Mal Waldron ballads, "Left Alone" and "Soul Eyes", plus 2 takes on Earl Hagen's "Harlem Nocturne", and Alexander's own track "Gently". The group's a quartet, with Mike Le Donne on piano, John Webber on bass, and Joe Farnsworth on drums and the session's recorded with impeccable sound, in the Venus Records mode. ~ © 1996-2009, Dusty Groove America, Inc

This CD offers classic fare from a well-oiled quartet. It's a satisfying sampler of tenor saxophonist Eric Alexander's strong, burnished-copper tone, which is nicely balanced by pianist Mike LeDonne's elegant filigree. In a recent Downbeat interview, Alexander named Coleman Hawkins as a major influence because "he just puts the information on the plate, and more power to you if you can figure it out and make use of it for yourself." Alexander has a similar directness; even when he's blowing hard, he's no blowhard, scattering notes around just to prove he can do it. Every note has meaning.

Despite the CD's title, not all tracks are ballads, but the music rarely revs higher than midtempo; what you get are over 70 thoroughly mellow minutes. Most of them involve respectful takes on venerable standards: "Harlem Nocturne" appears on two tracks at different tempos, "Here's to Life" becomes a gentle samba, and "Stormy Weather" is a swinging, late-night Alexander/LeDonne duet.

There are also some lesser-heard gems like Mal Waldron's beautiful "Left Alone," the pensive Jones/Salvador tune "The Midnight Sun Will Never Set," and "Gently," a strong Alexander original that fits nicely into this set. The approach is primarily straightforward, with some nice solo turns all around—and kudos to drummer Joe Farnsworth and bassist John Webber for keeping things interesting in the background. Gentle Ballads is a classy, romantic CD.

Musicians:
Eric Alexander (tenor sax)
John Webber (bass)
Mike LeDonne (piano)
Joe Farnsworth (drums)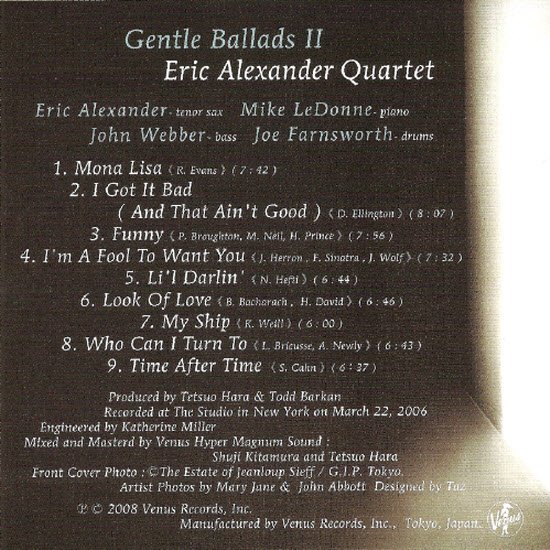 专辑曲目:
1. Mona Lisa
2. I Got It Bad
3. Funny
4. I'm A Fool To Want you
5. Li'l Darlin'
6. Look Of Love
7. My Ship
8. Who Can I Turn To
9. Time After Time
这里是其它用户补充的资源(我也要补充):
暂无补充资源