专辑英文名: J.S.Bach - Cello Suites
专辑中文名: 巴哈:大提琴无伴奏组曲全集
古典类型: 全集作品
资源格式: FLAC
版本: [2 CD]
发行时间: 2012年02月02日
简介: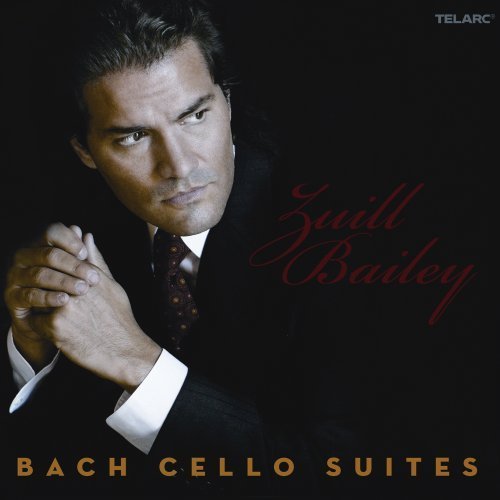 专辑介绍:

BBC音乐杂誌四颗星

国际级的型男大提琴演奏家祖尔‧贝里(Zuill Bailey),自从加盟Telarc之后,不断推出精采又富有深度的演奏唱片:「俄罗斯大提琴经典名曲集」、「贝多芬大提琴奏鸣曲全集」皆为精采又令人折服的演奏,2010年祖尔‧贝里再度推出巴哈六首无伴奏大提琴组曲全集,面对这闕已经拥有无数录音的名曲(光马友友就录了两次正式录音出版),祖尔‧贝里在无伴奏的组曲中,以无比精采的音色层次探索再度征服听眾。 巴哈无伴奏大提琴组曲自从20世纪初游卡萨尔斯对世人重新发表以来,就几乎代表著大提琴的演奏精随所在,在每一个乐句里,内外声部的探索与演奏更是每一位大提琴演奏家毕生的试炼,且听祖尔‧贝里在第二号组曲前奏曲中无比丰富的沉思与音乐线条,您就能理解这位由大提琴当代巨擘史塔克钦定的演奏家迷人的演奏魅力,在已经为数甚丰的巴哈无伴奏唱片版本中,祖尔‧贝里让我们听见一种全新的层次与音色魅力,值得你我细细品味!

Cello Suites
Composer: Johann Sebastian Bach
Artists: Zuill Bailey

Works: Cello Suite Number 1 in G Major BWV1007. Cello Suite Number 3 in C Major BWV1009. Cello Suite Number 5 in C Minor BWV1011. Cello Suite Number 2 in D Major BWV1008. Cello Suite Number 4 in E Flat Major BWV1010. Cello Suite Number 6 in D Major BWV1012.

TEL3197802

TELARC 贝里(Zuill Bailey)/巴哈:无伴奏大提琴组曲[Bach: 6 Suits for Solo Cello]【2CDs】


祖尔‧拜里 (Zuill Bailey) 大提琴

●深获当代大师史塔克讚赏的青年演奏家
●精湛的琴艺、优美的乐曲加上自然的录音成就一张令人爱不释手的发烧小品
●1693 年 Matteo Gofriller 名琴再现光芒!


Zuill Bailey 是享誉国际的大提琴手之一,在 Peabody Conservatory 与茱莉亚音乐学院习艺后,才华洋溢的他忙碌於全球各地演出,并与名指挥家Andrew Litton, Stanislaw Skrowaczewski, Itzhak Perlman等都有合作。2003年在美国古典发烧名厂Delos发行了个人首张同名专辑,果然艺高胆大,挑战了Francoeur、J.S. Bach、Beethoven、Mendelssohn、Chopin、Vieuxtemps 等六位大师的作品,展现出 Zuill 对各式曲风技巧皆驾轻就熟。2004年大提琴泰斗Janos Starker 80 大寿演奏会时,Zuill 为 Starker 亲选乐手之一,并担任专辑制作人,可见他的音乐造诣也深受前辈大师的肯定。

Zuill 目前於美国 University of Texas-El Paso 教授大提琴,其琴艺精湛洗鍊,屡屡获得国际资深乐评的讚誉和推崇。Zuill 所使用的是义大利制琴大师 Matteo Gofriller 於 1693 年制造的古董名琴。这把琴也曾为布达佩斯弦乐四重奏的大提琴手 Mischa Schneider 所使用过。其音色气质出眾、高贵优美,再加上美国名厂 Delos 发烧录音的加持,全片听起来流畅自然、温暖通透,一个人静静品味欣赏实为心灵上、精神上的一大享受。

TELARC

TELARC TEL31978(2CDs)888072319783
巴哈:无伴奏大提琴组曲【2CDs】
Bach: 6 Suits for Solo Cello
贝里, 大提琴
Zuill Bailey, Cello

Cellist Zuill Bailey releases his Bach Suites for Solo Cello on February 2, 2010. All six suites were recorded in one week at the American Academy of Arts and Letters in New York City in December, 2008, following years of preparation by Mr. Bailey. "I was unaware of the depths of the music as a young person, but came to realize that there are so many ways of interpreting Bach that it channels where a cellist is at that precise moment. It has become such a personal journey for me."

Zuill Bailey performs on a 1693 Matteo Gofriller Cello, formerly owned by Mischa Schneider of the Budapest String Quartet. The first surviving manuscripts of Bach's Cello Suites date from the middle and late 1720's. Bach's Suites disappeared from public view during the decades after his death. It was not until the early 20th century, when cellist Pablo Casals helped the works emerge from obscurity. "My evolution with these pieces mirrors the way the Bach Suites were actually perceived over the centuries. This has been my greatest musical undertaking so far," Bailey said.

Today, cellists regard the works as the pinnacle of their repertoire. "The Bach Cello Suites are the center point of my existence, and I think I speak for all cellists when I say that the music is the Cellistic Bible." Bailey adds, "For me, Bach is the mirror to the soul, and this recording of the Cello Suites truly reflects what is inside of me."


Release Date February 2, 2010
Duration 02:20:13
Genre Classical
StylesC hamber Music
Recording Date December, 2008


Review by Mike D. Brownell [-]

Since their "re-discovery" early last century by Pablo Casals, the six unaccompanied suites for solo cello by J.S. Bach have easily become the most frequently recorded and debated works in the instrument's repertoire. Some performers have even gone so far as to record the suites multiple times throughout their career as their interpretation evolves. There's always the debate of which instrument to use, what kind of bow, whether to play using "period-practice" technique, and a myriad of other questions. The answers, despite assertions made by historians and even performers, must come from individual listeners. If, in reading this you know yourself to be a listener who prefers the suites to be played on a Baroque cello with a more period-minded interpretation, then you need proceed no further. Cellist Zuill Bailey's Telarc recording of the suites will not suit your tastes at all. If, on the other hand, you enjoy a more Romanticized, muscular reading, then Bailey's playing may be worth exploring. Bailey's suites are filled with wide-ranging dynamics, vigorous accents, and powerful, in-the-string playing. There are times when he pulls an astounding amount of sound and resonance from his Gofriller cello, nothing like the more staid playing of Bylsma. His tempo selection is generally middle-of-the-road, unlike the more impetuous speeds chosen in the early Ma recording. While this is certainly one of the more muscular, almost aggressive recordings of the suites available, Bailey still performs the works with deserved dignity and respect. Certainly not a set for everyone, Bailey's unique take on the suites will still find a home with many listeners.


引用
Composer: Johann Sebastian Bach
Audio CD (February 2, 2010)
Number of Discs: 2
Label: Telarc
ASIN: B0030GBSVQ

5.0 out of 5 stars He's found the joy in this music February 22, 2010
By Dennis Witmer VINE VOICE
Format:Audio CD
I bought this CD yesterday (2/21/10), after watching Zuill Bailey at a concert in Fairbanks--his performance of the Elgar Cello Concerto was stunning with the orchestra; alive, precise, engaged--and then for his encore, he played two of the movements from the Bach Cello suites--he captured the audience with his music. My son is a young cellist, and someone rigged the seating arrangements so we had a front row seat to watch him perform--and it was a theatrical performance--his body language and his breathing both seemed at times over the top, almost as if they might overshadow the music. But somehow he came down on the right side of the line--he convinced me that his performance was based on an understanding of the music--an honest attempt to express the feelings of the music with the audience. At the end of his second encore he held the last note for what seemed like an eternity, that faded into a silence that lasted for perhaps twenty seconds (my son told me today he counted to 20...)

I've been listening to the CD almost continuously since I got home from the concert--the music is familiar--I've owned the Rostropovich double CD of the Bach Suites since it's release--but I always found his interpretation to be mournful, full of Russian sadness. When the Berlin wall fell and I heard that Rostropovich sat by the checkpoint playing the Bach Cello Suites "because of the joy" I wondered what he was talking about. But Bailey shows that Rostropovich was right--this is music of joy, and Bailey is out to prove it. And I'm happy to listen to his proof...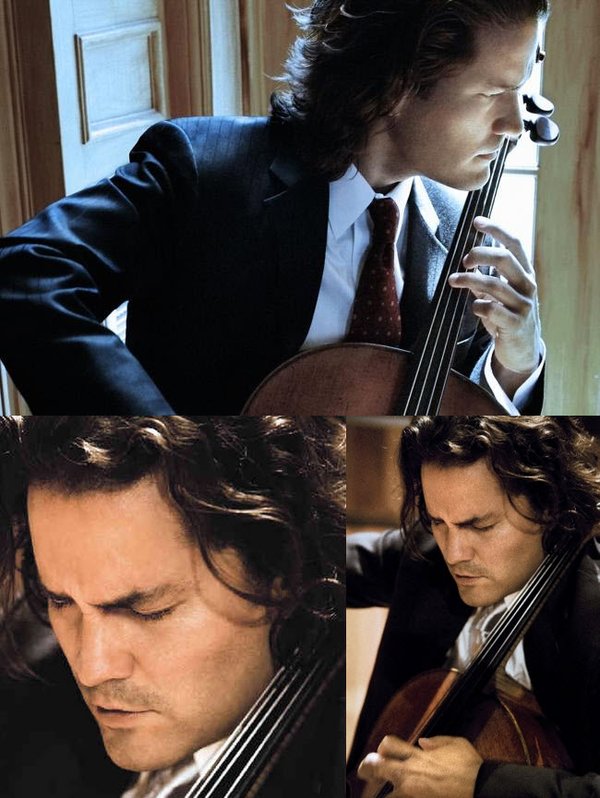 专辑曲目:
Johann Sebastian Bach (1685 - 1750)

CD 1

Cello Suite No.1 in G BWV1007
[1] Prélude
[2] Allemande
[3] Courante
[4] Sarabande
[5] Menuet I & II
[6] Gigue

Suite No. 3 in C major BWV 1009
[7] Préludium
[8] Allemande
[9] Courante
[10] Sarabande
[11] Bourrées I & II
[12] Gigue

Cello Suite No.5 in C minor BWV1011
[13] Prelude
[14] Allemande
[15] Courante
[16] Sarabande
[17] Gavottes I & II
[18] Gigue

CD 2

Cello Suite No.2 in D minor BWV1008
[1] Prélude
[2] Allemande
[3] Courante
[4] Sarabande
[5] Menuet I & II
[6] Gigue

Suite No. 4 in E flat Major, BWV 1010
[7] Prélude (allegro maestoso)
[8] Allemande (Allegro moderato)
[9] Courante (Allegro non troppo)
[10] Sarabande (Lento)
[11] Bourrée I & II
[12] Gigue (Vivace)

Suite No. 6 in D major BWV 1012
[13] Prélude (Allegro moderato)
[14] Allemande (Quasi adagio)
[15] Courante (Allegro non troppo)
[16] Sarabande (Lento)
[17] Gavotte I & II (Allegro moderato)
[18] Gigue (Vivace)
这里是其它用户补充的资源(我也要补充):
暂无补充资源