专辑英文名: Russian Masterpieces for Cello and Orchestra
专辑中文名: 祖尔贝里演奏俄罗斯大提琴经典名曲
古典类型: 协奏曲
资源格式: FLAC
发行时间: 2009年01月27日
简介: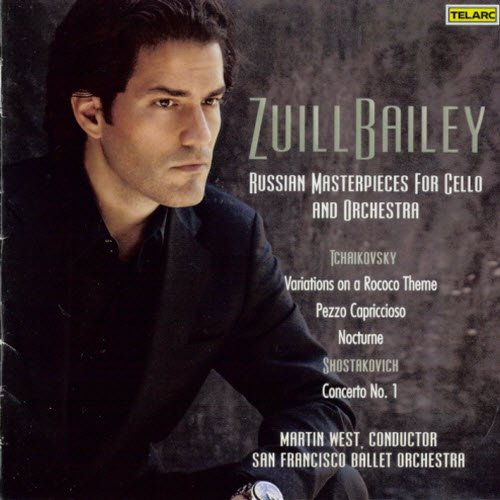 专辑介绍:

●深获当代大师史塔克讚赏的青年演奏家
●1693 年 Matteo Gofriller 名琴再现光芒!


Zuill Bailey 是享誉国际的大提琴手之一,在 Peabody Conservatory 与茱莉亚音乐学院习艺后,才华洋溢的他忙碌於全球各地演出,并与名指挥家Andrew Litton, Stanislaw Skrowaczewski, Itzhak Perlman等都有合作。2003年在美国古典发烧名厂Delos发行了个人首张同名专辑,果然艺高胆大,挑战了Francoeur、J.S. Bach、Beethoven、Mendelssohn、Chopin、Vieuxtemps 等六位大师的作品,展现出 Zuill 对各式曲风技巧皆驾轻就熟。2004年大提琴泰斗Janos Starker 80 大寿演奏会时,Zuill 为 Starker 亲选乐手之一,并担任专辑制作人,可见他的音乐造诣也深受前辈大师的肯定。

Zuill 目前於美国 University of Texas-El Paso 教授大提琴,其琴艺精湛洗鍊,屡屡获得国际资深乐评的讚誉和推崇。Zuill 所使用的是义大利制琴大师 Matteo Gofriller 於 1693 年制造的古董名琴。这把琴也曾为布达佩斯弦乐四重奏的大提琴手 Mischa Schneider 所使用过。其音色气质出眾、高贵优美,再加上美国名厂 Delos 发烧录音的加持,全片听起来流畅自然、温暖通透,一个人静静品味欣赏实为心灵上、精神上的一大享受。


CD编号 : CD80724
演奏者 : 祖尔贝里 Zuill Bailey
指挥家 : 马丁魏斯特 Martin West
乐团 :
作曲家 : 柴可夫斯基&萧氏塔高维契 Tchaikovsky&Shostakovich
专辑名称 : 祖尔贝里演奏俄罗斯大提琴经典名曲
Russian Masterpieces For Cello And Orchestra
音乐类型 : 古典音乐 [CD 协奏曲]
发行公司/日期 : 上扬 
制作公司 : Telarc
内含片数 : 1

Audio CD (January 27, 2009)
Number of Discs: 1
Label: Telarc
ASIN: B001LOR3KE

Cellist Zuill Bailey Makes Telarc Debut With Russian Masterpieces for Cello Zuill Bailey, the dynamic and exhilarating American cellist, makes his Telarc debut on January 27, 2009, with the release of Russian Masterpieces for Cello. The recording includes Tchaikovsky's Variations on a Rococo Theme and the Nocturne in D Minor Op. 19 No. 4, and Shostakovich's Cello Concerto No. 1 in E-Flat Major, Op. 107.

The voice of the cello is uniquely suited to the qualities of passion and melancholy that makes Russian music so provocative to listeners "In an indirect way, Tchaikovsky helps fill the void that cellists feel since Mozart never featured the cello in any of his compositions," Bailey said.

Pyotr Ilyich Tchaikovsky, (1840-1893) idolized Wolfgang Amadeus Mozart, and that fascination with Mozart's century and the decorative grace of Rococo Art inspired this work. The Rococo Variations were intended for the German-born cellist Wilhelm Fitzenhagen, a professor at the Moscow Conservatory. When Tchaikovsky left Russia for a lengthy stay in Western Europe, he gave Fitzenhagen a free hand in composition, which resulted in significant structural alterations to the piece. The cellist premiered his version of the Rococo Variations at a Moscow concert conducted by Nikolai Rubinstein in 1877. Tchaikovsky was displeased with the alterations, but later said, "The devil take it. Let it stay as it is." The Fitzenhagen score is heard in Bailey's rendition, and is considered an effective presentation of Tchaikovsky's material.

The Nocturne is a cello and orchestra arrangement of Tchaikovsky's solo-piano Nocturne, Op. 19, No. 4. The composer reconceived the Nocturne for cello by transposing it from C-sharp minor to D minor. The resulting melodies are typical of Tchaikovsky's wistfulness.

The music of Dmitri Shostakovich (1906-1975) was driven from Soviet concert stages after being denounced by Stalin functionaries for his "bourgeois formalism." Bailey explains: "Shostakovich's Cello Concerto No.1 in E-Flat Major, Op. 107 was written a few years after Stalin's death, it expresses his new found musical freedom in the relief of the heavy Stalinist restrictions.

The work also reinforced Shostakovich's unofficial role as a national spokesman, as it contains his own aggression toward the government, his

lament for lost colleagues, his sense of solitude and his enduring national pride."

In 1959, Shostakovich wrote the concerto for the distinguished cellist Mstislav Rostropovich, who had frequently performed Shostakovich's Sonata for Cello and Piano with the composer at the piano. His Concerto No. 1 in E-flat major for Cello and Orchestra, Op. 107 was premiered in Leningrad with the Leningrad Philharmonic and Rostropovich. When Shostakovich gave his only public performance as a conductor in 1962, the Concerto appeared on the program.

Zuill Bailey's rare combination of compelling artistry, technical finesse and engaging personality have secured his place as one of the most sought-after cellists today. Bailey performs regularly with long-time duo partner, pianist Awadagin Pratt, as well as with pianist Simone Dinnerstein. He is also a member of the acclaimed Perlman-Schmidt-Bailey Trio, which also includes pianist Navah Perlman and violinist Giora Schmidt.


引用
Zuill Bailey: Russian Masterpieces for Cello and Orchestra

搞不太清楚为何有这张

可能为了购买而购买吧

有

Tchaikovsky

Variations on a Rococo Theme, Op. 33

Pezzo capriccioso in B minor for Cello and Orchestra, Op. 62

Nocturne in D minor for Cello and Small Orchestra, Op. 19. No. 4

另外是

Shostakovich

Cello Concerto No. 1 in E flat major, Op. 107

*******************

萧兄的音乐我吞不太下去

话说有一次去听某人的小提琴毕演吧

曲目之一就是萧兄的

在我这种駑钝者耳中

简直像锯木头

感觉是

他的"音乐"只有"音"没有"乐"

或许跟他所处的环境有关

阴沉暗黑太多

*************************

我心目中的古典音乐

可以反映心理的负面情绪,但是要保持喜悦的原动力

这样听完后才可以重新啟动引擎投入另一波战场

引用
5.0 out of 5 stars A Must have CD for the Cello December 21, 2011
By mercedes
Format:Audio CD|Verified Purchase
Zuill Bailey has a one of a kind cello which possesses a unique tone, unlike any other cello I have ever heard, which gives the listener something extra in the performance. I have seen him perform live with the Knoxville Symphony Orchestra and loved every moment of his performance. He is witty and it is fun to hear him talk about how he came to acquire the cello by which he performs with at concerts. His cello is over 300 years old and is insured in the millions of dollars. The selection of music on this disk includes some of my favorites: Tchaikovsky's variations on a Rocco Theme for cello; Nocturne in D minor for cello; and Shostakovich's Concerto No. 1 in E-flat minor for

cello. I presently own 3 of his CDs and have ordered his new one, which will be out in January and will include his performance of Dvorak's Cello

Concerto.


Release Date 2009
Duration 01:00:26
Genre Classical
Styles Concerto



Review by James Leonard

Young American cellist Zuill Bailey makes his recording debut with this 2009

Telarc disc called Russian Masterpieces for Cello and Orchestra. Half the music is by Tchaikovsky -- his delightful Variations on a Rococo Theme, delectable Pezzo capriccio, and sensual Nocturne -- and the other half is a single piece, Shostakovich's robust and rousing First Cello Concerto. With his big tone, muscular technique, and charismatic interpretations, Bailey is clearly a major player. His Shostakovich concerto here is burly in the outer movements, soulful in the Moderato, and imposing in the Cadenza. His Tchaikovsky arguably has too much brawn and not enough delicacy in the Rococo Variations, perhaps too much whimsy and not enough wit in the Pezzo capriccio, and too much aggression in the Nocturne. But even with those caveats, Bailey is still well worth hearing by listeners who follow up-and-coming cellists. It should be added that Martin West and the San Francisco Ballet Orchestra provide adequate if not inspired accompaniments and that Telarc provides clear, immediate digital sound.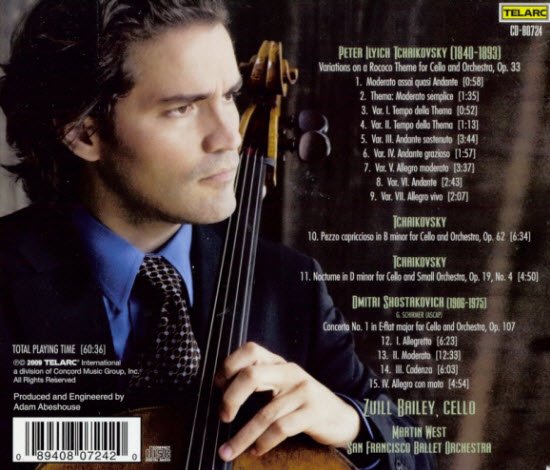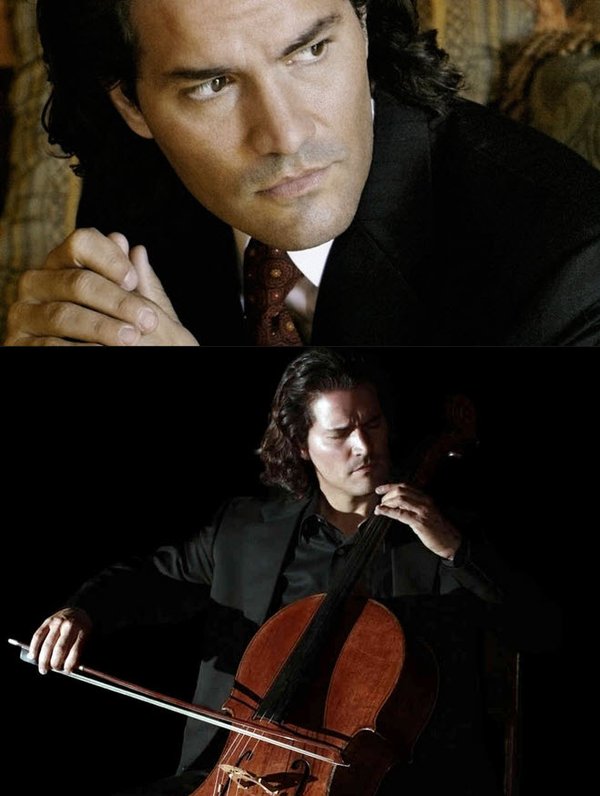 专辑曲目:
Tchaikovsky: Variations on a Rococo Theme, Op. 33

01. Moderato assai quasi Anda
02. Thema: Moderato semplice 1:35
03. Var. I Tempo della Thema
04. Var. II Tempo della Them 1:13
05. Var. II. Andante sostenu 3:44
06. Var. IV Andante grazioso 1:57
07. Var. V Allegro moderato 3:37
08. Var. VI Andante 2:43
09. Var. VII Allegro vivo 2:07
10. Pezzo capriccioso in B minor for Cello and Orchestra, Op. 62 6:34
11. Nocturne in D minor for Cello and Small Orchestra, Op. 19, No. 4 4:50

Shostakovich: Cello Concerto No. 1 in E flat major, Op. 107

12. l Allegretto 6:23
13. ll Moderato 12:33
14. lll Cadenza 6:03
15. iV Allegro con moto 4:54

Zuill Bailey – cello
San Francisco Symphony Orchestra / Martin West
这里是其它用户补充的资源(我也要补充):
四处求源 2016/11/02 21:20:27 补充
(...)
该内容尚未提供权利证明,无法提供下载。