专辑英文名: You Are There
专辑中文名: 芳迹天涯
音乐风格: 爵士
资源格式: FLAC
发行时间: 2008年02月28日
简介: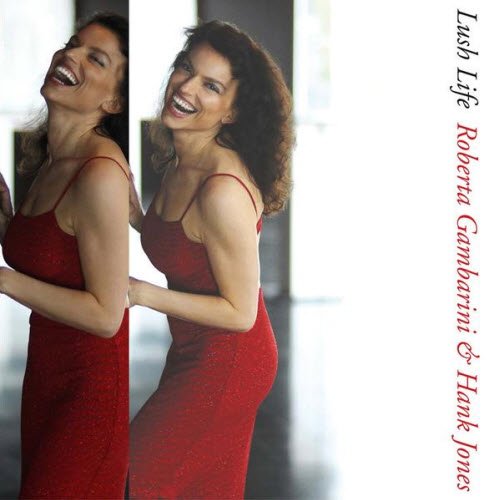 专辑简介:

很棒的一张人声Jazz,除却了Pop Jazz的浮躁,完全沉溺在钢琴中,矫情得让人不能自拔……

Roberta Gambarini Roberta Gambarini 出生於义大利 Turin , 曾就读柏克莱音乐学院 , 在纽约崭露出耀眼 的音乐天份 , 是近年来最受瞩目的爵士女伶之一。Roberta Gambarini於2004年开始与 Dizzy Gillespie All Star Big Band巡迴演出 , 并与多位大师合作过 , 包括James Moody , Frank Wess , Jimmy Heath , Paquito de Rivera , Roy Hargrove等 。 在2006年发行个人首张爵士专辑《EASY TO LOVE》即受到许多乐评家及音乐家的好评与关注 , 并获得葛莱美奖入围的肯定。2008年 , Roberta Gambarini与传奇钢琴演奏家Hank Jones合作发行了《YOU ARE THERE》专辑 , 受到Hank Jones这位曾经跟无数爵士天王天后 合作过的钢琴名师大力讚赏。

2009年 , Roberta Gambarini发行的第三张专辑《SO IN LOVE》 , 再度获得葛莱美奖入围的殊荣 , 实为爵士音乐界令人惊艳的好声音!


Audio CD (February 12, 2008)
Number of Discs: 1
Label: Emarcy / Pgd
ASIN: B00128O2S0

"Gambarini is a true successor to Ella Fitzgerald, Sarah Vaughan, and Carmen McRae." - Kevin Lowenthal, BOSTON GLOBE

Roberta Gambarini was born in Torino, Italy, into a family where jazz was much loved and appreciated. She began listening to this music as a child and started taking clarinet lessons when she was twelve years old. By the time she was 17, she began singing and performing in jazz clubs around Northern Italy and at the age of 18, she decided to move to Milan to pursue a career as a jazz singer.

Soon after her move to Milan, Roberta took third place in a national jazz radio competition on TV, leading to performance opportunities at jazz festivals throughout Italy. She performed on Jazz broadcasts on Italian radio and TV channels and in 1986 began recording both under her own name and as a guest. In 1997, she worked with French Hammond organ player Emmanuel Bex, touring jazz clubs throughout Italy.

In 1998 she moved to the United States with a scholarship from the New England Conservatory in Boston. Two weeks later, Roberta stunned many in the jazz world with a third place finish in the Thelonious Monk International Jazz Vocal Competition.

A dynamic performer with virtuosic vocal chops, she draws rave reviews and enthusiastic fan support wherever she performs. And until her North American debut, Easy to Love (Groovin' High/Kindred Rhythm), was released on June 6, 2006, she had done so with just word of mouth alone.

On Easy to Love, Roberta showed off her instrumental approach and warm timbre, impeccable timing and intonation, incredible technique and scatting and improvisation skills on a set of 12 excellent jazz standards and classic songs from The Great American Songbook. The album also included two bonus tracks and featured special guest James Moody on a scintillating scat duel.

Easy to Love was nominated for a GRAMMY® in 2007 in the Best Jazz Vocal Album category (along with albums by Karrin Allyson, Nancy King, Diana Krall, and Nancy Wilson). Roberta's "formidable talent" (DownBeat Magazine) has also garnered her wins as the 2007 Female Jazz Singer of the Year from the Jazz Journalists Association (JJA) and as the 2007 Talent Deserving Wider Recognition from DownBeat Magazine's Annual Critics Poll.

On February 12, 2008, Roberta made her major label debut with You Are There (Groovin' High/Emarcy), a collection of 14 hauntingly beautiful melodies, with the legendary pianist, Hank Jones. The music was recorded in one afternoon; Roberta and Hank had no concept for the album- just 25 tunes they liked and thought would be interesting to record. "There were no isolation booths, no headphones, no over dubs," Gambarini remembers. "The sound would be just what you would hear had you been in someone's living room playing among friends." That is the magic of Hank Jones.

Roberta Gambarini has performed with Michael Brecker, Ron Carter, Herbie Hancock, Slide Hampton, Roy Hargrove, Jimmy Heath, James Moody, Hank Jones, Christian McBride, and Toots Thielemans, among many others, and has performed at Carnegie Hall, Kennedy Center, Lincoln Center, Town Hall and Walt Disney Concert Hall, and jazz festivals around the world such as Barbados, London, Monterey, North Sea, Toronto, and Umbria.

Roberta was recently voted Rising Star Female Vocalist of the Year in 2008 DownBeat Critics Poll. Roberta will tour internationally with her band in support of her new album, So In Love, which is scheduled for a Summer 2009 release.


"Amazing stuff...all of it." - Don Heckman, LA TIMES


"Gambarini is the real deal. - Steve Eddy, OC REGISTER


"Number 1 Vocal Jazz Record of 2005 - SWING JOURNAL (Japan)


引用
Roberta Gambarini is a breath of fresh air among female jazz vocalists. Gifted with superb clear diction, a warm engaging voice, and an uncanny ability to bring out the best in each song, Gambarini shines throughout this one-afternoon session, recorded without isolation booths, splicing, or overdubs. Her sole accompanist is the masterful pianist Hank Jones, a veteran who knows something about inspiring great vocalists with his inventive piano playing, having recorded with Ella Fitzgerald, Billie Holiday, Anita O'Day, and Helen Merrill during a career that began over six decades prior to this session. The duo chose a wide-ranging mix of standards, show tunes, and jazz compositions (both familiar and lesser-known), along with some forgotten chestnuts of yesteryear. "Stardust" is one of the most recorded works of all time, yet Gambarini recognizes the nuances within it and takes her time exploring each chorus, while Jones' elegant backing and delicious solo are flawless. Billy Strayhorn's "Lush Life" is one of the most demanding jazz compositions, a melancholy ballad with an unusual structure that trips up many vocalists, but Gambarini takes her time with a deliberate interpretation. Their magical rendition of the sentimental ballad "You Are There" (music by Johnny Mandel, lyrics by Dave Frishberg) seems like it would be a natural choice for a film soundtrack. "Deep Purple" may have fallen out of favor in modern jazz, but Gambarini and Jones reveal its timeless quality This exceptional vocal/piano duo recording is clearly one for the ages as well. Down Beat (p.74) - 4 stars out of 5 -- "Gambarini has a way of singing that seem unaffected by any style of the past 50 years, and Jones roots his style firmly in the era when the songs were written. This is an ideal meeting place for them."
JazzTimes (p.125) - "Like so many works of genius, it is deceptively simple: two superlative craftspeople matching wits while igniting one another's imaginations....Gambarini is one of the most refreshing, most proficient vocalists to emerge since Diana Krall..."



Roberta Gambarini: You Are There (2008)
By
SUZANNE LORGE,
Published: February 12, 2008 | 7,597 views
Roberta Gambarini: You Are There Grammy-nominated vocalist Roberta Gambarini has been working with pianist Hank Jones since 2001, when the pair first met and performed together at the Lionel Hampton Jazz Festival at the University of Idaho. Since then she's toured the world with Jones and his sidemen, George Mraz on bass and Willie Jones III on drums.

Live performance on the road and in concert was the only preparation Gambarini and Jones used in recording their first album together as a duo, You Are There. According to Gambarini, they merely met up at Nola Studios one afternoon in 2005 and proceeded to record 17 of their favorite tunes. The new album includes 14 of them, most committed to digital bits in just one take.

In keeping with the impromptu nature of the recording, Gambarini turns out a casual performance—but one that is also precise and nuanced, as only an expert singer and a closely attuned pianist can accomplish. The two obviously enjoy working together and their personal affinity adumbrates their musical bond: Gambarini laughs delightedly at times and at others Jones murmurs imperceptibly to Gambarini over his solos. Their dialogue is one between co-creators—no one leads and no one follows.

The tracks explore various melodic permutations of standards by the likes of Duke Ellington, Benny Carter, Billy Strayhorn, Irving Berlin and E.Y. Harburg—the intent, it seems, being to extract as much beauty from the line as possible. Gambarini displays an aptitude for bebop scatting unusual in singers of her generation, especially on "When The Lights Are Low" and "Just Squeeze Me," during which she and Jones swap brief and inspired musical anecdotes.

Beyond melodic interpretation, the pair apply great restraint to the tempi; even on tunes like "You're Getting To Be A Habit With Me," more commonly played at a steady clip, Gambarini lays back into the cheerful lyrics while Jones expands leisurely on the melody.

This CD promises to be one of the better vocal releases of 2008. Beyond Gambarini's impressive vocals, listeners are advised to pay close attention to Jones' intuitive understanding of phrasing and dynamics. Also, make sure to read Gambarini's liner notes, which reveal the warm and thoughtful person behind the bright talent.

Track Listing: You Are There; I'll Be Tired Of You; People Time; When Lights Are Low; Deep Purple; Reminiscing; Suppertime; Just Squeeze Me; Something To Live For; Stardust; Lush Life; You're Getting To Be A Habit With Me; Come Sunday; How Are Things In Glocca Morra?.

Personnel: Roberta Gambarini: vocals; Hank Jones: piano.

Record Label: Decca Music Group

Style: Vocal
引用
Be forewarned. This CD is almost identical to the "Lush Life" CD. September 1, 2007
By Mary Whipple HALL OF FAMETOP 500 REVIEWER
(5 stars for Roberta, but be careful with the CD). Following up on the success of "Easy to Love," Roberta Gambarini released a 2006 collection of fourteen songs, which is entitled "Lush Life" and which, to date, has achieved four, five-star ratings on Amazon under the ASIN of B000JLPKVE. "You Are There," THIS product, is almost exactly the same album, and Amazon's "Better Together" feature, on this page, in which they urge you to "Buy this album with Lush Life at $64.95," will surely disappoint anyone who loves Roberta enough to spend that kind of money for two CDs.

Though both CDs contain fourteen songs and play at over an hour, ten of the fourteen songs from this CD are identical to those on "Lush Life." "You are There," this CD, omits "Skylark," "Body and Soul," "Cool Breeze," and "Lush Life #2," all of which were recorded in an exciting live performance at the Umbria Jazz Festival, and substitutes "People Time," "You're Getting to be a Habit," "Come Sunday," and "How Are Things in Glocca Morra." If you happen to love the four that are included here instead of the four "live" songs on "Lush Life," maybe this CD will appeal to you, but you must be willing to pay the very steep purchase price.

If, for some reason, you decide to buy this CD INSTEAD of "Lush Life," you will find Roberta brilliant, as always. Limiting the accompaniment to just the piano of Hank Jones, she is very much a cabaret singer here, singing mostly slow, sad ballads with her gorgeous alto, and varying the phrasing to give new emphasis to the lyrics. There are no vocal pyrotechnics here, as she concentrates on the song itself, rather than taking it into new realms with improvisation and variation. The result is a wonderfully moody CD which has moments of excitement but only a few hints of her huge talent with scat and high energy jazz variations. n Mary Whipple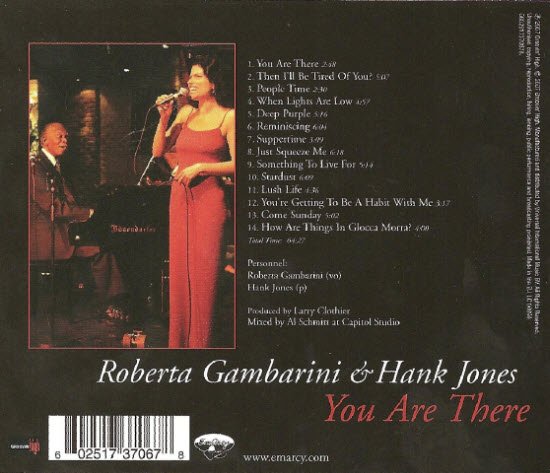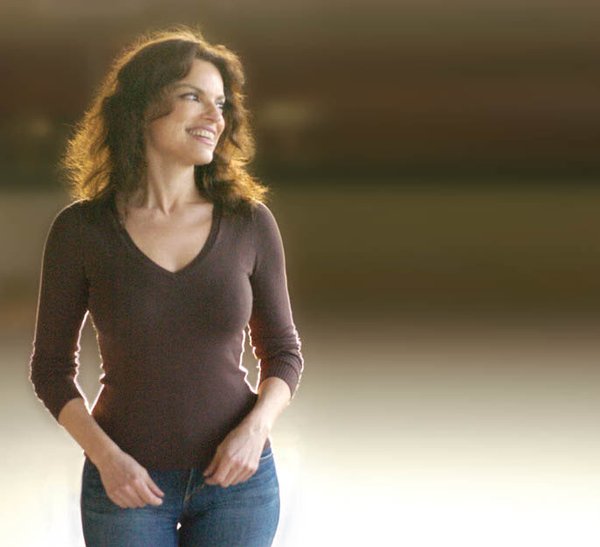 The Real Thing!
专辑曲目:
01. You Are There
02. Then I'll Be Tired Of You
03. People Time
04. When Lights Are Low
05. Deep Purple
06. Reminiscing
07. Suppertime
08. Just Squeeze Me
09. Something To Live For
10. Stardust
11. Lush Life
12. You're Getting To Be A Habit With Me
13. Come Sunday
14. How Are Things In Glocca Morra
这里是其它用户补充的资源(我也要补充):
暂无补充资源