Maurice Andre & Jane Parker-Smith -《安德烈的小号与管风琴名曲集》(Music for Trumpet & Organ)[DVD-A 2.0 4.0 24bits 44.1KHz]

专辑英文名: Music for Trumpet & Organ
专辑中文名: 安德烈的小号与管风琴名曲集
古典类型: 全集作品
版本: [DVD-A 2.0 4.0 24bits 44.1KHz]
发行时间: 2005年08月01日
简介:


专辑说明:

★EMI CLASSICS录音中的瑰宝,大时代洪流中的试金石,每份录音都是经典,每份作品都是最能代表作曲家创作精髓的首选。入门古典音乐世界的最好选择,EMI德国精心企划,低价系列!

将小号与管风琴放在一起合奏的这个传统,应该是源自十七世纪中叶以后的法国和德国两地。管风琴本身就有著类似小号的发声音栓,两者都以宏量华丽的音色著称,因此让小号担任主旋律吹奏,本身就是和管风琴相得益彰,再加上管风琴本身因为没有办法控制音量的大小,演奏乐曲时,主题和合声之间的音量无法获得突显和强调,因此将主题交由小号来演奏,就更能够获得突显。

法国小号名家安德烈刚在今年二月二十五日以七十九岁高龄过世,这张专辑可以说是献给他最好的纪念。安德烈是二十世纪最具有影响力的小号演奏家,他也是历史上少数能够发展出独奏家生涯的小号家。安德烈本来是矿工,但后来加入巴黎音乐院,不到六个月就拿下头奖,并用不到几个礼拜的时间就学会阿邦小号练习曲最后十四首高难度练习曲,而且是一口气吹完,不用休息。后来他拿到慕尼黑国际大赛首奖,之后就开始独奏生涯,在他独奏生涯初期,小号独奏曲目很有限,他於是开始进行改编,把其他乐器的乐曲改编供小号演奏,而且还相当成功,透过录音,他将这些曲目介绍到全世界,而他的小号声也成为最多人熟悉的小号声音。这份录音中的曲子许多就都是他亲手改编的。


唱片公司:Gold Typhoon Music
演出者:安德烈
系列:新‧古典长红 RED LINE
音乐类型:古典音乐
进口专辑 / CD / 1 片装

01 夏邦提耶:狩猎曲,选自《谢恩讚美歌》
02 阿比诺尼:慢板〈改编:吉亚佐托〉
03 巴哈:嘉禾舞曲
04 韩德尔:最缓板,选自《赛尔斯》
05 巴哈:「我虔诚的心」,选自第68号清唱剧
06 韩德尔:光荣颂
07 舒伯特:圣母颂
08 克拉克:小号志愿军
09 史奈耶:精神抖擞的快板
10 巴哈:「G弦之歌」,选自《第三号管絃乐组曲》
11 史坦利:小号旋律
12 巴哈:「布列舞曲」,选自《第四号无伴奏大提琴组曲》
13 巴哈 / 古诺:圣母颂
14 莫札特:「哈利路亚」,选自经文歌《跳吧欢喜吧幸福的灵魂》,k165(158a)

Trumpet & Organ / Maurice André, Jane Parker-smith

Maurice André (21 May 1933 – 25 February 2012) made over 300 recordings from the late 1950s onwards. He was part of the rebirth of interest in Baroque music in the 1960s, playing on piccolo trumpet many transcriptions of music originally written for other instruments or voice as on this album. He was one of the finest trumpet players of the 20th Century and many current trumpeters including Alison Balsom and Wynton Marsalis cite him as an influence on their playing style and sound.

Jane Parker-Smith is an organist with an international reputation and has played with many major conductors and orchestras and given solo performances around the world. She continues to tour to this day and in 2014 will be playing the Royal Festival Hall organ after restoration for its 60th anniversary. Her collaboration with Maurice André is listed as a highlight in the biography on her web site.

I first encountered this recording on a 2 CD compilation boxset about 3 years ago. I fell in love with the music but never knew it was in quad until I researched the original LPs after being inspired by this blog. The 2 CD boxset presents three LPs plus two tracks from a fourth, but the tracks are a little mixed up which makes the musical experience a bit confusing. So while the tracks have been taken from the CD's, they are presented here as one LP using the original LP's cover art, which is much more informative than the CD inlay.

It is intended that the other two LPs from the boxset will be decoded and released in due course. Owen Smith

Release: DS270f

Source: SQ CD (SQ / Stereo Quadraphonic)

Process: SQ/II

Format: DVD-A/V MLP/DTS/DD
Posted by OxfordDickie at 16:39 No comments: Links to this post
Labels: Quadraphonic

http://www.bloglovin.com/viewer?blog=26754...0&user=0
http://www.minnetonkaaudio.com/products/surcode08.html
http://en.wikipedia.org/wiki/Quadraphonic_sound


引用
Trumpet & Organ / Maurice André, Jane Parker-smith

Release Date: 08/28/2012
Label: Emi Classics Catalog #: 6365602
Composer: Marc-Antoine Charpentier, Tomaso Albinoni, Johann Sebastian Bach, Franz Schubert, ...
Performer: Hedwig Bilgram, Maurice André, Alfred Mitterhofer, Jane Parker-Smith
Number of Discs: 1

Original Release Date: 1 Aug 2005
Release Date: 1 Aug 2005
Label: Warner Classics
Copyright: © 2005 EMI Records Ltd.
Record Company Required Metadata: Music file metadata contains unique purchase identifier. Learn more.
Total Length: 1:06:35
Genres: Classical
ASIN: B002MJGPTC

Brilliant
By Teemacs TOP 1000 REVIEWER on 8 Dec 2011
Format: Audio CD
To the best of my knowledge, the combination of trumpet and organ is a very recent one, and there is no 18-19 century music written for such a combination. Thus, everything on this CD consists of adaptions of pieces written for other instruments/ensembles. To many purists, this is completely off-putting. However, not being a purist, I am not at all off-put.

Super-trumpeter Maurice André always felt the lack of music for his instrument and was always willing to adapt other pieces for it (the versatility of the piccolo trumpet made it possible to play things that could never be played on the natural instrument). The initial trumpet and organ records were made with the French label Erato and Hedwig Bilgram as partner, later with other partners.

To my ears, the combination two sounds, the clear sound of the trumpet and the sonorous richness of the organ, almost seem meant for each other, and the result here is a wonderful listening experience, with André's burnished tone and dazzling virtuosity showcased by splendid accompaniment. Indeed, the only quibble I can think of that listening to it all at once is like having a banquet consisting entirely of your favourite ice cream. You end up totally sated by it all. As a result, I tend to listen to bits at a time. I confess to having played some bits to death, such as the marvellous version of "Gloria in excelsis Deo ", with the tune known as "Angels we have heard on high". In this regard, I'd echo Tom Lehrer's famous version of the carol and say:

Angels we have heard on high
Tell us to GO OUT AND BUY!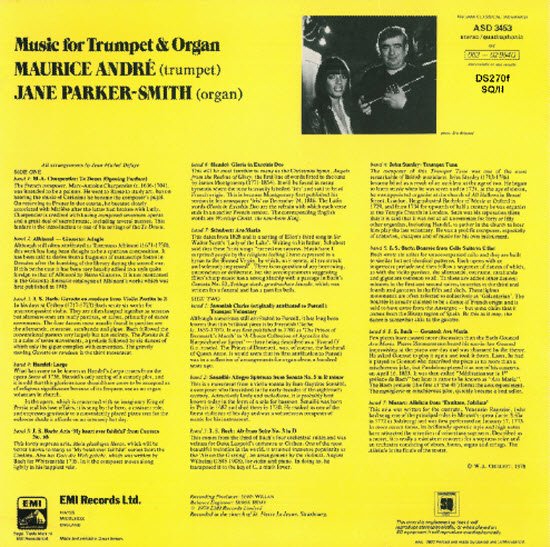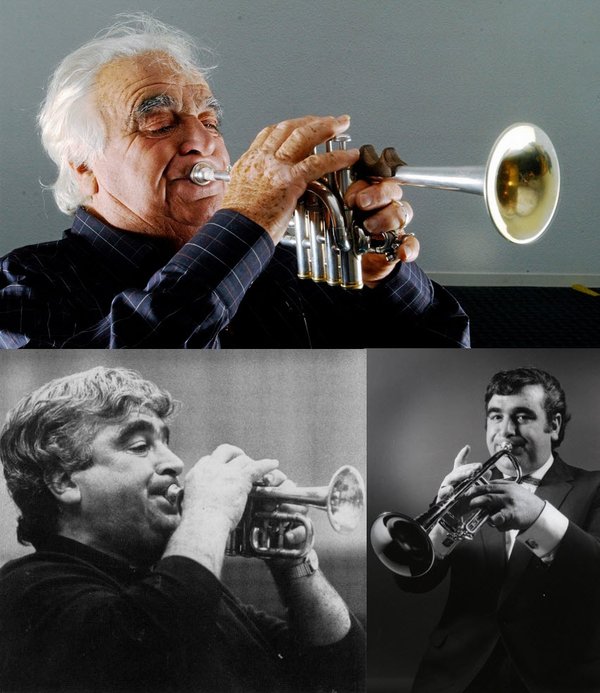 专辑曲目:
01. Te Deum H146: Prélude Maurice André/Jane Parker-Smith 2:04
02. Adagio In G Minor (Arr. Jean-Michel Defaye) Maurice André 6:32
03. Partita No.3, Bwv1006: Gavotte En Rondeu Maurice André/Jane Parker-Smith 2:58
04. Largo (From Serse) Maurice André 3:20
05. Mein Gläubiges Herze (From Cantata No. 68 'Also Hat Gott Die Welt Gel… Maurice André/Jane Parker-Smith 2:34
06. Gloria In Excelsis Deo Maurice André/Jane Parker-Smith 2:58
07. Ave Maria D839 Maurice André 2:47
08. Suite In D: Round-O: The Prince Of Denmark's March (Trumpet Voluntar… Maurice André 2:54
09. Premier Livre De Sonates: Allegro Spiritoso Maurice André/Jane Parker-Smith 2:25
10. Orchestral Suite No. 3 In D Bwv1068 Maurice André 3:51
11. 10 Voluntaries Op. 6: 5. Trumpet Tune In D (Arr. Jean-Michel Defaye) Maurice André/Jane Parker-Smith 2:54
12. Cello Suite No.4 Bwv1010: Bourrée i Maurice André/Jane Parker-Smith 3:15
13. Ave Maria Maurice André/Jane Parker-Smith 3:06
14. Alleluia (From Exsultate, Jubilate K165/K158a) Maurice André 2:24
这里是其它用户补充的资源(我也要补充):
暂无补充资源