专辑英文名: Bach - A Strange Beauty
专辑中文名: 巴哈:作品辑 ─ 莫名的美丽
古典类型: 全集作品
资源格式: FLAC
发行时间: 2011年01月18日
简介: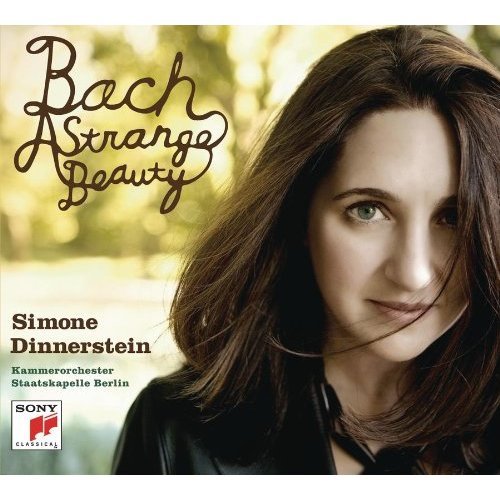 专辑介绍:

史蒂芬‧迈(指挥)国立柏林室内管弦乐团

※Sony Classical最新签约之新生代女性钢琴家,毕业於茱莉亚音乐院,师从塞尔金(Peter Serkin)

※自2005年在卡内基音乐厅演出巴哈的郭德堡变奏曲后,受到媒体好评,窜红古典乐坛,并让人追忆起二十世纪最重要的女性大键琴家:兰道芙丝卡(Wanda Landowska)及钢琴家海丝(Myra Hess)。

※所灌录之巴哈的郭德堡变奏曲专辑,登上告示牌古典榜冠军,并同时被「纽约时报」、「洛杉磯时报」等诸多媒体,票选为2007年度最佳唱片。

※加盟索尼古典首张大碟选录所擅长的巴哈作品,曲目除了涵盖:键盘协奏曲、英国组曲外,更演奏了改编自巴哈清唱剧及圣咏曲中的著名选曲的钢琴版,包括:《耶穌基督啊,我呼唤著你》(Ich ruf zu dir, Herr Jesu Christ)、《耶穌,世人渴望的喜悦》(Jesus bleibet meine Freude)、《亲爱的信徒,让我们欢喜》(Nun freut euch, lieben Christen gmein)等。
※特邀国立柏林室内管弦乐团与之合作演出。

♫在眾多巴哈音乐詮释者当中,一个完全与眾不同的声音 ---纽约时报
♫引人注目的清新与细致 ---时代杂誌
♫让人重温兰道芙丝卡与迈拉.海丝两位钢琴大师的往昔荣光 ---Slate 杂誌

西蒙.黛娜史坦(Simon Dinnerstein)是索尼古典音乐最新签约的美国新生代女性钢琴家。出生於纽约,父亲是一位知名画家,经常带西蒙.黛娜史坦去世界各地旅行,因此,在她的成长过程中逛博物馆的次数远远超过听音乐会的次数。毕业於茱莉亚音乐院,师从钢琴名家彼得.塞尔金(Peter Serkin),西蒙.黛娜史坦不是比赛得奖型的钢琴家,他的独奏生涯起点主要是在2005年卡内基音乐厅中演出巴哈的「郭德堡变奏曲」之后,受到舆论的好评,甚至给予「让人重温兰道芙丝卡与迈拉‧海丝这两位20世纪最伟大的女性钢琴巨匠的往昔荣光」的讚誉。2007年黛娜史坦出版独奏专辑「郭德堡变奏曲」,立刻就登上告示牌古典榜冠军,并获得纽约时报、洛杉磯时报与亚马逊网路书店的年度最佳唱片、iTune主编推荐年度最佳古典音乐等。

这张黛娜史坦加盟索尼古典音乐的首张专辑「巴哈作品辑/莫名的美丽」(Bach Strange Beauty),收录了两首膾炙人口、也是至今古典音乐史考证最早的器乐与乐团的协奏曲:BWV 1056、BWV1052,这是她首次与管弦乐团合作的作品。此外还有三首由清唱剧、圣咏曲当中的著名曲段改编成的钢琴曲:20世纪义大利钢琴巨匠布梭尼的改编版「耶穌基督啊,我呼唤著祢」(Ich ruf zu dir,Herr Jesu Christ)(此曲曾用在已故苏联导演塔可夫斯基的科幻名片「飞向太空」(Solaris)片头)、20世纪德国钢琴巨匠康普夫的超技改编版「亲爱的信徒,让我们欢喜」(Nun freut euch,lieben Christen gmein)、英国钢琴夫人迈拉‧哈斯最耳熟能详的改编曲「耶穌,世人渴望的喜悦」(Jesus bleibet meine Freude),以及公认是巴哈最早为键盘乐器所创作的「英国组曲」(英国二字,是后来加上的,而后经巴哈权威学者考据:此曲是为英国贵族所做)其中的第三号组曲。

西蒙.黛娜史坦解释专辑名称「Strange Beauty」的由来是17世纪英国哲学家培根(Francis Bacon)对美的定义:绝美是要有相当比例上的莫名感。其次,是黛娜史坦对巴哈音乐的理解与态度:虽然他的音乐是音阶、对称与逻辑的完美呈现,但实际上巴哈却持续、不经意地从这些音阶偏离,充满著许多神秘感,像极了现代爵士乐所经常使用的即兴(Improvisation)。事实上,黛娜史坦对文艺复兴时期绘画的鑑赏有著过人的钻研功力,这都是自幼从画家父亲耳濡目染而来。此外,巴哈也经常自由地改编、重写与重复使用自己的曲子,甚至置换器乐,例如D小调键盘协奏曲BWV1052原本是为小提琴所写,但原稿已散佚;F大调键盘协奏曲BWV1056的第二乐章原本是以双簧管担任独奏等等。也因为如此,本专辑所选的20世纪的三位钢琴巨匠也顺著巴哈的逻辑,改编他的曲子这也就不足为奇了。现在,就让黛娜史坦弹奏的巴哈音乐带给您前所未有的清新感。

CD编号 : 88697747692
演奏者 : 西蒙黛娜史坦 Simone Dinnerstein - 查看所有专辑
指挥家 :
乐团 :
作曲家 : 巴哈 Bach - 查看所有专辑
专辑名称 : 巴哈:作品辑─莫名的美丽
Bach A Strange Beauty
音乐类型 : 古典音乐 [CD 独奏曲]
发行公司/日期 : SONY MUSIC 2011/1/18
制作公司 :
内含片数 : 1

Release Date January 18, 2011
Duration 01:01:58
Genre Classical
Styles Keyboard
Recording Date June 12, 2010 - June 14, 2010

Review by Blair Sanderson

Following the success of her recordings of J.S. Bach's Goldberg Variations and The Berlin Concert for Telarc, Simone Dinnerstein switched to Sony for her 2011 album, Bach: A Strange Beauty, which presents a mix of Bach's keyboard works performed on piano, including transcriptions by Ferruccio Busoni, Wilhelm Kempff, and Myra Hess. Lest there be any confusion, Dinnerstein's performances are not aimed at the Baroque purist who would prefer in the first place to hear this music played on harpsichord in period style and would reject the modern arrangements out of hand. Rather, she appeals to a mainstream audience that accepts modernizing Bach and enjoys hearing the full sonorities of a piano. Once past this stylistic hurdle, Dinnerstein offers three chorales that reflect the taste of a bygone age, when the Lisztian idea to dress Bach's counterpoint in pianistic textures dominated. Busoni's thickened version of Ich ruf zu dir, Herr Jesu Christ; Kempff's robust take on Nun freut euch, lieben Christen gmein; and Hess' substantial bolstering of Jesu, Joy of Man's Desiring provide opportunities to make the piano reverberate with rich sonorities, but take away the essentially modest and sacred character of Bach's originals. In the Concerto No. 1 in D minor and the Concerto No. 5 in F minor, Dinnerstein is joined by the Kammerorchester Staatskapelle Berlin, and the performances are acceptably polished and accurate, if somewhat lacking in intimacy and individuality. Dinnerstein is at her best without modern adaptations or an orchestra, but by herself. As she demonstrates in the English Suite No. 3 in G minor, it is enough to play the notes as written, letting her expression and technique take care of themselves and trusting Bach's music to convince and move the listener. Here, her personality and skills are shown to their best advantage. Sony's audio reproduction is first-rate, but there is a somewhat boosted bass in the concertos.


Release Date: 01/18/2011
Label: Sony Catalog #: 81742
Composer: Ferruccio Busoni, Johann Sebastian Bach
Performer: Simone Dinnerstein
Orchestra/Ensemble: Berlin Staatskapelle Orchestra
Number of Discs: 1
Recorded in: Stereo


引用
Notes and Editorial Reviews


BACH: A STRANGE BEAUTY • Simone Dinnerstein (pn); Berlin Staatskapelle CO • SONY 88697727282 (65:32)


BACH-BUSONI Ich ruf zu Dir, Herr Jesu Christ, BWV 639. BACH Keyboard Concerto No. 5, BWV 1056. BACH-KEMPFF Nun freut euch, lieben Christen gmein, BWV 734. Read more English Suite No. 3, BWV 808; Keyboard Concerto No. 1, BWV 1052. BACH-HESS Jesu, Joy of Man's Desiring, BWV 147


Since her debut recording of the Goldberg Variations released in 2007, which by now many know she funded herself, before it was picked up and released by Telarc, New York pianist Simone Dinnerstein has virtually toured the world. In 2008 and 2009 respectively, she released two additional recordings: a concert in Berlin, featuring music of Bach, Lasser, and Beethoven; and the complete works for piano and cello by Beethoven with cellist Zuill Bailey. For her first release on Sony, she has decided to return to the works of Bach, though this time in various guises: transcriptions, concerti, and solo works.


Her recital begins with a Busoni transcription. She wastes no time in setting the mood, and does well in making the piano sound similar to an organ. Her ability to shape the melody, almost singing out on the instrument, gives the piece a special sheen. Dinnerstein is also not afraid to use the pedal to her advantage here and elsewhere in similar spots, though her pedaling at times can be a bit heavy; just witness the glow that she creates in Kempff's transcription. She is fleet-fingered, making the scales just whiz by, but tends to like a hazy sound throughout. When confronting Bach's original works, she lightens the sound and texture a bit, to great advantage; one can easily hear the intricate counterpoint in the prelude to the English Suite. She manages to infuse the music with a good sense of drive, at times taking a bit of a breather at cadences to allow us to catch up and enjoy the ride. Her slower movements never have the kind of overt sentimentality that occasionally crept into her Goldberg recording, and the sarabande to the G-Minor suite is played with severity and delicacy at the same time. My favorite movement (or movement set) in the suite would certainly be the gavottes. Dinnerstein attacks the dissonances, creating a biting sound in their repeated hearings. The second gavotte's wonderfully paced and relaxed movement breaks the tension, before the initial dance's reentry. The concertos, other than a few oddities (the sloppy opening by the pianist to the D-Minor concerto, for example), are played with grace and aplomb. One can sense a bit of period-instrument awareness by the players, yet there are tinges of a romantic soul in certain details of dynamics and phrasing. The finale to the F-Minor concerto is played sprightly, at breakneck speed, which works particularly well after the beautifully molded long Baroque line of the Adagio and the heavy severity of the opening movement. The players of the Berlin ensemble make wonderful partners, as they read and then match the breath and pacing of the soloist.


All in all, a real treat, one that has been thoughtfully programmed and thoughtfully performed. As Dinnerstein tends to prefer a more romantic approach toward Bach, one should be ready for that aspect upon listening. But if one listens with open ears, one will be greatly rewarded. The sound of the recording is clear and vibrant, with almost no reverberation. The sound is perfectly suited to home listening, never too dry. Hats off to the performers and the production team on a successful release.
引用
Audio for this feature is no longer available.

's keyboard music is a paragon of precision: Its mathematical architecture and closely intertwined voices have given it a solid place in the keyboard canon. But sometimes, listeners and performers alike tend to focus on the mathematical side rather than the musical one.

Enter , who was widely praised for her debut recording of the Goldberg Variations in 2007. Now, she's recorded another all-Bach album — titled Bach: A Strange Beauty — and it highlights the precision of Bach while also making familiar music sound new and even exotic.

What's striking about Dinnerstein is that she plays Bach as if she's never heard it before. From the first ponderous low notes of the chorale arrangement that opens the album, she compels the listener to follow her in a journey of discovery filled with unscheduled detours. Throughout Bach: A Strange Beauty, she often stretches out a particularly rich cadence or luxuriates in the multi-voiced texture of the chorales. She's actively listening to every note she plays, and the result is a wonderfully expressive interpretation.

In the two keyboard concertos (recorded with the Kammerorchester Staatskapelle Berlin), she holds onto this expressiveness even in the fast movements. She plays the second movement of the F Minor concerto with a sumptuous legato technique, and finely tunes the details of breathing and phrasing.

Three pieces on the album are 19th- and 20th-century arrangements of Bach chorales, or hymn tunes. Adapted for today's grand piano — which Bach could only have dreamed of — these transcriptions highlight Dinnerstein's warm and sensitive lower register. In Nun Freut Euch, arranged by German pianist Wilhelm Kempff, the left-hand melody is deliciously full-bodied, while the unrelenting right hand is even and smooth throughout, never interfering with the main line of the music.

On the inside cover of the album, Dinnerstein quotes the scientist Sir Francis Bacon: "There is no excellent beauty that hath not some strangeness in the proportion." It's a sentiment that succinctly sums up Dinnerstein's approach to Bach.

Bach: A Strange Beauty will stream here until its release on Jan. 18. Please leave your thoughts on the album in the comments section below.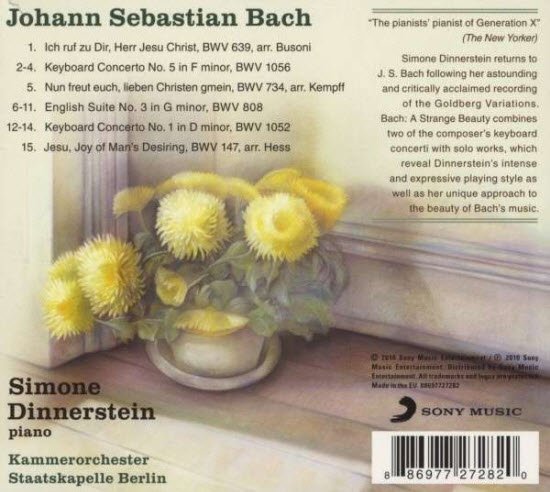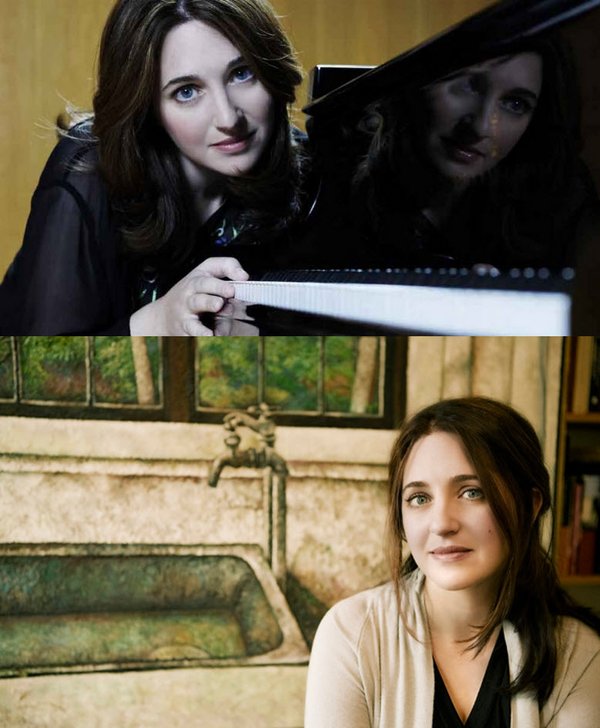 专辑曲目:
1. Choral "Ich Ruf Zu Dir, Herr Jesu Christ", BWV 639 (arr. Busoni) (3:48)

2. Keyboard Concerto No. 5 In F Minor, BWV 1056
I. Allegro (3:21)
II. Largo (2:56)
III. Presto (2:56)

3. Choral "Nun Freut Euch Ihr Lieben Christen", BWV 734 (arr. Kempff) (2:32)

4. English Suite No. 3 In G Minor, BWV 808
I. Prélude (2:58)
II. Allemande (5:07)
III. Courante (2:05)
IV. Sarabande (4:18)
V. Gavotte I/II (2:52)
VI. Gigue (2:27)

5. Keyboard Concerto No. 1 In D Minor, BWV 1052
I. Allegro (8:07)
II. Adagio (7:18)
III. Allegro (7:20)

6. Choral "Jesu, Joy Of Man's Desiring", BWV 147 (arr. Hess) (3:53)
这里是其它用户补充的资源(我也要补充):
暂无补充资源