专辑英文名: Artistry
专辑中文名: 炫音之乐
音乐风格: 爵士
版本: [SACD-r]
发行时间: 1992年
简介: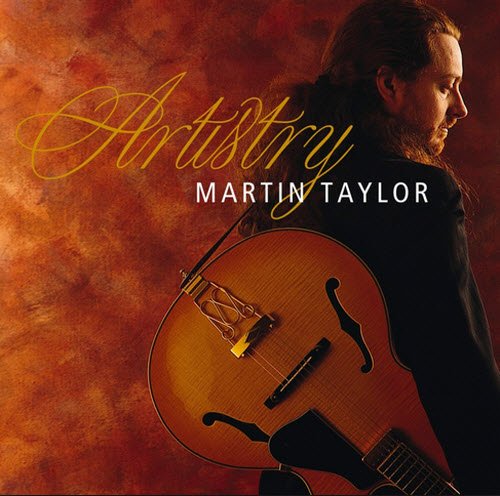 专辑介绍:

生命从来难以解释巧合和缘份的距离。Martin和Taylor,两个属於结他的名字,凑在一起,成了爵士结他大师Martin Taylor。

从1987年起,八度蝉联英国爵士大奖最佳结他手头衔;1987年获格林美音乐大奖提名;2002年更因爵士音乐上的成就而得英女皇授勋,Martin Taylor早已是殿堂级的名字。

今年四月,Martin Taylor将来港演出,为智行基金会筹款,帮助受爱滋病影响的儿童和家庭,让我们可一睹大师级的风采之餘,还能帮助有需要的人。

天生的乐者

不少结他爱好者都知道Martin Taylor的名字,然而背后的故事却鲜为人知。他的音乐生命里有三位不可多得的人物助他交织出传奇乐章。

第一位是William" Buck"Taylor,Martin Taylor的父亲。要不是他在Martin四岁时送上结他,要不是他低音歌手的身份,要不是他常播著欧洲Continental Jazz的鼻祖Quintette du Hot Club de France的歌,让孩子在吉卜赛爵士结他手Django Reinhardt的音乐中长大,他绝不能在耳濡目染下走上音乐之途。

1956年在英国Essex出生的他,8岁开始在父亲的乐队演出,15岁缀学,矢志成为专业结他手。

自此走遍大小演出场合,甚至邮轮表演,只要有机会的地方,他都不放过。直到遇上他,第二位影响他一生的人,英国籍缅甸爵士结他手Ike
Isaacs ,Taylor的舞台从此不同。

Martin Taylor不止一次说过Ike Isaacs对他的影响,而他是如何的感恩。

Ike Isaacs对这位后辈提携有加,不但与他组成二人演奏组合,还协助他发展出爵士和声和独特的弹奏技巧,最重要的是他早在六七十年代和Stephane Grappelli 合作无间,促成了Martin Taylor登上殿堂级的路。

从顶峰跌下深谷

Stephane Grappelli,法国爵士乐小提琴家,1997年格林美终身成就奖得主。

1934年和结他手Django Reinhardt组成了Quintette du Hot Club de France,乃首个全弦爵士乐队,两年后Reinhardt退出,但Grappelli 仍坚守著。

好几次Grappelli的乐队成员不能上阵,Taylor经Isaacs引荐,后备入替。在欧洲巡迴表演了几次后,Grappelli邀请他展开11年的世界巡迴演出。Taylor站著的舞台一度是偶像Reinhardt的,对一个乐手来说,无疑是最叫人鼓舞的肯定。一时间,Taylor的乐团事业可说是到了顶峰。

然而好景不常,80年代中期,Grappelli深受心臟病困扰,不能再作演出。依仗乐队的Taylor因此陷入财政困难,甚至要出售结他维持生活。他一度失去了期盼,停止弹奏结他一年。

最后一支出售的结他是恩师Ike Isaacs的礼物,是他最深爱的一支。新主人找到了,价钱都议好。驾车前往交易的途中,他把车开到路边,也许是结他的召唤,叫他多望一眼,确定要狠下心肠的他容许自己弹一首最后的歌。

就只一首而已,音乐的光燃点起来,Taylor也重新振作,决定破釜沉舟,作了生命中最大胆的决定-开始个人演出。

一个人的舞台

结果,1992年,Taylor与苏格兰唱片公司Linn Records合作的首张个人大碟《Artistry》,在HMV爵士乐销量榜雄踞第一位达12星期之久,Taylor从此开展了国际结他独奏的生涯。

Reinhardt的吉卜赛爵士音乐、Wes Montgomery和Joe Pass都不及钢琴来得有影响力。Taylor认为结他像钢琴,应该是个完整的乐器,有低音、和声和旋律。

他最让人一听难忘的是分开快速低音弦律线和旋律的能力,又在低音线间上扫,为乐曲增添节奏感,独一无二的音色和大量使用和弦也成了他的商标。

多年来获奖无数的他,独奏事业可说是一帆风顺,然而他没有忘本,90年代中期他成立了Spirit of Django,与不同单位合作,推广Django Reinhardt的音乐。

2002年以Spirit of Django的名义,与Bryn Terfel、 Sacha Distel和Simon Dinnigan的合作,推出大碟《Solo》,更获得国际结他基金颁发的最佳大碟奖。


Martin Taylor

"Throughout the history of the medium only a small handful of jazz guitarists have possessed the technique and unerring musical sense required to create exciting and complete music without the aid of a rhythm section. Martin's solo work, like Art Tatum's solo piano, is unsurpassed. He is one of the true giants of jazz guitar...a unique voice." David Hungate - Producer

Born in 1956, it was just four years later that Martin Taylor was given his first guitar by his jazz musician father, Buck Taylor. Although inspired initially by the gypsy guitarist Django Reinhardt, it was to be piano players, most notably Art Tatum, that caught his imagination and set him on the path of developing his own individual style of solo guitar playing.

Leaving school at fifteen he left the British Isles bound for New York, playing on the cruise liner Queen Elizabeth II and spending the next two years working in the Caribbean. His rapidly developing musicianship soon won him many admirers and in 1978 he made his debut album "Taylor Made".

The following year he received a call from Stephane Grappelli inviting him to play in a series of concerts in France. The great jazz violinist was so impressed that he asked him to join him on a coast to coast tour of the US, including New York's Carnegie Hall and the Hollywood Bowl. It was the beginning of an eleven year collaboration which took in numerous world tours and over 20 albums, including recordings with Michel Legrand, Peggy Lee, Yehudi Menuhin, Nelson Riddle and the soundtrack for the Louis Malle movie "Milou en Mai".

Alongside his work with Grappelli he was still pursuing his solo career, receiving wide critical acclaim for his album "Sarabanda" recorded in Los Angeles in 1987 and featuring bassist John Patitucci, Brazilian percussionist Paulinho Da Costa and produced by Toto bassist David Hungate.

In 1990 Taylor made his first album for Linn Records, "Don't Fret" (Linn AKD 014), and decided to concentrate completely on his solo career. His second album, "Change of Heart" (Linn AKD 016), soon followed and in 1993 he made his critically acclaimed solo album, "Artistry", which topped the UK Jazz Charts for six weeks. In the same year Grappelli and Taylor briefly joined forces again to make a duo album, "Reunion" (Linn AKD 022) and were the subject of a BBC TV documentary.

British audiences will be familiar with his next Linn recording "Spirit of Django" (Linn AKD 237) through his version on Robert Palmer's "Johnny and Mary" which was used for the famous 'Nicole - Papa!' TV commercial for the Renault Clio. "Portraits" (Linn AKD 048), his sixth album for Linn Records, was recorded in Nashville, Hamburg and Scotland and, although primarily a solo album, it has been an opportunity for Martin to work once again with two old friends, David Hungate and the legendary guitar picker Chet Atkins.

"Years Apart" (Linn AKD 058), another outing for the Spirit of Django band, was released in 1996 to critical acclaim and public popularity. It also won the BT British Jazz Awards in two categories : Best Guitar and Best Small Group.

As a much sought after concert performer Martin Taylor spends much of his time touring the world - Europe, America, the Far East and Australia are all regular destinations. When not touring he lives on a farm in Scotland where he writes music for TV and film.

On Saturday June 15th 2002, Martin was appointed a Member of the Order of the British Empire. The MBE, awarded to Taylor by Her Majesty The Queen for his services to jazz, was presented to him at Buckingham Palace in 2002. "I'm completely amazed and absolutely thrilled," commented Taylor. "It really is an honour to be recognised in this way for doing what I love doing best - music has been my life's inspiration and I couldn't imagine ever doing anything else. It's brilliant!"

In 2007 Martin won the The BBC Radio 2's "Heart of Jazz" Award and a Lifetime Achievement Award for his "Contribution to Jazz Guitar Worldwide" from the North Wales International Guitar Festival.

Release Date 1992
Duration 49:33
Genre Jazz
Styles Bop Cool Guitar Jazz Jazz Instrument
Recording Date May 20, 1992 - May 22, 1992


引用
Review by Jim Smith

Like Joe Pass' Virtuoso series, Artistry is a vehicle for Taylor's amazing technical ability. His transcriptions, particularly "Georgia On My Mind," are superb, but occasionally his playing feels cluttered, as he squeezes in too many details. Elsewhere he is terrific: "Teach Me Tonight" is subtle and swinging, and "The Dolphin" features an astonishing range of colors, from simultaneous chordal and single-note runs to harp imitations that are surprisingly true. It doesn't provide the pure pleasure of his work with Stephan Grapelli (where he is clearly most inspired), but Artistry is a great example of Taylor's incredibly refined, creative guitar work.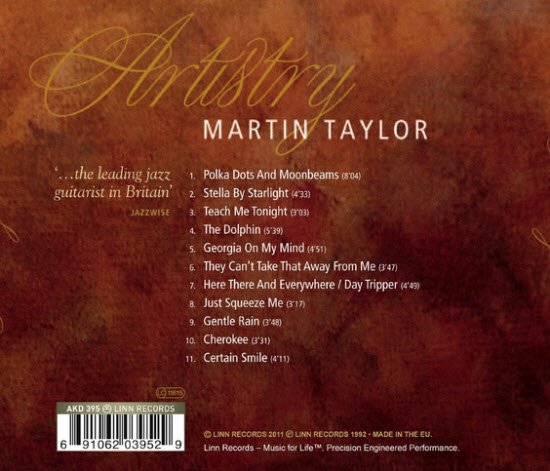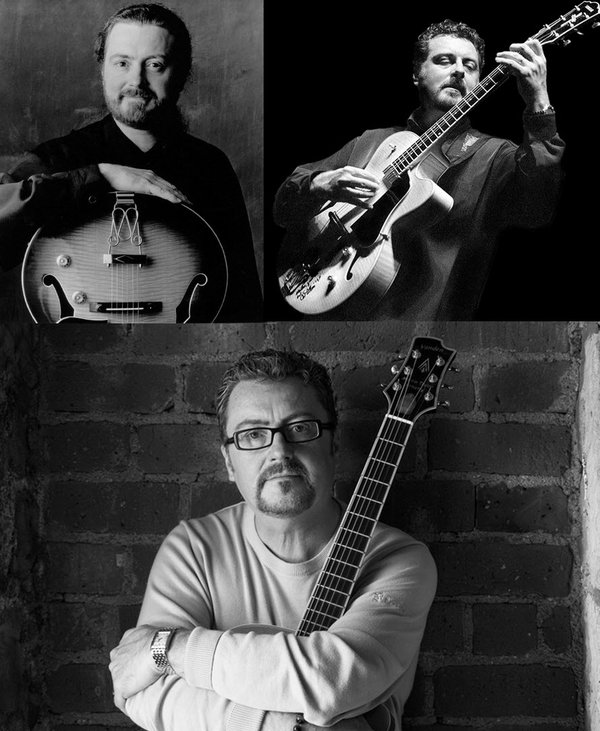 专辑曲目:
01. Polka Dots And Moonbeams
02. Stella By Starlight
03. Teach Me Tonight
04. The Dolphin
05. Georgia On My Mind
06. They Can't Take That Away From Me
07. Here There And Everywhere/Day Tripper
08. Just Squeeze Me
09. Gentle Rain
10. Cherokee
11. Certain Smile
这里是其它用户补充的资源(我也要补充):
暂无补充资源