专辑英文名: The Berlin Concert
专辑中文名: 柏林音乐会
古典类型: 全集作品
资源格式: FLAC
发行时间: 2008年08月26日
简介: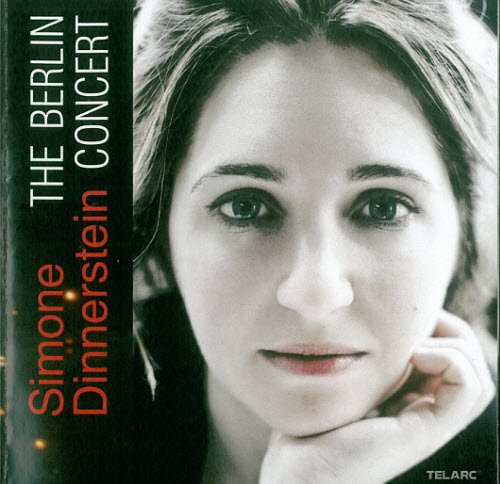 专辑介绍:

西蒙‧戴那史坦 (钢琴)

纽约茱莉亚院毕业的女钢琴家演奏巴赫音乐脱潁而出,她的名字叫Simone Dinnerstein。她在卡内基音乐厅的Weill演奏厅首次登台演出就一鸣惊人,纽约时报说她的演奏「充满想像力,属现代感的演绎」,她的弹奏打从第一个音符响起,就能吸引你的著意力,很快就带领人进入奇幻多彩的巴赫音乐世界中,一位新进演奏家有此功力实在不简单!

【曲目】
01-07 Bach: French Suite No.5 in G major,BWV816
08-20 Lasser: Twelve Variations on a Chorale by J.S.Bach
21-22 Beethoven: Piano Sonata No.32 in C minor,Op.111
23 J.S.Bach: Goldberg Variations, BWV988:Variation 13


巴哈:第五号法国组曲、贝多芬:第32号钢琴奏鸣曲 / 西蒙‧戴那史坦(钢琴) Bach:French Suite No.5、Beethoven:Piano Sonata No.32 / Simone Dinnerstein / The Berlin Concert

唱片公司:Telarc International
音乐类型:古典音乐
唱片编号:CD80715
进口专辑 / CD / 1 片装 / 74分37秒

"Dinnerstein's interpretation of Beethoven's valedictory sonata stands out for her consistently clear and well-defined articulation, as the first movement's rapid left-hand passages and the Arietta's relentless dotted rhythms bear out."

-- Jed Distler, ClassicsToday.com

"I will file [this] under "L", and regard it highly. Because centre-recital Dinnerstein plays Philip Lasser's Twelve Variations on a Chorale by J.S. Bach. And that's what you will want to hear. The chorale is "Nimm von uns, Herr, du treuer Gott" from Cantata BWV 101 and the forty-six year young Lasser, who is a member of the faculty at Juilliard, finds 12 ways to vary this that are typical of his style which simply calling "neo-romantic" would be rather too simple. It's part of a new, bold melodiousness that is inoculated against the accusation of kitsch or triteness through sheer quality and originality. Lasser, and a very select few other composers, manage to write music that can be immediately established as new, yet uses means that have been part of the composer's toolkit for a hundreds of years.

Best of all, Dinnerstein's essentially romantic, eagerly pleasing style, coupled with her technical faculty, not only allows the Lasser to shine, it positively contributes to it. Bach provides the structure, Lasser's perennial French air absorbs Dinnerstein's floweriness, and the audible 21st century, modern touch assures the whole concoction stays lean and clean."

-- Jens F. Laurson, MusicWeb International


引用
Release Date: 08/26/2008
Label: Telarc Catalog #: 80715 Spars Code: n/a
Composer: Ernö von Dohnányi, Johann Sebastian Bach, Philip Lasser, Ludwig van Beethoven
Performer: Simone Dinnerstein
Number of Discs: 1
Recorded in: Stereo
Length: 1 Hours 15 Mins.

Audio CD (August 26, 2008)
SPARS Code: DDD
Number of Discs: 1
Label: Telarc
ASIN: B0019MFY7W


Release Date 2008
Duration 01:14:26
Genre Classical
Styles Keyboard


Review by Uncle Dave Lewis [-]

Exciting young pianist Simone Dinnerstein picks up where her acclaimed recording of Bach's Goldberg Variations left off with The Berlin Concert, which takes her label Telarc out, unusually, on the road. This concert was given in November 2003 at the Berlin Philharmonie and was engineered by ace classical recording veteran Adam Abeshouse; the sound quality is not significantly different from a studio recording, and while it does not capture the crackling electricity of some live dates, it is free of coughs, fidgeting, and other kinds of aural distractions. It opens with a very fine Bach French Suite No. 5 in G major, and Bach really seems to be Dinnerstein's strong suit -- there are moments where the very manner in which she negotiates rests in this music is breathtaking and catches the listener off guard. Bach is also front and center in the Twelve Variations on a Chorale by J.S. Bach, "Nimm von uns, Herr, du treuer Gott" by contemporary composer Philip Lasser, who teaches at the Juilliard School and once studied composition with David Diamond. It is a striking piece in that Lasser develops his variations from the Bach original in a manner not unlike what a nineteenth century composer might have done, but includes rhythmic gestures and harmonic movement that does not belong to past eras and is strictly contemporary. The overall impression, however, is that the Twelve Variations are tonal and very well crafted, and Dinnerstein makes the most of it.

Beethoven's Piano Sonata No. 32 in C minor, Op. 111, follows. This complex, valedictory work is viewed in some quarters as an anomaly among Beethoven's sonatas, but pianists have developed ways of dealing with it that have become more or less well established. Dinnerstein's interpretation does not draw from this line of thinking, which emphasizes very flexible rhythms and various kinds of dramatic flourishes, such as pounding out the three-note theme in octaves that is the core to the first movement. Her reading is lean, classical, and generally even in tempo, which leads to some funkiness in certain figures in the second movement that ties the work back to similar elements in the second movement of the "Moonlight" Sonata. While some listeners might not be able to relate to an Op. 111 that is lacking in its usual weight and gravity, the upside of Dinnerstein's approach is that it makes the work seem less like an anomaly and more like Beethoven's other pieces of this kind; being both valedictory and summary.

Thankfully, applause from the concert at the ends of tracks is kept to a minimum; Dinnerstein also picks a choice Goldberg Variation to use as an encore. Dinnerstein impresses not only through her virtuosity and precocious depth, but also in her ability to separate her interpretive facilities from her peers, and that is certainly a plus.
引用
CD Revew: Simone Dinnerstein: "The Berlin Concert"


Simone Dinnerstein
Simone Dinnerstein

"The Berlin Concert" (Telarc)

By Don Heckman

Okay, let's start with full disclosure. I'm not usually a fan of Bach's music played on a contemporary piano. Not because it can't be done well. Glen Gould killed that rumor, many times, over and over. What bothers me has more to do with the instrument's sonorities, as well as its mechanics. Too many of the Bach-on-the-piano recordings I've heard flow from the piano-as-orchestra concept, essentially missing the point of the music. Worse, In doing so, they rarely manage to elude the aural dominance of the instrument, itself, which is ever present as the carrier of each note.

Simone Dinnerstein's recording of the Goldberg Variations ("Bach: The Goldberg Variations," also on Telarc), however, proved me wrong on both counts. And this new CD, recorded during a concert at the Berlin Philharmonic on Nov. 22, 2007, underscores the accomplishments of the previous recording. Here, as in the Variations, Dinnerstein's playing is utterly transparent, transporting the listener beyond the mechanics of pianistic production, into the music itself. How it is made becomes irrelevant to what one hears — to the intimate connection Dinnerstein creates with the composer's imagination.

Although works by Bach only make up a third or so of the program, his presence permeates the other pieces as well: Philip Lasser's Twelve Variations on a Chorale by J.S. Bach — Nimm von uns, Herr, du treuer Gott from Cantata 101– and Beethoven's Piano Sonata No. 32 in C minor, Op. 111 Lasser's Variations, reaching from an 18 second Piu Vivo to a climactic 3:37 minute Andante con moto. tred an adventurous path from Baroque counterpoint to a segment or two with distinct touches of jazz balladry. Dinnerstein travels it with ease.

The Beethoven Sonata, his last, is as challenging in an interpretive sense as it is technically thorny, especially in the stunning cross-currents of the Arietta movement. Listen for the subtle emotions of the anthemic opening, the swing she brings to the middle, ragtimey section, and her astonishing trills.

The two Bach segments — the French Suite No. 5 in G major and, as an encore, Variation 13 from the Goldberg Variations — are yet another reminder of her intuitive link with the music of the Baroque master. Combined with her Beethoven insights and her capacity to handle the contemporary complexities of the Lasser work, they provide further authentication of her status as the most fascinating new classical pianist arrival of the decade.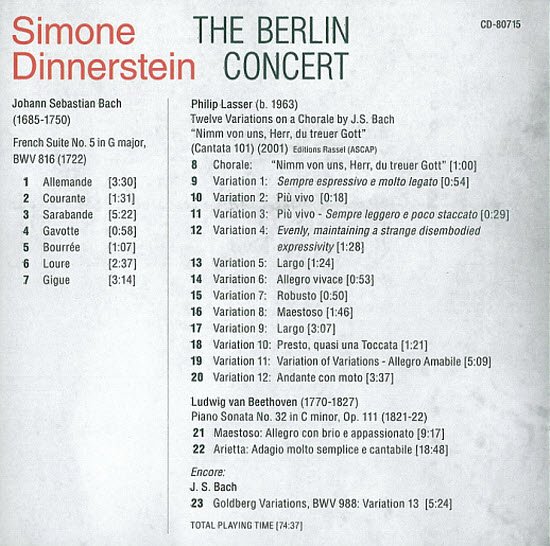 专辑曲目:
French Suite, for keyboard No. 5 in G major, BWV 816 (BC L23)
01. Allemande 3:30
02. Courante 1:31
03. Sarabande 5:22
04. Gavotte 0:58
05. Bouree 1:07
06. Loure 2:36
07. Gigue 3:14

Variations (12) on a Chorale by J.S. Bach "Nimm von uns, Herr, du treuer Gott" (Cantata No. 101), for piano
08. Chorale: Nimm von uns, Herr, du treuer Gott 0:59
09. Variation 1: Sempre espressivo e molto legato 0:53
10. Variation 2: Più vivio 0.18
11. Variation 3: Più vivio - Sempre leggero e poco staccato 0:31
12. Variation 4: Evenly, maintaining a strange disembodied expressivity 1:28
13. Variation 5: Largo 1:23
14. Variation 6: Allegro vivace 0:53
15. Variation 7: Robusto 0:50
16. Variation 8: Maestoso 1:46
17. Variation 9: Largo 3:08
18. Variation 10: Presto, quasi una Toccata 1:21
19. Variation 11: Variation of Variations - Allegro Amabile 5:09
20. Variation 12: Andante con moto 3:44

Piano Sonata No. 32 in C minor, Op. 111
21. Maestoso: Allegro con brio e appassionato 9:19
22. Arietta: Adagio molto semplice e cantabile 18:48

Goldberg Variations, for keyboard (Clavier-Übung IV), BWV 988 (BC L9)
23. Variation 13 5:24
这里是其它用户补充的资源(我也要补充):
暂无补充资源