专辑英文名: Bach - Inventions and Sinfonias
专辑中文名: 巴哈: 即兴曲/ 交响曲
古典类型: 全集作品
资源格式: FLAC
发行时间: 2014年01月21日
简介: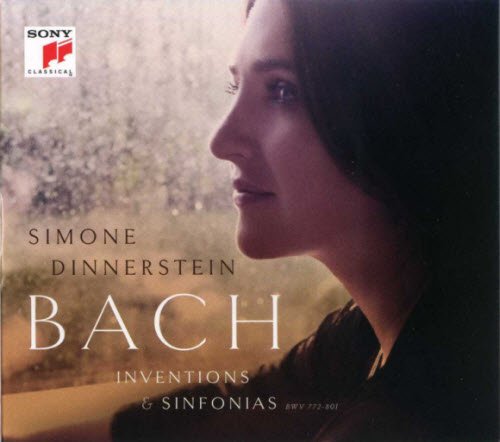 专辑介绍:

西蒙.黛娜史坦 Simone Dinnerstein (钢琴)

美国钢琴家西蒙.黛娜史坦重返巴哈的怀抱,演奏巴哈键盘作品的基石之作。
西蒙.黛娜史坦的才华犹如过往的音乐女祭司,如兰道芙斯卡与海丝。
纽约时报表示:「在巴哈作品眾多如林的詮释中,这是一个完全与眾不同的声音」。

在西蒙.黛娜史坦(Simon Dinnerstein)与歌手兼歌曲创作者提芙特.梅瑞特(Tift Merritt)合作「夜之歌」的音乐会与专辑之后,她重返演奏事业的根基,以及她之所以功成名就的巴哈键盘独奏作品。

来自纽约的钢琴家西蒙.黛娜史坦,早期她将自行筹措资金所录制的「巴哈:郭德堡变奏曲」寄到唱片公司,其天分才情因而被发掘。这份录音於二零零七年公开发行,获得美国告示牌古典榜的首周销售第一名,同年也获得纽约时报、洛杉磯时报与纽约客等媒体一致推崇为「年度最佳专辑」(Best of 2007)。

如今她再度返回演奏事业的根基,可以预期地将再创过往的佳绩。所演奏的曲目包括巴哈的「创意曲」(Invention)与「交响曲」(Sinfonia)。这些优美且广为人知的作品,一直以来都是古典乐迷的最爱,透过她的优异詮释,将让巴哈的作品更广为人知。她曾表示,记忆中,最早听过的巴哈作品便是「创意曲」。纽约时报表示:「在巴哈作品眾多如林的詮释中,这是一个完全与眾不同的声音」(An utterly distinctive voice in the forest of Bach interpretation)。

巴哈的「创意曲」与「交响曲」(就是一般所熟知的「三声部创意曲」)都是钢琴学习者的基础课程。同样的,大多数音乐学者在他们的理论教育的某个阶段,也都会学习到这两部作品。

史雷特杂誌(Slate magazine)称:「她犹如过往的音乐女祭司,如兰道芙斯卡(Wanda Landowska)与海丝(Myra Hess)。」而时代杂誌则称:她「捕捉到了新鲜与精巧」。西蒙.黛娜史坦热衷与学生、其父母与音乐学者交流,除了固有的粉丝群,也计画一系列的短片,以便与爱乐者有更多的接触。二零一四年一月开始到四月份之间,将在美国各地展开巴哈「创意曲」与「交响曲」的巡迴音乐会。


CD编号 : 88883795972
演奏者 : 西蒙黛娜史坦 Simone Dinnerstein - 查看所有专辑
指挥家 :
乐团 :
作曲家 : 巴哈 Bach - 查看所有专辑
专辑名称 : 巴哈:即兴曲&交响曲BWV 772-801
Bach: Inventions & Sinfonias BWV 772-801
音乐类型 : 古典音乐 [CD 独奏曲]
发行公司/日期 : SONY MUSIC 2014/1/7
制作公司 :
内含片数 : 1

Release Date January 21, 2014
Duration 53:20
Genre Classical
Styles Keyboard

Composer: Johann Sebastian Bach
Audio CD (January 21, 2014)
Number of Discs: 1
Label: SONY MASTERWORKS
ASIN: B00GXCJOYM

Review by James Manheim

Brooklyn-born pianist Simone Dinnerstein made her mark with Bach, diverging from time to time into modern crossover experiments. This recording of Bach's well-worn Inventions and Sinfonias, BWV 772-801, follows in the path blazed by her earlier Bach releases and even extends it a bit, for the Inventions and Sinfonias are easier to treat as individual character pieces than, say, the Goldberg Variations. And that's just what Dinnerstein does here. Each piece has a specific atmosphere teased out of its simple counterpoint, and it's a bit hard to imagine Bach's reaction to a few of these. But really Dinnerstein is no Glenn Gould, and her interpretations are personal rather than radical. Mostly they're on the quiet side, and even if you couldn't play them like this on the harpsichord the dynamic range and the variety of tempi are not unduly wide. The trouble with such a subjective reading of Bach is that its reception depends pretty heavily on the individual, but unless you're a confirmed follower of the historical approach you should try this set of Inventions and Sinfonias that turns them into Albumblätter. A point in the album's favor is warm, clear sound from perhaps the premier American recital hall, the Academy of Arts and Letters in New York.


引用
J.S. Bach: Inventions & Sinfonias
Sony Classical


Artist: Simone Dinnerstein
Release date: January 21, 2014
Tracks: J.S. Bach's Inventions, BWV 772-786 and Sinfonias BWV 787-801

Bach's Inventions and Sinfonias, originally written in 1723 as musical guide for keyboard players, remain a core part of the piano repertoire for students, amateurs, and professional musicians alike and have been lifelong companions for Simone Dinnerstein.

Simone says, "The first keyboard pieces of Bach that I remember hearing were his Inventions, when I was nine years old. The music seemed impossibly expressive and virtuosic at the time, and wholly beyond my abilities. Here were two continuous and independent voices, neither of which was subservient to the other. Until then I had thought of music as melody and accompaniment. An instrumental training is as much a training in how to listen as in how to play. In the text that accompanies the Inventions, Bach calls them 'an honest guide.' His Inventions and Sinfonias are marvels in demonstrating just how potent counterpoint is as an aid to expression, and how powerful a cantabile voice can be when surrounded by contradiction and elaboration. These small masterpieces have snippets of dances in them, laments and celebrations, simplicity and complexity."





Simone's new Sony album,
J.S. Bach: Inventions & Sinfonias, now available

Original artwork copyright Simon Dinnerstein.
Photos of Simone Dinnerstein by Lisa-Marie Mazzucco.

// Purchase J.S. Bach: Inventions & Sinfonias

Debuted at No. 1 on the Billboard Classical Chart


"in these 'Inventions & Sinfonias,' too often relegated to the teaching studio, it is the specific motion she gives each piece — as if every contrapuntal line had a physiognomy of its own — that makes this recording so arresting"

— The New York Times


Simone's new album, a recording of J.S. Bach's Inventions and Sinfonias, is now available on Sony Classical. The recording was made at the Academy of Arts and Letters in New York by Grammy-winning producer Adam Abeshouse. It debuted at No. 1 on the Billboard Classical Chart in its first week of sales.

Bach's Inventions and Sinfonias, originally written in 1723 as musical guide for keyboard players, remain a core part of the piano repertoire for students, amateurs, and professional musicians alike and have been lifelong companions for Dinnerstein.

Simone says, "The first keyboard pieces of Bach that I remember hearing were his Inventions, when I was nine years old. The music seemed impossibly expressive and virtuosic at the time, and wholly beyond my abilities. Here were two continuous and independent voices, neither of which was subservient to the other. Until then I had thought of music as melody and accompaniment. An instrumental training is as much a training in how to listen as in how to play. In the text that accompanies the Inventions, Bach calls them 'an honest guide.' His Inventions and Sinfonias are marvels in demonstrating just how potent counterpoint is as an aid to expression, and how powerful a cantabile voice can be when surrounded by contradiction and elaboration. These small masterpieces have snippets of dances in them, laments and celebrations, simplicity and complexity."

Following the release of the album, Simone will be performing Bach's Inventions in cities throughout the US. // View Simone's Concert Schedule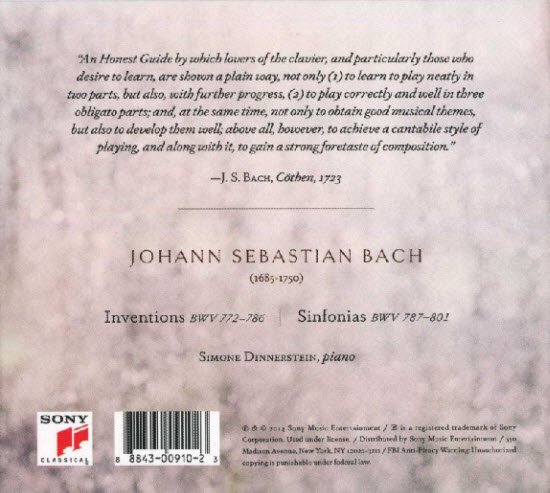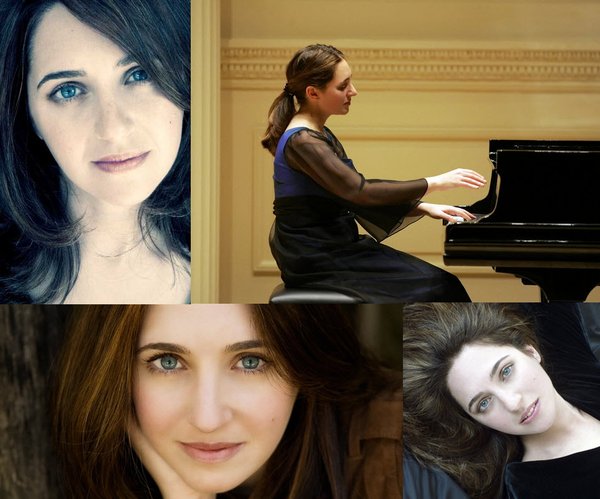 专辑曲目:
01. Invention No. 1 in C Major, BWV 772
02. Invention No. 2 in C Minor, BWV 773
03. Invention No. 3 in D Major, BWV 774
04. Invention No. 4 in D Minor, BWV 775
05. Invention No. 5 in E-Flat Major, BWV 776
06. Invention No. 6 in E Major, BWV 777
07. Invention No. 7 in E Minor, BWV 778
08. Invention No. 8 in F Major, BWV 779
09. Invention No. 9 in F Minor, BWV 780
10. Invention No. 10 in G Major, BWV 781
11. Invention No. 11 in G Minor, BWV 782
12. Invention No. 12 in A Major, BWV 783
13. Invention No. 13 in A Minor, BWV 784
14. Invention No. 14 in B-Flat Major, BWV 785
15. Invention No. 15 in B Minor, BWV 786
16. Sinfonia No. 1 in C Major, BWV 787
17. Sinfonia No. 2 in C Minor, BWV 788
18. Sinfonia No. 3 in D Major, BWV 789
19. Sinfonia No. 4 in D Minor, BWV 790
20. Sinfonia No. 5 in E-Flat Major, BWV 791
21. Sinfonia No. 6 in E Major, BWV 792
22. Sinfonia No. 7 in E Minor, BWV 793
23. Sinfonia No. 8 in F Major, BWV 794
24. Sinfonia No. 9 in F Minor, BWV 795
25. Sinfonia No. 10 in G Major, BWV 796
26. Sinfonia No. 11 in G Minor, BWV 797
27. Sinfonia No. 12 in A Major, BWV 798
28. Sinfonia No. 13 in A Minor, BWV 799
29. Sinfonia No. 14 in B-Flat Major, BWV 800
30. Sinfonia No. 15 in B Minor, BWV 801
这里是其它用户补充的资源(我也要补充):
暂无补充资源