专辑英文名: Music For A While Improvisations On Purcell
专辑中文名: 一瞬之光: 即兴的菩赛尔
古典类型: 全集作品
资源格式: FLAC
发行时间: 2014年03月11日
简介: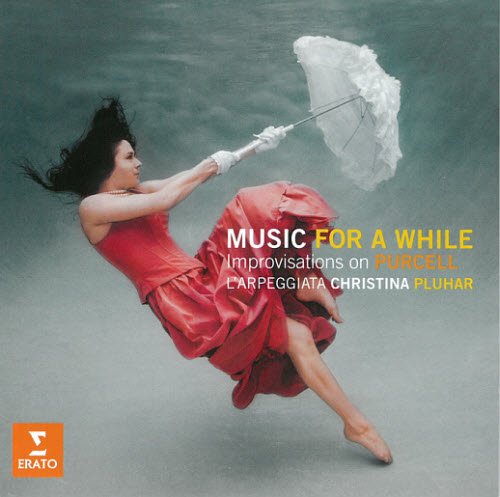 专辑介绍:

☉雅洛斯基〈假声男高音〉安度艾萨〈女高音〉卡佩祖托〈高男高音〉维斯〈假声男高音〉詹路易吉‧托维希〈单簧管〉沃夫冈‧穆斯皮尔〈木吉他与电子吉他〉
☉普鲁哈〈指挥〉琶音古乐团


英国作曲家菩赛尔在创作的时候,习惯以几近即兴的手法使用反复低音与顽固音型,最好的例子就是歌剧《狄多与阿尼亚斯》〈当我长眠地下〉(狄多的悲歌)。而这样像是爵士乐般的即兴,正是琶音古乐团的演奏风格最大的特点,因此,演菩赛尔的作品对指挥家普鲁哈与琶音古乐团来说,就像如鱼得水般的悠游自在。

琶音古乐团是由奥地利指挥家与西尔伯琴演奏家普鲁哈在2000年成立,以弹拨乐器为编制核心。这个以演出巴洛克时期音乐的团体,以它大胆的器乐即兴演奏、多样化的弹拨乐器结合,以及受到传统音乐的人声影响演奏风格,得到爱乐者与乐评界的讚赏。除了原有的弹拨乐器编制,琶音古乐团在这里还与歌手、木管、吉他、键盘乐器与打击乐器演奏合作。为了捕捉菩赛尔音乐里爵士乐般的即兴,普鲁哈特地邀请著名的义大利爵士单簧管、萨克斯风演奏家詹路易吉‧托维希,以及奥地利爵士吉他演奏家沃夫冈‧穆斯皮尔跨界合作。

为了探索出属於这个时代的音乐语言,当前许多作曲家与演奏家都会尝试把古典音乐与流行音乐、世界音乐结合在一起。而琶音古乐团成功跨跃文化与时间的隔阂,利用爵士乐的即兴技巧与现代人声演唱的特点,詮释出三百多年前古老巴洛克作品的崭新面貌。


规格
长度:约20分鐘
系统:NTSC
区码:不分区
DVD规格:DVD5
选单:英文
级别:普遍级
授权范围:家用
核准字号:音乐类免送审
许可字号:强广字第483号

CD编号 : 2564636203
演奏者 : 雅洛斯基 Jaroussky - 查看所有专辑
指挥家 : 普鲁哈
乐团 :
作曲家 : 菩赛尔 Purcell - 查看所有专辑
专辑名称 : 一瞬之光 ─ 即兴的菩赛尔 CD+DVD 《限量豪华盘》
MUSIC FOR A WHILE-Improvisations on Henry Purcell
音乐类型 : 古典音乐 [CD+DVD 圣乐(神剧&葛利果)]
发行公司/日期 : 华纳 2014/3/18

Orchestra: L'Arpeggiata
Conductor: Christina Pluhar
Composer: Henry Purcell
Audio CD (March 11, 2014)
Number of Discs: 1
Label: Erato
ASIN: B00H587YAO

Release Date February 25, 2014
Duration 01:16:11
Genre Classical
Styles Vocal Music Classical Crossover Chamber Music
Recording Date June, 2013

Review by James Manheim [-]

This is an entirely novel treatment of Henry Purcell's music that may appeal greatly to experimentally minded listeners, but those mulling the purchase should be perfectly clear about what they're getting into. "Improvisations on Henry Purcell" is not quite the right subtitle. There are elements of improvisation, it's true, but really these are arrangements of famous Purcell songs and arias, most of them by L'Arpeggiata leader Christina Pluhar. A few of the pieces are performed straight, but most of them are very far from the conventional Purcell sound world, drawing on such diverse genres as rock (the opening 'Twas within a furlong and Strike the viol, both complete with electric guitar), world music, other Baroque styles, various styles of jazz, and even lounge music, applied to the sublime When I am laid in earth, from Dido and Aeneas. Plainly there is a subset of listeners who will be absolutely driven crazy by this release, but just as plainly it gets major points for utter originality. Its strength lies in the fact that it is not simply a jazz or rock version of Purcell but a wholesale rethinking of an antique repertoire for a stylistically diverse modern musical world. Pluhar commands the services of an all-star trio of countertenors including Dominique Visse, Philippe Jaroussky, and Vincenzo Capezzuto, along with soprano Raquel Andueza; the singers generally sound like they're having a great deal of fun, and listeners should check the album out just to hear some hitherto unknown possibilities of the countertenor voice (try Visse's turn in Man is for the woman made). Despite all the craziness, Purcell's tunes are left generally intact, and this is another of the album's strengths. Things go seriously astray only with the bonus track, an inexplicable version of Leonard Cohen's Hallelujah by Capezzuto, but those hooked on the album's ideas by then will be inclined to accept it as the kind of excess that comes with original projects. The future of early music? Probably not, but who knows?


引用
Often considered England's greatest composer, Purcell (1659-1695) represents an especially good match for the aesthetic of L'Arpeggiata: he made frequent use of the ground bass, a repeated (ostinato) figure in the lower line – the most famous instance of this occurs in Dido's lament 'When I am laid in earth', the closing number from his opera Dido and Aeneas. The ground bass provides an ideal foundation for the brilliant, sometimes jazz-like improvisation that is the stock-in-trade of the L'Arpeggiata, here comprising singers, (plucked) strings, wind instruments, keyboard and percussion.

As the New York Times has written: "Just as the composers and ensembles that ply the indie path in new music combine structures and language from contemporary classical styles with gestures and timbres from pop and world music, L'Arpeggiata has lately been hopping through cultures and across centuries. The group uses modern pop vocal inflections and improvisational techniques from jazz in its performances of antique pieces … Its audacious hybrids are driven principally by a fascination with reviving the Baroque art of ornamental extemporization and a curiosity about how contemporary improvisatory styles might be enlisted in that quest." When L'Arpeggiata appeared at Carnegie Hall's Zankel auditorium in 2012, the newspaper reported that: "Here a lean septet combined precision and poise with the intuitive flexibility of a jazz combo."

The contemporary element in Music for a while (named after a song written for John Dryden's play Oedipus) is exemplified by the contribution, on acoustic and electric guitar, of Austrian jazz-player Wolfgang Muthspiel, while the Baroque tradition is embodied in the celebrated French countertenor Dominique Visse, a singer who set an example for Philippe Jaroussky; Visse was a student of the pioneering British countertenor Alfred Deller (1912-1979), closely associated with the music of Purcell and the revival of interest in Baroque music.

In the course of 2014, Music for a while will be presented at concerts in Rome, Paris, Grenoble, Berlin, Ludwigsburg and London. When the Mediteraneo programme was presented in London in 2013, The Arts Desk reported that: "Perhaps the best bits of any L'Arpeggiata concert are the improvisations. Laying down a ground bass (a riff by any other name) the group then take it in turns to step forward for jazz-style breaks. Jazz might have come down to us via Africa but I defy anyone to hear a Purcell or Monteverdi ground and not trace the natural genealogy. Pluhar here makes her case without effort as we marvel at plucked bass and drums or – most impressive – a percussion solo for the finest wizard of percussion David Mayoral, giving us a single skin that can shriek, cry or sing according to the strokings of his fingers."

In Germany, the Potsdamer Neueste Nachrichten described a concert given by L'Arpeggiata with Philippe Jaroussky as "a rare two-hour feast of music-making. For years, exulting in sound, [Christina Pluhar and L'Arpeggiata] have been demonstrating in the most persuasive way how fresh and timeless 'old' music can sound. Pluhar recognises no borders, no divisions between eras. For her, it is all music."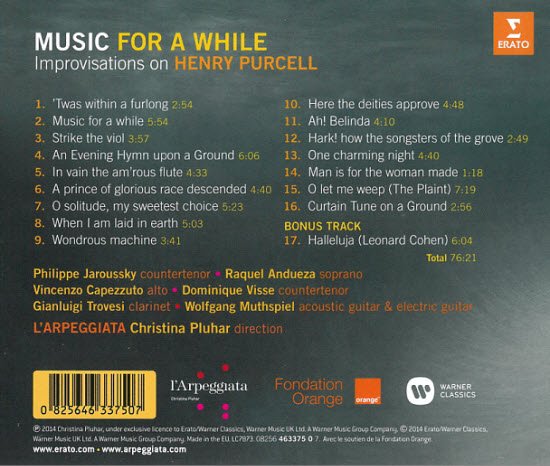 专辑曲目:
01. Twas within a furlong
02. Music for a while
03. Strike the viol
04. An Evening Hymn on a Ground
05. In vain the am'rous flute
06. A Prince of glorious race descen0ded
07. O solitude, my sweetest choice
08. When I am laid in earth
09. Wondrous machine
10. Here the deities approve
11. Ah! Belinda
12. Hark! how the songsters of the grove
13. One charming night
14. Man is for the woman made
15. O let me weep (The Plaint)
16. Curtain Tune on a Ground
17. Bonus Track Halleluja (Leonard Cohen)
这里是其它用户补充的资源(我也要补充):
暂无补充资源