专辑英文名: Folk Funk
专辑中文名: 民歌放克
音乐风格: 蓝调
资源格式: FLAC
发行时间: 2004年
简介: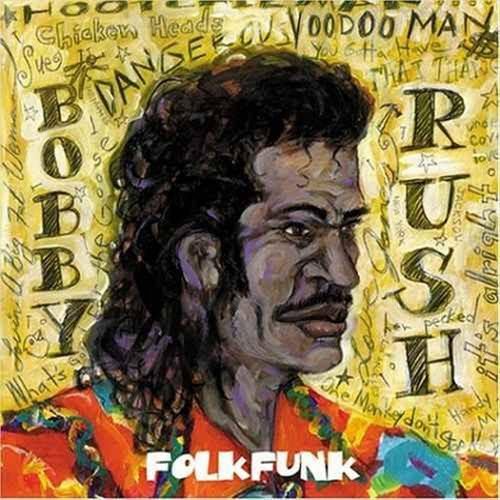 专辑介绍:

鲍比·拉什(Emmit Ellis Jr. 于11月10日1940年,出生在荷马,路易斯安那州)是美国蓝调和R&B音乐人,作曲家和歌手。他的风格融合了灵魂蓝调,说唱和放克的元素。

"Folk funk" is what Bobby Rush has been calling his brand of Southern-fried blues and soul for several years, and now it's the title for the second release on his own Deep Rush label, and guess what, folks, it is quite likely the best album he's ever done. Joined by Alvin Youngblood Hart on guitar and Charlie Jenkins on drums, with Rush handling nigh everything else, the sound for Folkfunk is stripped down to a basic rhythmic force, and freed from the synthesized keyboards that often marred his earlier releases, it makes a sparse and powerful statement, a bit like John Lee Hooker working with a solid funk trio. Rumour has it that the whole album was recorded in one five-hour session, which may account for its unified tone. Among the high points are a thumping "Uncle Esau," a wonderful version of Percy Mayfield's "River's Invitation," and a revisit to Rush's classic "Chicken Heads," here called "Chicken Heads -Refried." On "Saints Gotta Move" Rush grafts "When the Saints Go Marching In" to "You Gotta Move" in a rousing synthesis. By stripping away any excess instrumentation, Folkfunk allows Rush's truly excessive (and frequently bawdy) persona to shine through in all its glory, making this easily one of his best outings.


Artist: Bobby Rush
Title Of Album: Folkfunk
Year Of Release: 2004
Label: Deep Rush
Genre: Modern Electric Blues, Soul Blues, Funk
Total Time: 49:43 min


引用
Biography/Review: Born: November 10, 1940 in Homer, Louisiana.
Flamboyant soul-blues artist Bobby Rush is in his sixth decade of a musical career that has come full circle from rural Louisiana, through the mean streets of Chicago, to the Southern musical mecca of Jackson, Mississippi. A dynamic showman with a unique sound that mixes the natural soul of vintage R&B with traditional Chicago blues and strutting 1970s-styled funk, Rush"s booty-shaking "snake dancers" and frequent costume changes have helped make his live shows popular with club and festival audiences alike.

Born Emmit Ellis, Jr. in Homer, Louisiana he moved with his family to Chicago in 1953. Later during the decade, the artist made a name for himself in the West Side blues clubs as "Bobby Rush;" alumnus of Rush"s mid-1950s Chicago bands include Luther Allison and Freddie King. As his unique sound began taking on elements of soul and funk music, Rush moved beyond blues clubs, touring the Southern "chitlin" circuit" of R&B-oriented roadhouses and nightclubs. During the 1960s and "70s, Rush recorded sides for a number of labels, including ABC-Paramount and Warner Brothers.
Rush"s early material was often bawdy, his lyrics full of sexual innuendo. His first hit single was 1971"s "Chicken Heads" for the Galaxy label, followed by the equally-audacious "Bow Legged Women." Downplaying the raucousness of his singles in favor of a smoother soul sound, Rush"s debut album, 1979"s Rush Hour, was recorded for Gamble and Huff"s Philadelphia International label. Relocating to Jackson, Mississippi during the 1980s, Rush recorded a number of raunchy collections for LaJam Records, albums like 1984"s Gotta Have Money featuring songs so suggestive that the singer refused to perform them on stage.
Rush"s Folk-Funk Sound
During the 1990s, Rush signed to Mississippi"s Waldoxy Records, subsequently perfecting his original mix of soul, blues, and funk music that Rush dubbed "folk-funk." Albums like 1995"s One Monkey Don"t Stop No Show and 2000"s Hoochie Man were often lyrically derivative and featured Rush"s trademark brand of sexual humor, combined with an exciting folk-funk soundtrack.
During the late-90s, Rush found his audience growing to include white listeners grooving alongside his traditional African-American fans, and the artist began adding festival appearances to his busy touring schedule. Rush"s appearance in "The Road To Memphis" mini-film that was part of director Martin Scorsese"s PBS series The Blues further increased the artist"s mainstream profile.
Singing The Blues
Rush"s life hasn"t been easy. At a time during his career when he was too poor to afford health insurance, his wife and three children died of sickle cell anemia. "I didn"t have health care at the time," Rush told Alt.Culture.Guide writer Bill Glahn in a 2005 interview. "Didn"t know how to get it, didn"t know the steps to take. Just didn"t have it. If I would have had the money, I would have gotten the better care." Tragedy struck again in 2001 when Rush"s tour bus crashed, killing singer Latisha Brown and injuring several other band members, including Rush. Since these events, Rush has become an outspoken and effective advocate for affordable health care for musicians.
After spending a couple of years recuperating from the crash, Rush returned with 2003"s CD and DVD release Live At Ground Zero on his own independent Deep Rush Records. With his popularity as a live performer still on the rise, the artist released the acclaimed Folkfunk album in 2004 and Night Fishin" the following year. Rush raided his vaults in 2006 for the two-volume Essential Recordings series, preserving some of his early sides. In 2007, Rush released a collection of acoustic blues music titled Raw, receiving the most positive reviews of his lengthy career to date.
Recommended Albums: Rush"s 2007 Blues Music Award winning album Raw shows the artist"s deft hand at playing blues music in an acoustic setting, while 2004"s Folkfunk is the finest example of Rush"s often-raunchy hybrid soul-blues-funk sound.
Personnel:
Bobby Rush - vocals, guitar, harmonica
Steve Johnson - bass guitar
Charlie Jenkins - drums
Jesse Robinson
Also: Alvin Youngblood Hart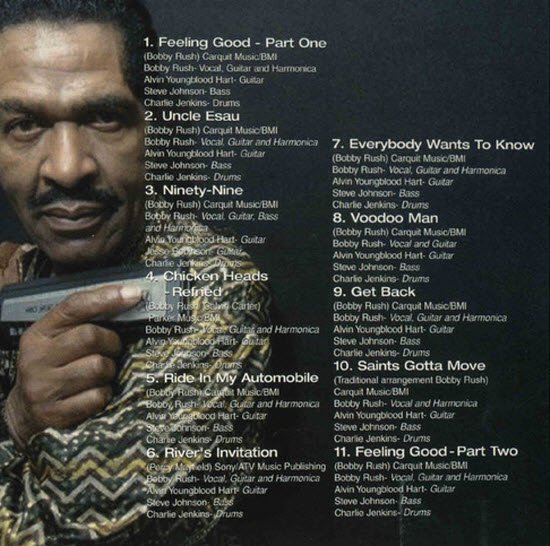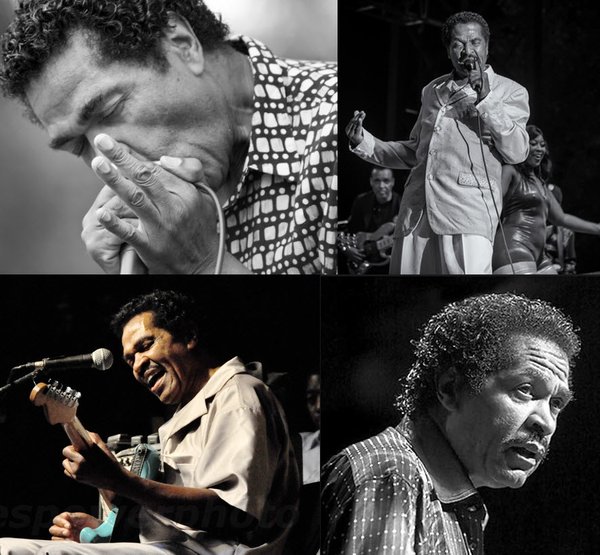 专辑曲目:
01. Feeling good. part one - 5:04
02. Uncle Esau - 3:55
03. Ninety-Nin e - 3:02
04. Chicken Heads - Refried - 4:56
05. Ride in my automobile - 4:44
06. River´s invitation - 4:12
07. Everybody wants to know - 6:13
08. Voodoo Man - 6:33
09. Get back - 3:59
10. Saints gotta move - 4:06
11. Feeling good - part two - 3:20
这里是其它用户补充的资源(我也要补充):
暂无补充资源