专辑英文名: Shostakovich - Cello Concerto No.2; Cello Sonata
专辑中文名: 萧士塔高维契:第二号大提琴协奏曲
古典类型: 奏鸣曲
资源格式: FLAC
发行时间: 2014年02月15日
简介: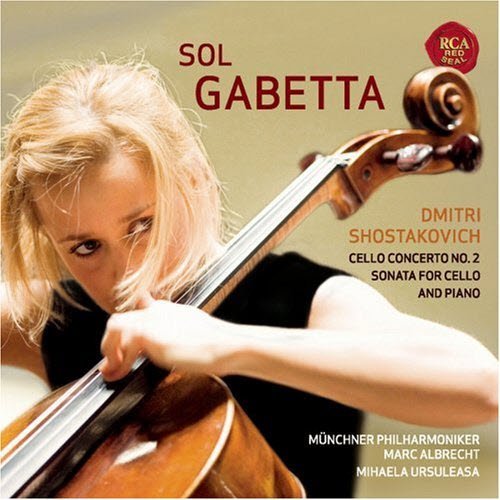 专辑介绍:

Echo Klassik(德国回声大奖)得主,是欧洲当今最活跃的新生代大提琴家。

◎日内瓦瑞士罗曼德广播公司&柴可夫斯基大赛最佳詮释奖。
◎在SONY BMG录制的第三张专辑。
◎使用珍贵稀有名琴─瓜达尼尼1759年古琴(此琴制造於韦瓦第死后18年)
◎嘉碧近年来著墨最多、用心钻研的代表录音。
◎演奏曲目及为宽广,巴洛克、浪漫乐派,至现代乐派曲目无所不包。
◎与葛济夫等大师以及维也纳爱乐等著名乐团合作演出。

第二号大提琴协奏曲是萧士塔高维契在一九六六年完成。和第一号一样都是献给大提琴家罗斯托波维契,并由他在一九六六年九月二十五日首演,当天正是萧氏的六十大寿庆典。此曲可以视为萧氏晚期风格的滥觴之作,从此曲以后的作品都带有萧氏晚期的风格。

一开始的缓板乐章本来是萧氏打算用作交响曲第一乐章的,而终乐章原本则是另一个样子,显示萧氏在创作此曲时一再遭到创作瓶颈,迟迟无法决定。此曲依循传统协奏曲的型式,第一乐章有一段装饰奏,而第二乐章的主题则是採自敖德萨的街头歌曲「请买我的麵包」。此曲在萧氏包括钢琴、小提琴和大提琴的六首协奏曲中,是唯一一首以平静收场而不是华丽结束的。至於大提琴奏鸣曲则是萧氏早期的创作,完成於一九三四年,当时他还没遭到苏联当局干预和谴责,因此曲风大胆前卫充满创意。但萧氏当时因为与学生陷入不伦恋而与妻子妮娜离婚,因此精神状态并不稳定。此曲中有著萧氏毕生作品中少见的高度原创性和实验性质,因此很早就被认定是他的代表作。

今年才只有二十七岁的阿根廷女性大提琴家修儿.嘉碧妲,十岁就赢得阿根廷青少年大提琴大赛首奖,后来还在柴可夫斯基大赛赢得古特曼的赏识。二十出头就在欧洲各地举行演奏会,和葛济夫等大师合作的她,目前还在柏林汉斯艾斯勒音乐院,跟随俄国大提琴名家葛林加斯(一九七零年柴可夫斯基大赛金牌,是罗斯托波维奇最疼爱的高徒)门下习琴的她,可以说是尽得这一派大提琴技法的真传,也因此自从2005年加入新力以来,她的专辑几乎都有俄国曲目装点,这是因为俄国曲目正是她最拿手和被看好的招牌。手持一七五九年瓜达尼尼制的名琴,修儿.嘉碧妲这份萧士塔高维契的录音可以视为她近年来著墨最多、用心钻研的代表录音。

CD编号 : 88697342612
演奏者 : 修儿嘉碧妲 Sol Gabetta
指挥家 : Albtrcht - 查看所有专辑
乐团 :
作曲家 : 萧士塔高维契 Shostakovich - 查看所有专辑
专辑名称 : 萧士塔高维契:第二号大提琴协奏曲
Shostakovich:Cello Concerto No.2
音乐类型 : 古典音乐 [CD 协奏曲]
发行公司/日期 : SONY MUSIC 2008/9/12
制作公司 : RCA
内含片数 : 1

1. 萧士塔高维契 第二号大提琴协奏曲
2. 第二号大提琴协奏曲
3. 第二号大提琴协奏曲
4. d小调大提琴奏鸣曲 作品.40号
5. d小调大提琴奏鸣曲 作品.40号
6. d小调大提琴奏鸣曲 作品.40号
7. d小调大提琴奏鸣曲 作品.40号

Release Date: 02/03/2009
Label: Rca Victor Red Seal Catalog #: 735961 Spars Code: n/a
Composer: Dmitri Shostakovich
Performer: Mihaela Ursuleasa, Sol Gabetta
Conductor: Marc Albrecht
Orchestra/Ensemble: Munich Philharmonic Orchestra
Number of Discs: 1
Recorded in: Stereo

Release Date September 23, 2008
Duration 01:06:01
Genre Classical
Styles Concerto Chamber Music

Audio CD (February 3, 2009)
SPARS Code: DDD
Number of Discs: 1
Label: RCA
ASIN: B001E1TGBS

Intensely lyrical, dark ... February 15, 2014
By enthusiast
Format:Audio CD
... but not bleak.

The 2nd cello concerto of Shostakovich is one of the greatest among his late pieces and is by general consent the greater of his two cello concertos. But is is not an easy work to bring off. It can seem rather formless if the performers are not careful of the wider picture. The performance here is one of the best and is currently my favourite.

Most interpreters tend to find bleakness in late Shostakovich and it says something for Gabetta that she dares to be different. She certainly sees the darkness and intensity but the her playing is warm where , say, Maisky (in his great account of this work) is cold. There is more light and shade than we are used to and, for example, Gabetta finds it possible to allow a romaticism in the repeating quote from the Dvorak Concerto so that it sound more of a quotation than ever without sounding out of place.

The Cello Sonata is a relatively early masterpiece and full of character and incident. Gabetta plays it with a fire and passion that is impossible to resist. Ursuleasa's piano is with her all the way but it ia Gabetta who is the star. This is much more red blooded than the cool but effective account by Chaushian and Sudbin.


引用
Review by Mike D. Brownell

Although written only seven years after the first, Shostakovich's Second Cello Concerto could not be more different in content and temperament. Unlike the First Concerto, the Second is heard much less frequently in live performance and does not make album programs as often, either. Much less bombastic and overtly virtuosic, the Second Concerto is by far the more introspective and contemplative of the two cello concertos. While it may not bring audiences to their feet as quickly, the G major Concerto still has a great many positive features in the right hands. This RCA album features cellist Sol Gabetta performing with the Munich Philharmonic under Marc Albrecht. Technically, Gabetta's performance is quite clean; her interpretation, however, is somewhat bland and unimaginative. The biggest problem here is Gabetta's sound. While her tone is warm and pleasing enough, she just doesn't have a very big, projecting sound. Compared to the large orchestra force that she's up against, this means that too often her line is just lost in the shuffle. The orchestra appears to do all it can to get out of Gabetta's way without playing timidly, but her instrument just doesn't provide the power necessary to push through. By contrast, her performance of the D minor Sonata, with pianist Mihaela Ursuleasa, is much more musically satisfying as Gabetta appears more willing to take risks. Here, balance is not an issue and listeners can more fully appreciate her playing.


I know of no more dramatic and beautifully played account of the Concerto.

Sol Gabetta is a cellist in great demand as a concert performer. If the high-end German record shops such as Ludwig Beck, Munich and Dussmann, Berlin are anything to go by Gabetta is being strongly marketed by her record label. The programme chosen this time for the young Argentine cellist is all-Shostakovich with wonderful accounts of both the Concerto and the Sonata. The Concerto recording was made at live concerts in January 2008 in the admirable acoustic of the Philharmonie at Munich's Gasteig. The applause has been elided. On the other hand the Sonata in which Gabetta teams up with Romanian-born pianist Mihaela Ursuleasa is a studio recording made in Zurich. My disc was sent from Germany with German-only text.

The Cello Concerto No.2, written in the last decade of his life, was dedicated to Rostropovich who premièred the score at Shostakovich's 60th birthday concert in Moscow. Compared to the first Cello Concerto, Op. 107 from 1959 this relatively underrated score is only now beginning to establish its rightful place in the repertoire. The harsh constraints of living and working under the Soviet regime must surely have helped shape its character.

In the opening Largo the cello plays virtually continuously. Right from the first bars the darkly brooding intensity of the cello is spine-tingling. Gabetta's rich mocha-toned instrument is caught splendidly by the sound engineers. Taking the listener by surprise the cannon salvos and pounding martial beat at 3:58-4:03 is highly dramatic. From 4:31 the anguished wails of the cello are remarkably affecting. A reflective passage on the cello at 5:34 and 6:55 is developed by the orchestra into a thickly textured and deeply depressing episode. A concentrated section from 7:28 feels almost overwhelming. Coming as a welcome relief from 8:35 is a more upbeat passage. It is not long before the playful figures become restless and demanding and the overwhelming weight of torment returns. At 10:32-10:59 the percussion blows are quite ferocious and serve as an ominous warning. The pounding continues but fades and disappears into the distance. Over a rumbling and restless orchestra the cello from 12:54 with its plaintive theme tries to calm the agitation.

Serving as a Scherzo the central movement marked Allegretto is terse and highly rhythmic. A waltz-like street theme on the cello with a sardonic twist opens the movement. Horn-calls punctuate the scene together with a colourful array of percussive effects. Gabetta's energetic playing cuts through the macabre orchestral writing seemingly intent on holding the cello back. Played continuously, the closing movement also an Allegretto, is heralded by a horn fanfare and drum-roll. Gabetta plays a languorous melody of a certain nobility that has been described as " barcarolle-like". Especially interesting are the unusual orchestral textures with notable percussive effects. From 4:41 the tempi shift quickly several times and take on a curious galloping quality. At 6:35 the cello theme becomes one of sadness and tender introspection - a mood that underpins the remainder of the movement. Percussion lashes against a frenetic cello line from 9:41 create a disconcerting effect and this builds to a terrifying climax at 10:52. The breathless cello writing then recovers its poise to repeat the melancholic but introspectively steely theme. If that was possible the mood becomes even more mournful with Gabetta's cello sounding as if it was weeping. Snare drums and other light percussion effects close the score. The orchestra provide warm and positive support .

For alternative versions of the Cello Concerto No.2 I have long been satisfied with that from cellist Heinrich Schiff with the Bavarian Radio Symphony Orchestra under Maxim Shostakovich. With playing of impressive assurance the performance was recorded in 1984 at the Hercules Hall, Residenz, Munich on Philips 475 7575. (c/w Shostakovich Cello Concerto No. 1). Another beautifully played account is from cellist Mischa Maisky with the London Symphony Orchestra under Michael Tilson Thomas. It was recorded in 1993 at the Abbey Road Studios in London on Deutsche Grammophon 445 821-2. (c/w Shostakovich Cello Concerto No. 1).

The four movement Cello Sonata was written when Shostakovich still had artistic freedom. This was prior to the denunciation in 1936 by the Soviet authorities and before his fall from favour owing to the opera Lady Macbeth of the Mtsensk District. Essentially a lyrical score rather than experimental the Sonata was premièred in 1934 in Moscow by cellist Viktor Kubatsky, its dedicatee. Interestingly there have been several arrangements for viola and piano.

The two main themes of the opening movement could not be more different in character. The first is an upright elegant melody that Gabetta and Ursuleasa. It is intensified in tension and made more weighty until it becomes unruly bordering on stormy. By contrast the second theme is cloaked in lush yearning Romanticism. Gabetta's glorious tone is outstanding and Ursuleasa revels in the long warm lines. An Allegro the second movement is a countryside romp that Gabetta and Ursuleasa develop into the manner of an excitable folk dance. Sombre and mournful in the third movement Largo Gabetta's cello sounds as if it is sobbing. The intensity becomes heavier with the cello reaching down to its deepest register. In the skittish and scampering Rondo: Finale the piano has abundant opportunity to shine with Ursuleasa demonstrating her assurance in a number of dazzling runs. It is Gabetta's relatively restrained cello part that keeps the merriment in check.

For both the splendid playing as well being an important music document I admire the version of the Sonata played by cellist Daniil Shafran and the composer on piano. Recorded in 1956 I have the performance on Revelation RV10017. (c/w Rachmaninov Cello Sonata). I also play often the account from cellist Leonid Gorokhov and pianist Nikolai Demidenko. This satisfying version was recorded at Champs Hill, Pulborough, Sussex in 2004 on ASV Gold GLD4006.

I was perfectly happy with this RCA Victor Red Seal recording in both the concerto and sonata. Gabetta's cello is placed well forward and is vividly clear. I know of no more dramatic and beautifully played account of the Concerto.

-- Michael Cookson, MusicWeb International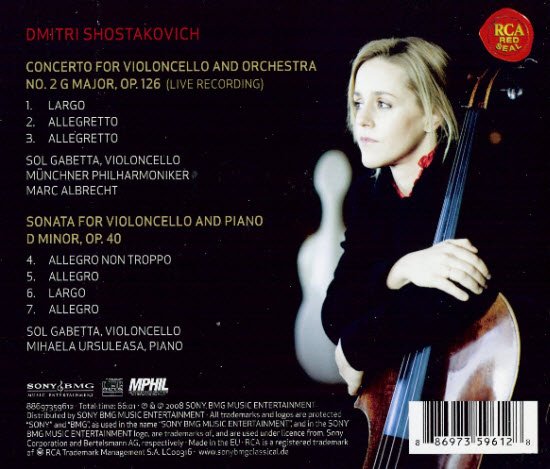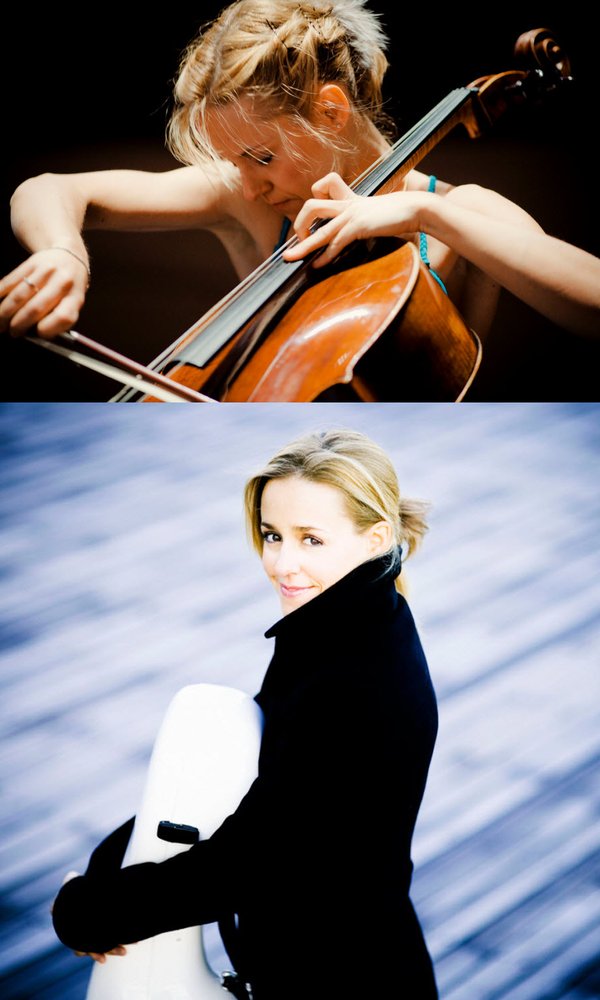 专辑曲目:
1. Cello Concerto No. 2 in G major, Op. 126: Largo
2. Cello Concerto No. 2 in G major, Op. 126: Allegretto
3. Cello Concerto No. 2 in G major, Op. 126: Allegretto
4. Sonata for Violoncello and Piano in D minor, Op. 40: Allegro non troppo
5. Sonata for Violoncello and Piano in D minor, Op. 40: Allegro
6. Sonata for Violoncello and Piano in D minor, Op. 40: Largo
7. Sonata for Violoncello and Piano in D minor, Op. 40: Allegro
这里是其它用户补充的资源(我也要补充):
暂无补充资源