专辑英文名: Nouveau Flamenco
专辑中文名: 新弗拉门戈
别名: 1990-2000 Special Tenth Anniversary Edition
音乐风格: 拉丁
资源格式: FLAC
发行时间: 1990年05月07日
简介: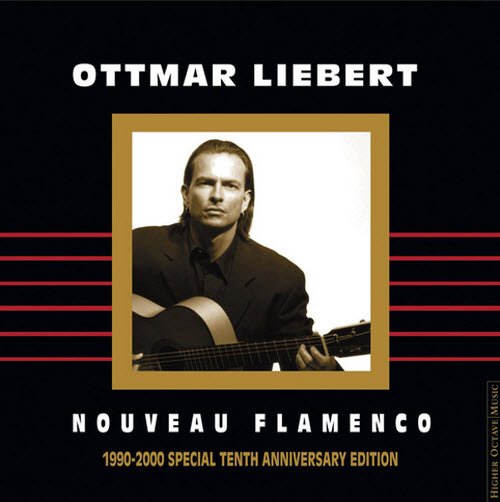 专辑介绍:

原CD HIGHER OCTAVE 1990年出品。此碟为现代吉他高手Ottmar Liebert的佛朗明哥音乐专集,原CD名为:Nouveau Flamenco。"Nouveau'是"新"的意思。

新世纪音乐的吉他手OTTMAR LIEBERT自1990年出道到现在,每一张作品除了是BILLBOARD杂誌NEW AGE榜上的常胜军长年盘据榜上不下,并跨越至流行榜上外,也始终是乐评们一致推崇的最佳艺人及专辑。

OTTMAR 集中、德、匈牙利血统於一身,11岁便於吉他结缘,18岁完成正统古典吉他学业之后,便展开其浪迹天涯的音乐之旅,足迹遍及欧、亚及美洲各地,先后加入JAZZ.FUNK.POP.POPROCK等风格的乐团,接受各种文化衝击与音乐薰陶。如此丰富的血统与阅历,交融结合而成一个才华洋溢的OTTMAR及其独特珍贵的音乐风格。
从其音乐中,除了可感受到来自於JAZZ' BLUES'POP及古典等音乐的影响,亦自然流露出西班牙、德国及中国的传统音乐气息。

Album Details:
Release Date: May 7 1990
Total Running Time: 50:05
Label: HIGHER OCTAVE
Catalog No.: 77520


最近听了这张CD,第一次听在众多CD中还是有点特别,再听就喜欢上了。

佛朗明哥是西班牙传统艺术形式,音乐伴舞?吉他是重要乐器。看去过西半牙的人说是要晚上十点钟才开始?吉他音量小晚上才发力?白天太热,晚上才出来乘凉娱乐?

拉丁音乐很热情奔放的(和他们的气候有关?),当你处于某些情绪,或者正在做一些需要inspire和热情的事情的时候,听这张专辑再合适不过了。

Review by Jonathan Widran [-]

Almost overnight, the success of Ottmar Liebert's groundbreaking 1990 debut Nouveau Flamenco catapulted Higher Octave Music into one of the industry's top indie labels and introduced the instrumental world to a fresh, exotic sound unlike any other. Quickly hitting the pole position on Billboard's new age chart, the album took the world by storm. In the U.S. it was certified gold in 1993 and platinum in 1997, while achieving gold status in Canada and Mexico and platinum status in New Zealand and Australia. More than a simple repackaging of its best-selling release of all time, Higher Octave's re-release of the Nouveau Flamenco 1990-2000 Special Edition is a true treasure featuring vibrant new mixes of all the original tracks as well as six previously unreleased songs recorded before or during the original sessions. Though he has gone on to build an amazing catalog with Epic Records, Liebert's love for Nouveau Flamenco ensured his personal involvement in the new release. Gary Lyons, who engineered the guitarist's previous three albums, was hired to remix the old tracks and copy the songs from the original primitive 1/2" tapes they were on to 2" tapes. Liebert also got great joy out of rediscovering three songs that didn't make the original release, and three more that he recorded just prior to the Nouveau Flamenco project. These include the contemplative "Lonely Hours," the clap-along fun of "Morning Sky," the contemplative "La Memoria/Shadows," the gentle "Sudden Shadows," and the contemplative closer "Under Blue Moon" -- all fine, of course, but not quite on the melodic and rhythmic-hypnotic level of classics like "Barcelona Nights." The Nouveau Flamenco 1990-2000 Special Edition is nonetheless a great opportunity for both longtime and new fans to rediscover the magic of when Ottmar Liebert began his extraordinary journey.


引用
Release Date 1990
Duration 50:05
Genre New Age International
Styles Adult Alternative Ethnic Fusion Flamenco Western European Traditions Contemporary Flamenco Guitar/New Age

Paperback: 72 pages
Publisher: Creative Concepts (February 1, 2000)
Language: English
ISBN-10: 1569221375
ISBN-13: 978-1569221372

Ottmar Liebert's most famous album gave a new genre its title, and the New Age market a new champion. From the liner notes:
Nouveau Flamenco represents a spirited new sound eminating from Santa Fe. Its magic blends the heart and soul of the Spanish gypsy guitar with a contemporary groove, a sound mastered by Ottmar Liebert. Liebert's classical guitar training is flavored by jazz and pop influences, and his music expresses what is inseparably universal and deeply personal. The ancient dramas of sorrow and joy are released and artfully transformed for the listener of today. Nouveau Flamenco is truly acoustic poetry with elegance and passion.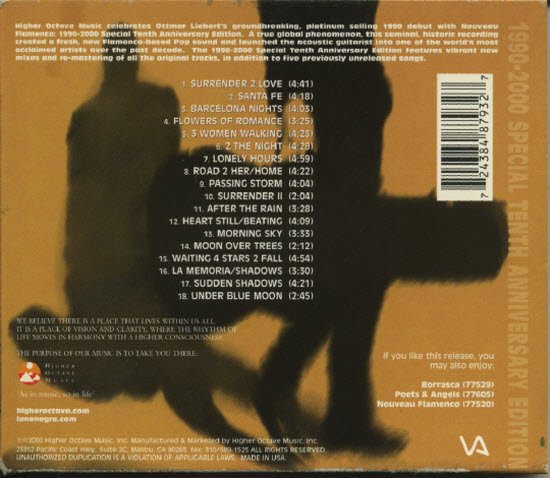 专辑曲目:
01. Barcelona Nights (2000 Digital Remaster) 4:03
02. Heart Still / Beating 4:10
03. 3 Women Walking (Digitally Remastered 99) 4:22
04. 2 The Night (Digitally Remastered 99) 4:28
05. Passing Storm (Digitally Remastered 99) 4:03
06. Santa Fe 4:21
07. Surrender 2 Love 4:25
08. Waiting 4 Stars 2 Fall 4:54
09. Road 2 Her / Home 4:23
10. After The Rain (Digitally Remastered 99) 3:27
11. Flowers Of Romance (Digitally Remastered 99) 3:26
12. Moon Over Trees 1:47
13. Shadows 3:14
这里是其它用户补充的资源(我也要补充):
暂无补充资源