专辑英文名: The Essential Hilary Hahn
专辑中文名: 世纪典藏—希拉蕊.韩
古典类型: 全集作品
资源格式: FLAC
版本: [2 CD]
发行时间: 2007年07月10日
简介: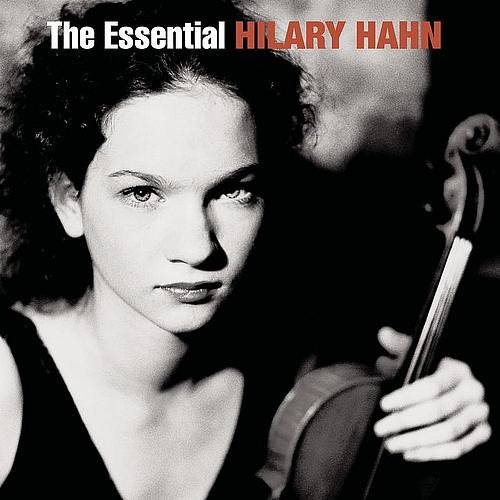 专辑介绍:

世纪典藏—希拉蕊.韩

The Essential –HILARY HAHN
2007年7月17日
産品编号: 88697095802

希拉蕊.韩是当今美国乐坛一颗闪耀而明亮、指日可待的古典巨星。3岁开始习琴,师从比利时小提琴大师易沙意的弟子约夏布洛斯基为师,九岁时就与大卫辛曼指挥的巴尔特摩交响乐团登台,10岁时就破格进入寇蒂斯音乐院就读,15岁时赴欧与罗林马杰尔指挥的巴伐利亚广播交响乐团演奏贝多芬的小提琴协奏曲的实况,传遍欧洲,两个月后就获得象徵美国最高音乐荣誉的Avery Fisher奖。

17岁时由Sony唱片发行的第一张专辑「巴哈无伴奏小提琴组曲」不但被D'iapason's评选为年度金唱片,同时一举衝上Billboard古典榜数週之久;第二张专辑是贝多芬的小提琴协奏曲同样被D'iapason's评选为年度金唱片,并获葛莱美奖提名与德国回声唱片大奖;2001年灌录的第四张专辑-布拉姆斯与史特拉汶斯基的小提琴协奏曲一举赢得了葛莱美古典音乐奖;2002年的第五张专辑-孟德尔颂与萧士塔高维奇的小提琴协奏曲再次赢得了葛莱美古典音乐奖。

本专辑所收录的都是这五张专辑的曲目精华,CD1以巴哈无伴奏小提琴组曲开头、巴伯小提琴协奏曲缠绵悱惻的行板接续、再绕到巴哈的「夏康」舞曲,最后以布拉姆斯与萧士塔高维奇的小提琴协奏曲结束;CD2则以贝多芬与孟德尔颂的小提琴协奏曲第一乐章起首,以史特拉汶斯基的小提琴协奏曲的随想曲乐章作结,充分展现了希拉蕊.韩的音乐技巧与内涵。

CD编号 : 88697095802
演奏者 : 希拉蕊韩 Hilary Hahn - 查看所有专辑
指挥家 :
乐团 :
作曲家 :
专辑名称 : 世纪典藏
The Essential Hilary Hahn
音乐类型 : 古典音乐 [CD 独奏曲]
发行公司/日期 : SONY MUSIC 2007/7/17
制作公司 : SONY BMG
内含片数 : 2

The Essential Hilary Hahn is part of Sony's critically acclaimed 2-CD Essential Series.

A promising, all-American teen-aged prodigy only a decade ago when Sony Classical signed her to an exclusive contract, violinist Hilary Hahn quickly became one of classical music's superstars. The public and critics alike were dazzled by her incredible artistry, combining spectacular virtuosity and charisma with bristling intelligence. Her recordings include the mighty masterpieces of the concerto repertoire - from Beethoven and Mendelssohn to Stravinsky and Bernstein - and a thrilling ride through Bach's formidable unaccompanied violin music.


Audio CD (July 10, 2007)
SPARS Code: DDD
Number of Discs: 2
Format: Original recording remastered
Label: Sony Classics
ASIN: B000R7I3NM
Average Customer Review: 4.6 out of 5 stars


引用
5.0 out of 5 stars Lovely, accomplished, and astonishing! December 14, 2007
By Patrick W. Crabtree TOP 1000 REVIEWERVINE VOICE
Format:Audio CD|Amazon Verified Purchase
This is a compendium of previously released material played by Hilary Hahn, master violinist.

It's not often that one can recommend a particular Classical CD for both the Newbie and the Venerable Virtuoso as well, but in this case, I can joyfully do so without fear that anyone will be disappointed.

I was a little concerned when I first noted that the periods of music played here spans about 300 years -- I get "moods" to hear particular Classical periods; however, someone did an outstanding job of selecting music that, somehow, all comes across as compatible and fluid from one track to the next. So, that hurdle was overcome, at least for me.

There are some very fine orchestras and renditions represented on this 2-CD set and, on a couple, Ms. Hahn plays her violin solo, unaccompanied, and I cannot say when I've heard more moving pieces of beautiful music.

The second big caveat that made me so high on this album is that you rarely hear many of the fine works played here. I was bowled over by the second track of Disc 1, which I THOUGHT I had not previously heard, until I looked at the insert: "Andante", from Barber's Violin Concerto, op. 14. The fact is, I just had never heard this piece performed in such an INSPIRATIONALLY SUPERB MANNER and it had simply never attracted my attention before as it did in this case. In fact, all the entries are on that scale of excellence.

The clencher in listening to this, and to other Hahn entries is that her playing sets one at ease. These are difficult scores and Hilary Hahn plays them smoothly and, so fluidly as if she WROTE them herself.... masterful!

So, if you're looking for some violin wallpaper while reading a book or having supper, or, if you simply wish to have a fine Classical music experience, I can say without doubt that you'll not be sorry that you added this one to your collection.

If you acquire this CD set and you agree with my assessment of her brilliant renditions, you'll probably also want to grab this one as well: Elgar: Violin Concerto / Lark Ascending


Release Date 2007
Duration 02:04:34
Genre Classical
Styles Concerto

Review by James Leonard [-]

Listening to this disc, The Essential Hilary Hahn, one can easily understand what everybody hears in the young American's playing, to wit, the ebullience of her Preludio from Bach's Third Partita, the passion of her Andante from Barber's Violin Concerto, the intensity of her Chaconne from Bach's Second D minor Partita, the expressivity of her Allegro non troppo from Brahms' Violin Concerto, the ferocity of her Scherzo from Shostakovich's First Violin Concerto, the poetry of her Allegro ma non troppo from Beethoven's Violin Concerto, the charm of her "Movement II" from Meyer's Violin Concerto, the exuberance of her Allegro molto appassionato from Mendelssohn's Violin Concerto, the wit of her "Agathon" from Bernstein's Serenade, and the sprightly charm of her Capriccio from Stravinsky's Violin Concerto. Accompanied by the ardent Hugh Wolff and the Oslo Philharmonic in the Mendelssohn and the Saint Paul Chamber Orchestra in the Barber and Meyer, by the elegant Neville Marriner and the Academy of St. Martin-in-the-Fields in the Brahms and Stravinsky, by the masterful David Zinman and the Baltimore Symphony in the Beethoven and Bernstein, and by the powerful Marek Janowski and the Oslo in the Shostakovich, Hahn's performances are the current cutting-edge of charismatic virtuosity. Fans of Grumiaux may not approve, but fans of Heifetz will understand. Released between 1997 and 2002, these performances should be heard by anyone with an interest in contemporary violinists.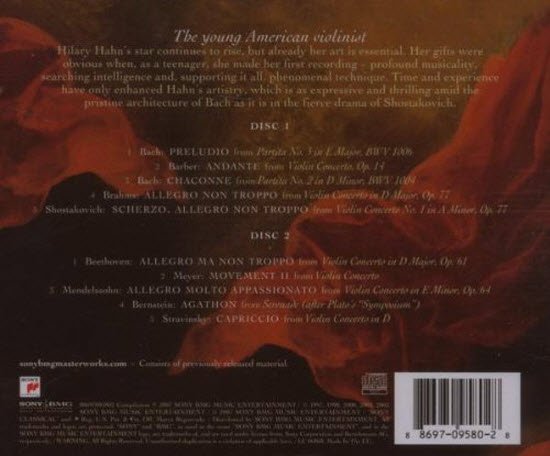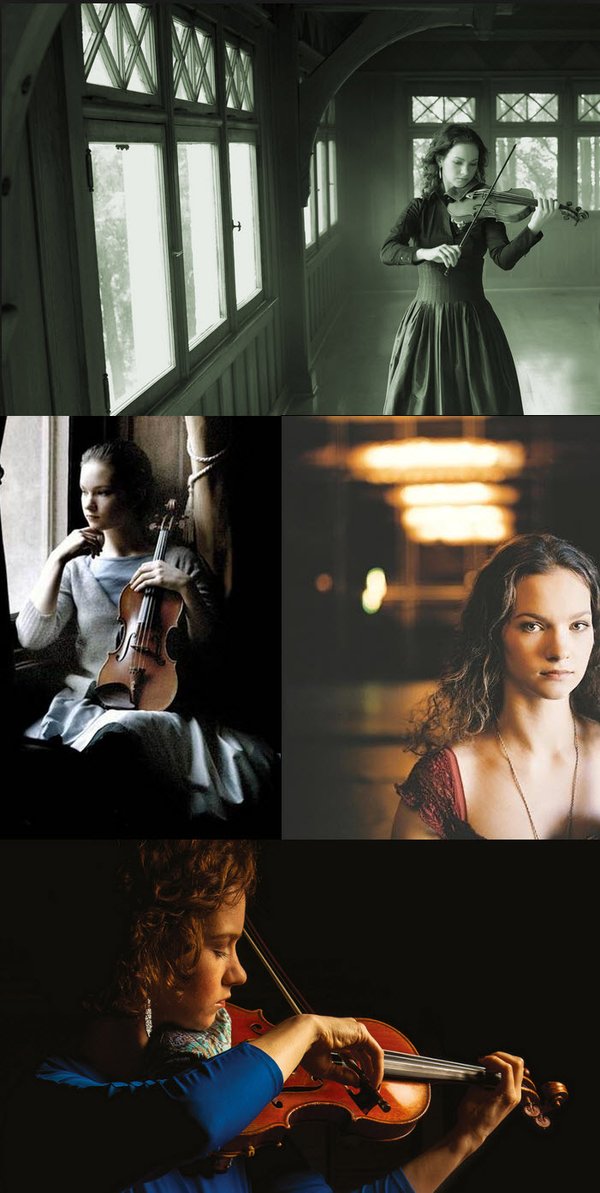 专辑曲目:
Disc One

1. Bach - Preludio from Partita No. 3 in E Major, BWV 1006
2. Barber - Andante from Concerto for Violin and Orchestra
3. Bach - Chaconne from Partita No. 2 in d minor, BWV 1004
4. Brahms - Allegro non troppo from Concerto for Violin and Orchestra in D Major, Op. 77
5. Shostakovich - Scherzo. Allegro from Concerto for Violin and Orchestra No. 1 in a minor, Op. 77

Disc Two

1. Beethoven - Allegro, ma non troppo from Concerto for Violin and Orchestra in D Major, Op. 61
2. Meyer - Movement II fromViolin Concerto
3. Mendelssohn - Allegro molto appassionato from Concerto for VIolin and Orchestra in e minor, Op. 64
4. Bernstein - Agathon (Adagio) from Serenade for Solo Violin, Strings, Harp and Percussion
5. Stravinsky - Capriccio from Concerto for Violin and Orchestra in D
这里是其它用户补充的资源(我也要补充):
暂无补充资源