专辑英文名: J.S. Bach Violin Concertos
专辑中文名: 巴哈:小提琴协奏曲集
古典类型: 全集作品
资源格式: FLAC
版本: [HDtrack 24bits 88.2KHz]
发行时间: 2003年11月11日
简介: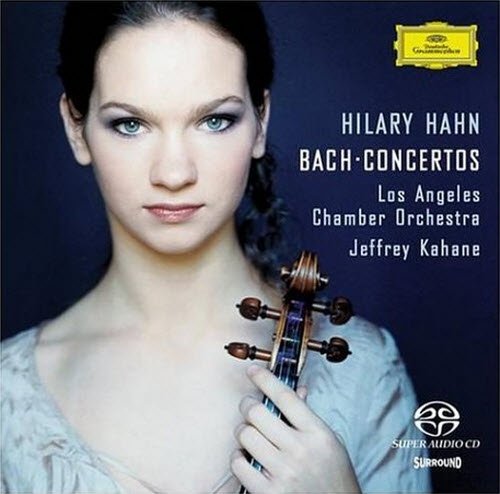 专辑介绍:

卡汉 指挥 洛杉磯室内管弦乐团

曾被美国权威媒体「时代杂誌」评选为「当今全美最杰出的古典音乐新秀」的希拉蕊‧韩,去年(2002)由慧眼视英雄的黄标DG网罗,成为旗下眾多小提琴大将诸如:克莱曼、慕特等前辈的同门师妹,为她的音乐生涯开啟崭新的一页。今年才廿四岁的希拉蕊对於巴哈情有独钟,十六岁那年她开始录制唱片,所挑选的曲目也是巴哈的作品。她认为,如果想要瞭解「音乐」这门艺术,巴哈的音乐绝对是首先要钻研的课题。加盟DG的首张录音,她也决定要从巴哈的协奏曲开始。希拉蕊的基本功稳妥扎实,与多年来所培养的丰富演出经验,琴音纯真自然,音乐里流露出非常具有说服力的自信。



  作为同时代最出色的青年小提琴演奏家之一,现年25岁的Hilary Hahn不但受到'格莱美'奖的肯定,并被《时代》誉为'全美最佳'年轻古典音乐家,频繁亮相于欧洲、亚洲、北美各大音乐会,以她成熟的深具知性美的演奏艺术征服了无数观众。

  这张专辑中Hilary Hahn对Bach的演绎,雍容华丽而不失优雅,她对音乐严肃的理解和热爱尤其体现在慢板的乐章中;遗憾的是,或许受到当前演奏潮流的影响,较快的乐章往往将音乐的内涵服从于技巧的表现:难免流于过分热情、急躁而丧失了一个成熟的严肃音乐家应有的内敛的气质。

  当然,对其中演奏的评价始终是因每个人的喜好品味而不同的。事实上,这张由DG出版发行的专辑,无论从音色制作还是Hahn及与其合作的洛杉矶室内管弦乐团(Los Angeles Chamber Orchestra)的表现来说都是非常值得一听的。

  # 特别推荐一下巴赫为双簧管、小提琴和弦乐所作的协奏曲,这裏的表现尤为动人~


CD编号 : 4746392
演奏者 : 希拉蕊韩 - 查看所有专辑
指挥家 :
乐团 :
作曲家 : 巴哈 J.S.Bach - 查看所有专辑
专辑名称 : 巴哈:小提琴协奏曲集
Concertos
音乐类型 : 古典音乐 [SACD ]
发行公司/日期 : 环球 
制作公司 :
内含片数 : 1


http://www.hdtracks.com/j-s-bach-violin-concertos

Title: J.S.Bach: Violin Concertos
Artist: Hilary Hahn, Jeffrey Kahane, Los Angeles Chamber Orchestra
Genre: Classical, Classic 100
Label: Deutsche Grammophon
Release Date: 2003

Review by Blair Sanderson [-]

Hilary Hahn is not regarded as an early music star, by any means, but her recordings of J.S. Bach's violin concertos with Jeffrey Kahane and the Los Angeles Chamber Orchestra are somewhat in the spirit of historically informed performances, and listeners who might have expected more mainstream interpretations may be pleasantly surprised. Some of the expected characteristics of Baroque period practice are here, such as fleet tempos, a small ensemble, bright sonorities, light textures, and an active harpsichord and cello continuo, and the versatility of Kahane and his group goes far to create this period quality. Hahn might have indulged in some free ornamentation and even added some improvised cadenzas, but her straightforward playing is at least clean and unaffected, and she deserves credit for her brilliant technique, which carries these pieces. While her approach to Bach isn't close to Rachel Podger's playing in authentic Baroque style, neither does it approximate the richer, heavier, "old school" style of Yehudi Menuhin, so Hahn may appeal to some listeners as a compromise between competing schools of thought. Deutsche Grammophon's recording puts Hahn in a prominent, central position, so it's easy to stay focused on her solo part in the big sound of this hybrid SACD.


引用
Violinkonzerte · Violin Concertos
No. 1 BWV 1041 · No. 2 BWV 1042
Konzert für Violine und Oboe
Concerto for Violin and Oboe BWV 1060
Doppelkonzert · Double Concerto
Hilary Hahn
Margaret Batjer · Allan Vogel
Los Angeles Chamber Orchestra
Jeffrey Kahane
Int. Release 01 Sep. 2003


Release Date November 11, 2003
Duration 57:33
Genre Classical
Styles Concerto

Performer: Hilary Hahn
Orchestra: Los Angeles Chamber Orchestra
Conductor: Jeffrey Kahane
Composer: Johann Sebastian Bach
Audio CD (September 9, 2003)
SPARS Code: DDD
Number of Discs: 1
Label: Deutsche Grammophon
ASIN: B000099156

J.S. Bach: Violin concertos/Hahn

Review by: David Hurwitz
Artistic Quality: 10
Sound Quality: 9

Hilary Hahn's first recording for DG confirms her growing reputation as one of the finest violinists of our time, irrespective of age. This is Bach playing of truly extraordinary quality, from the Los Angeles Chamber Orchestra as much as the soloist(s). Conductor Jeffrey Kahane and Hahn together bring an absolutely toe-tapping abandon to the outer movements of the E major concerto, and the central Adagio emerges as a major slow movement, pure poetry with the continuo harpsichord thankfully not too prominent but perfectly placed to add a touch of definition to the bass lines.

Perhaps what makes this collection so remarkable from the solo point of view is the fact that Hahn doesn't take the spotlight, front and center, but gives the music the chamber-like interplay and "concerto grosso" feel that produces a more "authentic" impression than many performances using period instruments. It goes without saying that her own contribution is extremely well executed, perfect in intonation, and she controls her vibrato in the slow movements in a way that never makes the music sound mushy or overly sentimental–but she remains very much "first among equals". In the double concerto, she and Margaret Batjer match their tones with uncanny accuracy, and Hahn's interplay with oboist Allan Vogel in the C minor double concerto is a model of what a gracious musical dialog should be.

In short, you won't find these works better played by anyone, or given more pleasingly listenable interpretations. My only quibble concerns DG's sonics, which turn a touch hard in the violin's upper register and only reluctantly permit a true piano in quieter passages, though given the extrovert nature of the playing there aren't all that many of those. Otherwise, the recording is excellently balanced and clear, and this is in all respects an extremely auspicious debut recording for Hahn on her new label.
引用

5.0 out of 5 stars Beautiful, collaborative playing September 10, 2003
By Dafydd Mac an Leigh
Format:Audio CD
Hilary Hahn's status as one of the new stars of classical music has been firmly established; however, she has never let her stardom go to her head. She treats the music she plays as the collaborative effort it is, playing *with* an orchestra or pianist rather than simply expecting them to accompany her. And as those of us fortunate enough to have seen her in concert can attest, she seeks out interaction with the audience as well, coming out after every performance - and sometimes during intermission too - to talk with us and sign autographs. In this new CD (her first with Deutsche Grammophon), Hahn further demonstrates her collaborative strengths with a program of Bach chamber music.
The album contains the Violin Concerti in A Minor & E (BWV 1041 & 1042 respectively), the Double Concerto (BWV 1043), and the Oboe & Violin Concerto (BVW 1060). Far from the large orchestral affairs that concerti have become, Bach wrote these pieces for the solo instrument(s), a small string section, and a harpsichord. As always, Hahn plays beautifully; her love for the music is evident from the moment she begins, and she displays it with a rich tone and great technical skill. And as befitting Bach's music, she treats her solo line as an extension of the ensemble. The ensemble, in this case, is the excellent Los Angeles Chamber Orchestra. Led by keyboardist/conductor Jeffrey Kahane, they play with energy, skill, and a real sense of enjoyment. Concertmistress Margaret Batjer and principal oboist Allan Vogel play their solo lines with Hahn as a kind of dialogue, shifting the balance back and forth as the music unfolds.
The artistry and musicianship on this album is first-rate, and the CD is sure to delight lovers of Bach, Hahn, and chamber music alike.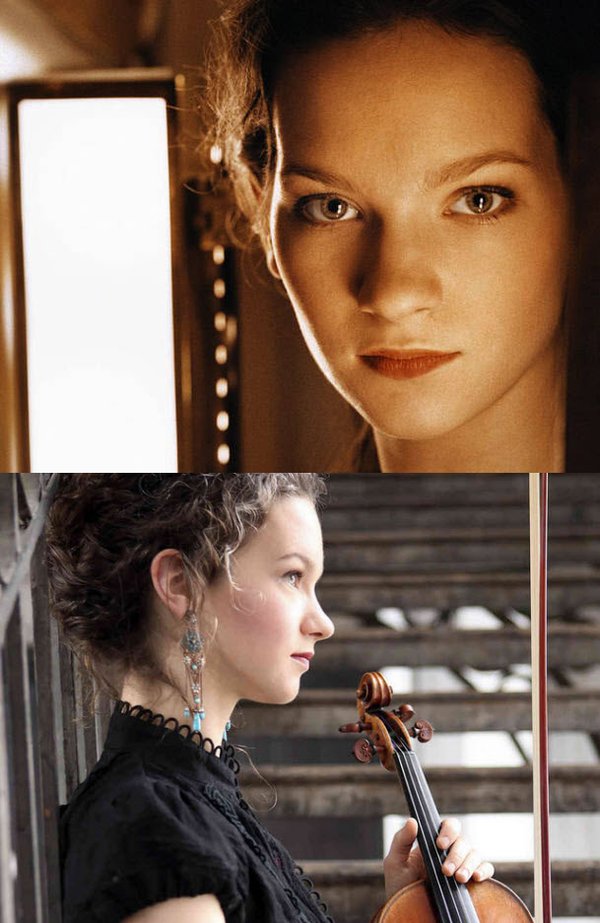 专辑曲目:
01. Violin Concerto No.2 in E, BWV 1042: 1. Allegro 6:55
02. Violin Concerto No.2 in E, BWV 1042: 2. Adagio 7:06
03. Violin Concerto No. 2 in E, BWV 1042: 3. Allegro assai 2:25
04. Concerto for 2 Violins, Strings, and Continuo in D minor, BWV 1043: 1. Vivace 3:13
05. Concerto for 2 Violins, Strings, and Continuo in D minor, BWV 1043: 2. Largo ma non tanto 6:50
06. Concerto for 2 Violins, Strings, and Continuo in D minor, BWV 1043: 3. Allegro 4:13
07. Violin Concerto No.1 in A minor, BWV 1041: 1. Allegro moderato 3:23
08. Violin Concerto No.1 in A minor, BWV 1041: 2. Andante 6:44
09. Violin Concerto No.1 in A minor, BWV 1041: 3. Allegro assai 3:20
10. Concerto for 2 Harpsichords, Strings, and Continuo in C minor, BWV 1060 - Arr. for violin, oboe stri 4:30
11. Concerto for 2 Harpsichords, Strings, and Continuo in C minor, BWV 1060 - Arr. for violin, oboe stri 5:20
12. Concerto for 2 Harpsichords, Strings, and Continuo in C minor, BWV 1060 - Arr. for violin, oboe stri 3:14
这里是其它用户补充的资源(我也要补充):
暂无补充资源