专辑英文名: Mozart & Haydn - Duo Sonata
专辑中文名: 莫札特海顿小.中提琴二重奏
古典类型: 全集作品
资源格式: FLAC
版本: [2.0 24bit 192KHz]
发行时间: 2011年
简介: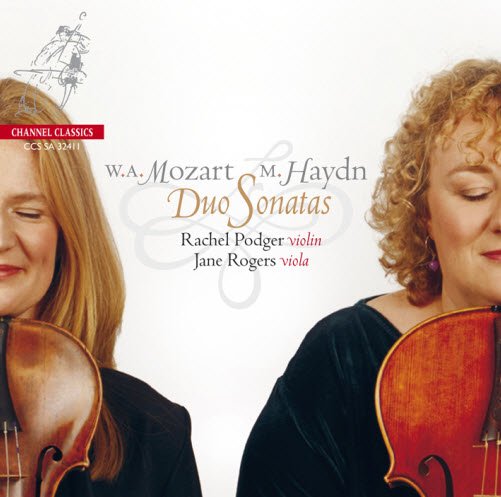 专辑说明:

 拉克儿‧波洁 Rachel Podger,出生於英国,在德国的鲁道夫斯坦因音乐学校习音乐,然后再回英国习小提琴,曾在Guildhall学校师事Perry Hart,和多位大师习音乐,后来喜爱上古乐器与音乐,逐而三加古乐团,成为小提琴古乐家。

 她最喜爱拉奏十七世纪和十八世纪的古乐曲,在1997年她并和古乐指挥家宾诺克合作过演出,她现在是乐坛的顶佳独奏家及演出家,受各地的竞邀不断。

 本片她拉奏莫札特与海顿的小提琴与中提琴的二重奏曲共五首,她以1739年制造的巴洛克名琴"Pesarinius" Genoa的漂亮声音,加上女中提琴家Jane Rogers,二人真是完美无缺及优美的詮释,使本片的音乐更有活生感,空气感及音响性完美!


丝路碟评

屡获多个国际重要奖项包括<留声机杂誌(Gramophone)>大奖的女小提琴家普捷(Rachel Rodger) 所推出的专辑每次均好评如潮,更荣获多本权威音乐杂誌如"留声机杂誌(Gramophone)"、"时代週刊(Times)"等的编辑推介,与及荣获"分音音乐(Diapason d'Or)"大奖,其深厚的造诣与及技巧和感情的表达都是绝顶出色,能奏出活泼而生动兼音色纯净而细腻的琴音,绝对妙极。知名遍及欧美的女中提琴演奏家珍.罗杰斯(Jan Rogers)所灌录的录音至今超过200张,非常活跃於乐坛,她除了是"阿姆斯特丹弦乐四重奏(The Amsterdam String Quartet)"的成员之一外,还是英国顶尖圣乐团" Florilegium"的创立人,深受乐迷拥戴。普捷与及珍.罗杰斯的首度合作以双提琴合奏带来两位音乐巨匠莫扎特(W.A.Mozart)与迈克尔.海顿(Michael Haydn)多首给二重奏的作品选包括莫扎特的[G大调给中、小提琴的二重奏,KV423(Duo for violin and viola in G major, KV423)]、[降B大调给中、小提琴的二重奏,KV424(Duo for violin and viola in B flat major, KV424)]、[12首给法国号二重,KV487奏的小步舞曲(12 Duos for Horn,KV487—Menuetto)],与及迈克尔.海顿(Michael Haydn)的[C大调第1给中、小提琴的二重奏,MH335(P127)(Duo for violin and viola No.1 in C major, MH335(P127]、[D大调第2给中、小提琴的二重奏,MH336(P128)(Duo for violin and viola No.2 in D major, MH336(P128)],配合最顶级的SACD录音制式制作,十足的空间感及现场感,全力推荐这张火花之作!


Duo Sonatas - Mozart, Haydn

Podger, Rachel - violin
Rogers, Jane - viola

Mozart, Haydn

制造商:CHANNEL CLASSICS
SACD编号:CCS-32411
售价:750元(2SACD,CD可读)

http://www.channelclassics.com/podger-32411.html

Sunday Times

15th January 2012


"Wisely, Podger and Rogers have recorded only two of Haydn's four agreeable contributions to the set: they pale besides the Mozart duos, which, in these lush-sounding performances, seem like studies for the great set of quartets dedicated to Michael's older sibling."
Gramophone Magazine

January 2012


"No virtuoso excitement, but a virtuoso ease to the rhythmic elasticity of the playing; and the sinuous lines, the subtle variations within sonorities, the enuciation of inflections and nuances that cannot be written, all amount to an artist's right to interpretation. Podger and Rogers use theirs, adding tonal gradations to long sections of K424 that Mozart left bare. They do him proud."
Classic FM Magazine

March 2012

****


"So well matched are Rachel Podger and Jane Rogers that they sound musically inseparable. Remarkably fresh and spontaneous-sounding performances, meticulously voiced and balanced, that are models of Classical poise and precision."
MusicWeb International

January 2012


"Their use of gut strings makes for a different timbre, slightly more throaty than with the more up to date versions, though there is no lack of sparkle and upper resonance in the sonorities produced. These musicians don't go overboard seeking dramatic effect or extra expressive emphasis, playing within the character of their instruments and bringing the music to life very effectively indeed."

WA Mozart & JM Haydn - Duo Sonatas - Jane Rogers & Rachel Podger
Genre: classical
Country-disk manufacturer: Germany
Publishing year: 2011
Publisher (label): channelclassics
Catalog number: 32411
Country: Germany
Audio Codec: FLAC (*. Flac)
Format: tracks
Format: Studio Master
Audio Bitrate: lossless 24/192
Duration: 72.37

Rachel Podger
Rachel Podger is one of the most creative talents to emerge in the field of period performance. Over the last two decades she has established herself as a leading interpreter of the music of the Baroque and Classical periods...


Performers:

Rachel Podger - violin
Jane Rogers - viola


Mozart Duo for violin and viola in G major KV. 243
Haydn Duo for violin and viola No. 1 in C major - MH 335
Mozart Duo for violin and viola in B flat major - KV 424
Haydn Duo for violin and viola No. 2 in D major MH 336
Mozart Menuetto (from 12 Duos for Horn - KV 487

Introduction:
The Duos for Violin and Viola by Mozart have long been favourite pieces of ours – pieces we'd take out and play when there wasn't a keyboard player or cellist to hand, or busk as teenagers to earn extra pocket money. Back then, the audience's response clearly indicated how appealing these pieces were as our takings always doubled when we played them!
These works never cease to amaze – Mozart uses the two instruments so effectively and with such exquisite craftsmanship that he never leaves one wondering where the rest of the string quartet might have gone….They are also hugely engaging to play and so endlessly
rich and interesting that the appeal to the listener is guaranteed. Mozart's reference to other genres is always fascinating. In this case the writing is dramatic, operatic even (the violin taking the role as soprano diva (!) and the viola as the heroic tenor?!). One could perhaps go as far to say that these duos are distillations of the art of chamber music as in the Haydn quartets, but more naturally recreational and less self-conscious.
For a violist they are about as exposed as you can be; hitherto very few sonatas or concerti had been written for solo viola – and the accompaniment would seldom have been as scant as a single violin. The conversational and imitative nature of the writing allows for freedom and
characterization, and it was refreshing and rewarding to be as spontaneous as possible in the recording sessions. It was also a diverting and enjoyable experience to record two of the Michael Haydn duos, previously unknown to us both. The character of these pieces is often reminiscent
of Austrian folkmusic and it really seems as if you can hear the yodelling vernacular bouncing off the mountains in timely echoes. The challenges in these works are quite different to those of his friend Wolfgang – the demands placed on the violinist are obvious as the writing is busy,
yet in need of a casual fluidity, whereas the violist has the task of being constantly inventive with material which is largely accompanimental (melody and bass, in effect). Who knows?
Maybe Wolfgang and Michael tried these out during Mozart's visit to Salzburg when he helped his friend complete a set of six Sonatas in 1783.
Rachel & Jane
Duos for Violin and Viola


引用
BBC Review

A warm ambience pervades this highly recommended album.

Graham Rogers 2012

Following her excellent series of Mozart's sonatas for violin and piano for Channel Classics, expert period-instrument violinist Rachel Podger now turns to the lesser-known duo sonatas for violin and viola. The two sonatas' relative unfamiliarity can mainly be put down to rarity of opportunity of performance; for musical invention and sunny appeal they rival many of Mozart's best chamber works. Podger and her violist partner Jane Rogers say they have long been favourite pieces of theirs (not least because the sonatas always ensured them double takings when busking as teenagers!) and their enthusiasm is borne out by these lively and committed performances.

Written in 1783, after Mozart had been settled in Vienna for a couple of years, the sonatas were actually the product of a return visit to his native Salzburg. His friend and fellow composer Michael Haydn (younger brother of Joseph) was still employed by the Archbishop of Salzburg, for whom he was struggling to complete a commission for six violin and viola duos. Haydn had finished four sonatas; Mozart stepped in to complete the set with two more.

Haydn's sonatas are attractive pieces that are certainly worth hearing, but it is no great shame that Podger and Rogers include only two of them on this album: his affable but classically conformational style pales beside the extrovert originality of Mozart's contributions. Building on the masterfully engineered relationship between solo violin and viola in his Sinfonia concertante K.364, Mozart revels in the operatic opportunities offered by – as Podger and Rogers put it, with only slightly fanciful exaggeration – "soprano diva" and "heroic tenor". Anyone imagining that the works might lack depth, without piano or cello accompaniment, need only listen for a few minutes to be convinced by the richness and extraordinary variety of Mozart's writing – especially in such vibrant and beguiling performances.

The splendid recording has a warm ambience without compromising clarity – but, listening on headphones at least, there is a disturbing amount of traffic noise from outside All Saints Church, East Finchley. This is a pity but, once adjusted to, doesn't detract too much from an otherwise delightful and highly recommended album.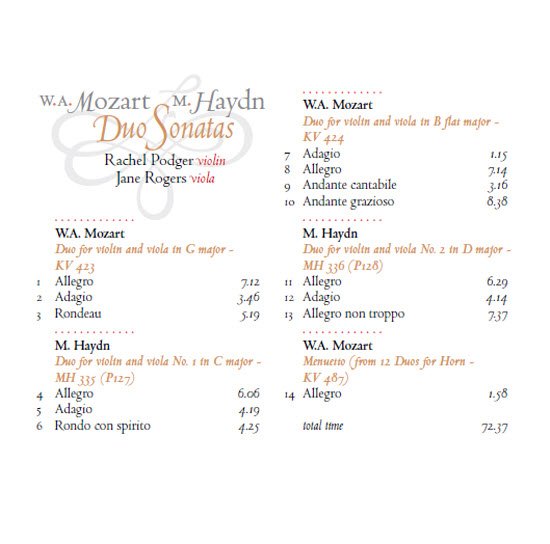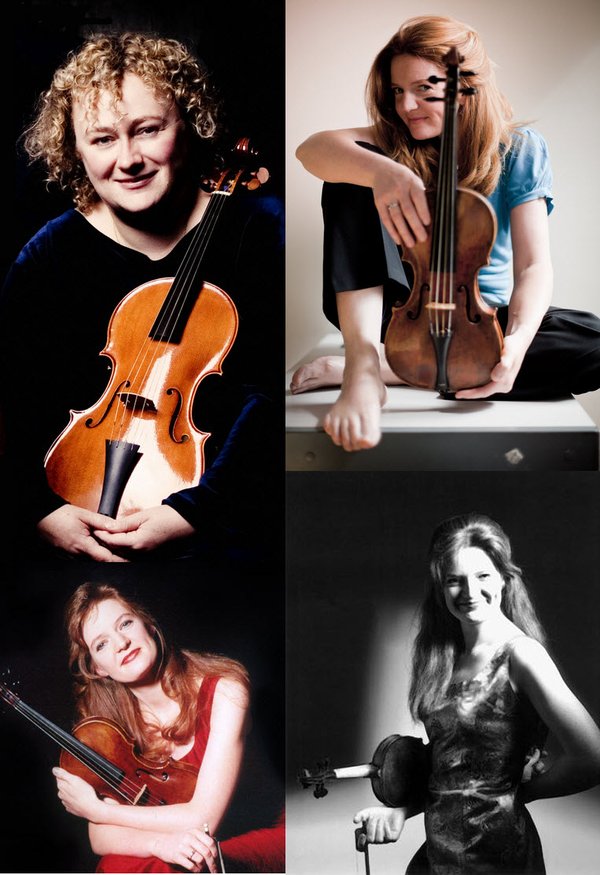 专辑曲目:
Wolfgang Amadeus Mozart (1756-1791)
Duo for violin and viola in G major - KV 423
01 - I. Allegro
02 - II. Adagio
03 - III. Rondeau
Michael Haydn (1737-1806)
Duo for violin and viola No. 1 in C major - MH 335 (P127)
04 - I. Allegro
05 - II. Adagio
06 - III. Rondo con spirito
W.A. Mozart
Duo for violin and viola in B flat major - KV 424
07 - I. Adagio
08 - II. Allegro
09 - III. Andante cantabile
10 - IV. Andante grazioso
M. Haydn
Duo for violin and viola No. 2 in D major - MH 336 (P128)
11 - I. Allegro
12 - II. Adagio
13 - III. Allegro non troppo
W.A. Mozart
Menuetto (from 12 Duos for Horn - KV 487)
14 - Allegro
这里是其它用户补充的资源(我也要补充):
暂无补充资源