专辑英文名: Mendelssonn & Shostokovith Violin Concertos
专辑中文名: 孟德尔颂、萧士塔高维契 : 小提琴协奏曲
古典类型: 协奏曲
版本: [SACD-r]
发行时间: 2002年11月05日
简介: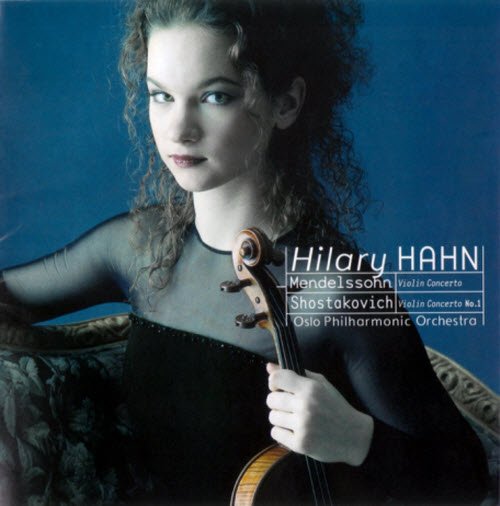 专辑介绍:

本专辑荣获2002年葛莱美古典音乐奖

希拉蕊.韩是当今美国乐坛一颗闪耀而明亮、指日可待的古典巨星。3岁开始习琴,师从比利时小提琴大师易沙意的弟子约夏布洛斯基为师,九岁时就与大卫辛曼指挥的巴尔特摩交响乐团登台,10岁时就破格进入寇蒂斯音乐院就读,15岁时赴欧与罗林马杰尔指挥的巴伐利亚广播交响乐团演奏贝多芬的小提琴协奏曲的实况,传遍欧洲,两个月后就获得象徵美国最高音乐荣誉的Avery Fisher奖。17岁时由Sony唱片发行的第一张专辑「巴哈无伴奏小提琴组曲」不但被D'iapason's评选为年度金唱片,同时一举衝上Billboard古典榜数週之久;第二张专辑是贝多芬的小提琴协奏曲同样被D'iapason's评选为年度金唱片,并获葛莱美奖提名与德国回声唱片大奖;2001年灌录的第四张专辑-布拉姆斯与史特拉汶斯基的小提琴协奏曲一举赢得了葛莱美古典音乐奖;2002年的第五张专辑-孟德尔颂与萧士塔高维奇的小提琴协奏曲再次赢得了葛莱美古典音乐奖。

孟德尔颂、萧士塔高维契 : 小提琴协奏曲 / 希拉蕊‧韩 (小提琴) Hilary Hahn / Mendelssohn:Violin Concerto、Shostakovich:Violin Concerto No.1

唱片公司:SONY MUSIC
作曲家:孟德尔颂,Dmitri Jnr Shostakovich
演出者:Hilary Hahn
音乐类型:古典音乐
唱片编号:SK89921
高价版 / CD / 1 片装 / 63分50秒



  Hilary Hahn在22岁时演奏录制的这张专辑,包括浪漫主义作曲家门德尔松最广为流传的小提琴协奏曲和20世纪作曲家Shostakovich的第一小提琴协奏曲,对于门德尔松的演绎可能最为人们所称道的是郑京和1972年在伦敦金威氏大厅的现场版本,不过Hahn的技艺与才华也足够胜任这裏的演奏,她的阐释浪漫、优美、细腻;而对萧斯塔科维奇音乐中阴冷失望和讽刺的特质也有独到而充分的表现,尽管以她的年龄来看,阐释这样的作品在思想上也许比较难以接近。

  另外,也许Hilary Hahn有足够的理由把这两部作品放在一起,我的感觉听起来还是会有些情绪上的不连贯。

  专辑名称:Mendelssohn: Violin Concerto; Shostakovich: Violin Concerto No. 1
  作 曲 家:Felix Mendelssohn, Dmitry Shostakovich
  指 挥 家:Hugh Wolff, Marek Janowski
  演 奏 家:Hilary Hahn
  演奏乐团:Oslo Philharmonic Orchestra
  专辑类别:古典音乐1CD
  发行公司:Sony
  发行日期:November 5, 2002
  音乐流派:Romanticism/20th Century

Performer: Hilary Hahn
Orchestra: Oslo Philharmonic Orchestra
Composer: Dmitri Shostakovich, Felix Mendelssohn
Audio CD (November 5, 2002)
Number of Discs: 1
Label: Sony
ASIN: B00006LWQH


引用
5.0 out of 5 stars Ebullient Mendelsohn, probing Shostakovitch August 11, 2003
By "windsurfing_buddy"
Format:Audio CD
Hilary Hahn is really quite astonishing! Start with the pacing of the Mendelsohn. The first and third movements are among the fastest performances I have yet heard, but because she articulates every note so clearly, it never sounds rushed - simply mercurial! This is beautifully, beautifully done. Tonal colors are like a fireworks display - kaleidoscopic and tailored to each phrase.
The Shostakovitch is probing. From the outset the violin tone settles into an otherworldly quality that suggests unspeakable tragedy. Moving through a searing second movement into the Passacaglia, Ms. Hahn, for all her beauty of tone and sensitivity of phrasing is let down a little by a relatively impotent orchestral brass section. I heard her do this concerto in Carnegie Hall with the Royal Concertgebouw orchestra and I so wish she had been able to do this recording with them. Their low brass opened the Passacaglia movement with a menacing snarl not even suggested here. That set off and contrasted perfectly with the sweet open tone of the violin, as it transformed the menace of the horns into the soul-wrenching soprano soliloquy Shostakovitch intended.
Hahn does her part but the Oslo orchestra or the recording does not. The burlesque however, makes up for any previous shortcomings and overall, I advise everyone to buy this SACD.
I have to admit I heard Vadim Repin (also a wonderful performer) and the Czech Philharmonic in Carnegie do this same concerto and Repin was similarly let down by the Czech Philharmonic as was Hahn by the Oslo Orchestra in the Passacaglia as compared with the Concertgebouw, so it probably wasn't the recording so much as the orchestra. Interestingly, Hahn was, and in this recording is, intense where Repin (that night, at least) was cool. I would have expected otherwise.
The Mendelsohn is truly sensational and the Shostakovitch very satisfying despite my quips about the orchestra. You really owe it to yourself to get this!
引用
Album Rating: A-

Audio Ratings (SACD 5.1/2.0): A/A

Extras Rating: N/A

Specs and Features

64 mins, single-sided, dual-layered, jewel case packaging, liner notes booklet, track access (8 tracks - see track listing below), audio formats: SACD DSD 5.1 & 2.0

Stereo Mix Produced by: Thomas Frost
5.1 Mix Produced by: Thomas Frost
DSD Engineer: Andrew Granger

Hilary Hahn (violin), Oslo Philharmonic Orchestra (Mendelssohn Violin Concerto - Hugh Wolff, Conductor/Shostakovich Violin Concerto 1 - Marek Janowski, Conductor)


Hilary Hahn was recently called America's best young classical musician by Time magazine. Not that I'd hang my hat on anything musically meaningful within those pages, but in this case, I'd have to agree. But to dwell on the fact that Hahn is 22 and then to remark on how surprisingly well she plays is to completely miss the mark and also to qualify her ability; she's no longer a child prodigy. Her playing is quite mature and her interpretations confident. Her cup of talent is full to the brim.

Hahn's relationship with Sony began with 1997's Hilary Hahn Plays Bach, and has recorded several of the established warhorse violin concerti for Sony. Her latest Sony release tackles the Mendelssohn and the Shostakovich First, which, if you read the liner notes - written by Hahn incidentally - will tell you that they were written under opposite circumstances. Mendelssohn's, written while on vacation, is sweet, happy, and full of life. Shostakovich's was written under the full weight of Stalin's pressure. In fact, his music was frequently scrutinized and judged vulgar and an example of "formalism," which was not acceptable under the Stalin regime. Shostakovich's first violin concerto premiered nearly two years after the death of Stalin to triumphant reviews. But enough of history lessons.

Hilary Hahn's version of the Mendelssohn concerto is outstanding. Her sweetness of tone is emphatic yet not overtly emotional, which if not properly gauged can kill a performance of this wonderful concerto. Technically, her playing is superb. She is given sympathetic and thoughtful support from the Oslo Philharmonic Orchestra led by Hugh Wolff. But there are occasions when I wished the orchestra didn't stay right on her. This is an exuberant work were the soloist dazzles; there is no need for an orchestra to propel the violinist along. Hahn is in complete command of the Mendelssohn piece. Nothing is lacking in her interpretation of Mendelssohn, and although there might be more glorious versions, (Heifetz's recording with Charles Munch and The Boston Symphony Orchestra or Menuhin with Wilhelm Furtwangler and The Berlin Philharmonic come to mind), her performance is first rate. The sound on the Hahn disc is extraordinary, owing to the high quality audio afforded by the SACD process.

As for her recording of the Shostakovich First, I stand alone. Many have torn her version to pieces and I have to wonder if they've all just been rewriting each other's reviews. I really enjoyed her performance, and the support by The Oslo Philharmonic is nearly dead on. Having said this, I don't believe it is the best version available, but you could go way worse with other recordings, plus the sound is breathtaking and rarified. Here, Hahn and the orchestra play as of the same mind in the same moment.

In the first movement (Nocturne), she plays with some lightness (but no lack of profundity) and agility. Hahn finds the humor in the otherwise grotesque mocking of the second movement (Scherzo). The third movement (Passacaglia) opens ponderously and perhaps not as stultifying and full of dread as the first movement. Approximately six minutes into the Passacaglia, Hahn's violin briefly takes on incredible tone, ceasing to sound like a violin at all; if you don't get a chill from this you must be dead. Short digression. At this point, I stopped Hahn's disc and put on my copy of Vadim Repin's version of the Shostakovich First (Erato 10696) and listened to the same passage. Here, then, is the reason why the vaults of the great music corporations should be opened wide and the best performances put on SACD. Repin's playing here is even more extraordinary, and on CD, his passage almost breaks through like Hahn's, but the musical shine of the SACD recording renders Hahn's violin that much more insistent and puts Hahn's passage over the top. This, for me, demonstrates strongly and persuasively for the reissuing of Repin's, Lydia Mordkovitch's (Chandos 8820), and particularly Maxim Vengerov's versions (see below) of this masterpiece on SACD so that all top-flight performances can be judged on a (reasonably) level playing field.

Back to the cadenza: Hahn's solo cadenza, at the end of the third movement, is heartbreakingly poignant and profound. This is sublime playing and helps puts her version among the top echelon of the Shostakovich's First Violin Concerto recordings. The written score here drips with desolation and the desperation of someone trying to find his or her way out of (a personal?) Hell. The cadenza, which formally is the last section of the third movement (Passacaglia), falls right into the beginning of the breathtaking fourth movement (Burlesque). Some might quibble that Hahn's violin is balanced forward in the soundscape (I don't, and this is fairly typical of Sony Classical recording mixes), but the exceptional timbre is not unnatural in anyway. Put this in your collection along side those recordings made by Midori, Repin, Vengerov, Mordkovitch, or the work's dedicatee, David Oistrakh.

If you've not heard this music, and don't mind a little soul-wrenching music complete with gut-hitting sonorities, do yourself a favor and pick up a copy of Hahn's concerto recording. I'm not exaggerating when I say that this music will affect you for hours after you've finished listening. You won't be disappointed. Plus, the excellent Mendelssohn concerto will cheer you up.

The two-channel stereo mix on this SACD sounds very good; crisp highs, deep bass, and quite good separation all around. However, the multitrack surround mix is just that much more. The whole soundstage is fuller; I felt immersed in the glorious soundscape emanating from my speakers. (Nonetheless, it's important to note that the surround effect is subtle rather than over-the-top.) You'll feel like you are traveling on the edge of Hahn's bow. That's how clear and magnified the sound is on this DSD master. Would that more recordings of these masterpieces were available on SACD. Between the two mixes I found myself listening more often to the multichannel much more frequently; the orchestra might just as well by in my listening room with me flapping my arms... I'm mean conducting. I do have one bone to pick and it doesn't have to do with the recording. It would behoove Sony to release its new SACDs as hybrid disks that contain CD-compatible mixes. You might want to play your disk on a boom box or in the car (CD) and then put the disc in your great sound system in your home (SACD), but not too many people are willing to shell out for two discs for maximum player compatibility. Additionally, in order for the SACD platform to take off and become well-established, the prices of these disks will have to remain competitive with those of CDs.

Looking for a good place to start the addition of your first classical SACD? You won't be disappointed by starting here.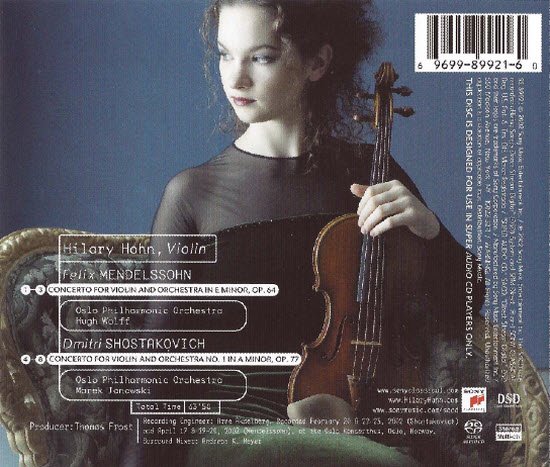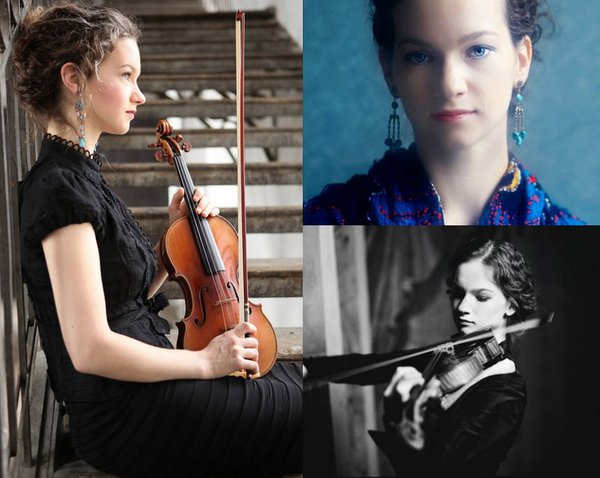 专辑曲目:
Concerto for Violin and Orchestra in E Minor, op. 64 - Felix Mendelssohn

1. I - Allegro molto appassionato
2. II - Andante
3. III - Allegretto non troppo- Allegro molto vivace

Concerto for Violin and Orchestra No. 1 in A Minor, op. 77 - Dimitri Shostakovich

4. I - Nocturne Moderato
5. II - Scherzo Allegro
6. III - Passacaglia Andante
7. Cadenza
8. IV - Burlesque Allegro con brio
这里是其它用户补充的资源(我也要补充):
暂无补充资源