专辑英文名: Air The Bach Album
专辑中文名: 琴诉巴哈
古典类型: 全集作品
资源格式: FLAC
版本: [HDTrack 24bits 96KHz]
发行时间: 2012年
简介: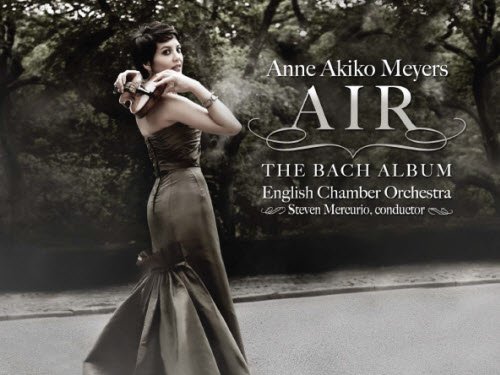 专辑介绍:

史提芬.梅库里欧 指挥 英国室内管弦乐团

★亚马逊5颗星评价
★史特拉第瓦里名琴 1730年「西班牙皇家」&1697年「摩里特」

美日混血小提琴家安.梅耶(Anne Akiko Meyers) 出生於美国圣地牙哥,不凡的音乐魅力来自於她出眾的外型,以及与生俱来的音乐天赋。4岁开始习琴,毕业於茱莉亚音乐学院,师事小提琴教母的桃乐丝.狄蕾(Dorothy Delay)、日裔名师川崎雅夫(Masao Kawasaki)、著名小提琴家Felix Galimir等人。11岁时,安.梅耶首次登台与洛杉磯爱乐合作演出,隔年与祖宾.梅塔及纽约爱乐合作,青少年时期,她的演奏足迹已经遍及世界各地。18岁时,安.梅耶与皇家爱乐合作灌录第一张专辑,演出巴伯、布鲁克小提琴协奏曲,立即成为同年纪音乐家里最耀眼的小提琴家。儘管安.梅耶管长年与世界知名乐团合作,但她却十分神祕低调,媒体曝光度比其它的女小提家还要少。但她在音乐界却拥有超人气风评,包括非古典界的艺人,美声男伶、温顿马沙利斯、麦可.波顿、克里斯.伯堤…等都要指名与她合作。

安.梅耶不仅热爱音乐,更喜爱名琴,她拥有两把义大利制琴大师「史特拉第瓦里」(Stradivarius)的名琴,分别是1730 Royal Spanish和1697 Molitor。在Tarisio的拍卖会上,安.梅耶以360万美金的高价买下1697年的Molitor,创下小提琴拍卖最高价,安.梅耶说她一听琴声,就迷恋上这把琴。这把名为「摩里特」(Molitor)的名琴,名字源自於其中一位收藏者拿破崙时代的一位将军,摩里特伯爵(Gabriel-Jean-Joseph Molitor)。

本专辑为安.梅耶第24张专辑,并力邀「无情荒地有琴天」、「挥洒烈爱」等电影配乐、最能传达浪漫气息的指挥家史提芬.梅库里欧指挥英国室内管弦团。收录了巴哈第一、二号小提琴、双小提琴、大键琴协奏曲以及著名的「G弦之歌」。光是一首「G弦之歌」就已是美得令人嘆息,动人的演出绝对能让您感受到前所未闻的巴哈之美。

产品条码: 4897012124512
产品编号: EVSA191
发行公司: 极光音乐 [发行商品]
发行日期: 2012年05月05日
发行类型: CD . 古典 . 协奏曲 . 小提琴 .
内装片数: 1片

http://www.hdtracks.com/classic-100-classi...ch-album
Title: Air: The Bach Album
Artist: Anne Akiko Meyers, English Chamber Orchestra
Genre: Chamber Music, Classic 100 Classical
Label: eOne Music
Release Date: 2012

这张专辑首当其冲即是巴赫最有名的G弦上的咏叹调、
另外最大亮点是Meyers最近拿到了1697年的斯特拉迪瓦里小提琴"Molitor"之后,
她决定用两把不同的小提琴演奏巴赫双小提琴协奏曲的两个部分,真是很有意思的想法,
她自己则开玩笑地表示,"这真的是我自己第一次认同"我搭档"的演奏"

低调浪漫的奢华之美,安.梅耶 带你走入巴哈世界里,永恒的纯真年代

【曲目】
01. 'Air' from Orchestral Suite No.3 in D major BWV 1068 G弦之歌 (选自 第三号管弦乐组曲)

Violin Concerto No.1 in A minor BWV 1041 第一号小提琴协奏曲
02. I Allegro moderato
03. II Andante
04. III Allegro assai

Violin Concerto No.2 in E major BWV 1042 第二号小提琴协奏曲
05. I Allegro
06. II Adagio
07. III Allegro assai

08. 'Largo' from Concerto for Harpsichord in F minor BWV 1056 慢板(选自 第五号大键琴协奏曲)

Concerto for Two Violins, Strings and Continuo in D minor BWV 1043 D小调双小提琴协奏曲
09. I Vivace
10. II Largo ma non troppo
11. III Allegro

12. Ave Maria 圣母玛利亚

Akiko Meyers is celebrated as one of the world's premiere concert violinists.

An American concert violinist, Meyers has toured and collaborated with a number of symphony orchestras and Il Divo, Chris Botti and Wynton Marsalis. Meyers tours with a 1730 Stradivarius violin called the 'Royal Spanish'. She is also the owner of a 1697 Stradivarius called the "Molitor", which is was believed to have been owned by Napoleon Bonaparte. She purchased the 'Molitor' from Tarisio Auctions on October 14, 2010 for US$3,600,000, the highest recorded auction price for any musical instrument in history until the Lady Blunt was sold on June 20, 2011.

Anne's newest release, 'Air-The Bach Album' featuring the A minor & E Major Concerti plus the Double Concerto, where she played both parts on the 1697 Ex-'Molitor/Napoleon' and 1730 'Royal Spanish' Stradivarius violins, was released on Valentine's Day in 2012 and has been the #1 seller on the Amazon & iTunes classical chart since it's February 14th release.

Anne thinks the golden purity of the tone of the `ex-Molitor/Napoleon' Strad, contrasts beautifully with the darker timbre of the 1730 "Royal Spanish" Strad, on which she recorded the second violin part. The distinctive voice of each violin gave Meyers the idea of recording both parts of the Double Concerto, as she feels like she sounds like a different violinist on each instrument.

It was magical recording the Bach album with the English Chamber Orchestra and the 'Ex-Molitor/Napoleon' Stradivari violin, dated 1697. The special combination of beautiful repertoire, including 'Air', 'Largo' and 'Ave Maria', the Violin Concertos and the fresh take of recording both parts of the Double Concerto on 2 different Strads was purely joy to make.


引用
English Chamber Orchestra
Steven Mercurio
Title: Air: The Bach Album
Artists: Anne Akiko Meyers - Violin
English Chamber Orchestra
Steven Mercurio - Conductor
Label: eOne Music
Release Date: 2012

On this profound audiophile recording, extraordinaire violinist Anne Akiko Meyers explores the influential masterworks of Johann Sebastian Bach. Included in the repertoire are Bach's Concertos Nos. 1 & 2, the Concerto for Two Violins, and exquisite arrangements of "Air," "Ave Maria," and "Largo." Meyers' third release for eOne showcases the virtuoso performer's golden tone and refined interpretation. The centerpiece on the album is Bach's Concerto for Two Violins, both parts performed by Meyers on her Stradivarius violins. Her polished performance sounds as if two soloists performed the concerto. This compelling listen is vital for any classical musical lover's collection.


Review by James Manheim [-]

This release by California violinist Anne Akiko Meyers looks both backward and forward. Meyers' playing is a throwback to a style of Bach playing that was common a couple of generations ago but isn't much heard anymore: flowery, heavy on the vibrato, a bit sentimental, with moments of slight tempo rubato in both the violin and the orchestral accompaniment of the English Chamber Orchestra (which was always the go-to group for this style) under Steven Mercurio. The novelty factor here involves the magic of overdubbing, which has been commonplace in pop since Patti Page's hits of the 1940s but is still a rarity in classical music: Meyers uses a pair of Stradivarius violins in the Concerto for two violins, strings, and continuo in D minor, BWV 1043, playing both herself. Whether or not you are fully on board with these approaches, you're likely to agree that Meyers executes them both quite well. Her pitch is precise in the Violin Concerto in A minor, BWV 1041, and she pulls on the heartstrings in the arrangements of the so-called Air on a G string from the Orchestral Suite No. 3 in D major, BWV 1068, and the Bach/Gounod Ave Marie. But the real attraction is the Double Concerto, where Meyers makes the most of her two violins, the "Molitor" of 1697 (the violin I part) and the "Royal Spanish" of 1730. The latter has a slightly rougher tone that Meyers deploys very effectively in its lower register. Though it's not everyone's cup of tea, this recording has met with well-deserved commercial success.

Recorded May, 2011 at LSO at St.Luke's in London, England and September, 2011 at Performing Arts Center in Purchase, NY Produced by Susan Napodano DelGiorno? Engineered by Phil Rowlands? Additional engineering, mixing and mastering by Silas Brown 1 Ex-'Molitor/Napoleon' Stradivarius 1697 and 'Royal Spanish' Stradivarius 1730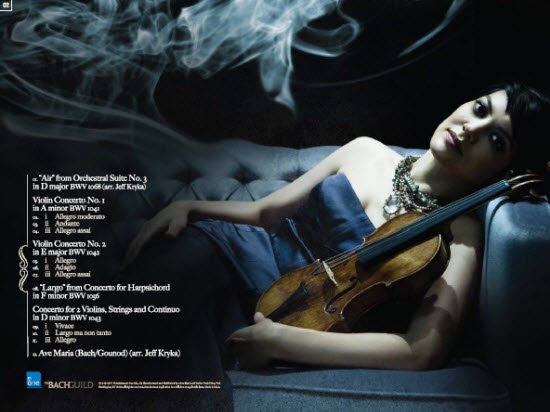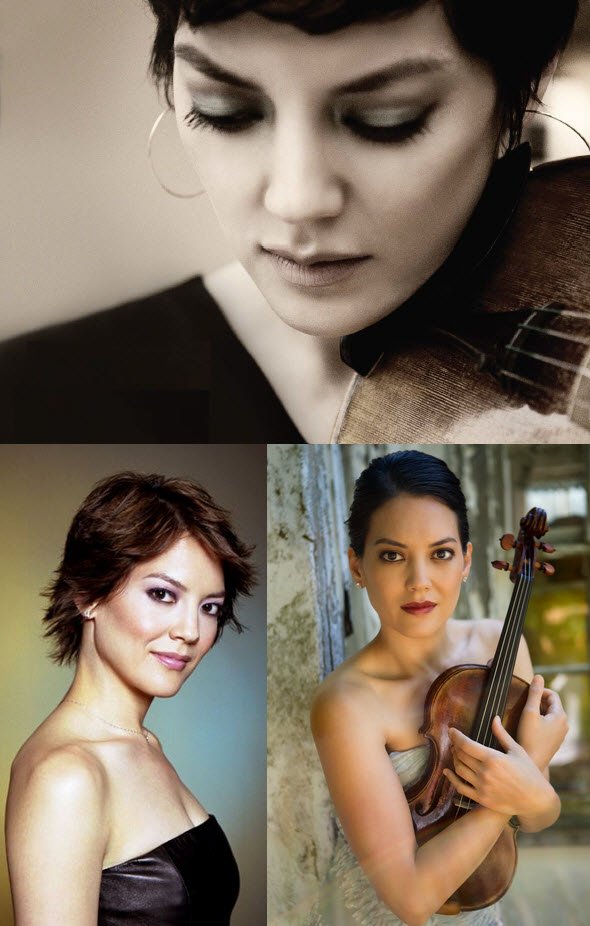 专辑曲目:
01. 'Air' from Orchestral Suite No.3 in D major BWV 1068 (arr.Jeff Kryka)[/b] (5:13)

Violin Concerto No.1 in A minor BWV 1041
02. 1 Allegro moderato (3:35)
03. 2 Andante (6:21)
04. 3 Allegro assai (3:28)

Violin Concerto No.2 in E major BWV 1042
05. 1 Allegro (7:35)
06. 2 Adagio (6:42)
07. 3 Allegro assai (2:44)
08. 'Largo' from Concerto for Harpsichord in F minor BWV 1056 (3:18)

Concerto for Two Violins, Strings and Continuo in D minor BWV 1043
09. i Vivace (3:38)
10. ii Largo ma non troppo (6:16)
11. iii Allegro (4:39)
12. Ave Maria (Bach/Gounod) (arr.Jeff Kryka) (4:05)
这里是其它用户补充的资源(我也要补充):
暂无补充资源