专辑英文名: Let It Burn
专辑中文名: 让它燃烧
音乐风格: 爵士
资源格式: FLAC
发行时间: 2012年01月31日
简介: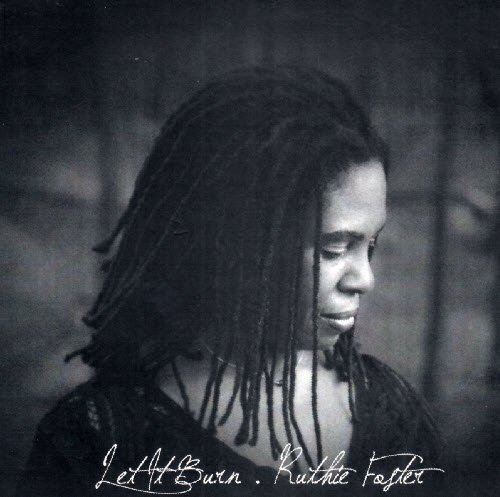 专辑介绍:

Ruthie Foster 美国歌手,词曲蓝调和民谣音乐作者。Ruthie Foster现年40岁。

Ruthie Foster 源于高斯,德克萨斯州的一个福音歌手的家庭。她先在音乐麦克伦南社区学院学习,后加入美国海军,在那里她开始表演工作。Ruthie Foster的首张专辑发布于1997年,她也曾在北美,欧洲和澳大利亚表演。她经常被比作Bonnie Raitt 和 Aretha Franklin。

2009年6月,Foster和盲人男孩 同游了阿拉巴马州。2009年12月她的CD,"根据Ruthie Foster的真相",被提名为格莱美奖的最佳当代蓝调专辑。 2010年5月,在蓝调音乐奖,Ruthie Foster被宣布为年度最佳当代蓝调女歌手。2011年 她也被选为 在澳大利亚 拜伦湾Bluesfest的出色的艺术家。


Ruthie Foster is an American singer-songwriter of blues and folk music. Foster was 48 years old in May 2012.

Foster is from Gause, Texas and comes from a family of gospel singers. She studied music at McLennan Community College and then worked in the US Navy, where she started performing. Her debut was released in 1997 and she has performed in North America, Europe and Australia. She has often been compared to Bonnie Raitt and Aretha Franklin.

In June 2009, Foster toured with The Blind Boys of Alabama. In December 2009 her CD, The Truth According to Ruthie Foster, was nominated for a Grammy Award for Best Contemporary Blues Album. In May 2010, at the Blues Music Awards, Foster was announced as Contemporary Blues Female Artist of the Year. She was a featured artist at the Byron Bay Bluesfest in Australia in 2011.

Release Date 2012
Duration 52:59
Genre R&B Blues Pop/Rock
Styles Modern Electric Blues Blues Gospel Country Soul Folk-Blues Soul


引用
Review by Jon O'Brien [-]

One of the gospel-blues scene's best-kept secrets for over a decade, Texan singer/songwriter Ruthie Foster finally achieved some long-overdue mainstream recognition when her 2009 sixth studio effort, The Truth According to Ruthie Foster, picked up a Grammy nomination. By putting down the guitar and concentrating entirely on her vocals for the first time in her career, her follow-up, Let It Burn, suggests she means business. It's a wise move, as her impassioned, soulful tones have always been her main selling point, and backed by an impressive array of musicians, including the Meters' rhythm section and legendary gospel act the Blind Boys of Alabama, they're allowed the freedom to showcase their versatility, whether it's channeling the velvety smoothness of Anita Baker on the atmospheric blues of John Martyn's "Don't Want to Know," matching the power of Aretha Franklin on the a cappella rendition of early 20th century folk standard "The Titanic," or echoing the spiritual leanings of Carleen Anderson on the harmony-driven opener "Welcome Home." Alongside the groove-laden old-school R&B of "Aim for the Heart" and the pure gospel of "Lord Remember Me," the latter is the only original composition, but John Chelew's inspired production ensures there's still plenty of invention elsewhere. Johnny Cash's "Ring of Fire" is rendered almost unrecognizable thanks to a gorgeously shimmering and reverb-laden arrangement, Pete Seeger's "If I Had a Hammer" is transformed into an authentic slice of New Orleans jazz, while Ike Stubblefield's rich organ riffs lend a hymnal quality to the likes of the Band's "It Makes No Difference" and the William Bell duet "You Don't Miss Your Water." Effortlessly classy covers of Adele's "Set Fire to the Rain" and the Black Keys' "Everlasting Light" show she isn't averse to more contemporary fare. But whichever era Foster picks and chooses from, Let It Burn always feels utterly timeless.




Original Release Date: January 31, 2012
Label: Blue Corn Music
Copyright: 2012 Blue Corn Music
Total Length: 53:01
Genres: Blues R&B
ASIN: B006LMJZWU

5.0 out of 5 stars Ruthie Foster Let's It Burn February 4, 2012
By Randy Patterson
Format:MP3 Music
I love rock. I love the blues. I love soul. I love folk. I love gospel. It's a rare treat to come across an artist who artfully pours all five of those ingredients into their creative melting pot and come up with a musical feast that delights the ears. Ruthie Foster does exactly that with her seventh album, Let It Burn.

The Grammy nominee is Texas born and bred, cutting her teeth on church pews in the rural areas of the state and grew up paying her dues in crafting her eclectic style of blues. Ruthie has worked, in one form or another, with greats like Bonnie Rate, Big Head Todd and many others, adding her incredible voice and stage presence to their incredible presence.

Let It Burn features songs by such diverse talent as The Band, Adele, Black Keys, Crosby, Stills & Nash, Pete Seeger, Los Lobos, Johnny Cash and many others. Lending a hand at the recording sessions at New Orleans' Piety Street Studios were: Blind Boys of Alabama; soul great, William Bell; George Porter (The Funky Meters) on bass; the legendary Ike Stubblefield on the Hammond B3; sax man, James Rivers; Dave Easley on guitar; and drummer Russell Batiste. The musicians represent the cream of New Orleans' musical crop and it shows in glaring ways on this album.

If you love hearing covers of classics that put them in a completely different light, then you'll definitely want to immediately own Let It Burn. Case in point: Ruthie's treatment of Johnny Cash's Ring of Fire will catch the listener pleasantly by surprise. I love, love, love this rendition of this country classic and would definitely be on the short list of Boomerocity favorites from this album if I have anything to do with it (and I do).

Another one that caught me by surprise is Ruthie's cover of Black Keys' Everlasting Night. This cover stands equally as well on its own as the original does. In fact, I believe that one could set up a play list on their playing with alternate playing of this tune between the two artists and be quite happy listening to both versions for many hours without growing tired of either.

Other tunes that experience repeat hits of the repeat button are Pete Seeger's If I Had A Hammer and the sultry delivery of the John Martyn song, Don't Want To Know. Man, oh man! I couldn't possibly begin to say how great those songs are. You'll just have to buy the album and see for yourself.

I am definitely a new, die-hard Ruthie Foster fan. By the album and you'll see why.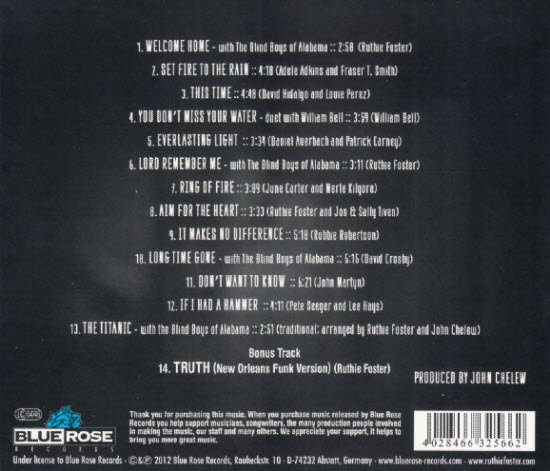 专辑曲目:
01. Welcome Home 2:50
02. Set Fire To The Rain 4:18
03. This Time 4:48
04. You Don't Miss Your Water 3:59
05. Everlasting Light 3:33
06. Lord Remember Me 3:11
07. Ring Of Fire 3:09
08. Aim For The Heart 3:27
09. It Makes No Difference 5:10
10. Long Time Gone 5:15
11. Don't Want To Know 6:20
12. If I Had A Hammer 4:11
13. The Titanic 2:50
这里是其它用户补充的资源(我也要补充):
暂无补充资源