Lisa Batiashvili -《布拉姆斯:小提琴协奏曲、克拉拉‧舒曼:三首浪漫曲》(Brahms: Violin Concerto, Clara Schumann: 3 Romances)[FLAC]

专辑英文名: Brahms: Violin Concerto, Clara Schumann: 3 Romances
专辑中文名: 布拉姆斯:小提琴协奏曲、克拉拉‧舒曼:三首浪漫曲
古典类型: 协奏曲
资源格式: FLAC
发行时间: 2013年01月08日
简介: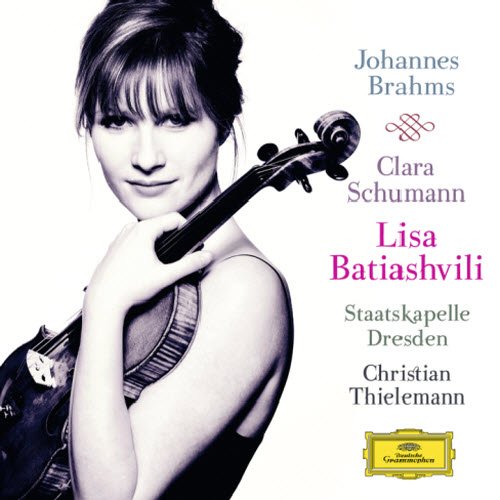 专辑介绍:

DG 4790086(1CD)028947900863
布拉姆斯:小提琴协奏曲、克拉拉‧舒曼:三首浪漫曲【1CD】
Brahms: Violin Concerto、Clara Schumann: 3 Romances
巴蒂雅许薇莉, 小提琴 / 爱丽丝‧纱良‧奥特,钢琴 / 提勒曼指挥德勒斯登国家管弦乐团
Lisa Batiashvili, Violin / Alice Sara Ott, Piano / Staatskapelle Dresden, Christian Thielemann

★提勒曼指挥,德勒斯登国家管弦乐团/爱丽丝‧纱良‧奥特,钢琴

布拉姆斯唯一的小提琴协奏曲,创作於1878年夏天,次年一月一日由受献者姚阿幸担任独奏、布拉姆斯亲自在莱比锡指挥首演。布拉姆斯与姚阿幸从青年时期就私交甚篤,1860年代,布拉姆斯还曾经以钢琴家的身分,与姚阿幸在各地巡迴演出。那年夏天,布拉姆斯在奥地利中南部的珀特沙赫渡假兼创作。优美的风景让他在那一年写出许多作品,包括一系列钢琴独奏小品,以及这首答应姚阿幸已久的协奏曲。最初,布拉姆斯是以四个乐章,而不是协奏曲习惯使用的三乐章结构来构思全曲。但是他在最后删掉中间两个乐章,重新写了一段美丽的慢板乐章。这是一首华丽的协奏曲,效果炫目却又不是单纯为了表现指上功夫而作,因此对於独奏者而言,是技巧与音乐性的双重挑战。

克拉拉‧舒曼为小提琴与钢琴所写的三首浪漫曲创作於1853年。当时克拉拉与丈夫已经搬到杜塞尔道夫一栋较大的房子,她可以不受干扰地创作。因此,这年夏天的创作量相当丰富,包括这三首浪漫曲。这是三首清新的浪漫小品,献给舒曼夫妇的好朋友姚阿幸。

1995年在西贝流士小提琴大赛中获奖后,巴蒂雅许薇莉立刻成为得到国际乐坛瞩目的一颗新星,英国《卫报》以「充满生气与富於魅力」来形容她的现场演出。她所詮释的布拉姆斯小提琴协奏曲自始至终都维持著扎实的旋律线条与甜美的歌唱性。再加上提勒曼与德勒斯登国家管弦乐团富於表现力与想像力的搭配,让整部作品充满著梦幻般的激情。

曲目:

布拉姆斯:D大调小提琴协奏曲,作品77
[1] 第一乐章:不太快的快板
[2] 第二乐章:慢板
[3] 第三乐章:欢欣的快板,但不过分活泼
克拉拉‧舒曼:为小提琴与钢琴所写的浪漫曲,作品22
[4] 1. 比行板稍慢
[5] 2. 小快板
[6] 3. 快速热情

COMPOSER: Johannes Brahms (other composers in brackets after works)
TRACKS: Violin Concerto in D op.77 (Brahms). 3 Romances For Violin And Piano op.22 (Clara Schumann).
ORCHESTRA: Staatskapelle Dresden
CONDUCTOR: Christian Thielemann
ARTISTS: Lisa Batiashvili

Performer: Lisa Batiashvili, Alice Sara Ott
Orchestra: Staatskapelle Dresden
Conductor: Christian Thielemann
Composer: Johannes Brahms, Clara Schumann
Audio CD (January 8, 2013)
Number of Discs: 1
Label: Deutsche Grammophon
ASIN: B009ZOCLD6

Artist: Lisa Batiashvili
Title Of Album: Johannes Brahms, Clara Schumann
Year Of Release: 2012
Label: Deutsche Grammophon | 479 0086
Country: Germany
Genre: Classical Music, Violin

5.0 out of 5 stars A remarkable version of the Brahms concerto that demands to be heard January 8, 2013
By Santa Fe Listener HALL OF FAMETOP 500 REVIEWER
Format:Audio CD
Here is a gilt-edged new Brahms Violin Concerto following hard on the heels of an outstanding one from Renaud Capucon, which struck me a month ago as the most satisfying in years. It, too, was gilt-edged since the conductor was Daniel Harding with the Vienna Phil. DG's loyalty to Christian Thielemann, one of a handful of prominent German conductors on the international circuit, has brought in the great Staatskapelle Dresden, so it's caviar all around.

With no need for another Brahms concerto, I still eagerly awaited an interpretation from Lisa Batiashvili. In a welter of young violin virtuosos, some of whom are media-attractive young women, the highly musical Georgian Batiashvili manages to stand out. On tour with the Brahms she did several broadcast concerts, and in each her interpretation completely held my interest. She has all the negative virtues - nothing is routine, slick or mechanical. Every phrase is personal and involving. Batiashvili delves into a well-worn score to find an engrossing level of expression, and with Thielemann at his vigorous best (not always the case), the whole performance comes alive.

The first movement is urgent and forward-moving. Some orchestral chords are voiced oddly at the outset, and Thielemann's rhythmic sense can be unconventional, but these gestures aren't out of place. By the time Batiashvili makes her powerful entrance, she holds the limelight with charismatic playing. There is one blemish, however. The violin has been miked to a fare-thee-well, sounding four times larger than life rather than the usual twice as large. When you add the roomy ambience of the hall, the effect is overblown. How much this will interfere with listening pleasure is entirely personal, of course. I adjusted soon enough.

Capucon notes that he has switched from the Joachim to the anachronistic Kreisler cadenza. It's become fashionable for a few violinists, such as Joshua Bell, to try out even more modern cadenzas, including their own. The startling one heard here, by Busoni, uses a good deal of orchestral accompaniment, beginning with a portentous timpani roll. Beethoven introduced a side drum into the cadenza when he transcribed his violin concerto for piano; still, I have my doubts about giving us new orchestral writing. Otherwise, the Busoni is short and atmospheric.

In keeping with the pace of the first movement, the Adagio has more than usual momentum. The finale nicely balances the gypsy side of Brahms's theme and his weighty orchestral blocking. Throughout both movements Batiashvili provides interesting detail form bar to bar - that's the major element that sets her reading aside from her rivals, and for some listeners so much focus on detail could feel fussy. Not to me. Not every gilt-edged recording yields real gold, but this one does.

At 47 min. the timing is stingy. Capucon gives us a substantial work, the Berg concerto, with the added attraction that the VPO has rarely recorded it. (I'm hedging my bets. The current catalog lists no other recordings besides the Capucon.) Here we get three nice salon pieces for violin and piano by Clara Schumann, the Romances Op. 22. They are engaging, melodic, and skillfully written but otherwise no great shakes. clearly DG felt that Batiashvili's Brahms justified an album unto itself, and I agree.


引用
Review by James Manheim [-]

Georgian violinist Lisa Batiashvili (whose name appears in the graphics in Georgia's uniquely beautiful script) is a worthy avatar of the great Russian school. Perhaps the strand of that tradition she most recalls is the one flowing from Jascha Heifetz, with his steely tonal perfection, long lines, and grasp of overall structure. These qualities serve Batiashvili well in the Brahms Violin Concerto in D major, Op. 77, a work for which there is certainly no shortage of available recordings. Where Batiashvili has the advantage over her peers, however, is in her close relationship with the orchestra here; this is her first recording with the Staatskapelle Dresden orchestra, of which she is "Capell-Virtuosin." It shows in her close work with conductor Christian Thielemann at the joints of Brahms' vast first-movement canvas, perhaps the most perfect marriage of sheer virtuosity with profound structural thinking in the history of music. The points at which the movement's intermediate dotted-rhythm theme return and mark the movement's sectional organization are handled with special snap here. Batiashvili, playing a fearsome cadenza by Ferruccio Busoni in the first movement, is technically superb, but she doesn't let technique overwhelm enthusiasm. The other strong point of this performance is the rousing finale, which is not unprecedented but is definitely not common among younger players fearful of stepping out. Again, Batiashvili manages a variety of sharp but not harsh attack to match Thielemann's rhythmic drive. If there's a downside here, it's the conclusion of the album, a trio of Romances for violin and piano, Op. 22, by Clara Schumann. These are worthwhile and underplayed pieces, but an orchestral potboiler would have been better; the music lurches from orchestra to violin-and-piano texture, and the switch in sound environment from the Lukaskirche in Dresden to the Bavaria Musikstudios in Munich is jarring. It sounds as though one recording has been taken off and another one put on. The Brahms is so good that this is no more than a minor complaint, however. Highly recommended.
引用
For her second Deutsche Grammophon release Lisa Batiashvili has chosen to record the Brahms Violin Concerto and the Three Romances by Clara Schumann. I enjoyed Batiashvili's 2011 debut release for DG entitled 'Echoes of Time' a fascinating part-concert and part-recital of Shostakovich, Kancheli, Pärt and Rachmaninov - all composers heavily influenced by political events in the former Soviet Union. The disc features Shostakovich's First Violin Concerto and the Lyrical Waltz from his Seven Doll's Dances and with the Kancheli piece Batiashvili is playing with the Symphonieorchester des Bayerischen Rundfunks under Esa-Pekka Salonen. In the Pärt and Rachmaninov she is accompanied by Hélène Grimaud.

Born in Tbilisi, Georgia, Batiashvili is an exceptionally fine player whose work certainly merits attention. I last saw live in May 2011 playing the Beethoven Violin Concerto accompanied by a rather off-colour New York Philharmonic under Alan Gilbert at the Munich Philharmonie. In a slightly underpowered performance there remained an appealing, highly cultured quality to her playing. I remember the 1709 'Engleman' Stradivarius that she was using at the time delivering a most beautiful tone.

The feature work on Batiashvili's latest Deutsche Grammophon release is the Brahms Violin Concerto accompanied by the expert playing of the eminent Staatskapelle Dresden under their chief conductor Christian Thielemann. A key work of the repertoire, the Brahms Concerto was written in 1878 largely in the Austrian lakeside town of Pörtschach am Wörthersee. On hand to provide expert guidance was Brahms' friend the eminent violinist Joseph Joachim. It was the dedicatee Joachim who premiered the score on New Year's Day in 1879 at Leipzig. I find the score one of the most glorious of all the violin concertos in the repertoire, an almost perfect creation of classical form, deep emotional content and memorable lyricism.

In the massive opening movement Allegro non troppo, Batiashvili's approach is a reasonably passionate one playing with an abundance of spirit. Ideally I would have preferred more weight and potency from the soloist. In the final passage of the movement the playing confidently increases in intensity to create a moving highpoint. Revelling in the unalloyed lyricism of the beautiful Adagio Batiashvili, with achingly lyrical playing, is careful not to allow the mood to become sentimental. An additional degree of emotional tension would have assisted the quality of the interpretation. In the squally and exciting writing of the Finale wonderfully vibrant playing from both soloist and orchestra caps a high quality performance.

Batiashvili's Brahms is beautifully played and makes rewarding listening but this is a most crowded catalogue and any new recording has to compete with a substantial number of excellent accounts. I have a number of versions that I feel are more recommendable. Standing out is Nathan Milstein for his commanding and compellingly inspired playing with the Pittsburgh Symphony Orchestra under William Steinberg. Recorded at Pittsburgh in 1953/54 Milstein's account is available as one of the 'Great Recordings of the Century' on EMI Classics 5 67583 2 (c/w Beethoven Violin Concerto). Then there is the recording from Pinchas Zukerman with the Orchestre de Paris under Daniel Barenboim. This deeply passionate and highly controlled 1979 Paris performance is on Deutsche Grammophon 'Classikon' 439 405-2. There is also much to admire in the 1955 Chicago recording from Jascha Heifetz with the Chicago Symphony Orchestra under Fritz Reiner. This characterful and searching performance I have on RCA Victor Red Seal 09026 61742 2. In addition there is the glorious account from the teenage Anne-Sophie Mutter with the Berlin Philharmonic under Karajan. It has real gravitas. I have this 1981 Berlin Philharmonie account from Deutsche Grammophon 445 515-2 (c/w Mendelssohn Violin Concerto) and also on Deutsche Grammophon 439 007-2 (Brahms Double Concerto with cellist Antonio Meneses).

Clara Schumann wrote her three Romances for violin and piano, Op.22 following a considerable break from composing. After the score was published she presented Joachim with a printed copy. I was delighted to have the rare opportunity of hearing these three short Romances with Batiashvili accompanied by Munich born pianist Alice Sara Ott. The first two marked Andante moto and Allegretto are lovingly tender expressions of affection. The lyrical final piece marked Leidenschaftlich schnell is so lively yet still evinces a tender quality.

Batiashvili plays her 1715 'Ex Joachim' Stradivarius. It once belonged to Joachim and according to the booklet notes was the instrument that the great virtuoso played when he performed both the Brahms Concerto and the Clara Schumann Romances. Her excellent playing and immaculate intonation makes for a highly satisfying performance and demonstrates her status as one of the finest of the young crop of violin soloists currently on the international concert stage. As I have come to expect, the Staatskapelle Dresden under Christian Thielemann provide the finest imaginable support. In the Clara Schumann Romances Alice Sara Ott demonstrates what a fine recital pianist she has become. The sound quality from the Lukaskirche, Dresden and the Musikstudios, Munich is satisfyingly clear and well balanced.

Michael Cookson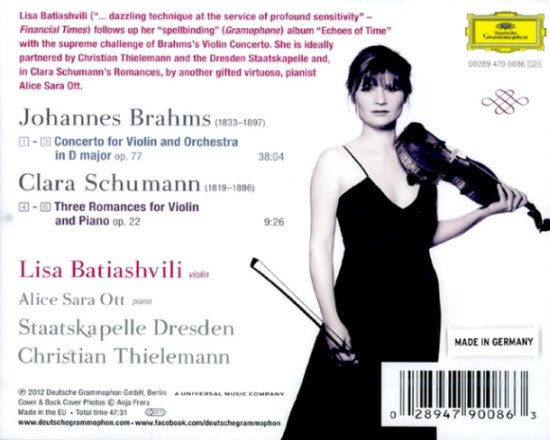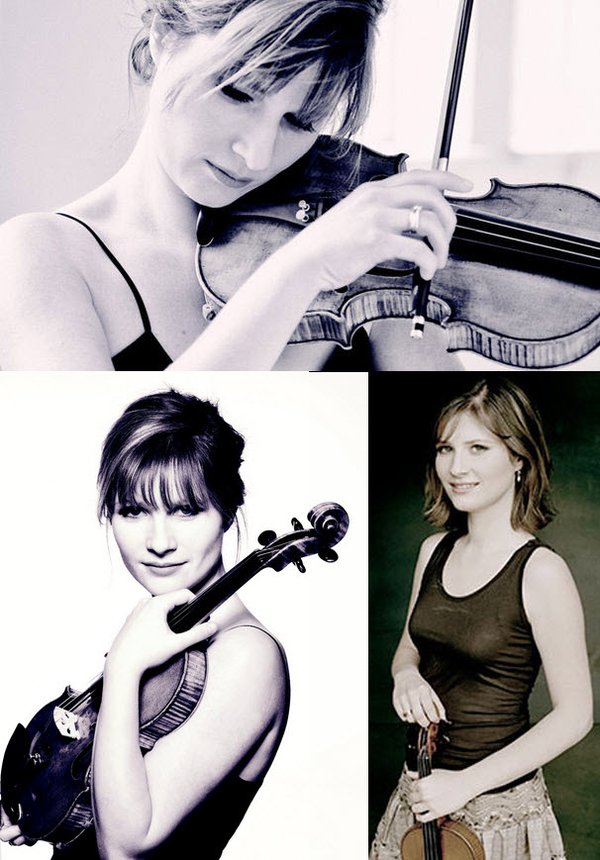 专辑曲目:
Johannes Brahms (1833 - 1897)

Violin Concerto in D, Op.77
[1] 1. Allegro non troppo [21:09]
[2] 2. Adagio [8:49]
[3] 3. Allegro giocoso, ma non troppo vivace - Poco più presto [7:56]
Lisa Batiashvili, Staatskapelle Dresden, Christian Thielemann

Clara Schumann (1819 - 1896)

3 Romances For Violin And Piano, Op.22
[4] 1. Andante molto [2:46]
[5] 2. Allegretto [2:45]
[6] 3. Leidenschaftlich schnell [3:53]
Lisa Batiashvili, Alice Sara Ott

Total Playing Time [47:18]
这里是其它用户补充的资源(我也要补充):
暂无补充资源