专辑英文名: Schubert- String Quintet, Schoenberg- Verklarte Nacht
专辑中文名: 荀白克:昇华之夜 / 舒伯特:弦乐五重奏
古典类型: 全集作品
资源格式: FLAC
发行时间: 2012年11月02日
简介: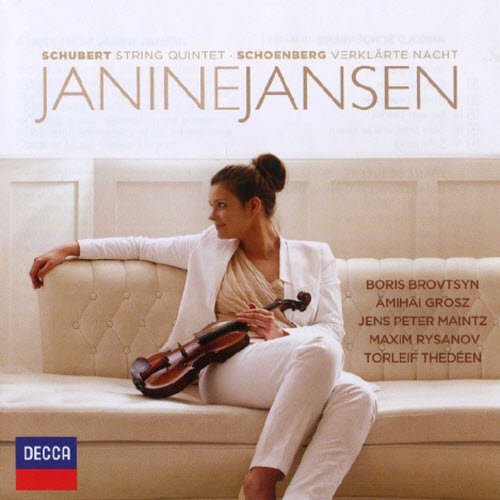 专辑说明:


荀白克:昇华之夜 / 舒伯特:弦乐五重奏

Schoenberg: Verklarte Nacht
Schubert: String Quintet

吉妮.杨森,小提琴 / 布罗夫钦,小提琴
罗兹,中提琴 / 曼茨,大提琴
雷萨诺夫,小提琴 / 特狄恩,大提琴

Janine Jansen violin . Boris Brovtsyn violin
Amihai Grosz viola . Maxim Rysanov viola*
Torleif Thedeen cello .Jens Peter Maintz cello


为了庆祝个人所创立,在荷兰乌特勒支举行的国际室内乐节迈入十週年,小提琴家吉妮‧杨森发行了这张收录两首来自维也纳的浪漫室内乐作品。合作音乐家都是吉妮‧杨森长期以来演奏室内乐的伙伴,包括俄裔小提琴家布罗夫钦、以色列中提琴家葛罗兹、德国大提琴家曼茨、乌克兰小提琴家雷萨诺夫与瑞典大提琴家特狄恩。

《昇华之夜》是一首抒情气息相当浓厚,展现弦乐丰富微妙的色彩变化、表现力与动态对比的作品。音乐描写一对情侣在月下林中,女人向男人坦言不忠并且已经怀孕的事实。男人原谅了她,两人在月光下拥抱,宽恕人的心胸因此使世界更美好。

舒伯特的弦乐五重奏创作过程不详,但可以确定是他去世同一年所作。音乐里,可以听出舒伯特无为而宁静的晚期心境。虽然它在舒伯特身后二十年都没有演出过,但是时至今日,它已经是人们爱喜爱的弦乐五重奏作品之一。

吉妮.杨森认为,这两首作品的创作时期虽然不同,不过,同样都是能让人留下深刻印象,具有强烈情感张力,以及直达内心深处,甚至是最脆弱部分的乐曲。她和朋友们演出的《昇华之夜》曾经被英国《独立报》誉为「完美无瑕」,《卫报》则认为他们对於乐曲架构的铺陈与詮释「十分惊人」;舒伯特弦乐五重奏更是能引发爱乐者内心悸动与共鸣。

荀白克:昇华之夜 / 舒伯特:弦乐五重奏 / 吉妮.杨森,小提琴 / 布罗夫钦,小提琴 / 葛罗兹,中提琴 / 曼茨,大提琴 / 雷萨诺夫,小提琴 Schoenberg: Verklarte Nacht / Schubert: String Quintet / Janine Jansen violin . Boris Brovtsyn violin / Amihai Grosz viola*

唱片公司:Linfair Records Limited/DECCA
演出者:吉妮.杨森
音乐类型:古典音乐
唱片编号:4783551
发行日期:2013年05月10日
进口专辑 / CD / 1 片装

DECCA 荀白克:昇华之夜、舒伯特:弦乐五重奏[Schoenberg: Verklärte Nacht、Schubert: String Quintet]【1CD】

DECCA 4783551(1CD)028947835516
荀白克:昇华之夜、舒伯特:弦乐五重奏【1CD】
Schoenberg: Verklärte Nacht、Schubert: String Quintet
吉妮杨森, 小提琴
Janine Jansen, Boris Brovtsyn, Violin / Amihai Grosz, Maxim Rysanov, Viola / Torleif Thedéen, Jens-Peter Maintz, Cello



Audio CD
Number of Discs: 1
Label: Universal Japan
ASIN: B0094JLW28


The Dutch violinist Janine Jansen assembled an outstanding group of her string-playing friends for these recordings of Schoenberg and Schubert, and technically their performances can't be faulted. There's no trace here of starry individualism, but instead a real feeling of collegiate responsibility in the way that all the players constantly listen to each other and shade their own contributions accordingly. But, for my taste at least, it's much too strongly flavoured: every contrast, whether of tempo or dynamic, is pushed to an extreme. While that makes for a very graphic account of Verklärte Nacht – each section of the tone poem sharply delineated, the climaxes fierce the quieter moments almost inertly still – it fails to comprehend the work as an organic whole. That's even more true of the Schubert; however beautiful some of the passing detail, there are any number of recordings that convey the work's miraculous sense of bittersweet transcendence more convincingly


引用


Release Date November 2, 2012
Duration 01:23:00
Genre Classical


Review by Blair Sanderson [-]

Even though violinist Janine Jansen appears alone in the cover photo of this 2012 Decca release, and her name is featured in large letters, no one should mistake this album as a solo effort. The recordings of Franz Schubert's String Quintet in C major and Arnold Schoenberg's sextet Verklärte Nacht are ensemble performances, and the musicians who play with Jansen form an artistic bond that seems utterly at odds with the star-oriented artwork. Jansen is certainly behind the choice of works, because they were programmed on her critically praised concert at Wigmore Hall. But beyond Decca's marketing decision emphasizing Jansen as the main performer, equal attention should be given to her colleagues, violinist Boris Brovtsyn, violists Amichai Grosz and Maxim Rysanov, and cellists Torleif Thedéen and Jens Peter Maintz, who are all comparable in technical skill and expressive abilities. The performance of Verklärte Nacht is impassioned and dark, and the richness of the lower strings contributes greatly to the nocturnal atmosphere of the piece. However, this is also a dynamic work, and Schoenberg's nearly orchestral counterpoint gives intense activity to all six players, with no single part standing out. Schubert's quintet is a trickier piece to get right, because the writing is exposed and transparent in virtually every area of the piece, so no one can get away with inferior playing. On balance, the Schoenberg shows the musicians as a cohesive team that can forge ahead, confronting dense textures and complex harmonies with a forward impetus that makes sense of the tone poem's turbulent emotional imagery, while the Schubert gives the musicians an opportunity to achieve sublime expressions of beauty and transcendence through their control and cooperation. Decca's sound is quite close-up, so practically everything is audible, including the breathing.

引用
Janine Jansen and Friends Play Schoenberg and Schubert at Wigmore Hall
Wednesday
16-May-12 19:30 Show on map Wigmore Hall, London
Janine Jansen violin; Boris Brovtsyn violin; Amihai Grosz viola; Maxim Rysanov viola; Torleif Thedéen cello; Jens Peter Maintz cello
Schoenberg, Verklärte Nacht, (Transfigured Night) sextet for strings, Op.4
Schubert, String Quintet in C major, D.956

Janine Jansen, Violin
Boris Brovtsyn, Violin
Amihai Grosz, Viola
Maxim Rysanov, Viola
Torleif Thedéen, Cello
Jens Peter Maintz, Cello
More info...
Reviews...
Janine Jansen © Felix Broede

It's not always that Schoenberg is out-weirded in a concert programme. More often, his is the eyebrow-raiser, the tougher music on display, which takes more effort to enjoy. But it's a sure sign of progress that a work like the string sextet Verlkärte Nacht (1899), whose première was apparently cancelled because of an overly dissonant inverted ninth chord, can sit so securely in a concert programme today. And actually, it was made to seem positively tame last night, placed next to Schubert's perpetually perplexing String Quintet (1828).

Janine Jansen's final concert in her Wigmore Hall residency saw her joined by a starry lineup of string players, including violist Maxim Rysanov and cellist Thorleif Thedéen. The group are in the process of touring this rich programme of music around Europe. They may lack a name, but the ensemble lacks little in terms of cohesion, and they played both works with a sense of care which suggested that the players' obvious individual excellence had been coupled with diligent preparation.

The group's sincerity of purpose was apparent from the off in Verklärte Nacht ('Transfigured Night'): they played the piece's gradual, soft opening incredibly delicately. It almost felt as if the relative inexperience of the group in playing together had heightened their awareness of the need to communicate. And the slight tension of their coordination was perfectly suited to the foreboding atmosphere this opening requires. They didn't disappoint as the piece developed either: the numerous climaxes were well controlled and the tricksy pizzicato sections played with preposterous facility. The denser contrapuntal sections felt less balanced, with a slightly decreased sense of whole, but actually this almost brought out the frenzied nature of Schoenberg's writing yet more.

It's a quirk of Verklärte Nacht that despite perceptible flaws in overall structure – the D major climax arrives so early that there is a little too much thumb-twiddling late on – it remains one of the most genuinely compelling listens in the chamber music repertoire. Such is the strange transparency with which Schoenberg interprets the poem by Richard Dehmel on which the piece is based. Jansen and her colleagues caught the work's inherent sense of drama perfectly, and the closing D major swell was an appropriately rich end to a deeply romantic piece.

The Schubert String Quintet in C is a considerable contrast. While the Schoenberg is a straightforward trajectory from darkness to light, from sin to redemption, the Schubert is haunted throughout by a perpetual darkness. Even the calmer moments – the slow movement, the trio, that odd passage in E flat in the first movement – seem somehow unbelievable, like dreams. The group played these sections with the same care and poise as in the previous piece, and the curious textures of the slow movement were a particular highlight, with the gentlest of plucked cello lines and the softest of playing from Jansen (who excelled in soft playing all evening). The nightmarish middle section of this movement, which shifts up a semitone to F minor, was just as violent as necessary, and the drift back to the uneasy tranquility of the opening was subtle and soft. It was again the denser moments which worked less well, and the Scherzo, a manic barn dance, sometimes felt a little too prettily phrased, though the players still caught its rusticness effectively.

The sharp rhythmic characterisation of the sprightly final movement was enjoyable, and the players' technical virtuosity was most appreciable in the closing stages, where Schubert ratchets things up to a manic Presto. The quintet ends with as bizarre a gesture as you will find in the classical canon – a forte, unison C preceded by a chromatic grace note on D flat – and if the previous fifty minutes of weird harmonic shifts and textures hadn't already made the point, this ending really makes it clear that Schubert's piece is several times as daring and unconventional as anything in Verklärte Nacht. The group played this ending with the confidence and ease of an established chamber group, which is more than could have been expected. I only hope they continue to perform together: all they really need now is a name. 'Transfigured Soloists' would get my vote.
Submitted by Paul Kilbey on 19th May 2012

引用
Classical - Janine Jansen and friends 《Schoenberg: Verklarte Nacht; Schubert: String Quintet》

Decca 4783551

良好互动

这张83:12的CD破了播放长度纪录,出品亦有talking point:用靚女「勾引」人们去购买平时不会买的较冷门曲。《昇华之夜》讲的是未婚男女月下漫步,女的忐忑告诉男友,肚裏有馅,「但经手人不是你」。Schoenberg写的是真正的标题音乐,紧贴着Richard Dehmel诗歌的故事线和每句说话。Schoenberg早期作品超浪漫,和声丰富到泻。这音乐和Schubert最重要的室乐作品《弦乐五重奏》,都不是百忙中抽空排练三两日就能尽得精髓的,这儿两首都是多蒙特音乐节的音乐会实况录音。荷兰小提琴家Jansen找来一班技艺叮噹马头的musicians一起玩此曲,Maxim Rysanov和Torleif Thedeen皆是独当一面的独奏家,眾人排练充分,声部间有良好互动。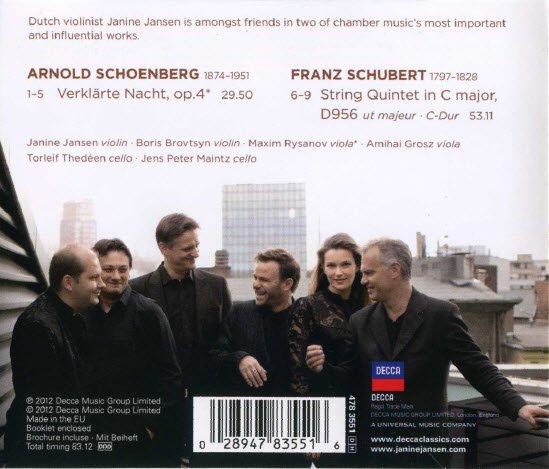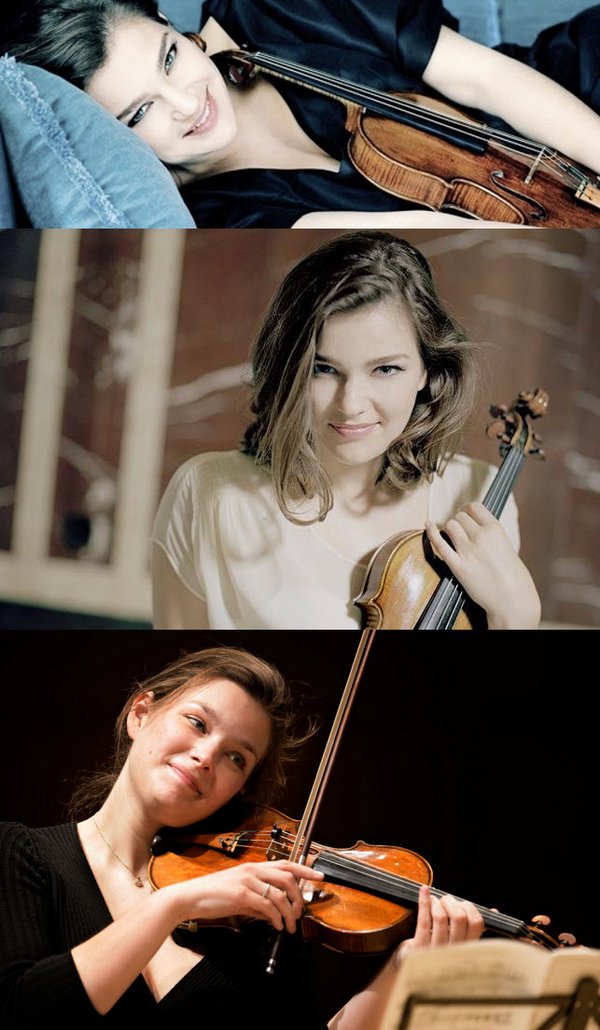 专辑曲目:
Arnold Schoenberg (1874 – 1951)
Verklarte Nacht, Op.4
Version for String Sextet[1] Sehr langsam (bar 1)
[2] Breiter (bar 200)
[3] Schwer betont (bar 201)
[4] Sehr breit und langsam (bar 229)
[5] Sehr ruhig (bar 370)
Franz Schubert (1797 – 1828)
String Quintet in C, D.956

[6] Allegro ma non troppo
[7] Adagio
[8] Scherzo (Presto) – Trio (Andante sostenuto)
[9] Allegretto
这里是其它用户补充的资源(我也要补充):
暂无补充资源