专辑英文名: A Body Of Work
专辑中文名: 宝刀未老
音乐风格: 流行
资源格式: APE
发行时间: 1998年09月15日
简介: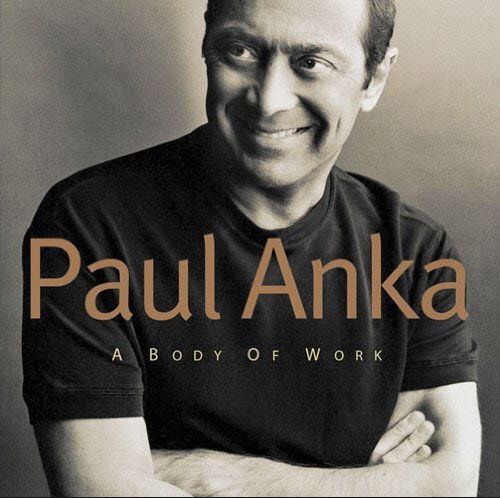 专辑介绍:

 保罗安卡对新一代乐友可能比较不知道,但在四五年级生里,他可是非常著名的情歌王子。

 这一张充满了拉丁浪漫曲风又具备发烧录音的超级24K金盘,绝对让您充满惊艳,里面十一首歌曲皆与目前全世界最发烧最热门的巨星合唱。

 光看曲目和合作的巨星,本片已非常有收藏价值,何况Zounds的超级录音效果,本片是本年度不可或缺的男声专辑。

永远的情歌巨人--保罗安卡
Paul Anka / A Body Of Work

制造商:ZOUNDS
CD编号:27000 60025
售 价:2000元(24K金Audiophile Edition版)缺货


保罗安卡(Paul Anka)这位出道超过半世纪,创作无数排行经典的音乐创作人,堪称是美国流行音乐的最传奇巨星之一。从1957年热销全球9百万张的成名冠军单曲"Diana"开始,保罗安卡以偶像歌手身分进军歌坛,但是突出的创作才华让他得以音乐创作人姿态,陆续以"You Are My Destiny,","Lonely Boy,","Put Your Head On My Shoulder,","Puppy Love"这些排行金曲享誉全世界。

细数保罗安卡的经典歌曲包括,法兰克辛纳屈唱红的跨世代传唱经典"My Way",麦可杰克森去世之后发表的冠军单曲"This Is It",还有英国白人灵魂巨星汤姆琼斯的代表歌曲"She's A Lady",美国谈话节目强尼卡森秀的主题曲,柯达相片的广告歌曲Times Of Your Life",这些优美旋律词意动人的歌曲,打破语言与种族的限制,成为许多人生命中的美好回忆。

CD编号 : 4899392
艺人/团体 : 保罗安卡 Paul Anka - 查看所有专辑
专辑名称 : 宝刀未老
A Body Of Work
音乐类型 : 西洋 [CD 专辑]
发行公司/日期 : SONY MUSIC 
制作公司 :
内含片数 : 1

This collection spans the career of the craftsman-like pop vocalist, including songs from several different phases of the singers career as well as a bit of new material. What makes A BODY OF WORK unusual is that it's more than just the usual greatest hits package. In fact, it eschews that approach entirely, in favor of a more aesthetic-oriented approach. While many of the cuts here may not be familiar to the casual listener, Anka fans will appreciate the album's in-depth look at Anka's work. Another interesting aspect of BODY OF WORK is that most of the tracks are duets, with everyone from Celine Dion to Tom Jones to Frank Sinatra himself, and these cuts offer a glimpse at how Anka operates in varied musical circumstances. For those who think Anka's sound is anchored to the past, the 1998-recorded "She's My Woman, She's My Friend" proves otherwise. Chartmaker Studio, Malibu, California. Recorded at WallyWorld, San Francisco, California; Record Plant and Capitol Recording, Los Angeles, California; The Hit Factory, New York, New York; Engineers include: David Reitzaz, David Gleeson, Al Schmitt. Personnel: Paul Anka (vocals); Frank Sinatra, Patti LaBelle, Peter Cetera, Tevin Campbell, Tom Jones, Celine Dion (vocals); Kenny G (tenor saxophone); David Foster (keyboards); Francis Benítez, Sergio Aranda, Kenny O'Brien, Lynn Davis , Barry Gibb, Leyla Hoyle (background vocals). Audio Mixers: Al Schmitt; Brad Gilderman. Recording information: Apitol Recording, LA, CA; Chartmaker Stu; Hit Factory, New York, NY; Record Plant, LA, CA; WallyWorld, San Francisco, CA. Arrangers: Claude Gaudette; Dan Shea; Lester Mendes; Johnny Mandel; David Foster; Walter Afanasieff. Personnel includes: Paul Anka, Anthea Anka, Celine Dion, Patti Labelle, Tom Jones, Tevin Campbell, Peter Cetera, Frank Sinatra (vocals); Kenny G (soprano saxophone); David Foster (keyboards); Barry Gibb, All For One, Warren Wiebe, Sergio Aranda, Francis Benitez, Lynn Davis, Leyla Hoyle, Philip Ingram, Kenny O'Brien (background vocals). Producers: Walter Afanasieff, David Foster, Humberto Gatica, Dan Shea, Johnny Mandell.

Release Date September 15, 1998
Duration 50:42
Genre Pop/Rock Vocal
Styles Adult Contemporary Vocal Pop

Review by William Ruhlmann

Given the most confusing title for an album of newly recorded material since John Prine's The Missing Years, Paul Anka's A Body of Work, despite a name that makes it sound like a compilation, is actually the singer/songwriter's first new U.S. release since Walk a Fine Line in 1983. Following the international success of 1996's Spanish-language duets album Amigos, Anka tries a little of everything in an attempt to regain a foothold at home. There are newly written songs, notably the unabashedly devotional adult love ballad "She's My Woman, She's My Friend" that opens the record. There are celebrity guest stars -- Celine Dion, Tevin Campbell, Kenny G, Barry Gibb, Patti LaBelle, and Peter Cetera turn up to one extent or another. And there are remakes of hits penned by Anka with the singers who made them famous: he duets with a living Tom Jones on "She's a Lady" and with a 1968 tape of Frank Sinatra on "My Way." For this high-profile effort, Anka has called in both adult contemporary king David Foster and Sony Music's Walter Afanasieff (Michael Bolton, Mariah Carey) as producers, though their efforts are relatively restrained. In fact, despite the celebrity firepower, the whole album is really a set of low-key ballads that Anka sings emotionally, whether the mood is happy or sad. It's a respectable return-to-action for a veteran who remains vital, even if it was not a commercial return-to-form.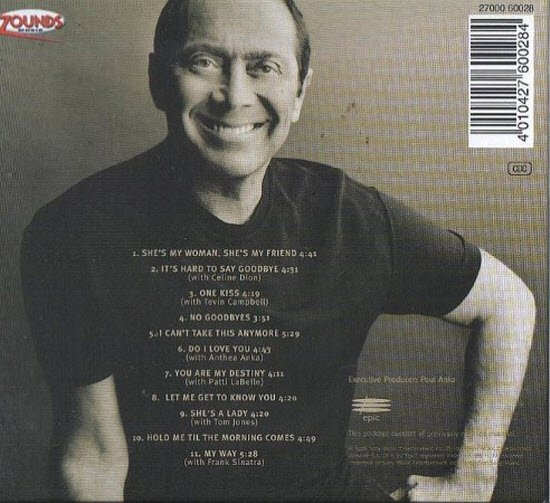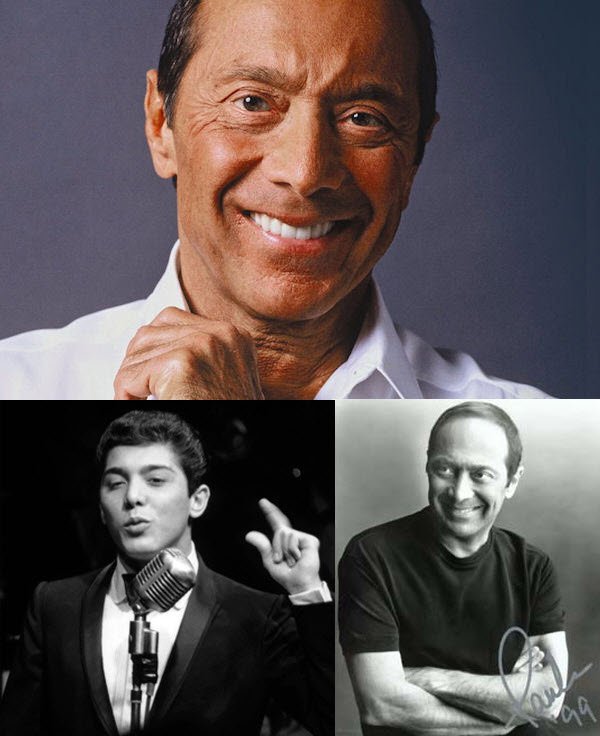 专辑曲目:
01. Paul Anka - She's My Woman, She's My Friend 4:39
02. Paul Anka - It's Hard to Say Goodbye 4:31
03. Paul Anka duet with Celine Dion - It's Hard To Say Goodbye 5:09
03. Paul Anka duet with Tevin Campbell - One Kiss 4:17
03. Paul Anka - One Kiss 4:19
04. Paul Anka - No Goodbyes 3:49
05. Paul Anka - I Can't Take This Anymore 5:28
06. Paul Anka - Do I Love You 3:11
06. Paul Anka duet with Anthea Anka - Do I Love You 4:41
07. Paul Anka - You Are My Destiny 2:44
07. Paul Anka duet with Patti LaBelle - You Are My Destiny 4:09
08. Paul Anka - Let Me Get To Know You 3:21
09. Paul Anka duet with Tom Jones - She's A Lady 4:18
09. Paul Anka - She's A Lady 2:24
10. Paul Anka duet with Peter Cetera - Hold Me 'Til The Morning Comes 4:46
10. Paul Anka - Hold Me Til the Morning Comes 4:49
11. Paul Anka - My Way 4:22
11. Paul Anka duet with Frank Sinatra - My Wa 5:12
这里是其它用户补充的资源(我也要补充):
暂无补充资源