Rachel Podger, Arte Dei Suonatori -《韦瓦弟小提琴协奏曲辑 》(Antonio Vivaldi: La Stravaganza – 12 Violin Concertos )[Linn Records 24bits 96KHz] + [SACD-r]
专辑英文名: Antonio Vivaldi: La Stravaganza – 12 Violin Concertos
专辑中文名: 韦瓦弟小提琴协奏曲辑
古典类型: 全集作品
版本: [Linn Records 24bits 96KHz] + [SACD-r]
发行时间: 2003年05月13日
简介:


专辑说明:

本片的制作人兼录音师,也是Channel唱片公司的老闆Mr.Sack他说本片音乐在波兰的教堂中收录音该教堂天井很高,而且全是大理石的建材,录音要非常的用心来捕抓那些麦克风的设定音乐的餘韵及回响的声音处理更费心但是控制好了后再播放时真是发烧的天碟无疑,所以请放心来欣赏这二张韦瓦弟的小提琴协奏曲 OP.4的十二首乕那优美的畅快旋律是何等的柔顺及轻鬆典雅,而拉吉克的小提琴拉奏将是优美的保证,曲曲都是精彩而热烈的发烧音效真是参考及试机的名碟无误!(普通CD也可放音)


  维瓦尔迪(1678-1741)在作曲方面所涉猎的音乐形式繁多,但人们公认他为巴洛克协奏曲领域的王者之一,维瓦尔蒂诸多创作中流传至今的重要作品也以这类协奏曲居多。据统计,他一生总共写作了400多首协奏曲,其中包括独奏协奏曲和管弦乐协奏曲(两者的区别在于前者为突出独立的乐器而作,后者则是专为管弦乐团或合奏团谱写的)。这些作品充分体现出维瓦尔蒂的音乐天赋,从中我们可以听到鲜活的旋律、热情的节奏、华丽的音色以及令人感到意外的音乐主题和对比变化,可以说这些协奏曲充分体现出了巴洛克音乐的特色。另外他还将巴洛克协奏曲三个乐章的组成定型为"快-慢-快"的变化方式,成为了同类作品中的典范(当然也有例外,维瓦尔蒂自己的创作中就有两乐章或四乐章的协奏曲)。在其众多作品裏,有三组协奏曲(每组十二首)最为人们所熟悉——《和谐的灵感 Op.3》、《异乎寻常 Op.4》以及《和声与创意的实验 Op.8》。
  他的"La Stravaganza,Op.4"("异乎寻常"或翻译成"奇异协奏曲")12首小提琴协奏曲创作于1714年,题献给Vettor Delfino。是为独奏小提琴、弦乐和通奏低音而作,但在某些乐章中却要求其他乐器的独奏,比如第二小提琴和大提琴,也许这就是它被称为"奇异"的原因。
  雷切尔·波吉尔(Rachel Podger)是当今用巴洛克小提琴演奏的独奏家新秀,她出生于英国,在德国的Steiner音乐学校习音乐,然后再回英国在伦敦的Guildhall School of Music & Drama跟随多位大师学习小提琴,后来喜爱上古乐器与巴洛克音乐,逐而和他人合作组建古乐团。在1997-2002年期间,她曾经在Gabrieli Consort and Players以及后来在由平诺克创建的The English Concert担任首席小提琴。后来她常常自己独奏同时担任指挥。这张唱片就是她指挥波兰的古乐团Arte dei Suonatori演奏的。她现在是Guildhall School of Music & Drama以及Royal Welsh College of Music & Drama的巴洛克小提琴教授。她录制的巴赫《无伴奏小提琴奏鸣曲和组曲》、泰勒曼的《无伴奏小提琴幻想曲》、以及和平诺克合作的巴赫《为小提琴和羽管键琴而作的奏鸣曲》都受到很高评价,各地音乐团体竞相邀请与她合作。

丝路碟评
获得"留声机" 音乐杂誌颁奖无数的女小提琴家宝捷尔Rachel Podger与著名的巴洛克管弦乐团 "Arte Del Suonatori" 演奏维瓦尔迪(Vivaldi) 的"非凡"小提琴协奏曲集十二首。女小提琴家及乐团的演绎,不论技巧及感情的表达都绝顶出色。本碟以SACD推出,令小提琴及乐团的层次感更突显,现场感倍增。

乐评精选
音响技术: "录音效果出眾,音色纯净而细腻、活泼而生动,场面宽宏而庞大,基本的堂音、空气感、层次感及线条质感,使人暗自叫好,更具备发烧元素,现场感凌厉,柔美晶莹的乐调牵动著听者的心弦,带你进入如痴如醉的境界,乐趣无穷,乐迷万万不容错过。"


Rachel Podger & Arte Dei Suonatori - Antonio Vivaldi: La Stravaganza - 12 Violin Concertos (2003)
FLAC (tracks) 24 bit/96 kHz | Time - 103:53 minutes | 1,75 GB
Official Digital Download - Source: LinnRecords.com | Covers & Digital Booklet

These performances of Vivaldi's La Stravaganza - a collection of 12 violin concertos - are truly extravagant. They're not designed to be listened to in one sitting and shouldn't be: it's not the sameness of the orchestration which might get in the way, it's the intensity with which Vivaldi composed them and the manner in which the remarkable Rachel Podger plays them. Fans of Andrew Manze will love Podger for similar reasons.

While Vivaldi was imitated and paraphrased for several decades in the 18th Century, his style is actually quite inimitable. His admirers could add to but not originate the formula. This is why his singular voice speaks to us now with such genuine directness and individuality. The concertos of La Stravanganza, remarkable for their range of coloration, constitute Vivaldi's evolving style of extravagance and ecstasy. Immersing herself in the 12 Concertos of La Stravanganza was an intense and exhilarating experience for violinist Rachel Podger, and one which has left her full of wonder at Vivaldi's seemingly endless capacity for invention.

-- Gramophone's Best Baroque Recording of 2003 CCS SA 19503 (Channel Classics)


引用
5.0 out of 5 stars Podger outdoes herself! August 20, 2003
By Andres Sender
Format:Audio CD
Rachel Podger is a unique talent, an exceedingly expressive player with an emotionally immediate presence who is at the same time not self-indulgent or wild. Ms. Podger digs deeply and thoughtfully into the music to bring out the maximum of expression through her own especially flexible and articulated approach to the vocabulary of the baroque violin. Her expression occurs within a discipline of respecting the structure and boundaries of the music itself. She remains a highly objective communicator even while seeking to pull as much feeling from the music as she can.

I'm a huge Rachel Podger fan, but I bought this new CD with some hesitation. I'd been rather floored by Fabio Biondi's interpretations of Vivaldi and I wasn't sure Ms. Podger's strengths would come through with as much impact. I was concerned since in the past Ms. Podger's unique playing style has sometimes seemed to fade when she plays with an orchestra-her Bach recording with A. Manze was disappointing this way, somehow she seemed a bit held back. (Unlike the reviewer above I don't find any similarity between Manze and Podger, indeed despite Manze's seemingly universal appeal, I can't like his playing, for me there is something insincere and mannered in all his pyrotechnics, whereas Ms. Podger always seems deeply and sincerely in the heart of the music.)

I should not have worried. Rachel Podger has outdone herself. She has taken these Vivaldi pieces and infused them with her own brand of detailed sumptuous playing, reveling in the music in a sensual, joyous way that at times outdistances even some of her solo Bach performances for sheer musical fluidity and agility. The fact that she has been able so fully to express her unique playing in the context of working with an orchestra is quite an achievement and step forward, and the result is especially exciting. So exciting, in fact, that even in the slow movements I found myself energized and exhilarated by the superlatively managed tension between highly expressive playing and a rigorous overall sense of meter and truth to the music.

The orchestra itself is surprisingly good ('surprising' only in that I hadn't heard of them before), supporting and opposing Ms. Podger very well. The only thing one might quibble about is the overall texture, which is a bit round and smooth and unified, not quite as transparent as I would have preferred--more along the lines of Carmignola/Venice Baroque (whose interpretations have yet to grab me) than of Biondi/Europa Galante. This is of course an exceedingly minor quibble, as the overall impression is of an orchestra perfectly able and willing to match Ms. Podger's approach to the music and intertwine itself with her playing. With Ms. Podger's playing at its best, magnified and underlined by a willing orchestra, this CD is a `must have' for Podger-lovers, Vivaldi-lovers, and period-performance-lovers, and it would be a great introduction for the merely curious.
引用
Album Information

These performances of Vivaldi's La Stravaganza - a collection of 12 violin concertos - are truly extravagant.
Download includes - cover art, inlay, booklet

Notes

These performances of Vivaldi's La Stravaganza - a collection of 12 violin concertos - are truly extravagant. They're not designed to be listened to in one sitting and shouldn't be: it's not the sameness of the orchestration which might get in the way, it's the intensity with which Vivaldi composed them and the manner in which the remarkable Rachel Podger plays them. Fans of Andrew Manze will love Podger for similar reasons.

Booklet Notes

Immersing myself in the 12 Concertos of 'La Stravaganza' was an intense and exhilarating experience, and one which has left me full of wonder at Vivaldi's seemingly endless capacity for invention. Having had many opportunities to get to know his music ever since I started playing the violin (the well-loved A minor Concerto from L'estro Armonico is one of the set pieces in Suzuki's violin method and played by most 6-10 year olds!), the Seasons and L'estro featuring strongly in baroque concert programmes, it was with interest but also a number of pre-conceptions that I approached these relatively obscure concertos. I rather arrogantly assumed I'd have to put my mind to making them sound as different from each other as possible, as they probably wouldn't assert their own character within the set by themselves. I'm ashamed of that thought now, since I quickly realised that I wasn't dealing with 'samey' music at all, but with extreme inventiveness within a definite framework. Vivaldi uses melodic figurations in so many remarkable ways. It's as though he likes to experiment with every possible variant and push the players beyond expectation of what might be coming next. Having said that, the most predictable comment about his music is that his music is predictable! But listen, for example, to the last movement of Concerto no.1, where we see him first setting up a simple phrase, experimenting with the opening figure (first 2 bars) in minimal ways, taking us unexpectedly (unpredictably!) into a new key just when we expect the solo part to take charge. For 111 bars he lets his imagination run riot with this very simple opening figure, transforming it and avoiding any obvious phrasing that the listener might assume. This way, he creates a wonderful spirit of exploration in the music. Fragments of figurations are often thrown from one part to the next in the orchestra, later making up a whole phrase....

Performer: Rachel Podger
Orchestra: Arte Dei Suonatori
Composer: A. Vivaldi
Audio CD (May 13, 2003)
Number of Discs: 2
Format: Import
Label: Channel Classics Nl
ASIN: B00008IUW2

代码
These performances of Vivaldi's La Stravaganza – a collection of 12 violin concertos – are truly extravagant. They're not designed to be listened to in one sitting and shouldn't be: it's not the sameness of the orchestration which might get in the way, it's the intensity with which Vivaldi composed them and the manner in which the remarkable Rachel Podger plays them. Fans of Andrew Manze will love Podger for similar reasons.

While Vivaldi was imitated and paraphrased for several decades in the 18th Century, his style is actually quite inimitable. His admirers could add to but not originate the formula. This is why his singular voice speaks to us now with such genuine directness and individuality. The concertos of La Stravanganza, remarkable for their range of coloration, constitute Vivaldi's evolving style of extravagance and ecstasy. Immersing herself in the 12 Concertos of La Stravanganza was an intense and exhilarating experience for violinist Rachel Podger, and one which has left her full of wonder at Vivaldi's seemingly endless capacity for invention.
– Gramophone's Best Baroque Recording of 2003 CCS SA 19503 (Channel Classics)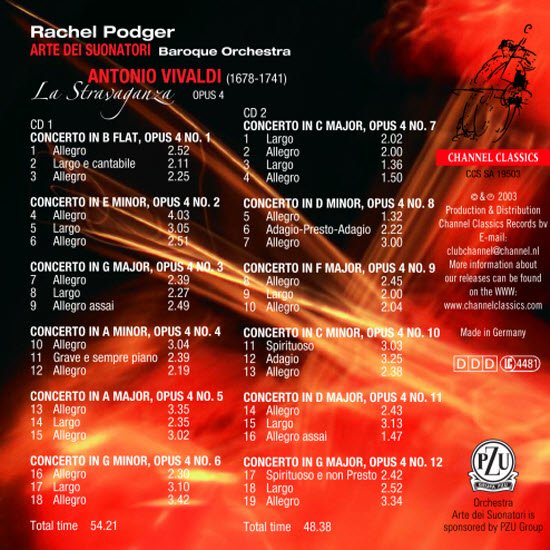 专辑曲目:
01. Vivaldi Concerto in Bb,Opus 4 no.1 -Allegro 2:55
02. Vivaldi Concerto in Bb,Opus 4 no.1 -Largo e cantabile 2:44
03. Vivaldi Concerto in Bb,Opus 4 no.1 - Allegro 2:31
04. Vivaldi Concerto in e minor,Opus 4 no.2 - Allegro 4:12
05. Vivaldi Concerto in e minor,Opus 4 no.2 - Largo 3:08
06. Vivaldi Concerto in e minor,Opus 4 no.2 - Allegro 2:59
07. Vivaldi Concerto in G ,Opus 4 no.3 - Allegro 2:51
08. Vivaldi Concerto in G ,Opus 4 no.3 - Largo 2:32
09. Vivaldi Concerto in G ,Opus 4 no.3 - Allegro assai 2:56
10. Vivaldi Concerto in a minor,Opus 4 no.4 - Allegro 3:12
11. Vivaldi Concerto in a minor,Opus 4 no.4 - Grave e sempre piano 2:44
12. Vivaldi Concerto in a minor,Opus 4 no.4 - Allegro 2:24
13. Vivaldi Concerto in A,Opus 4 no.5 - Allegro 3:44
14. Vivaldi Concerto in A,Opus 4 no.5 - Largo 2:38
15. Vivaldi Concerto in A,Opus 4 no.5 - Allegro 3:10
16. Vivaldi Concerto in G minor,Opus 4 no.6 - Allegro 2:38
17. Vivaldi Concerto in G minor,Opus 4 no.6 - Largo 3:13
18. Vivaldi Concerto in G minor,Opus 4 no.6 - Allegro 3:46
19. Vivaldi Concerto in C Major opus. 4 no.7 - Largo 2:04
20. Vivaldi Concerto in C Major opus. 4 no.7 - Allegro 2:05
21. Vivaldi Concerto in C Major opus. 4 no.7 - Largo 1:39
22. Vivaldi Concerto in C Major opus. 4 no.7 - Allegro 2:00
23. Vivaldi Concerto in D minor opus 4 no.8 - Allegro 1:34
24. Vivaldi Concerto in D minor opus 4 no.8 - Adagio-presto-adagio 2:23
25. Vivaldi Concerto in D minor opus 4 no.8 - Allegro 3:09
26. Vivaldi Concerto in F Major opus 4 no.9 - Allegro 2:50
27. Vivaldi Concerto in F Major opus 4 no.9 - Largo 2:02
28. Vivaldi Concerto in F Major opus 4 no.9 - Allegro 2:16
29. Vivaldi Concerto in C minor opus 4 no.10 - Spirituoso 3:07
30. Vivaldi Concerto in C minor opus 4 no.10 - Adagio 3:27
31. Vivaldi Concerto in C minor opus 4 no.10 - Allegro 2:48
32. Vivaldi Concerto in D Major opus 4 no.11- Allegro 2:49
33. Vivaldi Concerto in D Major opus 4 no.11- Largo 3:16
34. Vivaldi Concerto in D Major opus 4 no.11- Allegro assai 1:58
35. Vivaldi Concerto in G Major opus 4 no.12 - Spirituoso 2:48
36. Vivaldi Concerto in G Major opus 4 no.12 - Largo 2:57
37. Vivaldi Concerto in G Major opus 4 no.12 - Allegro 3:38

Disc1 SACD

Concerto in B Flat Opus 4 No 1
01. i. Allegro [02:59]
02. ii. Largo e cantabile [02:44]
03. iii. Allegro [02:34]
Concerto in E Minor Opus 4 No 2
04. i. Allegro [04:10]
05. ii. Largo [03:08]
06. iii. Allegro [03:05]
Concerto in G Major Opus 4 No 3
07. i. Allegro [02:47]
08. ii. Largo [02:30.06]
09. iii. Allegro assai [03:00]
Concerto in A Minor Opus 4 No 4
10. i. Allegro [03:10]
11. ii. Grave e sempre piano [02:43]
12. iii. Allegro [02:30]
Concerto in A Major Opus 4 No 5
13. i. Allegro [03:39]
14. ii. Largo [02:39]
15. iii. Allegro [03:15]
Concerto in G Minor Opus 4 No 6
16. i. Allegro [02:35]
17. ii. Largo [03:13]
18. iii. Allegro [03:47]

Продолжительность: 00:54:29

Disc2 SACD

Concerto in C Major Opus 4 No 7
01. i. Largo [02:09]
02. ii. Allegro [02:04]
03. iii. Largo [01:39]
04. iv. Allegro [02:00]
Concerto in D Minor Opus 4 No 8
05. i.Allegro [01:35]
06. ii.Adagio-Presto-Adagio [02:22]
07. iii.Allegro [03:09]
Concerto in F Major Opus 4 No 9
08. i.Allegro [02:51]
09. ii.Largo [02:02]
10. iii.Allegro [02:17]
Concerto in C Minor Opus 4 No 10
11. i. Spirituoso [03:06]
12. ii. Adagio [03:28]
13. iii. Allegro [02:50]
Concerto in D Major Opus 4 No 11
14. i. Allegro [02:47]
15. ii. Largo [03:17]
16. iii. Allegro assai [01:58]
Concerto in G Major Opus 4 No 12
17. i. Spirituoso e non Presto [02:48]
18. ii. Largo [02:56]
19. iii. Allegro [03:42]

Продолжительность: 00:49:05
这里是其它用户补充的资源(我也要补充):
暂无补充资源