专辑英文名: Mozart: Piano Concertos No. 19、No. 23
专辑中文名: 莫札特:第十九、二十三号钢琴协奏曲
古典类型: 全集作品
资源格式: FLAC
发行时间: 2011年11月08日
简介: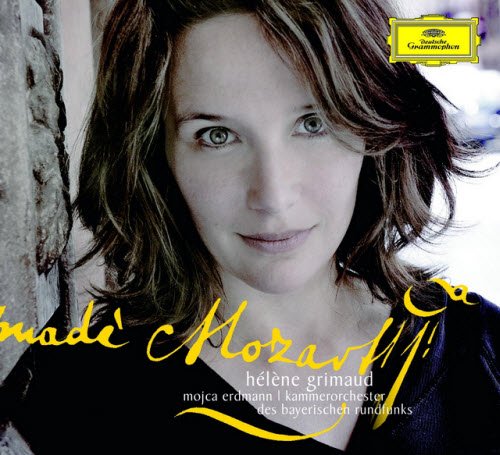 专辑说明:

⊙葛莉茉,钢琴/莫伊查‧艾德曼,女高音/巴伐利亚广播室内乐团

这是葛莉茉首次录制莫札特的钢琴协奏曲。不过,它不只是一张单纯的古典音乐经典曲目专辑,葛莉茉对於曲目的安排同样有一番自己的独到见解。

专辑的灵感可以追溯到2008年,葛莉茉与巴伐利亚广播室内乐团合作录制巴哈D小调第一号大键琴、弦乐与数字低音协奏曲后,双方对於音乐詮释与理念产生化学反应。因此2011年五月,葛莉茉再度回到慕尼黑,与巴伐利亚广播室内乐团合作莫札特两首钢琴协奏曲。这张专辑的协奏曲部分,就是五月音乐会的实况录音。

葛莉茉认为,第23号钢琴协奏曲「很可能是莫札特写过最好的协奏曲」。尤其是慢板乐章里,「表现出极其深刻的痛苦与渴望,在这儿有最真实的莫札特」。至於第19号钢琴协奏曲,虽然它的知名度较低,但是音乐中的特殊活力以及精巧华丽的终乐章,弹奏它能够「单纯享受钢琴」葛莉茉说。

两首协奏曲间收录的,是莫札特为女高音、钢琴与管弦乐所写的宣叙调与咏嘆调《叫我如何能忘?……不用担心,心爱的》,也是葛莉茉从小就非常喜爱的曲子。对她而言,这首咏嘆调是最具有莫札特优雅与温柔个性的作品之一。特别是人声与钢琴间的互动,以及超脱歌词意义,单纯从音乐出发的情感表达方式,更是让葛莉茉著迷不已。

【曲目】《莫札特:F大调第十九号钢琴协奏曲,K. 459》
[1] 第一乐章:活泼的快板
[2] 第二乐章:小快板
[3] 第三乐章:很快的快板
[4]-[6] 莫札特:为女高音、钢琴与管弦乐所写的宣叙调与咏嘆调《叫我如何能忘?……不用担心,心爱的》,K. 505 《莫札特:A 大调第二十三号钢琴协奏曲,K. 488》
[7] 第一乐章:快板
[8] 第二乐章:慢板
[9] 第三乐章:很快的快板

DG 4779455(1CD)028947794554
莫札特:第十九、二十三号钢琴协奏曲【1CD】
Mozart: Piano Concertos No. 19、No. 23|Ch'io mi scordi di te?
葛莉茉,钢琴 / 莫伊查‧艾德曼,女高音 / 巴伐利亚广播室内乐团
Hélène Grimaud, Piano / Mojca Erdmann, Soprano / Chamber Orchestra of the Bavarian Radio, Radoslaw Szulc

Performer: Helene Grimaud, Mojca Erdmann
Orchestra: Bavarian Radio Chamber Orchestra
Conductor: Radoslaw Szulc
Composer: Wolfgang Amadeus Mozart
Audio CD (November 8, 2011)
SPARS Code: DDD
Number of Discs: 2
Format: Deluxe Edition, CD+DVD
Label: Deutsche Grammophon
ASIN: B005IWXNTK

Hélène Grimaud
Mozart
CD 477 9849
Also available as download
Release date: July 2011

Review by Blair Sanderson

Central to Hélène Grimaud's first live album for Deutsche Grammophon is the significance she finds in the slow movement of the Piano Concerto No. 23 in A major, K. 488, of Wolfgang Amadeus Mozart. This movement is a touchstone for her, insofar as she regards it as the most sublime music, "where you find the real Mozart." She has also stated, "Even if this movement were all we had, that would be enough." Because of the emphasis Grimaud places on this poignant Adagio in F sharp minor, listeners may be tempted to cut to the chase and skip the other tracks to hear her interpretation. But to get the full impact and intent of her Mozart, listen from the beginning of this album. The Piano Concerto No. 19 in F major, K. 459, opens the disc, and is followed by the Recitative and Rondo, K. 505, from Idomeneo, performed by guest soprano Mojca Erdmann. Grimaud's playing and conducting of the Bavarian Radio Chamber Orchestra are brisk and boisterous, and her approach is direct and energetic, as fans have experienced in her many recordings of Romantic repertoire. She saves her most expressive playing for the Allegretto of K. 459, which is an amiable diversion, and the above-mentioned Adagio of K. 488, which in Grimaud's hands is a dark and troubling exploration of the soul. Note: the cadenzas in K. 459 are Mozart's, but the first movement cadenza of K. 488 is by Ferruccio Busoni.


引用
Grimaud has provided a thoughtful program for this, her first ever Mozart recording.

Hélène Grimaud has provided a thoughtful program for this, her first ever Mozart recording. The two concertos, both in sunny major keys, are not among the most often recorded of the composer's output, and there is a substantial addition in the form of a concert aria, originally from Idomeneo, for soprano and orchestra with piano obbligato.

The recording is full-blooded, not unlike Grimaud's playing. This is not the gentle, caressing Mozart of Maria João Pires. Grimaud finds both strength and depth in the Adagio movement of the A Major Concerto (No 23, K488), taken slower than usual, and a bubbling vivacity in the work's Allegro assai finale. Similarly fine pianism characterises the F Major Concerto (No 19, K459), where she conveys the carefree nature of one of Mozart's brightest and breeziest works.

Erdmann sings the concert aria with poise, understanding and spot on intonation. In a live context she may have a small voice, but it records beautifully. Again Grimaud's piano is an asset.

The downside of this disc lies in the fact that these are live concert recordings. In big dramatic works the presence of an audience can galvanise a performer, but this is not so necessary in Mozart. Unlike other pianist/conductors in this repertoire (Barenboim, Perahia and especially Richard Goode), Grimaud fails to get the best out of the orchestra. The strings' articulation could be more pointed, balance is sometimes iffy and neither concerto starts confidently. The recording would have benefited from studio conditions or a conductor.
élène Grimaud piano
Mojca Erdmann soprano
Kammerorchester des Symphonieorchesters
des Bayerischen Rundfunk
Radoslaw Szulc Leader
Live recording (concertos)
CD/Download 00289 477 9455
Limited Deluxe Edition 00289 477 9849 (including DVD and hardcover booklet)
Recording: Munich, Prinzregententheater, 5/2011 (Concertos);
Residenz, Herkulessaal, 7/2011 (Aria)
Executive Producers: Ute Fesquet (DG), Wolfram Graul (BR)
Producer: Wilhelm Meister (BR)
Recording Engineer: Gerhard Gruber (BR)
Assistant Engineer: Andreas Mittelstädt (BR)
Editing: Andreas Mittelstädt, Bernadette Rüb, Ruth-Maria Ostermann (BR)
Project Coordinators: Matthias Spindler, Misha Aster (DG)
Piano Technician: Vinzenz Schuster
(P) & © 2011 Deutsche Grammophon GmbH, Berlin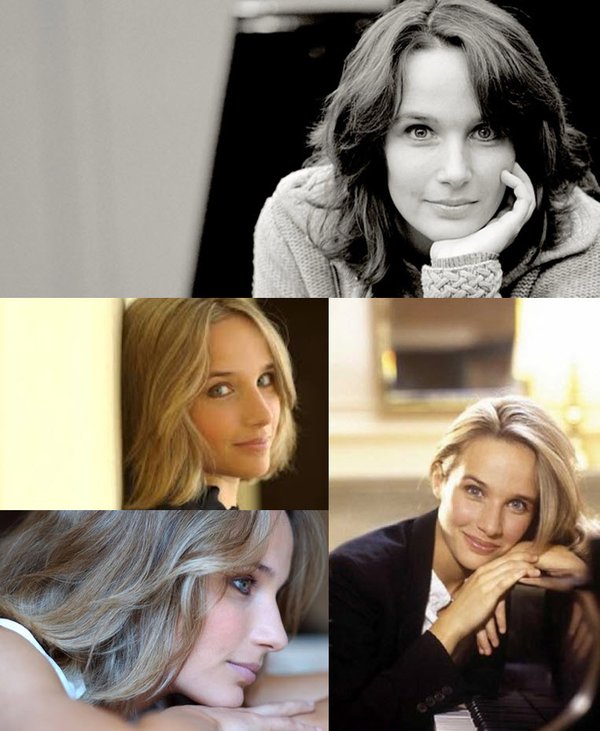 专辑曲目:
Wolfgang Amadeus Mozart (1756–1791)

Piano Concerto No.19 in F, K.459
[1] 1. Allegro [11:58]
[2] 2. Allegretto [7:59]
[3] 3. Allegro assai - Cadenza: Wolfgang Amadeus Mozart [7:53]
Hélène Grimaud, Chamber Orchestra of the Bavarian Radio, Radoslaw Szulc

Ch'io mi scordi di te... Non temer, amato bene, K.505
(Varesco)
[4] Ch'io mi scordi di te? [1:53]
[5] Non temer, amato bene [3:15]
[6] Alme belle, che vedete [5:07]
Mojca Erdmann, Chamber Orchestra of the Bavarian Radio, Radoslaw Szulc, Hélène Grimaud

Piano Concerto No.23 in A, K.488
[7] 1. Allegro - Cadenza: Ferruccio Busoni [10:42]
[8] 2. Adagio [7:38]
[9] 3. Allegro assai [7:56]
Hélène Grimaud, Chamber Orchestra of the Bavarian Radio, Radoslaw Szulc

Total Playing Time [1:04:21]
这里是其它用户补充的资源(我也要补充):
暂无补充资源