专辑英文名: Brahms Piano Concertos No 1 & 2
专辑中文名: 布拉姆斯钢琴协奏曲
古典类型: 协奏曲
资源格式: FLAC
版本: [2 CD]
发行时间: 2013年09月30日
简介: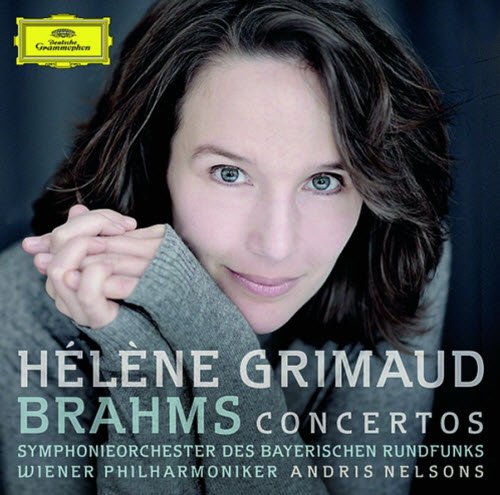 专辑说明:

第一号钢琴协奏曲是布拉姆斯第一部大型管弦乐曲。布拉姆斯对自己的作品一向慎重,不轻易创作如交响曲一般的作品,但是亦师亦友的舒曼在他二十岁那一年逝世后,悲痛的布拉姆斯下定决心听从舒曼的建议创作一首大型作品。原本布拉姆斯想把它写成双钢琴奏鸣曲,后来又考虑写成交响曲,最后决定谱为钢琴协奏曲。作品於1859年一月首演。

第二号钢琴协奏曲的发表整整晚了二十二年,已经是布拉姆斯的成熟之作。创作时间约在第三号交响曲和小提琴协奏曲之间,是布拉姆斯规模最宏大、最具管弦乐效果的作品之一。布拉姆斯当时週游各地,经过许多德国名城大川,到达他嚮往的义大利时,心情显然非常开朗,一直念念不忘南欧的明媚风光。这部作品的精神或许可用他写给朋友信中的一句话代表:「宛如义大利的暮春与初夏。」

葛莉茉詮释这两部协奏曲的历程与创作过程有些相似。1990年代末期录下第一号钢琴协奏曲后,葛莉茉花了十五年的时间,才认为自己能够拥抱张力与戏剧性都很强烈的第二号钢琴协奏曲。而葛莉茉是中生代钢琴家里,少数具有个人独特音乐性,并且颇有自我主张的钢琴家。她的布拉姆斯詮释有著明显的个人特色,黑暗中充满著激情并兼顾到作品的浪漫风格,使得这两部协奏曲很轻易就能抓住,并且支配爱乐者的心。

布拉姆斯:第一、二号钢琴协奏曲 / 葛莉茉,钢琴 / 尼尔森斯指挥,巴伐利亚广播交响乐团与维也纳爱乐 (2CD) Brahms : The Piano Concertos / Helene Grimaud, Andris Nelsons (2CD)

唱片公司:Deutsche Grammophon
音乐类型:古典音乐
唱片编号:4791058
发行日期:2013年11月01日
进口专辑 / CD / 2 片装

【曲目】
CD 1
布拉姆斯:D小调第一号钢琴协奏曲,作品15
[1] 第一乐章:庄严的
[2] 第二乐章:慢板
[3] 第三乐章:轮旋曲:不太快的快板

CD2
布拉姆斯:降B大调第二号钢琴协奏曲,作品83
[1] 第一乐章:不太快的快板
[2] 第二乐章:热情的快板
[3] 第三乐章:行板─更加慢
[4] 第四乐章:优雅的小快板─稍微更急速


Notes and Editorial Reviews
Intense, romantic music-making from the world's most captivating pianist. Thrilling, deeply personal interpretations of the dark, passionate sound-worlds of both Brahms piano concertos. A unique, multi-faceted artist who continues to push creative boundaries, Grimaud is one of few pianists to conquer the monumental dimensions of the epic Op.83. Recorded in Vienna's legendary Musikverein, the 2nd Piano Concerto marks Grimaud's debut recording with the celebrated Wiener Philharmoniker; coupled with the equally coveted Symphonieorchester des Bayerischen Rundfunks for the 1st Concerto, Grimaud has discovered exemplary musical counterparts. Conductor Andris Nelsons – dubbed "Der Wunderdirigent" by the Su?ddeutsche Zeitung – is one of today's most exciting young interpreters of Romantic repertoire.

Release Date: 09/30/2013
Label: Deutsche Grammophon Catalog #: 001904602
Composer: Johannes Brahms
Performer: Hélène Grimaud
Conductor: Andris Nelsons
Orchestra/Ensemble: Vienna Philharmonic Orchestra, Bavarian Radio Symphony Orchestra
Number of Discs: 2
Recorded in: Stereo

REVIEW
RECORDING OF THE MONTH

Johannes BRAHMS (1833-1897)
Piano concerto No. 1 in D minor, op. 15 [50:38]
Piano concerto No. 2 in B flat major, op. 83 [49:56]
Waltz, op. 39 No. 15 in A flat major [1:48]
Hélène Grimaud (piano)
Bavarian Radio Symphony Orchestra (op. 15) Vienna Philharmonic Orchestra (op. 83)/Andris Nelsons
rec. details not provided
DEUTSCHE GRAMMOPHON 479 1058 [50:38 + 51:44]

The music of Brahms has elicited two very distinct approaches: either, he is seen as a Classical composer writing in the romantic era, or a Romantic composer who acknowledges the past. This impacts on performances of his music, and specifically in this instance, his two great piano concertos, in speed. Those disposed to the Classical view proceed at a significantly faster pace in all movements than do those of the Romantic leaning.

The two most acclaimed recordings of the pair of concertos are those of the Classically-inclined Leon Fleisher (Cleveland Orchestra/George Szell) and the Romantic Emil Gilels (Berlin Philharmonic/Eugen Jochum). A comparative review of the two was undertaken by Michael Cookson - you can read his conclusions here.

Movement timings are never the only criteria for comparison, but in this case, they do tell the story quite well.


引用
Most pianists who have recorded both concertos will have both under 48 minutes or above 50 (please don't write in with the exceptions - I did use the word "most"). If you glance back at the disc details, you will see which side of the fence Hélène Grimaud is on; I think for the sake of this generalisation that we can overlook the few seconds that her D minor is short of 50 minutes. Hers is very much in the Gilels mould, despite Leon Fleisher being one of her teachers.

I should declare my preference before we proceed further. Those of you who prefer the Classical approach may wish to click the Back button on your browser now: the Gilels recordings would be among my Desert Island discs.

Two curious observations about the recordings of the concertos have emerged in researching this review. Firstly, the Brahms concertos are rarely recorded by women. ArkivMusic lists more than 70 pianists having recorded the B flat, but only six of them are women, Martha Argerich, Mitsuko Uchida and Angela Hewitt not being among them.

Secondly, for such staples of the repertoire, the small number of outings since the turn of the century is quite surprising. The immediate predecessor to the recording under consideration seems to be Nicholas Angelich in 2010, and before him, we need to go back to 2007.

Despite the gender discrepancy, this is Ms Grimaud's second recording of the D minor concerto, the first being early in her career: 1998 with Kurt Sanderling and the Berlin Staatskapelle. Remarkably, the timing of the first movement in both recordings is identical to the very second at 23:50.

So to the performances, which, judged on their own merits, are outstanding: by turns, majestic, passionate, tender and dramatic. However, it is inevitable that they must also be compared to those of Gilels, and they hold their own very well, without ever reaching quite those exalted heights.

I don't intend to analyse each movement of each work, but let me comment on a few points that I see as key to success.

The first movement of the D minor is marked maestoso, and I feel that the "Classical" interpretations tend to treat it more as allegro non troppo, missing the majesty implied in the tempo marking. Grimaud, at just 20 seconds faster than Gilels, gives the glorious themes the chance to sing, whilst providing the dramatic flourishes when required. The quiet moments before the final climax are not as poetic as Gilels, and the virtuoso runs which end the movement may lack the Russian's power, but have a greater clarity.

In the rondo finale of the D minor, I feel that Grimaud even outdoes Gilels - I feel like I'm committing heresy in writing this - in providing a little more forward impetus, while still respecting the non troppo modifier on the allegro. The double bass and cello chugging motif towards the end in conjunction with the horns, is quite magical, and her surge to the final climax is magnificent.

If the Gilels recordings would be on my desert island with me, the B flat concerto is my Desert Island concerto, and I've never heard a performance that comes anywhere near Gilels. I'm not going to say "until now" as Grimaud lags some distance behind, but she certainly is a respectable runner-up.

My litmus test is the second movement, marked allegro appassionato, and for me, the Classical interpretations over-emphasise the allegro and tend to lose the passion. The contrast between Fleisher (or Kovacevich) and Gilels and Grimaud is evident from the start. The former charge into the opening bars without giving them a chance to breathe, the latter build up the intensity as they progress into the movement. The intense upsurge in the middle of the movement in the Gilels is one of the sublime moments in all music. Grimaud and Nelsons cannot match it in power or passion, but then, no one can.

Grimaud's slow movement is the highlight of the whole recording, and her one point of discrepancy with Gilels in terms of tempo, her timing being close to that of Fleisher and Kovacevich. There is such poetry and rapture in her interpretation.

The orchestral playing and direction, so crucial in these works, is exemplary as would be expected from two of the world's great orchestras and one of the new generation of fine conductors.

The D minor concerto is a live recording - there is applause at the end after a brief pause - but that is the only sound from the audience; the good folk of Munich were certainly on their best behaviour that evening. The B flat is a "studio" recording in the Vienna Musikverein.

It's hard to know what purpose is served by the single waltz at the end, especially as it appears only on the download version of the recording, which is what I listened to. I listened to this as a download (320 kbs mp3), and the sound quality was good, but not exceptional in the case of the live D minor. No booklet was provided by my source (Bigpond Music Australia), though it is available, I note, through iTunes. The label website for the album appears to provide the booklet, and if that is the case, not having it is no loss.

I thought long and hard about whether I would award this Recording of the Month status, eventually deciding that I must judge the recording on its own merits first, where it stands proudly above all others … except one.

David Barker
专辑曲目:
CD 1: Brahms: Piano Concerto No.1 In D Minor, Op.15

Piano Concerto No.1 In D Minor, Op.15
1. 1. Maestoso - Poco più moderato 23:51
2. 2. Adagio 14:23
3. 3. Rondo (Allegro non troppo) 12:27

Hélène Grimaud, Bavarian Radio Symphony Orchestra, Andris Nelsons
Tiempo total de reproducción 50:41

CD 2: Brahms: Piano Concerto No.2 In B Flat, Op.83

Piano Concerto No.2 In B Flat, Op.83
1. 1. Allegro non troppo 18:52
2. 2. Allegro appassionato 9:25
3. 3. Andante - Più adagio 12:44
4. 4. Allegretto grazioso - Un poco più presto 9:17

Hélène Grimaud, Vienna Philharmonic Orchestra, Andris Nelsons
Tiempo total de reproducción 50:18
这里是其它用户补充的资源(我也要补充):
暂无补充资源