专辑英文名: Acoustic By Candlelight
专辑中文名: 烛光下的流金岁月
别名: (Live In The UK)
音乐风格: 流行
资源格式: FLAC
发行时间: 2013年06月13日
简介: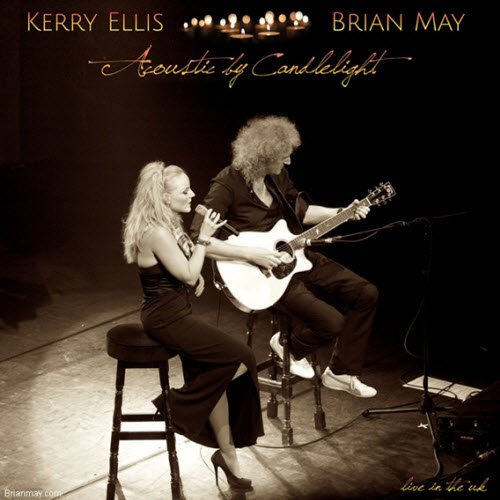 专辑介绍:

黄金流声...Brian May & Kerry Ellis - Born Free

黄金岁月, 金曲重温, 细水长流. 此回推介这张最新大碟Acoustic By Candlelight. 2010年Kerry Ellis推出由皇后乐队结他之神Brian May操刀监制的Anthems, 获得各方好评如潮. 今次再接再励, 继续重新演绎一系列经典金曲, 无需小弟多讲. 有兴趣的朋友不妨在此留言. 先来一首Born Free...

A nice little intimate recording

by rberto

What can I say about Brian May, a great song writer, fantastic guitarist/musician, PHD in astro physics (???? DR, my brain hurts just thinking about that one! lol) good singer. It is all true and he is like a fine wine, just keeps getting better and better with age. Now Ms. Ellis, a total WOW!!!! What a voice, pitch perfect, crystal clear with a lot of emotion and expression. She and Brian are a perfect match. This recording is like if they were jamming in my living room. it seamless flows and, at least for me, makes me take a breath and makes me slow down from the fast paced NYC living I partake in everyday. I dig how he dug up Life Is Real and I hope people seek out the original Queen version since it is one of Freddie's best songs. I recommend this album.


引用
Original Release Date: 24 Jun 2013
Release Date: 24 Jun 2013
Label: Universal-Island Records Ltd.
Copyright: © 2013 Duck Productions Ltd.
Record Company Required Metadata: Music file metadata contains unique purchase identifier. Learn more.
Total Length: 1:04:17
Genres: Rock
ASIN: B00DH5RGX4

Release Date 13/06/13
Product code KECD003
Format CD Album
Number of Discs 1
Label Duck Productions Ltd

5.0 out of 5 stars Get close and personal with Brian and Kerry 19 Oct 2013
By Ian Johnson
Format:MP3 Download|Amazon Verified Purchase
An amazing intimate set. Beautiful stripped down renditions of some classic songs - especially 'Something' by George Harrison along with some new stuff. A MUST FOR ANY QUEEN FAN. Shame its LIVE and in MP 3 format only so you have to top and tail the tracks in audacity tracks should you want to burn it to CD without annoying the hell out of you
Comment |
Was this review helpful to you?
1 of 1 people found the following review helpful
5.0 out of 5 stars Scobie 15 July 2013
By kelvinj
Format:MP3 Download|Amazon Verified Purchase
This is a superb album, Brian May & Kerry Ellis make a superb duo.
Great songs and live atmophere .
引用
MCD Presents
Brian May & Kerry Ellis
"The Born Free Tour"
The Olympia Theatre
Sunday 30th June 2013
Queen's legendary guitarist Brian May is teaming up with rock Goddess Kerry Ellis for a stunning candlelit, acoustic show at The Olympia Theatre on 30th June.
Tickets from €36.50 including booking fee are on sale now via Ticketmaster. Please note, restricted view Circle seats or Upper Circle unreserved seats only available now.
Please note, the doors will open at 7.15pm, and this show will start around 8pm. There is no support act and no interval. These times are approximate and subject to change as always.
After the phenomenal success of the sell-out charity show, Anthems: The Concert, at London's Royal Albert Hall in May 2011, Their UK tour of Anthems: The Tour and the release of Kerry & Brian's single Defying Gravity, Kerry & Brian will now be taking their majestic brand new acoustic show to Dublin.
The Born Free Tour will electrify The Olympia Theatre audience with rock superstar, Queen guitarist Brian May performing new arrangements of songs he has specially chosen to be sung by Kerry, accompanying her on both guitar and vocals.
Brian May says: "Kerry Ellis is now acknowledged as a phenomenon, equally at home in Musical Theatre and Rock. I was convinced from the moment we worked together on We Will Rock You nine years ago, that she was destined to be a worldwide star. The challenge was to develop songs and arrangements to allow that amazing voice to reach its true potential."
The Born Free Tour follows a series of acclaimed performances by Kerry & Brian together over the past few years. They stole the show when they performed together on the Royal Variety Show in 2008, they performed live together again at BBC Proms in the Park and at 2010's The Night of 1000 Voices, and most recently, they opened the Remembrance Day concert at the Royal Albert Hall.
The Born Free Tour follows the 2011 success of Anthems: The Tour and their pounding club remix of 'Defying Gravity' - the lead track from the musical, Wicked, and a standout song on Kerry's debut album.
What The Press Say about Kerry Ellis:
Daily Express - "Big voice, big production, big numbers!"
The Sun - "Ellis' huge voice and May's scorching guitar riffs pack enough energy to blow the roof off"
Woman - "This debut album is a real showstopper – a fusion of rock-meets-musical."
Kerry Ellis starred in the leading role of Elphaba in WICKED at the Apollo Victoria in the West End and the Gershwin Theatre on Broadway. She played Fantine in LES MISÉRABLES at the Queens Theatre and Ellen in MISS SAIGON on its UK tour. She won widespread acclaim for her performance as Svetlana in the spectacular CHESS IN CONCERT at the Royal Albert Hall. She first met Brian May whilst appearing as Meat in the Queen and Ben Elton musical, WE WILL ROCK YOU at the Dominion Theatre. Most recently, Kerry played Nancy in OLIVER at the Theatre Royal, Drury Lane.
Brian May's legendary compositions and performances for Queen have earned him worldwide acclaim. He has composed such hits as 'We Will Rock You'. 'Who Wants To Live Forever', 'I Want It All', 'Save Me' and 'Fat Bottomed Girls'. Queen has released a total of 18 Number One albums, had 18 Number One singles and 10 Number One DVDs. They have sold over 300 million albums worldwide; making them one of the world's best selling music artistes. Brian was made Commander of the Order of the British Empire in 2005 for 'Services To The Music Industry'.
http://www.olympia.ie/whats-on/brian-may/
All tracks are performed by Kerry Ellis (vocals), Brian May (acoustic guitar) and Jeff Leach (keyboards) except where noted.
Produced by Brian May
Co-produced and engineered by Justin Shirley-Smith and Kris Fredriksson
Recorded by Robin Fox and Mike Savage
Mastered by Kevin Metcalfe at The Soundmasters
Front cover photography and design by Daniele Calabria
Back cover photography by Francyne Carr and Terry Brisco
Artwork by Richard Gray
Special thanks to Anita Dobson, James Townsend and our families, and to our faithful fans. Always appreciated.
The album was recorded at various venues on the 2012 'Born Free' tour of England. It features 4 Queen tracks, 3 tracks from Kerry's debut album 'Anthems', 7 cover versions, and 1 new track written by Brian and Kerry. Brian plays acoustic guitar on 12 tracks, electric guitar on 2 tracks, and one is performed by Kerry and Jeff Leach with no involvement from Brian.
Notes
Live on the 'Born Free' Tour (in the U.K.)
Tracks 3, 11, 15 recorded live on 5th November 2012 in Bury St Edmunds
Tracks 10, 14 recorded live on 6th November 2012 in Leamington Spa
Tracks 4, 7, 8, 12 recorded live on 7th November 2012 in Corby
Tracks 2, 9 recorded live on 11th November 2012 in Islington
Tracks 5, 6, 13 recorded live on 12th November 2012 in St Albans
Track 1 recorded live on 17th November 2012 in Salisbury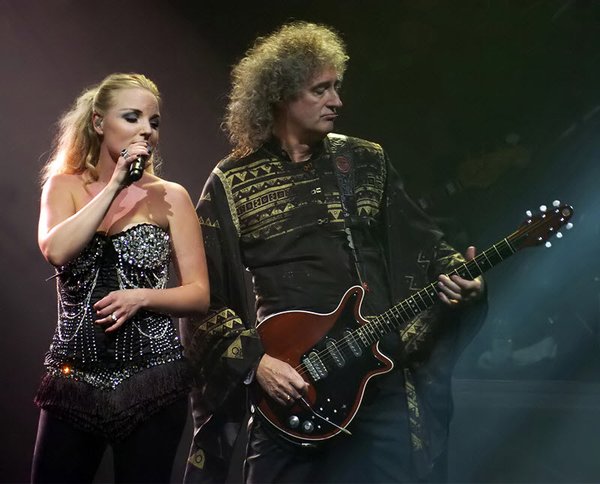 对Brian May来说,在传奇摇滚乐团皇后合唱团中担任吉他手,可能只是他在攻读天体物理学博士学位过程中的一段小插曲而已,这位吉他之神以「调查黄道带星尘中的径向速度」(A Survey of Radial Velocities in the Zodiacal Dust Cloud)作为论文题目,探讨黄道光(Zodiacal Light)现象,黄道光是一片呈现三角锥形的朦朧光带,通常在日落后的西方天空以及黎明前的东方天空可以观察得到。
黄道光是由散落在太阳系中的碎片及星尘反射太阳光而成,有时郊区天色较暗,会被误认为黎明的曙光,而May的这篇论文则将重点放在1971和1972年间法布里-珀罗光谱仪(Fabry-Perot Spectrometer)在加那利群岛所测量到的一系列数据。
Brian Harold May
CBE (born 19 July 1947) is an English musician, singer, songwriter and astrophysicist who achieved international fame as the guitarist of Queen. As a guitarist he uses a home-built guitar, "Red Special". Queen's albums include numerous May compositions, including "Tie Your Mother Down", "I Want It All", "We Will Rock You", "Fat Bottomed Girls" and "Who Wants to Live Forever".
He was appointed a Commander of the Most Excellent Order of the British Empire (CBE) in 2005 for "services to the music industry and for charity work". May attained a Ph.D in astrophysics from Imperial College in 2007 and was Chancellor of Liverpool John Moores University from 2008 to 2013. He resides in Windlesham, Surrey.[3] He is an active animal rights advocate and was appointed a vice-president of animal welfare charity the RSPCA in September 2012.
In 2005, a Planet Rock poll saw May voted the 7th greatest guitarist of all time. He was ranked at No. 26 on Rolling Stone magazine's list of the "100 Greatest Guitarists of All Time". In 2012, May was ranked the 2nd greatest guitarist of all time by a Guitar World magazine readers poll.
Kerry Jane Townsend
(born 6 May 1979), better known by her maiden name Kerry Ellis, is an English actress and singer who is best known for her work in musical theatre and subsequent crossover into music. Born and raised in Suffolk, Ellis began performing at an early age before attending Laine Theatre Arts from the age of 16.
专辑曲目:
01. Born Free (3:18)
02. I Loved A Butterfly (4:49)
03. I Who Have Nothing (3:45)
04. Dust In The Wind (4:21)
05. The Kissing Me Song (4:25)
06. Nothing Really Has Changed (4:56)
07. Life Is Real (4:30)
08. The Way We Were (3:43)
09. Something (4:32)
10. Love Of My Life (4:37)
11. I'm Not That Girl (3:26)
12. I Can't Be Your Friend (4:32)
13. In The Bleak Midwinter (3:44)
14. Crazy Little Thing Called Love (3:47)
15. No One But You (Only The Good Die Young) (6:04)
这里是其它用户补充的资源(我也要补充):
暂无补充资源