专辑英文名: Six Pack
专辑中文名: 纯人声 情歌六首
音乐风格: 流行
资源格式: FLAC
发行时间: 2009年09月01日
简介: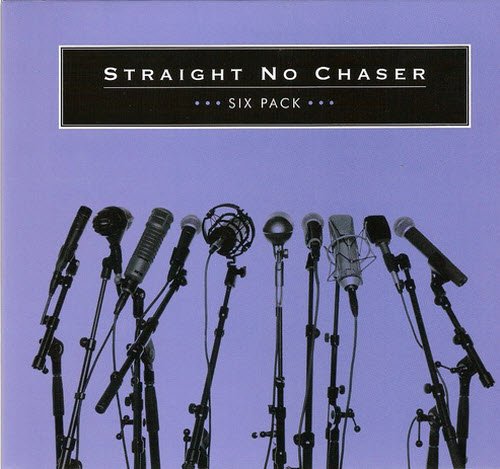 专辑介绍:

Straight No Chaser(以下简称SNC),是一支纯人声A Cappella(义大利语,无伴奏清唱)的男子合唱团。这类的合唱表演,团员们是用人声来唱出歌曲及模拟乐器的伴奏,难度相当高。SNC成立於1996年,创始团员是美国印第安纳大学的十位男同学,首批团员在1998年毕业之后,该校仍保有这个团体的存在,团员则由后进的学弟担任。那批创始团员毕业后原本各分东西,可是因为一段奇遇,居然在2008年重新归队,且出了唱片。(印大的学生团原本沿用其名,在校友团SNC灌录唱片之后,为了有所区隔已改名为【Another Round】,而且也发行了自己的专辑)。

2006年Youtube上出现了一支精彩的A Cappella歌唱影片,吸引眾多人次点阅,数字不断攀升,至今已超过二千万次,而在当时,观赏影片的人还包括了大西洋唱片总裁Craig Kallman。那是SNC创始团长Randy Stine上传的影片,叫做「The 12 Days of Christmas」 -- 一段圣诞歌集锦,是该团在1998年所做的一场表演。他们把这首组曲做了非常有趣的编排,甚至在最后神来之笔加入了摇滚乐团「Toto」1982年的冠军歌曲「Africa」。 Craig Kallman看了他们的表演讚不绝口,於是亲自致电Randy Stine,问他们是否考虑重新组团出唱片,就这样,该团之中1996-1998的八位老团员重新聚首、再加上2000-2003的两位学弟,SNC跟大西洋唱片签下合约,开始发行了一系列的专辑。(该团后来人员有异动,几位老团员因故退出,其位皆由后进的学弟增补)

没想到就因为一支影片,开啟了SNC后来的历程。到目前为止,他们一共发行了两张圣诞歌曲的专辑「Holiday Spirits」和「Christmas Cheers」、一张改编畅销流行歌曲的专辑「With a Twist」、及两张EP「Six Pack」和「Six Pack Volume2」。出片之后,他们也在电视台制播特别节目,并巡迴全美各地演出。听过SNC表演的人们无不沉醉在他们完美和谐的演唱和有趣的表演中,只要听过他们一首歌,你会忍不住一首接一首。

Original Release Date: September 1, 2009
Release Date: June 29, 2009
Label: Atco/Atlantic
Copyright: 2009 Atlantic Recording Corporation for the United States and WEA International Inc. for the world outside of the United States
Record Company Required Metadata: Music file metadata contains unique purchase identifier. Learn more.
Total Length: 18:53
Genres: Pop
ASIN: B002M6DIW2

Genres: Pop, Music, Rock, Vocal, Vocal Pop
Released: Nov 28, 2011
℗ This compilation 2011 Atlantic Recording Corporation for the United States and WEA International Inc. for the world outside of the United States


iTunes Review

It might seem like Straight No Chaser took some time off between 2009's Six Pack EP and 2011's Six Pack Vol. 2. But in between those EPs, everybody's favorite all-male a cappella group was busy performing live and recording a few full-length albums. Here, the ensemble opens with a wide-angle take on the Smokey Robinson hit "Get Ready." It starts with a bang, as perfectly congruent vocal harmonies hover over beatbox rhythms. Vocal cords are the group's only instrumentation—the members dynamically approximate drums, bass, horns, and other instruments with their voices. An amazing version of Madonna's "Like a Prayer" has the group bringing the tune back to its gospel inspiration, with vocal inflections becoming a magical-sounding orchestra. But the fun really starts with S.N.C.'s spot-on cover of Michael Jackson's "Billie Jean," where the group cleverly mixes in Bell Biv DeVoe's "Poison" through parts of the tune. A soulful reworking of Weezer's "Buddy Holly" is another standout. S.N.C. closes with an impressively executed cover of Marvin Gaye's "Let's Get It On


引用
Music Review: Straight No Chaser – Six Pack

By NancyGail | Thursday, August 27, 2009 Filed under: Music, Reviews music
Tags: a cappella, CD, Six Pack, Straight No Chaser, vocal music

Straight No Chaser might just be the best group you've never heard of. Why? They are not exactly the same type of regular music people typically found on the radio. In fact, they hit their biggest stride last year with the release of "The Twelve Days of Christmas" — the song, not an album.

A bit of a background is in order. Fall 1996 at Indiana University. Ten guys form a group dedicated to singing a cappella. In other words, no accompaniment — which is as difficult as the image implies. One goof, and the audience instantly knows it. A couple of guitars and a keyboard would at least cover up part of the bad singing, but this form of vocal performance relies solely on what comes out of someone's mouth. Perhaps the best way to describe a cappella is to imagine auditions on American Idol where the contestants that viewers get to vote on are chosen. Everyone simply sings, whether or not they should.

Dan Ponce, who founded the group, has two requirements for those who wish to become members. First, they need solid vocal chops as well as the ability to blend well with everyone else. Second, personality is absolutely critical. If they are going to perform in front of other people, it helps if the audience likes them. Does it work? This is an understatement. Lou Rawls has had this group for an opening act. Footage of their efforts can be seen on YouTube where they are singing in front of crowds at Wrigley Field. Chicagoans appreciate them. Even Carnegie Hall is not an obstacle. The National Championship of Collegiate A Cappella bestowed first prize on these guys. With the release of their third album, 50,000 copies were sold.

The only thing which stands in their way is graduation. After all, this is a college group. No worries, those who are leaving make sure to handpick the next set. This helps the dream continue. About those YouTube videos – Indiana University decided a 2006 reunion was in order for the original team. Randy Stine, a member, produced a DVD and posted clips for the guys to enjoy. Needless to say, "The Twelve Days of Christmas" got more viewers. Try to wrap your brain around seven million in 2007 alone. Craig Kallman, CEO and Chairman of Atlantic Records, saw them too. The rest, as they say, is history.

Six Pack is an EP of six selections which are not in the holiday genre. Both popular and classic songs make up the collection, which just might help broaden the appeal. "Rehab" kicks things off. Originally by Amy Winehouse, it's a good choice. Opening notes pop with a kicky beat, entrancing and fun. Jerome Collins, the soloist, sings the actual song, but everyone has a part to play. Several can be heard in the background contributing an "ah". They make a pleasant harmony. Some split off into a fresh group, which is also delightful. Clapping helps keep a strong rhythm going.

"I'm Yours" mixed with "Over the Rainbow" hit a few snags. What is first heard is a Caribbean-type beat. From what I could tell, this just might be an original arrangement. Where did it go wrong? The mix. I expect to hear a song which someone else covers with a version matching the familiar. As in, Judy Garland sings The Wizard of Oz. The bits Straight No Chaser threw in clashed with what they started out with.

"Signed, Sealed, Delivered, I'm Yours" is my favorite song. Not only does it sound like the Motown hit, the fun is contagious. Jerome Collins solos again, and I almost thought he was a carbon copy of Stevie Wonder. From the opening to its end, this is flawless. One small item: "I was Made to Love Her" is listed on the cover. Not only is it not on the CD listing itself (when it gets played, a list comes up with titles to show where the listener is exactly), it never played! Whoops.

"You Send Me" has Ryan Ahlwardt as the soloist this time. A much slower tune, it works with Ahlwardt's tenor voice. There is a crooning which makes for a nice earful. Some noises akin to bullfrog croaks are a bit off-putting, but this is a personal thing. Another may like what I am not keen on. The ooohs and ahs are a sweet touch.

"Can't Take My Eyes Off You" should also be something of a ballad. The pop version which these guys come out with sounds a bit off. I have to wonder if perhaps the issue is having all ten performers singing this. What I keep hearing is a crying baby and a train passing by. The words are lost in the background of those.

For the most part, I like this CD. There is no question of anyone's singing ability. Yes, some stuff could use a bit more refinement. It could simply be due to the songs chosen for a cappella versions. What works for a band is different than what works for vocals only.

引用
当代 a cappella 趋向主流
More Sharing ServicesShare | Share on facebook Share on myspace Share on google Share on twitter

当代 a cappella趋向主流 (原文)
译自 杰里•甘尼特• 2009年6月2日 (By Jerry Shriver, USA TODAY)

流行音乐的听眾,电视节目和YouTube越来越迷上了较简单的声音,和谐与回归基本面的人声音乐。清唱( a cappella ),几百年前教会出生的音乐风格,展示了声音没有器乐的支持,但却在美国大学校园内蓬勃发展,最近在美国境内到处可以看到一些发展:

@美国的NBC正在考虑一项"Reality Show" (注1)叫做 "The Great American Sing-Off",想要跟正流行的" American Idol""竞争,冠军将获得一纸唱片合同。 还没有确切的日期,但已在MySpace网站上露出消息。 这个概念似乎包括一个自然的人声清唱团体担任" American Idol"参赛者的合音天使,包括Anoop Desai ,前北卡罗来纳大学的a cappella 团"Clef Hangers" 的团长,他名列本季赛第六名(注2)。

@Ben Fold,其复杂切分的歌曲已成为大学生清唱团曲目的主食,最近发行的CD:"Ben Fold介绍:大学阿卡贝拉!" 就是他通过YouTube的面试方式收集了15组以他的歌曲改编成a cappella的团体。

@一组MTV拍摄小组4月拍了在纽约举行的国际大学清唱团锦标赛的决赛,将用於一个系列影片的片头。 今年的获奖者来自加州 Mt. San Antonio (圣安东尼奥山)学院的团体 Fermata Nowhere。

@6月30日,大西洋唱片将推出的一张由人声乐团 Straight No Chaser 灌录的 EP "Six Pack" ,他们的 "Holiday Spirits " 专辑去年销售110,000张,成绩亮丽。这个小组,十几年前在印第安纳大学形成,唱的歌曲包括 "Rehab" 到 "Somewhere Over the Rainbow "。

@2008年属於描述幕后的一本新书,由 Mickey Rapkin 所写的 " Pitch Perfect: The Quest for Collegiate A Cappella Glory" (翻成 "绝对音感:大学阿卡贝拉的荣耀") ,已被环球影业看中。
清唱团虽然有些专业的团体,如Boyz II Men,已经在流行榜上有名,但茁壮成长的地方大多在大学校园,从20年前大约只有300个,到现在有1200多个团体 。

而成功的要素要归功给doo-wop,Gospel (福音歌曲) 和 Barbershop (理髮店和声)这些一路走来的风格,他们都结合流行的元素,再加上幽默和极强的表演性。 这种结合,透过数以百计的网路影音段落,也促成了许多的录音合同和世界巡演。
这也使他们出现在影集,如 "Scrubs" 和 "The Office" ("办公室风云") (其中一场代表性的 9,000美元的婚礼上唱了 Paul Simon 的 "You Can Call Me Al"。
"撰写这些影集的人毕业於10年前",Rapkin说。 "他们当初看到的 15人穿著亮片背心在没有乐器的情况下演唱迈克尔杰克逊的歌曲是如何荒谬的事情。
但是,对於Ben Fold,无伴奏合唱是一个艺术形式,并不是可笑的事。 "这是音乐的本质,就是这样!" 他说。
"人们喜欢去讨厌一样东西,因为这是你觉得比别人要酷些的方法。"
Gary Levin促成了这一报告。
注1: Reality Show 始於英国的reality TV,是现在各国各类星光大道的始祖,Reality就是要展现现实人生的小人物也有不寻常的一面。
注2: 印度人Anoop Desai的R&B 让评审印象深刻。现在 Anoop Desai 和他的团UNC的 Clef Hangers 红遍美国。
引用
5.0 out of 5 stars exquisite vocal magic--BRAVO, STRAIGHT NO CHASER !!! November 14, 2009
By Matthew G. Sherwin HALL OF FAMETOP 100 REVIEWERVINE VOICE
Format:Audio CD
Straight No Chaser has enjoyed considerable success; and it's albums like this one that show why they're well respected. The CD is short but these numbers shine brighter than silver and gold combined; these men sing remarkably well. The quality of the sound is excellent and that artwork is great.

The album opens with a stunning treatment of Amy Winehouse's "Rehab." "Rehab" gets the royal treatment from these fine artists and I think Amy would approve of their version of her song! Straight No Chaser uses their excellent technique of balancing members who are harmonizing with others singing the principal lyrics to the song; and thus it all holds its own very well. "I'm Yours" sounds quite good when Straight No Chaser tackles it; their version of Jason Mraz's tune sounds just fine and when they go into "Over the Rainbow" the medley becomes truly very memorable.

"The Man Who Can't Be Moved" gets a fine arrangement and the members of Straight No Chaser never let go of a single superfluous note. I'm impressed. There's also a very good medley of "Signed, Sealed, Delivered I'm Yours" and "I Was Made to Love Her;" they make "Signed, Sealed, Delivered I'm Yours" flow very smoothly into "I Was Made to Love Her" and this track is one of my favorites on this album. That's a fine mini-salute to Stevie Wonder there!

"You Send Me" is easy on the ear and that doo wop flavor really enhances this ballad. The CD closes with Straight No Chaser performing a Frankie Valli song, "Can't Take My Eyes Off Of You." This romantic, classic love song shines like silver and gold in their capable hands.

Straight No Chaser turned out an excellent set of songs for this Amazon exclusive CD; I would highly recommend this for their fans. In addition, people who enjoy high quality control music will not be disappointed.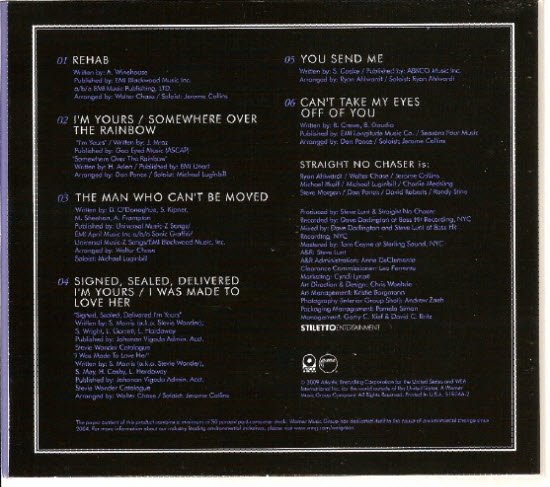 专辑曲目:
1. Rehab
2. I'm Yours / Somewhere Over The Rainbow
3. The Man Who Can't Be Moved
4. Signed, Sealed, Delivered I'm Yours / I Was Made To Love Her
5. You Send Me
6. Can't Take My Eyes Off Of You
这里是其它用户补充的资源(我也要补充):
暂无补充资源