专辑英文名: J.S. Bach: Double & Triple Concertos
专辑中文名: 拉克儿四首巴赫小提琴协奏曲
古典类型: 全集作品
资源格式: FLAC
版本: [24bits 192KHz]
简介: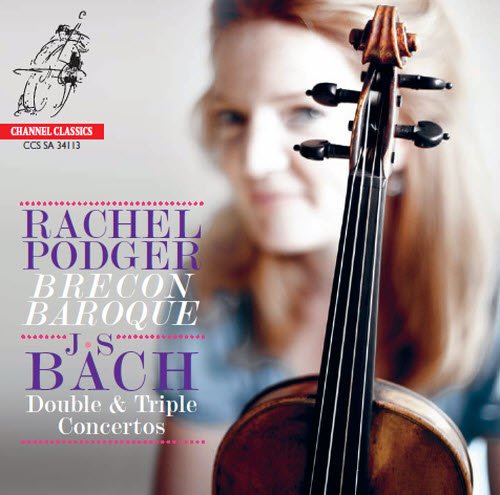 专辑介绍:

屡获多个国际重要奖项包括<留声机杂誌(Gramophone)>大奖的女小提琴家普捷(Rachel Podger) 所推出的专辑每次均好评如潮,更荣获多本权威音乐杂誌如"留声机杂誌(Gramophone)"、"时代週刊(Times)"等的编辑推介,与及荣获"分 音音乐(Diapason d'Or)"大奖,其深厚的造诣与及技巧和感情的表达都是绝顶出色,能奏出活泼而生动兼音色纯净而细腻的琴音,绝对妙极。"布雷康巴洛克乐团 (Brecon Baroque)"由普捷於2007年成立并担任领导,成员包括小提琴家宝扬.奇契克(Bojan Cicic)、约翰内斯.帕拉姆索勒(Johannes Pramsohler);中提琴家珍.罗杰斯(Jane Rodgers)、扬.史宾莎(Jan Spencer);大提琴家艾莉森.麦克吉尔里瑞 (Alison McGillivray)与及古键琴演奏家克里斯托.毕克勒(Christopher Bucknall),每位音乐家也极具份量,实力不用置疑。由普捷带领"布雷康巴洛克乐团"合力演绎有"音乐之父"美誉的德国传奇音乐家巴哈(J.S.Bach)的[D小调双小提琴协奏曲,BWV1043(Concerto for Two Violins in D minor)]、[A小调给大键琴、长笛及小提琴的协奏曲,BWV1044(Concerto for harpsichord, Flute and Violin in A minor,BWV1044)]、[C小调给小提琴及双簧管的协奏曲,BWV1060R(Concerto for Violin and Oboe in C minor,BWV1060R)]和 [D大调给三小提琴的协奏曲,BWV1064R(Concerto for Three Violins in D major,BWV1064R)]等,配合最传真、专业的SACD发烧录音制式制作,倍添丰盈的空间感,让双小提琴、三小提琴及配合其他乐器层次更为鲜明、丰富!

拉克儿四首巴赫小提琴协奏曲J.S. Bach: Double & Triple Concertos / 拉克儿 Rachel Podger
唱片编号:CCS34113
唱片公司:CHANNEL
发行日期:2013-06-09
商品单位:1CD

拉克儿Rachel Podger,出生於英国,在德国的鲁道夫斯坦因音乐学校习音乐,然后再回英国习小提琴,曾在Guildhall学校师事Perry Hart,和多位大师习音乐,后来喜爱上古乐器与音乐,逐而参加古乐团,成为小提琴古乐家,她最喜爱拉奏十七世纪和十八世纪的古乐曲,在1997年她并和古乐指挥家宾诺克合作过演出,她现在是乐坛的顶佳独奏家及演出家,受各地的竞邀不断,本片他拉奏巴哈的小提琴无伴奏曲,以1739年的巴洛克名琴"Pesarinius" Genoa的漂亮声音,使本片的音乐更有松香味十足,空气感及音乐性完美!

Number of cd's: 1
Year of release: 2013
Recording Location: London England
Producer: Jonathan Freemann Attwood
Recording Engineer / Mastering: Jared Sacks
Running time: 65.22

J.S. Bach: Double & Triple Concertos / Podger, Bellamy, Pramsohler, Brecon Baroque
Bach, J.s. / Baroque
Release Date: 06/11/2013
Label: Channel Classics Catalog #: 34113 Spars Code: n/a
Composer: Johann Sebastian Bach
Performer: Rachel Podger
Orchestra/Ensemble: Brecon Baroque
Number of Discs: 1
Recorded in: Multi
Length: 1 Hours 5 Mins.

The dynamic ensemble Brecon Baroque was founded in 2007 by violinist and director Rachel Podger as resident ensemble at her annual Brecon Baroque Festival. The international line-up consists of some of the leading lights in the period-instrument world, such as cellist Alison McGillivray, flautist Katy Bircher, oboist Alexandra Bellamy and violist Jane Rogers, as well as some of Rachel's former students who now occupy leading positions in many of Europe's finest ensembles: violinists Bojan Čičić and Johannes Pramsohler.

Brecon Baroque specialises in the music of J.S. Bach and his contemporaries, mostly as a one-to-apart ensemble based on the Cafe Zimmerman ensemble which Bach himself directed. They also appear as a small baroque orchestra for Vivaldi, Telemann, Purcell and Handel. More than any other composer of his period, J. S. Bach realised the possibilities of the concerto avec plusieurs instruments.

Drawing on the precedents of Vivaldi and others, Bach's probing musical intellect led him down novel paths of invention where the collaborative and antagonistic features of the genre reached unprecedented levels of complexity. (...) The state of the surviving musical sources for Bach's concertos suggests that he produced them for a variety of contexts, whether the courtly milieu of Köthen, the urban setting of the Collegium Musicum in Leipzig, or even for his own domestic entertainment. This was music that he was willing to rework for different occasions, and each of the concertos on this disc existed in more than one version. (from liner notes by Tim Jones)


引用
Notes and Editorial Reviews
Rachel Podger's performance with friends and students—one to a part—of Bach's Double and Triple concertos begins with the familiar and passes through less frequently explored territory. The program begins with the Double Concerto in D Minor, a work to the first movement of which she and her former student Bojan Cicic lend a transparency and energy that lifts their performance above the standard, while the Brecon Ensemble bounces along crisply underneath. The second movement also proceeds at a flowing tempo that allows its ideas to unfold within the span of the listener's memory. The final movement blows onto the stage in an irresistible gust, but the ensemble's more rapid tempo, along with the clean recorded sound, allow a great deal of the movement's contrapuntal detail to bubble, providing as much visceral delight as intellectual satisfaction.


The Concerto for Harpsichord, Flute, and Violin, in which Podger is joined on harpsichord by Marcin Swiatkiewicz and on flute by Katy Bircher, comes, according to Timothy Jones's notes, from the Prelude and Fugue, BWV 894 (the outer movements), and the Organ Sonata, BWV 527 (the central one). Though remaining well within the concerto grosso's general ambit, the first movement sparkles with dialogues between violin and flute, with the harpsichord remaining constantly vigilant. Podger's and Bircher's bright collaboration enhances this effect, making the movement one of Bach's most kaleidoscopic for multiple soloists. In the slow movement, the harpsichord adopts a less prominent role, almost to pointillistic effect in this performance. Podger, though never assuming the preeminent role in this movement, plays with great warmth on the G-string in passages assigned to it (Baroque composers generally avoided passages on the G-string because of its diameter, which made it balky). The finale seems sedate in its ritornello parts, but brilliantly virtuosic in its writing for harpsichord (Podger's own notes refer to the work as a harpsichord concerto with flute and violin timbres interspersed).


The Concerto for Violin and Oboe, with Podger and oboist Alexandra Bellamy as soloists, sounds brisk and even spiky in its first movement—but hardly at the expense of its polyphonic integrity. In the second movement, as in the similar movement in the Double Violin Concerto, the flowing tempo again enlivens the musical communication and, in this case, especially, the vibrancy of the dialogue between soloists. The ensemble takes a quick tempo again in the Finale, which underlines the violin part's virtuosity.


The Concerto for Three Violins in D Major, the least familiar work on the program, purports to be a reconstruction of the Concerto for Three Harpsichords in C Major, BWV 1064, and another of Podger's students, Johannes Pramsohler, joins ?i?i? and Podger in this version, which hardly shies away from virtuosic passagework in the solo violin parts. Together, they spin what seem like seamless strands in the slow movement and return to the first movement's robust virtuosity in the Finale. No mere musicological archive, Channel Classics's collection should appeal broadly, to general audiences as well as to specialist collectors, and deserves a very strong recommendation for all aspects of the production—recorded sound (clear and full-bodied), program notes, performances, and—of course—repertoire.

引用
Conductor: None
Composer: J S Bach
Audio CD (13 May 2013)
Please Note: Requires SACD-compatible hardware
Number of Discs: 1
Format: Hybrid SACD, SACD
Label: Channel Classics
ASIN: B00BTESHXI

4.0 out of 5 stars JS Bach - violin concertos 25 May 2013
By r.b.
Format:Audio CD
This is the second installment of Brecon Baroque's survey of Bach's violin concertos and on this cd they concentrate on the double and triple concertos.Rachel Podger is one of my favourite violin masters that specialise in 17th and 18th century practice and so anything she records is certainly of interest to me and after listening to this recording i felt very satisfied but not completely.BWV 1043 the famous double violin concerto that most people know comes off very successfully here largely because the slow middle movement is paced perfectly unlike most other period instrument recordings which take a plodding tempo and make it sound too sentimental.( Brecon Baroque clock in at 6.00 mins for this and it is ideal ).BWV 1060 is the rather well known concerto for violin and oboe which is a reconstruction of the double harpsichord concerto.There is little doubt that this was originally scored for 2 melody instruments but the later harpsichord version is the only one to have survived so it is speculation as to the content of the original.I feel that the case for an oboe in place of a 2nd violin is weak and not entirely convincing - c minor is a rather "uncomfortable" key for the Baroque oboe,something which Bach would almost certainly have been aware of.However d minor is ideal for the oboe but if the concerto is transposed to this key there is 1 note in Bach's score that can't be played on an oboe of the time,therefore giving weight that BWV 1060 was probably a concerto for 2 violins (quite likely in d minor) - Nevertheless Brecon Baroque shine here.

The so called triple concerto for violin,flute and harpsichord BWV 1044 is exceptionally well done although it has never resonated with me because i prefer the solo harpsichord original on which the outer movements are based BWV 894.

Finally comes BWV 1064 a concerto for 3 violins which is a reconstruction of the triple harpsichord version.This is a wonderful concerto but it does not come off quite as successfully this time as there is just a hint of instability at the start of the last allegro (6th or 7th note in ?) and the tempo of the first movement is slightly laboured to my ears - Try Collegium Musicum 90 on chandos for an excellent account of this concerto.

All in all an enjoyable cd by Brecon Baroque although arguably just a shade behind their previous disc of concertos for 1 violin BWV 1041,1042,1055 and 1056 which was simply outstanding.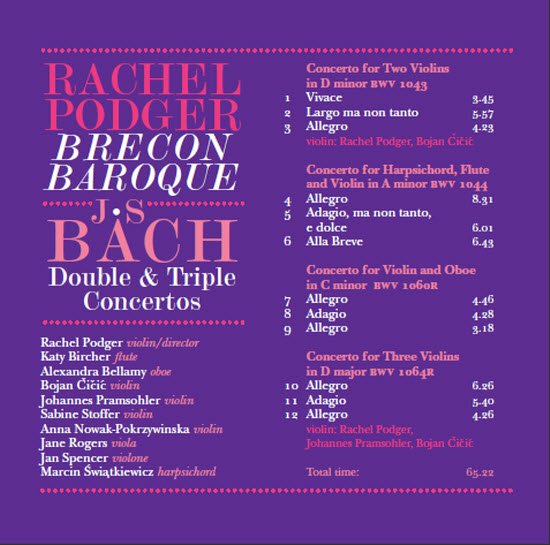 专辑曲目:
Concerto for Two Violins, BWV 1043
01. Vivace 3:47
02. Largo ma non tanto 5:59
03. Allegro 4:34

Concerto for Harpsichord, Flute, and Violin, BWV 1044
04. Allegro 8:35
05. Adagio 6:01
06. Alla Breve 6:51

Concerto for Violin and Oboe, BWV 1060R
07. Allegro 4:52
08. Adagio 4:29
09. Allegro 3:26

Concerto for Three Violins, BWV 1064R
10. Allegro 6:32
11. Adagio 5:43
12. Allegro 4:28
这里是其它用户补充的资源(我也要补充):
暂无补充资源