专辑英文名: Cover My Blues
专辑中文名: 唯心蓝调
音乐风格: 爵士
资源格式: FLAC
发行时间: 2009年04月24日
简介: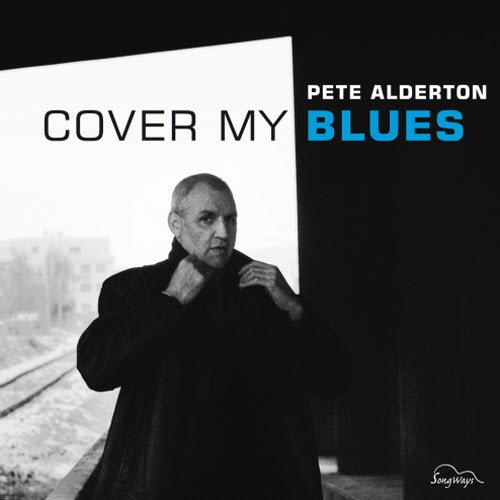 专辑介绍:

来自英国的「彼特‧艾尔德顿」蓝调唱腔浑然天成,低沈而充满磁性,粗獷却不粗糙,不用刻意矫情,就能散发无比强烈的感染力,更重要的是,他总能为经典蓝调注入全新生命!听他翻唱早期草根蓝调大师Robert Johnson的〈Walking Blues〉,浓郁的密西西比蓝调原味顿时流泄,却一点也没有陈旧气息;〈Help Me〉涌进的蓝调音阶,考验著歌者的蓝调唱功,别人需要刻意揣摩的蓝调韵味,彼特彷彿随口哼唱就能抓住神髓。

〈Georgia On My Mind〉翻唱者不计其数,但是能像彼特这般唱得轻鬆坦然者却不多;詮释另一首经典〈Summertime〉,彼特换上轻快节拍,没想到却产生了不可思议的化学变化,为这首老歌增添时尚现代感;专辑同名创作曲〈Cover My Blues〉淡淡的感伤氛围令人著迷。本专辑制作人兼吉他手Carsten Mentzel不落俗套的演奏也是专辑另一个焦点,优异的录音更是令人惊豔!


Blues that get's under your skinPete Alderton demonstrates on "Cover My Blues" with distinct coolness that the blues can express the various nuances of ultimate melancholy like no other music can.
This production is characterized by respect for the composer, giving the composition qualities that actually intensify the joy of listening to the music through the artistic interpretation.
What Pete Alderton - now a resident of Paderborn, Germany, a man with British and American roots, has put on CD, under the direction of Carsten Mentzel, is blues of the very finest.
With his renditions of blues classics, he proves beyond a doubt that he is one of the great voices of contemporary blues.
More Informations: http:// ozellamusic
Pete Alderton: Vocals, Blues HarpCarsten Mentzel: Guitars, Basses, Keys and othersGerold Kukulenz: Upright BassMichel Roggenland: Drums
Guest MusiciansMichel Sajrawy Jazz Guitar on 09Udo Timmermeister Dobro Slide Guitar on 07Jan Lessner Blues Harp on 01Dagobert Bi¶hm Blues Harp on 10 & 12Richard Ki¶hler Saxophone on 08Philip Carniel Drums & Brushes on 01 & 05 Photographer: Carsten Mentzel. Arranger: Carsten Mentzel. Personnel: Pete Alderton (vocals); Carsten Mentzel (guitar, keyboards); Gerold Kukulenz (upright bass); Michel Roggenland (drums). Audio Mixer: Carsten Mentzel.


引用
Pete Alderton - Cover My Blues

Original Release Date: April 24, 2009
Label: Songways
Copyright: © 2009 Ozella Music 2009
Genres: Blues
ASIN: B00258FPL4


Pete Alderton was born in Felixstowe, England as the son of an American G.I. and an English mother. His sphere of activity is in Germany, where he lives now as a resident of Paderborn. Specialized on blues classics he started his career with the debut album Living On Love, which was released on Ozella Music in 2006. This album was produced by Carsten Mentzel and Dagobert Böhm.

Pete is supported by the same team on his new album Cover My Blues, which was released in March, 2009. Pete, who sings and plays blues harp, is joined by Carsten Mentzel (guitar, bass, keys), Gerold Kukulenz (upright bass), Michel Roggenland (drums) and further guest musicians.

Pete's album is like a walk on Memory Lane. Our first step is the song Walking Blues. Robert Johnson, one of the most famous Delta blues musicians, wrote this song during his most productive phase in the 30's. His vocal phrasing, his guitar style and his songs have influenced a whole generation of blues singers. Pete catch some of the old Mississippi spirit in his smoky voice. Jan Lessner on blues harp underlines Pete's authenticity.

Blues legend Sonny Boy Williamson's ("the father of modern blues harp") Help Me is best known in the legendary version of Booker T. & The MG's Green Onion. Pete smacks this song with relish.

When I listen to Georgia On My Mind I have immediately to think at the great Ray Charles. Ok, nobody can compete this genius but Pete Alderton's version is notable and impressive.

Scottish folk singer Paul Joses shares Pete's fate. He moved to Germany and has released records on the German label Ozella Music. Don´t Give A Damn is his song and Pete Alderton the man, who gives that song a bluesy finish.

Fever was originally a R&B hit of Little Willie John and later for Peggy Lee (1958). Covered by numerous artists the song gained a high popularity in Germany which Pete pays tribute to.

Bill Wither's hit Ain´t No Sunshine is from the same caliber. Pete's rough vocals really fit to the smoky timbre of the song. Little Red Rooster features Udo Timmermeister on slide guitar, together with Pete's vocals the best approach to Howlin' Wolf's original following Willie Dixon's intention.

With Running For Cover adds Carsten Mentzel an own composition in the moody style of the previous songs. The classic jazz song par excellence is George Gershwin's Summertime. I assume it's the most covered jazz classic of all time. Not an excuse but an explanation that Pete couldn't resist to fill the old song with new life.

I'm Your Hoochie Coochie Man is the second song composed by Willie Dixon and originally performed by Muddy Waters. According to Wikipedia the Hoochie Coochie was a dance that became wildly popular during and after the Chicago World's Fair in 1893. Pete Alderton finds his own way of interpretation.

John Lennon excitingly expressed on Cold Turkey the pain of withdrawal. No one can surpass the original. So let's take Pete's version as homage. Cover My Blues is a composition by Dagobert Böhm and Pete. A slow piece with your chance for contemplation. The album is closed by the bonus track Grinning In Your Face by Eddie James "Son" House, Jr. rising the emotions for a last encore.

Pete Alderton's album Cover My Blues is a fantastic opportunity to discover the blues and an interpret who should be unquestionably in the limelight.

引用
彼特‧艾尔德顿 - 唯心蓝调 / Pete Alderton - Cover My Blues
唱片歌手:彼特‧艾尔德顿 - Pete Alderton
唱片公司:Ozella Music
产品货号:SW505CD

别具一格的英国唱作男歌手彼德.艾德顿(Pete Alderton)醉心钻研蓝调音乐多年,他把英式蓝调音乐加入美国及非洲同类音乐的元素,内容更为丰富,赋予特式,加上他那磁性中带点神秘感的歌声,使他成为非美国黑人的最佳蓝调歌手,在英国和欧洲极受欢迎。【覆盖我的蓝调(Cover My Blues)】他继续显露他横溢的音乐天份,配合他那玩味性的招牌演绎,将多首名曲以全新的面貌呈献,使人有如沐春风的感觉。你可从【Walking Blues(神气的蓝调)】,【Help Me(拯救我)】,【Georgia On My Mind(我脑海中的乔治亚州)】,【Fever(发烧)】,【Ain't No Sunshine(是不是没有阳光)】,【Summertime(夏日时光)】,【Cold Turkey(寒冷的土耳其)】和【Cover My Blues(覆盖我的蓝调)】等歌曲细味艾德顿清新感性的歌声配合著动态丰盈的旋律那种非笔墨能形容的至高听觉享受。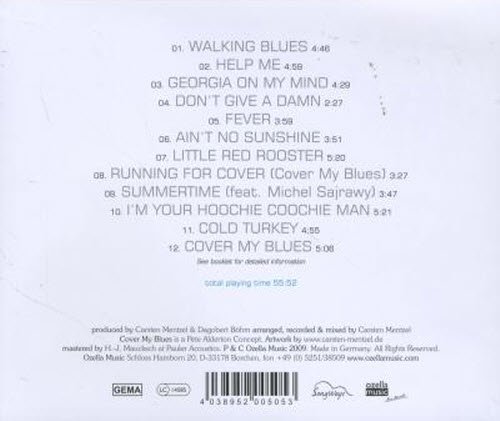 专辑曲目:
01. Walking Blues
02. Help Me
03. Georgia On My Mind
04. Don't Give A Damn
05. Fever
06. Ain't No Sunshine
07. Little Red Rooster
08. Running For Cover (Cover My Blues)
09. Summertime (feat. Michel Sajrawy)
10. I'm Your Hoochie Coochie Man
11. Cold Turkey
12. Cover My Blues
13. (Bonus Track) Grinnning In Your Face
这里是其它用户补充的资源(我也要补充):
暂无补充资源