专辑英文名: Die STEREO Hörtest Edition
专辑中文名: 听力测试立体声版本
古典类型: 全集作品
资源格式: FLAC
版本: [24bits 88.2KHz]
发行时间: 2013年10月01日
简介: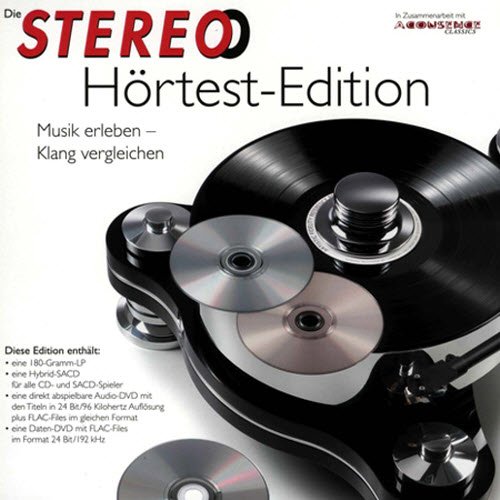 专辑介绍:

德国STEREOO HORTEST-Edition LP set, riskysu, 02-22 01:27:51
出自Acousnce Classics 的。这套新出的Die StereO Hortest = Edition ,一共4隻碟

1, LP
2. SACD
3. DVD audio (FLAC24/192 file format)
4. FLAC 24/192 Ultra- Resolution

德国板,但内有一份全美文解说每一条Track的音乐,唔怕德文唔识睇。而每一段都是相当好声。4种唔同format,真是比喜欢HIFI的,试过够。(唔;粤,在这解为 不)

Genres: Classical, Music
Released: 01 October 2013
℗ 2013 ACOUSENCE Classics

The unique of its kind STEREO listening test edition offers great-sounding music on a 180-gram LP, a hybrid SACD and two DVDs, one of which runs on any DVD player, with resolutions all the way up to the ultimate 24-bit, 192 kHz .
A must for any music enthusiast.

Die Stereo Hortest-Edition Product Description

Die Stereo Hortest-Edition by Chabrier / Debussy / Dressler / Rodri / Tchaikovsky / Wagner was released Oct 29, 2013 on the Acousence Classics label. Die Stereo Hortest-Edition is a 4-disc set.

CD Universe Part number 9028077
Label Acousence Classics
Orig Year 12/1/2011
Catalog number 11011
Discs 4
Release Date New Die Stereo Hortest-Edition LP release date Oct 29, 2013
Shipping Units 12
Additional Info LP+Hybrid SACD+DVD Audio


引用
ATSTEREO
Stereo Hearing Test Edition
49.00 EUR
ATSTEREO <br /> Stereo Hearing Test Edition
Haset (LP, DVD, FLAC, SACD / CD) Acousence ATSTEREO
The stereo audio test edition
ACOUSENCE presented in collaboration with the magazine STEREO "experience music - compare sound" STEREO listening test edition under the banner.
The set includes a selection of musical delights and top-class interpretations across the program of ACOUSENCE classics on four recordings: a 180g vinyl LP, as a hybrid SACD than DVD + FLAC (directly playable 24/96-Audio-DVD including 24/96 FLAC files) and as FLAC192 (data DVD with 24/192 FLAC files sundries plus bonus material).
Well, where in the meantime keep the high-bit formats and computers streaming audio feed into the hi-fi world, this set allows the listener comparing the different formats in a unique way. As the motto "Experience Music - compare sound" suggests, we remain true to our line selection in the program to provide the music at the center. Besides all certainly interesting also from technical view details, you will mainly be able to experience the different effects of music in different formats, so what ACOUSENCE has driven from the beginning to high sampling rates and also back to analog vinyl record and what the entire production process is always the focus. But listen for yourself and surprise yourself ... we want an exciting and enriching musical pleasure!
Supporting information can be found in issue 01/2012 of the magazine STEREO
Emmanuel Chabrier (1841-1894)
"Espana" - RhapsodiefürOrchester
Dessau Anhalt Philharmonic, Hermus
Claude Debussy (1862-1918)
"La Mer" - Three Symphonic Sketches
Duisburg Philharmonic Orchestra, Jonathan Darlington
Peter Ilyich Tchaikovsky (1840-1893)
Concerto for Violin and Orchestra in D major op.35
III. Final. Allegro vivacissimo
Susanna Yoko Henkel, violin
Duisburg Philharmonic Orchestra, Jonathan Darlington
Awarded the:
ECHO Klassik 2011 "concert recording of the year, 19 C / Violin "
Excerpt from: Richard Wagner (1813-1883) / Friedmann Dressler
The Symphonic Ring - An orchestral drama in two parts
Walkürenritt (Prelude Act 3) [2:54]
Duisburg Philharmonic Orchestra, Jonathan Darlington
Joaquin Rodrigo (1901-1999)
"Concierto de Aranjuez" for guitar and orchestra
I. Allegro con spirito
Marlon Titre, guitar
Dessau Anhalt Philharmonic, Hermus
Maurice Ravel (1875-1937)
Introduction and Allegro
for flute, clarinet, harp and string quartet
Horenstein Ensemble
Frederic Chopin (1810-1849)
Impromptu No. 1 A-flat major op.29
Boris Bloch, Piano
http://www.reson.de/de/Hoertest-Set/high-r...-Edition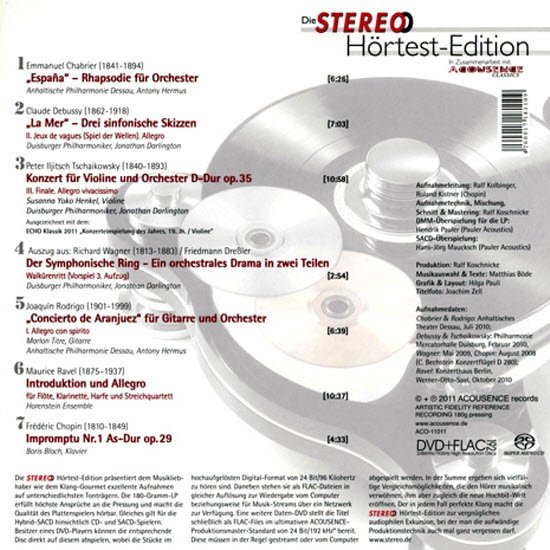 专辑曲目:
1. España / Antony Hermus & Dessau Anhalt Philharmonic Orchestra 6:30
2. La mer: II. Jeux de vagues / Jonathan Darlington & Duisburger Philharmoniker 7:05
3. Violin Concerto in D Major, Op. 35: III. Finale. Allegro vivacissimo / Susanna Yoko Henkel, Jonathan Darlington & Duisburger Philharmoniker 10:51
4. Die Walküre, Act III: Ride of the Valkyries Jonathan Darlington & Duisburger Philharmoniker 2:58
5. Concierto de Aranjuez: I. Allegro con spirito / Marlon Titre, Antony Hermus & Dessau Anhalt Philharmonic Orchestra 6:40
6. Introduction et Allegro / Horenstein Ensemble 10:37
7. Impromptu No. 1 in A-Flat Major, Op. 29 / Boris Bloch 4:32
这里是其它用户补充的资源(我也要补充):
暂无补充资源