专辑英文名: Le Quattro Stagioni
专辑中文名: 四季协奏曲
古典类型: 协奏曲
资源格式: APE
发行时间: 1982年09月01日
简介: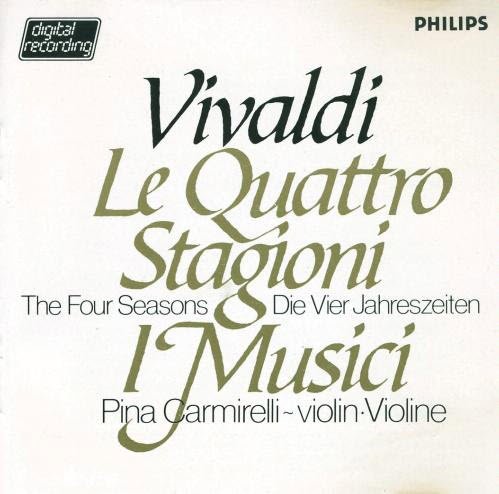 专辑介绍:

意大利音乐家合奏团I Musici
意大利音乐家合奏团I Musici包括6名小提琴手,2名中提琴手,2名大提琴手,1名低音提琴手和1名大键琴手,他们主要来自罗马而且大多数取得了意大利国立圣塞西利亚学院的硕士学位,创立的初衷是复兴弦乐曲库,特别是意大利艺术史上18世纪作曲家的作品。

I Musici被视为当今维瓦尔第《四季》权威代言人。于1955年录下全世界首张《四季协奏曲》的I Musici,在超过五十年的历史中早已成为这首巴洛克名曲的同义词,也被视为当代韦瓦第的最佳诠释者。至今合奏团已经灌录七个版本的《四季协奏曲》,皆由阿优(Félix Ayo)、卡密蕾莉(Pina Carmirelli)、席布(Mariana Sirbu)、阿葛斯堤尼(Federico Agostini)等顶尖的小提琴名家担任独奏,I Musici擅长运用古老与现代演奏的特殊技法以寻求艺术风格的独一无二,并不断尝试各种可能性,成功地游走在各种风格之间。


唱片公司:Philips
作曲家:韦瓦第
演出者:Pina Carmirelli
乐团:义大利音乐家合奏团
音乐类型:古典音乐
唱片编号:4100012
发行日期:1982年09月01日


引用
Pentaxlam 发表于 2008-4-24 19:04
5个版本同一乐队的四季逐张讲
Vivaldi的名作Le Quattro Stagioni(The Four Seasons)我有27个版本,
而单是I Musici(意大利音乐家室乐团)就有5个版本
1.Felix Ayo(Master Violin)
REC:1955
最早的一个录音,Mono,音色仍算可以(但不算靚声)演出亦真的较"古典"一些,但快版演奏则稍欠生动,美中不足!

Pentaxlam 发表于 2008-4-24 19:07
2.Felix Ayo(Master Violin)
REC;1959
I Musici第一个STEREO录音,亦是乐评公认为演奏最好的其中一个版本,小堤琴声甜又润!

Pentaxlam 发表于 2008-4-24 19:10
Roberto Michelucci(Master Violin)
REC:1970
此版本亦甚有味道,但演奏风格和55,59年版本有些明显不同

Pentaxlam 发表于 2008-4-24 19:15
4.Pina Carmirelli(Master Violin)
REC:1982第一个数码录音,亦是我个人最喜爱的一个版本,快版节奏感强慢版优美,
但小提琴声要小心处理,当音响糸统调整不当小堤琴声会好利好桔耳!但器材配合理想则很靚声
Pina Carmirelli是女小堤琴家,技巧个人觉得她是I Musici历来主小堤琴手中技巧最高的!

Pentaxlam 发表于 2008-4-24 20:04
Federico Agostini(Master Viloin)
REC:1988
此录音曾经有7种软件在市场出现,当年亦曾哄动一时
7种輭件分别是:LP,Cassette,CD,LD(Laser Disc),DVD,DCC(Digital Cassette)VHS
DCC当年澳门叶培记都卖过,但DCC面世不到2年就bye-bye
这张亦属靚声的录音,低音亦是所有I Musici的四季录音中最靚最厚(I Musici还有1996,2000年的录音)
但演出则明显"现代化"了,而且Federico Agostini技巧亦不及Pina Carmirelli高,总是差一点点!

Pentaxlam 发表于 2008-4-24 20:09
I Musici还有1996,2000年版录音,而Master Violin都是Maria Siebu,但Sorry
不论演绎,录音都大不如前,比2张CD我已转赠给朋友,一句讲哂,失望!
I Musici会不会再有新的四季录音呢?说不定,但我肯定不会再买!

Performer: Pina Carmirelli
Orchestra: I Musici
Composer: Antonio Vivaldi
Audio CD (December 25, 2001)
Number of Discs: 1
Format: Import
Label: Philips
ASIN: B0000040VO
5.0 out of 5 stars The Best Performance of Vivaldi's Four Seasons October 20, 2005
By Octavius
Format:Audio CD
You have reached the peak of excellence for Vivaldi's 'Four Seasons' with this performance. The previous reviewer is right in more ways than one: Vivaldi and I Musici can certainly bring one's soul closer to God as they are both divine, but so are the Stradivarius strings played to perfection by I Musici. This rendition of Vivaldi's "The Four Seasons" directed by Vittorio Negri and performed by Pina Carmirelli is truly the most divine in its fluid and passionate performance. I've studied and listened to classical music for over 25 years and I have heard literally hundreds of renditions of Antonio Vivaldi's "The Four Seasons." From Accardo to Zuckerman, I have not heard one rendition that even compares to this absolutely brilliant performance by I Musici and Pina Carmirelli. It is truly the clearest and most passionate performance available to date. There is no symphonic overkill that you would find with Solti or Karajan's 300-member orchestras. I Musici performs the piece to perfection with its small chamber ensemble. All of the appregios, sustenutos, etc., are clearly heard. The instruments are all period instruments and mostly Stradivarius. All therefore have a clear, sharp, incomparable sound. The performance itself is the mark of excellence for Italian Baroque and Vivaldi specifically.
Don't be deceived into buying other performances even if they have skilled violinists such as Perlman or Zuckerman. The latter are specialized in the German Romantic and klezmer traditions of violin and so tend to perform better with Northern European composers from the Romantic period such as Brahms or Wienawski but not with Italian ones generally and Italian Baroque violin pieces least of all! As for performances by great conductors and symphonies such as Karajan and the Berlin Philharmonic or Solti and the Chicago/London Symphonies, the orchestral ensembles they use are generally too large for chamber pieces and most of the instruments used are modern. They are also recorded in too large of spaces so the performances sound like Beethoven's 9th instead of a chamber lyrical piece. There are other groups and recordings that are more faithful to Baroque techniques and traditional interpretations but their performances tend to suffer in their lyrical aspects and recording quality. The artists in such chamber groups generally come from academic backgrounds in traditional techniques and instruments instead of professional circles and so are more focused on applying the techniques instead of evoking from them the lyrical mood required by the piece. This results in clumsy and lifeless performances where each musician is so painfully struggling to apply the correct technique to their individual instrument that the entire piece comes out sounding as a cacophony instead of a symphony. Vivaldi was an innovative and demanding composer and this piece is one of the most difficult pieces to perform in the repertoire of music for the solo violin. I Musici have been world acclaimed leaders in performing Italian Baroque for over 50 years and have performed with many of the best musicians in this field. They emphasize more on a passionate Italian Romantic interpretation in its performances instead of a rigid Baroque one but reach a good balance with tradition by performing in the Italian style almost exclusively on Stradivarius instruments and within the size of a small Baroque chamber orchestra. The Stradivarius is the gem of traditional string instruments and really an instrument in and of itself that no other period instrument can even compare to. There are also really no chamber groups in existence that perform on so many Stradivari at once as they are simply too rare and even many professionals simply lack sufficient talent to play one proficiently. A close match with this performance is Salvatore Accardo's Stradivarius performance with I Solisti delle Settimane Musicali di Napoli. Accardo himself had already played several times with I Musici before making his legendary performance with Il Solisti. Even in terms of I Musici di Roma itself, Carmirelli's performance completely outshines those of other great recordings such as with Salvatore Accardo himself. Lastly, I Musici di Roma is also known for having some of the best sound engineering and mixing for its recordings than any other chamber group and this album is perhaps the finest example of that: the recording quality in this 1982 performance is so rich and clear for each instrument being played that you actually feel as if you are at a live performance each time you hear it.
If you feel that you have already bought a good rendition of 'The Four Seasons' and have never heard this one, I would recommend you buy it so that you may hear the difference for yourself. I you haven't yet bought 'The Four Seasons', I strongly recommend you buy this performance before all others as there's simply no comparison: you will not want to buy any other rendition after you hear this one.
引用
Antonio Lucio Vivaldi (1678-1741) was a Venetian composer in the baroque era. Vivaldi was born on 4th March 1678 in the Republic of Venice, today part of Italy; his father was Giovanni Battista, a baker before becoming a professional violinist, who taught his son to play violin. They subsequently toured Venice playing violin together. Vivaldi suffered from what was called "chest tightening" which might have been asthma; this did not, however, prevent him from learning to play the violin, composing and taking part in the prescribed musical activities. At the age of fifteen he began studying priesthood,for this was a vow made by his mother. In 1703, at the age of twenty-five, he was ordained, and was soon nicknamed "Il Prete Rosso" (The Red Priest), probably because of his red hair. Not long afterwards, in 1704, he was given a dispensation from celebrating the Mass because of his ill health. In late 1706 he withdrew from the priesthood and became maestro di violino at an orphanage for girls called the Ospedale della Pietà in Venice. But rumor has it that once he left during Mass, feeling the urge to compose and was given the permission to be released by the cardinal of the Church upon his request to teach music. Shortly after his appointment, the orphans began to gain appreciation and esteem abroad, too; Vivaldi wrote for them many concertos and cantatas, sacred music and any other works the orphanage might need. In 1705, the first collection of his works was published, followed by many others. At the orphanage he covered several different duties, only interrupting them for his many travels. In 1709, he lost his position for economic reasons but in 1711 he was offered the job again, and in 1713 became responsible for the musical activity of the institute. Vivaldi was promoted to maestro de' concerti in 1716. It was during these years that Vivaldi wrote much of his music, including many operas and concertos. In 1718, Vivaldi began to travel. Despite his frequent travels, the Pietà paid him to write two concertos a month for the orchestra and to rehearse with them at least four times when in Venice. The Pietà's records show that he was paid for 140 concertos between 1723 and 1729. Most of his repertoire was rediscovered only in the first half of the twentieth century in Turin and Genoa, and was published in the second half. Vivaldi's music is innovative, breaking a consolidated tradition in schemes; he gave brightness to the formal and the rhythmic structure of the concerto, repeatedly looking for harmonic contrasts and invented innovative melodies and themes. Moreover, Vivaldi was able to compose non-academic music, particularly meant to be appreciated by the wide public and not only by an intellectual minority. The joyful appearance of his music reveals in this regard a transmissible joy of composing. These are among the causes of the vast popularity of his music. This popularity soon made him famous also in countries like France which was, at the time, very independent in its musical taste. Vivaldi is considered to have been one of the composers who brought Baroque music to evolve into a new Galante style which paved the way to Classicism. Johann Sebastian Bach was deeply influenced by Vivaldi's concertos and arias, and transcribed a number of Vivaldi's concertos for solo keyboard, along with a number for orchestra. However, not all musicians have shown the same enthusiasm: Igor Stravinsky provocatively said that Vivaldi had not written hundreds of concertos but one concerto hundreds of times. Despite his priestly status, he is supposed to have had possible love affairs, one of which was with the singer Anna Giraud; with Anna, he was suspected of reusing materials from old Venetian operas, which he only slightly adapted to the vocal capabilities of his protegée. This business caused him some troubles with other musicians, such as Benedetto Marcello, who wrote a pamphlet against him. There is no concrete evidence, however, that links Vivaldi romantically to anyone. Vivaldi's life, like those of many composers of the time, ended in poverty. His compositions no longer held the high esteem they once did in Venice; changing musical tastes quickly made them outmoded, and Vivaldi, in response, chose to sell off sizeable numbers of his manuscripts at paltry prices to finance a migration to Vienna. Reasons for Vivaldi's departure from Venice are unclear, but it seems likely that he wished to meet Charles VI who adored his compositions (Vivaldi dedicated La Cetra to Charles in 1727), and take up the position of royal composer in the emperor's Imperial Court. However, shortly after Vivaldi's arrival at Vienna, Charles died after eating several poisonous mushrooms. This tragic stroke of bad luck left the composer without royal protection and a source of income. Vivaldi had to sell off more manuscripts to make ends meet and eventually died not long after, in 1741. He was given an unmarked pauper's grave (the assumption that the young Joseph Haydn sang in the choir at Vivaldi's burial was based on the mistranscription of a primary source and has been proved wrong). Equally unfortunate, his music was to fall into obscurity and Vivaldi was forgotten until the twentieth century. His burial spot is next to the Karlskirche in Vienna, at the site of the Technical Institute. The house he lived in while in Vienna was torn down. In its place now stands the Hotel Sacher. Memorial plaques have been placed at both locations, as well as a Vivaldi "star" in the Viennese Musikmeile and a monument at the Rooseveltsplatz. With the return of Vivaldi to popularity in the 20th century came an assumption of a rather placid and bland interpretation to his music which appeared to pigeon-hole him as a composer of the second order. More recently some of his works have very successfully been given a fiery and passionate interpretation which appears to more accurately reflect the composer's state of mind.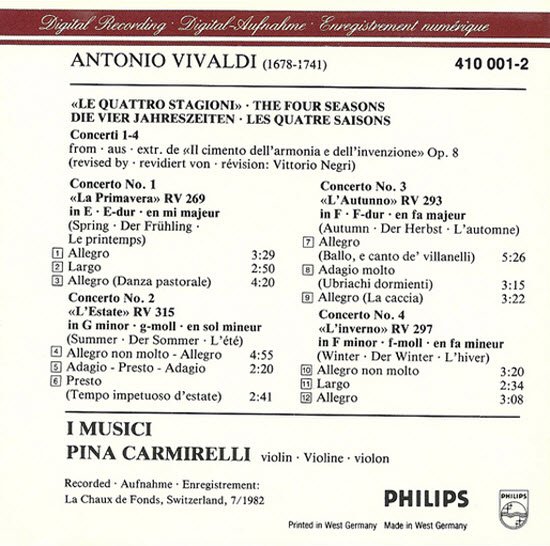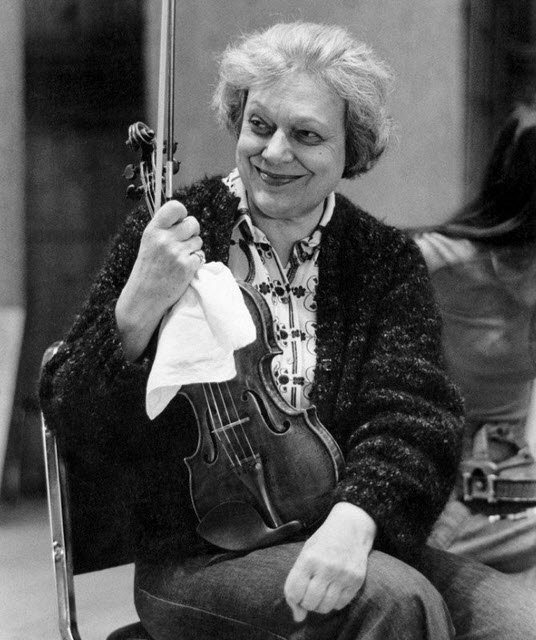 Pina Carmirelli (Varzi, 23 January 1914 - Capena, 26 February 1993) was an Italian violinist.
She started studying music and playing in public when she was very young. She was a pupil of Michelangelo Abbado, and graduated from the Milan Conservatory in violin (1930) and composition (1935). She won the Premio Stradivari in 1937 and the Premio Paganini in 1940. She married the cellist Arturo Bonucci.
She starred in a long concert career, both as soloist and in chamber groups, some of which she co-founded herself:
The Boccherini Quintet (1950) with Arrigo Pelliccia and Guido Mozzato (violins), Luigi Sagrati and Renzo Sabatini (viola) and her husband Arturo Bonucci (first cello) and Nerio Brunelli (second cello).
The Carmirelli Quartet (1954) with Arturo Bonucci (cello), Montserrat Cervera (second violin) and Luigi Sagrati (viola). (1954)
The Quintetto Fauré (1979) with Maureen Jones (piano), Federico Agostini (second violin), Massimo Paris (viola) and Francesco Strano (cello).
She was a tenured professor of advanced studies at the Accademia di Santa Cecilia from 1941. She performed in recitals with Rudolf Serkin and Sergio Lorenzi and as a soloist under the direction of Carlo Maria Giulini. She was also first violin of I Musici. As musicologist she edited the critical edition of the work of Boccherini.
引用
韦瓦第:四季
◎义大利音乐家合奏团

韦瓦第的《四季》小提琴协奏曲,有著诱导乐思的标题,令人聆赏时很容易随乐声行进产生一种对季节岁月的情景构图。《四季》的写意可以说是巴洛克时期最早的标题音乐,以乐声绘成一幅幅画面,在聆听乐曲时,总为那纯然清新跳动的乐句所感动。《四季》其实是一七二五年韦瓦第以「和声与创意的试验」为名,发表的十二首小提琴协奏曲集中之第一部。在题献给波西米亚郡主摩尔金伯爵的献词中,韦瓦第表示这首曲子曾带给他相当多乐趣。但为了使作品有新意,他为每组曲子加上一段十四行诗注解,而对描写景物的音乐也作了部份修改。这部作品出版一週后,巴黎就出现乐谱的盗印本,可见这部作品在当时受欢迎的程度。描写四个季节的四段十四行诗,究竟是否韦瓦第亲写已经不可考,反正也非惊世之作。不过韦瓦第这部嚐试「标题音乐」的作品,不但对后世影响深远,而且带给人难以言喻的愉悦。活泼令人振奋的节奏,加上典雅工整的巴洛克风格,使本曲成为古典曲目数一数二的受欢迎作品。这一套包括CD的专辑收录了演奏《四季》的权威团体:义大利音乐家合奏团两次不同版本的录音,当然,独奏者也不一样。CD是与卡密雷利(Pina Carmirelli)於一九八二年的录音.
专辑曲目:
01. Concerto for Violin and Strings in E major, Op. 8 No. 1, RV. 269 "La Primavera": I. Allegro (03:32)
02. Concerto for Violin and Strings in E major, Op. 8 No. 1, RV. 269 "La Primavera": II. Largo (02:55)
03. Concerto for Violin and Strings in E major, Op. 8 No. 1, RV. 269 "La Primavera": III. Allegro (Danza pastorale) (04:27)
04. Concerto for Violin and Strings in G minor, Op. 8 No. 2, RV. 315 "L'estate": I. Allegro non molto - Allegro (04:58)
05. Concerto for Violin and Strings in G minor, Op. 8 No. 2, RV. 315 "L'estate": II. Adagio - Presto - Adagio (02:22)
06. Concerto for Violin and Strings in G minor, Op. 8 No. 2, RV. 315 "L'estate": III. Presto (Tempo impetuoso d'estate) (02:47)
07. Concerto for Violin and Strings in F major, Op. 8 No. 3, RV. 293 "L'autunno": I. Allegro (Ballo, e canto de' villanelli) (05:28)
08. Concerto for Violin and Strings in F major, Op. 8 No. 3, RV. 293 "L'autunno": II. Adagio molto (Ubriachi dormienti) (03:17)
09. Concerto for Violin and Strings in F major, Op. 8 No. 3, RV. 293 "L'autunno": III. Allegro (La caccia) (03:30)
10. Concerto for Violin and Strings in F minor, Op. 8 No. 4, RV. 297 "L'inverno": I. Allegro non molto (03:23)
11. Concerto for Violin and Strings in F minor, Op. 8 No. 4, RV. 297 "L'inverno": II. Largo (02:36)
12. Concerto for Violin and Strings in F minor, Op. 8 No. 4, RV. 297 "L'inverno": III. Allegro (03:07)
这里是其它用户补充的资源(我也要补充):
暂无补充资源